This post may contain affiliate links, which means I'll earn a small commission if you purchase something through these links. You won't pay any extra; instead, you'll be helping Aloha With Love to thrive. Thank you! Learn more.
--
Hawaii in July is a beautiful time to visit the islands. The days are hot and sunny and spending your Hawaii vacation at the beach snorkeling, swimming, and learning to surf sounds like a really great idea. The July weather in Hawaii is a perfect time for bringing your kids to Hawaii, too. Summer break is in session and there are tons of kid-friendly activities to do in Hawaii in July.
But are you sure July is the best time to visit Hawaii? Below I've listed the pros and cons of what Hawaii in July is really like to help you plan your trip to Hawaii.
Aloha with love,
Amy
July weather and temperature
July in Hawaii is similar to June's weather. The main changes to look out for is that you'll get an average of 13 hours of daylight (13.5 hours in June) and that you may feel a touch of humidity move in towards the end of July. August is typically's Hawaii's most humid month, but in general Hawaii in July is pleasant with light rainfall and warm and sunny days.
Oahu: Oahu in July is really pleasant. With an average high of 84 F, low of 70 F, you get ideal summer weather in Hawaii with only 4 days of rain at 0.5 inches. The days are comfortable and with the trade winds around you stay cool even in the sun. However, you may start to feel the humidity begin to creep in late July since August is Hawaii's most humid month.
Maui: Maui is typically cooler compared to Oahu with an average high of 77 F, low of 60 F and only 3 days of rain at 0.9 inches. This is about the same temperature and weather as Maui in June, so the only variable to look out for would be the trade winds especially as it draws closer to August.
Big Island (Kona): Kona is naturally a hot and dry area so with an average high of 86 F, low of 73 F, and only 2 days of rain at 0.5 inches you can expect the weather in July in Kona to be quite hot. The trade winds are still around though, which will cool things down.
Big Island (Hilo): July in Hilo has an average high of 83 F, low of 69 F. With 22 days of rain at 9.6 inches, that's relatively normal for Hilo. As there is more rain in Hilo, you may begin to feel the humidity earlier as we get closer to August.
Kauai: Kauai has an average high of 75 F, low of 61 F, with 24 days of rain at 9.2 inches. This is pretty normal for Kauai and you can expect some morning showers, with the heavier rains in higher areas.
Molokai: Molokai is actually very similar to Oahu, with an average high of 83 F, low of 69 F, and 3 days of rain at 0.6 inches.
Lanai: Lanai has an average high of 78 F, low of 66 F, with 3 days of rain at 1.1 inches.
Hurricane season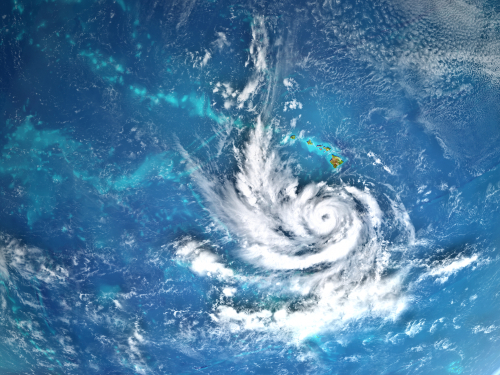 The biggest thing you have to consider about traveling to Hawaii in July is our hurricane season. June 1 to November 30 is officially hurricane season and our local news stations constantly report on tropical storms that form and start towards Hawaii. July is the second month of this 6-month period, but it's also one of the most busiest months for Hawaii travel.
Usually traveling to Hawaii in July during hurricane season is not a problem. We get a few bad tropical storms during hurricane season, which brings heavy wind and rain, and if we're lucky these storms don't form into hurricanes and cause havok.
A few things you should consider when visiting Hawaii in July in hurricane season is:
You'll know about a week in advance if a tropical storm/hurricane is on its way towards Hawaii.
We won't know for sure if it will hit us about 3 days in advance (as the storm gets closer, the path becomes more definite).
Tropical storms can suddenly become a hurricane, or seemingly disappear into nothing and leave behind a normal, sunny day.
It depends on your airlines and your ticket, but most will allow you to at least change your fly dates in advance due to the pending storm.
Should you avoid traveling to Hawaii in July because of hurricane season?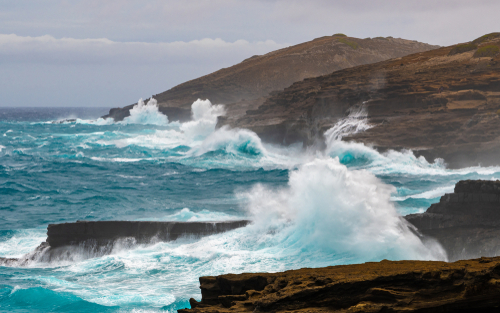 In my opinion, no. Don't let hurricane season in Hawaii scare you off. July is one of the busiest months of the year for Hawaii travel and the weather and temperature are great. More often that not, tropical storms either fade away, veer off, go slightly off course, or don't even turn into hurricanes and just bring a lot of wind and rain over. To do their worst, hurricanes need to form, stay on trajectory toward Hawaii, uphold their hurricane status, and directly hit Hawaii – this is all decided by nature and can't be predicted.
Aside from the few storms and hurricanes that do hit us (both directly or indirectly), Hawaii in July is pretty perfect. You really can't complain since the usual weather and temperature is fantastic. Plus, the north shore beaches are calm and swimmable, unlike in winter when they morph into big wave surf spots.
Local Tip: One place you don't want to be during a hurricane is near the beach. Keep an eye on tropical storms and hurricanes headed toward Hawaii so you can make a change to your accommodation if necessary. Hotels on Waikiki Beach are fine.
Here are a few helpful websites where you can keep track of Hawaii's hurricanes:
July temperature and July weather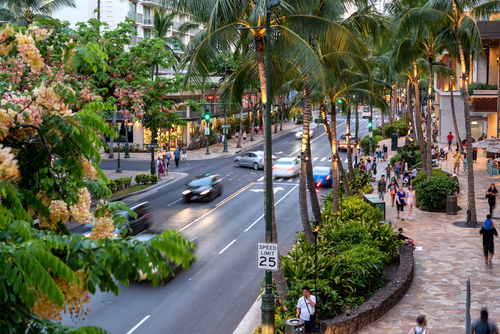 Just based on temperature, Hawaii in July makes it one of the best times to visit Hawaii. The temperature in July is hot and sunny every day and the trade winds are still around to keep the humidity levels low. Daytime temperatures in July are in the 80s F, while nighttime temperatures hover between 70 to 75 F.
The trade winds are still in Hawaii in July keeping the humidity away. Although, you should be aware that the tail end of July may bring more humidity as August is typically the most humid month in Hawaii during the year. Physically, you'll feel the sun hot on your skin and a nice comfortable breeze outside. I recommend bringing one long-sleeved top to block the sun if you burn easily. As for rain, the rainfall is low in Hawaii in July. June, the month before, is typically the lowest and it carries over into July.
Learn More: Clothes For Hawaii You Should Pack
Humpback Whales Don't Visit Hawaii In July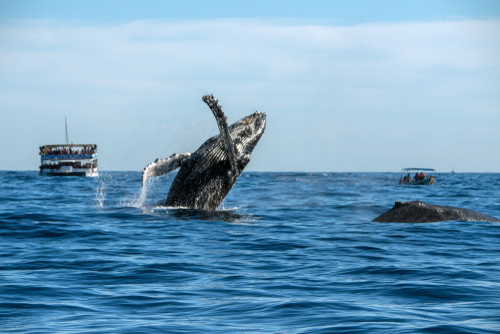 Whale watching season runs from November thru April, which makes Hawaii in July one of the worst times to visit Hawaii if you love these guys. The humpback whales breach, spout, and play and you can see them from the shore or get even closer on a whale watch boat tour.
Read more: The Majestic Whale Watching Cruise By Atlantis Adventures
The humpback whales come during the winter months to mate, give birth, and raise their young. It's really neat to be able to look out to the ocean and actually be able to count the whales as you spot them in the distance.
Read more: A Short And Basic Guide For Whale Watching In Hawaii
What's the ocean like?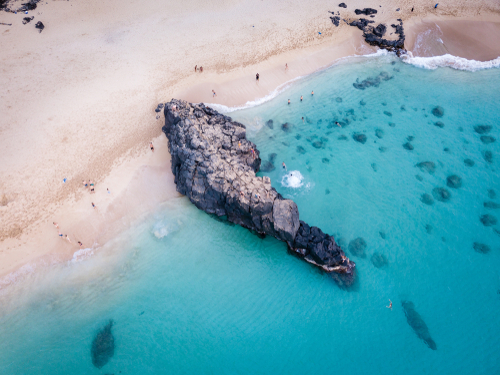 Hawaii in July is a fantastic time to be in the water. Summer in Hawaii means the beaches are calm, which is great if you like to snorkel, swim, or stand up paddleboard (SUP). Our north shores that are great for big surf during the winter, calms down significantly and becomes family-friendly beaches. With the exception of a tropical storm or hurricane near the islands, you can expect flat waters that are perfect for any age across the state.
With just a few waves and a lack of rain, there's a good chance for really clear visibility in the water – an important factor if you want to see farther and more fish in the water.
Surfing competitions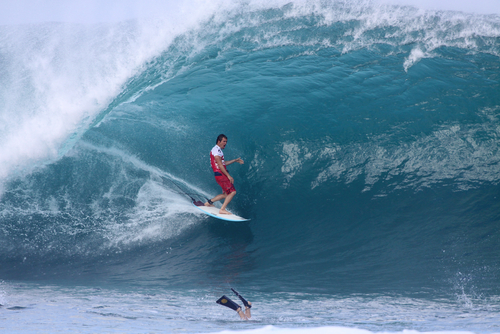 Hawaii in winter means waves; however, Hawaii in July means no waves. You won't find any of those big wave surfing tournaments in July. However, on the flip side, no waves means more snorkeling spots in Hawaii will open up. With the absence of big waves hitting the north shores of Hawaii, you'll have more snorkeling, swimming, and SUP opportunities.
Don't let visiting Hawaii in July stop you from taking a surfing lesson though. Surfing lessons will get you started on 1-foot to 3-foot waves, usually on the south shore of the Hawaiian Islands where you can generally surf all year round.
Snorkeling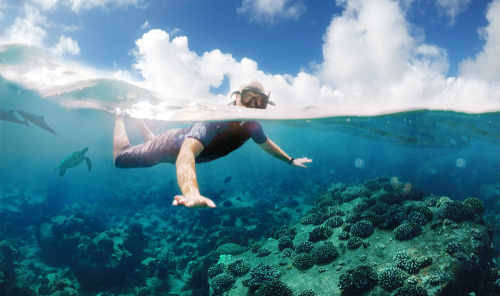 Hawaii in July is great for snorkelers, especially for beginners who need some practice in the water with their fins, mask, and snorkel. Snorkeling spots all around Oahu are often naturally protected and Hawaii in July brings calmer waters island-wide.
If you have young children or a beginner snorkeler, head out to Hanauma Bay or Kuilima Cove (Turtle Bay Resort) first. These two snorkeling spots are great and they'll learn quickly. Intermediate and advanced snorkelers will want to try to snorkel at Electric Beach (Kahe Point) or at Shark's Cove.
Kids at the beach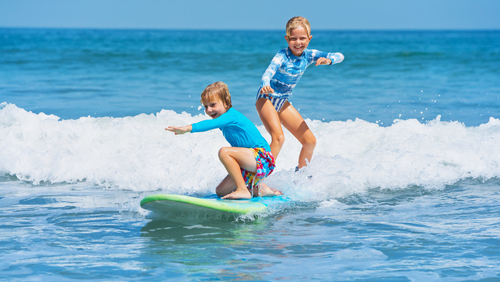 The best part of Hawaii in July that will convince you to visit Hawaii is that the flat summer waves are very suitable for kids of any age. Even the North Shore of Oahu (which turns into a surfing hub in the winter) is calm and peaceful.
It's the perfect time for them to practice their swimming, play in the gentle waves, surf on baby waves, and learn to snorkel and breathe properly underwater.
Hawaii in July Means Summer Break for kids
In terms of convenience, July is often the best time to go to Hawaii if you have kids in school. Summer break gives the whole family a chance to travel to Hawaii together and you can rest easy knowing that the beaches and waves won't be rough.
Everyday is predictably hot and sunny, making it great weather to go outside. But with more kids out and about, keep in mind that many of the family-friendly beaches, hikes, and attractions will be a tad more crowded. Don't forget that the local kids are also on summer break, too.
Local tip: It's not just elementary, intermediate, and high school students you have to worry about during summer break. All of the University of Hawaii students are released for summer from May to July (we have 16 institutions).
On a positive note, when UH students are on summer break, the morning and afternoon traffic on Oahu improves noticeably. More students are sleeping in or staying home instead of sitting in traffic trying to get to their morning class.
Festivals and events in July
Hawaii in July marks the peak of summer, which means there are a ton of festivals and events to look forward to. The biggest Hawaii in July event is of course July 4th. There are fireworks, shopping promotions, and festivities to look forward to.
The big annual events that usually happen in Hawaii in July are:
Oahu events
July 4th Ala Moana Fireworks: Head to Ala Moana Beach Park to view this popular July 4th fireworks show. Visit Ala Moana Center's website for more information.
July 4th Kailua Fireworks: A really spectacular and well-put-together fireworks show held in the Kailua community that's been going on since 1948.
4th of July Celebration at Joint Base Pearl Harbor-Hickam: Open only to military and their guests. However, if you have access to a high vantage point near Pearl Harbor, you'll be able to see their fireworks display.
Annual Prince Lot Hula Festival: Hawaii's largest non-competitive hula festival that honors Prince Lot Kapuaiwa, who was responsible for the revival of hula beginning in the 1850s.
Ukulele Festival: If you're into music and ukuleles, you'll want to come to the annual Ukulele Festival held at Kapiolani Park in Waikiki. Music, food, entertainment, and ukulele celebrities all day.
Dragon Boat Festival: An all-day event held on the last Saturday of July at Ala Moana Beach Park. The boats are beautifully decorated and the coordination between paddlers require months of training.
Obon Festivals (Bon dance): A Japanese Buddhist tradition that has evolved and become a local family event in Hawaii. There's dancing (anyone and everyone joins), small events, shops, and food stalls. Held in Oahu at participating temples from June through September.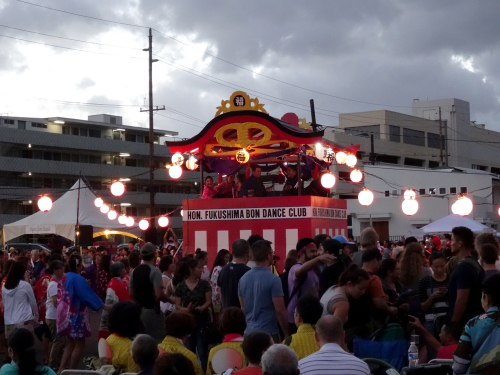 Maui events
July 4th Lahaina Independence Day Celebration: An afternoon and evening event that finishes with a fun fireworks display in historic Lahaina.
July 4th at Kaanapali: See the annual "flowerworks" where more than 60,000 specialty flowers and orchids are dropped overhead by helicopter.
Rodeo & Paniolo Parade in Makawao: A rodeo competition with participants from all over the world.
Run Iao 10K – 5K: A fun family-friendly running event held at Iao Valley State Park.
Obon Festivals (Bon dance): A Japanese Buddhist tradition that has evolved and become a local family event in Hawaii. There's dancing (anyone and everyone joins), small events, shops, and food stalls. Held in Maui at participating temples from June through September.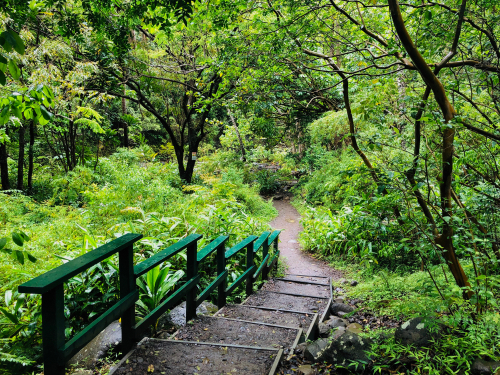 Big Island events
Kona July 4th Parade & Fireworks over Kailua Bay: Watch the parade on Alii Drive and see the fireworks over Kailua Bay in Kona.
Waikoloa 4th of July Extravaganza: Entertainment and festivities are held at Kings' Shops and Queens' Marketplace at Waikoloa Beach Resort, then finishes off with fireworks at Waikoloa Bowl at Queens' Gardens.
Turtle Independence Day Celebration at Mauna Lani Bay: No fireworks here! Instead, the celebration of a few lucky turtles and their "independence" of being released into the wild at Mauna Lani Bay is the main event. A family-friendly event with educational displays, free activities, and food.
Parker Ranch Independence Day Rodeo: On July 4th, Parker Ranch holds a rodeo complete with horse racing, ranch mugging, team roping, a petting zoo, free activities, and local vendors, and food.
4th of July Hilo Bay Blast: Activities for children, live music, food vendors, and a fireworks show.
Hawaiian International Billfish Tournament: A 5-day big marlin fishing competition in Kailua-Kona.
Experience Volcano Village Festival: A 2-day festival showcasing everything that Volcano Village has to offer. There are a variety of activities such as music, hula performances, artists, tours, demos, activities for kids, lots of food, and even a movie night.
Hawaii Volcanoes National Park Cultural Festival: An outdoor affair in Hawaii Volcanoes National Park with interactive exhibits, performances, arts and crafts, hula, and traditional Hawaiian crafts.
Volcano's Ohia Lehua Runs: A half marathon that begins and ends at Volcano Village, and takes you through an ohia forest with scenic views of both Mauna Kea and Mauna Loa.
Obon Festivals (Bon dance): A Japanese Buddhist tradition that has evolved and become a local family event in Hawaii. There's dancing (anyone and everyone joins), small events, shops, and food stalls. Held on the Big Island at participating temples from June through August.
Kauai events
Kekaha Fourth of July Celebration on Westside Kauai: A family-friendly event with Hawaiian cultural performances, exhibits, arts and crafts, a plantation museum and food vendors. It's picnic style so bring your mat and chairs!
Kauai Hospice 4th of July Concert in the Sky: Live music by local artists, games for kids, food, entertainment, and Kauai's largest 3D fireworks show. This is a paid event.
Koloa Plantation Days Celebration: Explore Hawaiian and plantation history and the cultural heritage of the mix of immigrants that worked on the plantation. There will also be food, live events, cultural performances, movie night, historical exhibits, movie night, arts and crafts, and many more family-friendly activities.
Freedom Fest at Pacific Missile Range Facility (PMRF): Dubbed the "Most west freedom fest", this is a night of family fun with food, games, vendors, live music and a fireworks display.
Annual Hanalei Bay Swim Challenge: Named one of the top 100 American Open Water Swims by the World Open Water Swimming Association, the swim consists of races for all ages in Hanalei Bay's calm and gentle waters in July.
Obon Festivals (Bon dance): A Japanese Buddhist tradition that has evolved and become a local family event in Hawaii. There's dancing (anyone and everyone joins), small events, shops, and food stalls. Held in Kauai at participating temples from June through July.
Lanai events
Pineapple Festival: Celebrates what was once Lanai's biggest industry: pineapples. Foodies will enjoy culinary activities such as tastings and cooking contests.
Obon Festivals (Bon dance): A Japanese Buddhist tradition that has evolved and become a local family event in Hawaii. There's dancing (anyone and everyone joins), small events, shops, and food stalls. Held in Lanai at participating temples in July.
Molokai events
Molokai Holokai Stand Up Paddle Races: 26-mile SUP race across the Pailolo Channel from Maui to Molokai, and a Molokai downwind shoreline SUP race.
Molokai to Oahu Paddleboard Race: 32-mile SUP race across Kaiwi Channel from Molokai to Oahu. Begins at Kepuhi Beach, Kaluakoi on Molokai and finishes at Maunaloa Bay, Oahu. There are more than 200 paddlers from all around the world.
Obon Festivals (Bon dance): A Japanese Buddhist tradition that has evolved and become a local family event in Hawaii. There's dancing (anyone and everyone joins), small events, shops, and food stalls. Held at the Soto Mission behind Kanemitsu Bakery in July.
Cost of traveling to Hawaii in July
July is one of the more expensive times to go to Hawaii. Demand is high due to a combination of it being summer break and the wonderfully hot temperatures. This means that both airline tickets and your accommodation will most likely be on the expensive side. I personally try to use my points if I do any traveling during this time. If you're looking for budget tickets, try looking towards the end of July for Hawaii travel. The peak summer season for kids is early and mid-June so the farther away you can get away from that time period, the greater your chance is for cheaper tickets.