This post may contain affiliate links, which means I'll earn a small commission if you purchase something through these links. You won't pay any extra; instead, you'll be helping Aloha With Love to thrive. Thank you! Learn more.
--
Hawaii in May is one of the best times to visit the islands. The weather in Hawaii in May is fantastic, ticket prices and hotel prices are down, and there are typically less tourists this time of year since summer break hits in June and July. Plus, the March and April showers are pretty much finished with so you can look forward to warm and sunny days in Hawaii in May.
Along with the good weather, there's also quite a few annual events, festivals, and outdoor activities to look forward to. Here are all the pros and cons to visiting Hawaii in May.
Aloha with love,
Amy
Hawaii in May weather and temperature
The Hawaii May weather is next to perfect. Hawaii's rainy season is over and the days and nights warm up significantly. Being outside always feels comfortable no matter what time of day (or night) it is. Daytime temperatures hover between 80 to 85 F, while nighttime temperatures dip down to the lower 70s F. The trade winds also make their comeback to Hawaii in May, bringing cooling winds that make even the sunniest days feel comfortable (but I'd still wear that sun block!).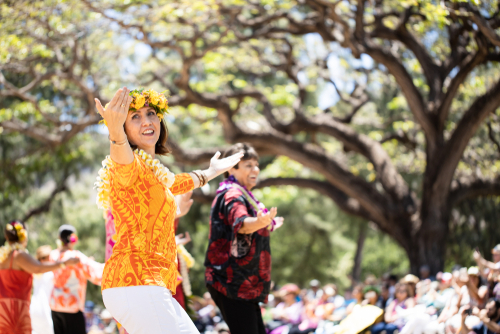 Oahu: With an average high of 81 F, low of 67 F, and a drop of rainy days down to 3 at 0.8 inches, Oahu is finally leaving the rainy season behind and entering summer. The trade winds are blowing and keep you cool even as the day gets hot. It's a really comfortable time to be in Hawaii considering it will only get hotter.
Maui: While Maui has an average high of 74 F, low of 57 F, the amount of rain is similar to Maui in April with 4 days of rain at 1.5 inches. The rain in May is about half of March, a significant drop which means most of the days in Maui will be pleasant and sunny.
Big Island (Kona): Kona has an average high of 84 F, low of 71 F, with only 2 days of rain at 0.6 inches. This side of the island is very hot and dry so it will stay at 2 days of rain from May through September.
Big Island (Hilo): Hilo in May has an average high of 81 F, low of 67 F, with 19 days of rain at 7.9 inches. While this may seem like a lot, rain is normal for Hilo while is why it is so lush and green. In fact Hilo in May is the "driest" beaten out only by June.
Kauai: Kauai is one of the cooler Hawaiian Islands with an average high of 73 F, low of 59 F, with 23 days of rain at 9.6 inches. This much rain is quite normal for Kauai though and you can expect the greenery to be lush and waterfalls full.
Molokai: Molokai in May has an average high of 80 F, low of 66 F, with 3 days of rain at 1.1 inches.
Lanai: Lanai in May has an average high of 76 F, low of 63 F, with 4 days of rain at 1.4 inches.
Humpback whales don't visit Hawaii in May
Unfortunately the chances you'll see a humpback whale in Hawaii in May are slim. Whale watching season runs from November thru April, with January thru March being the peak season. I've only ever seen a humpback whale in Hawaii in May just once when I used to work on a whale watching cruise in Waikiki. The whole staff was surprised, but it was the general consensus that something was probably wrong with the whale for it to still be here in the summer.
Read more: The Majestic Whale Watching Cruise By Atlantis Adventures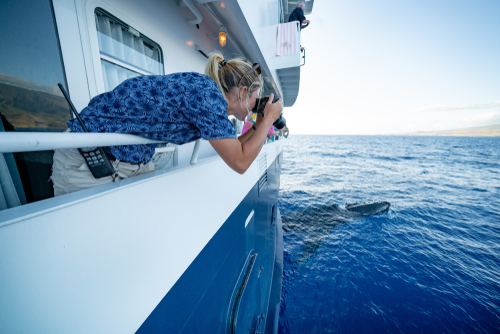 What's the ocean like?
March and April in Hawaii tend to be rainy and that can decrease visibility after a heavy downpour. But the Hawaii in May weather clears up so you can expect clear, blue waters for most of the month.
The swells in Hawaii in May have already toned down even on Hawaii's north shores (where large winter swells sweep in and surfing becomes popular), so even young kids can enjoy any of the beaches you choose. Even the temperature of the water is agreeable. While you can swim in Hawaii's beaches year round, the contrast going in and out of the water is pleasant and comfortable in May.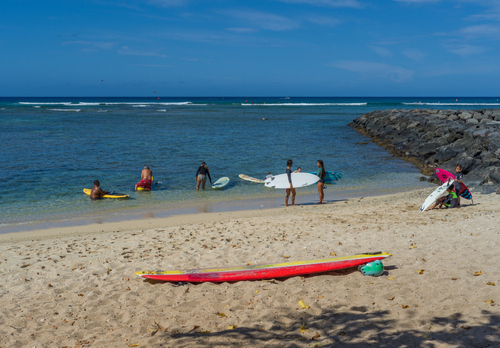 Surfing competitions
Hawaii in winter means waves; however, Hawaii in May means no waves. You won't find any of those big wave surfing tournaments in May. However, on the flip side, no waves means more snorkeling spots in Hawaii will open up. With the absence of big waves hitting the north shores of Hawaii, you'll have more snorkeling, swimming, and stand up paddling opportunities.
Don't let visiting Hawaii in May stop you from taking a surfing lesson though. Surfing lessons will get you started on 1-foot to 3-foot waves, so you can learn to surf year round in Hawaii.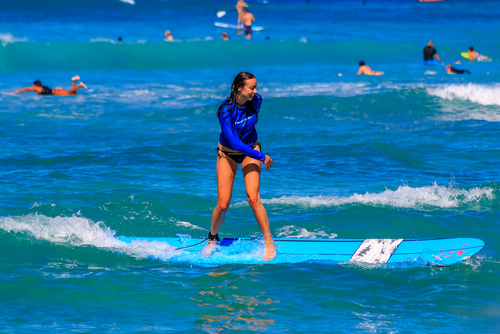 Snorkeling
Hawaii in May is great for snorkelers, especially for beginners who need some practice in the water with their fins, mask, and snorkel. Snorkeling spots all around Oahu are often naturally protected and after the cooler weather and rains of March and April, it's nice to float and snorkel for a couple of hours in the warm May weather.
With the lack of rain and the transition into summer, you should experience clearer waters while snorkeling. You'll be able to see farther and in more detail, which is great news for snorkelers. Once in a while the trade winds are particularly gusty, but they shouldn't interfere with water visibility.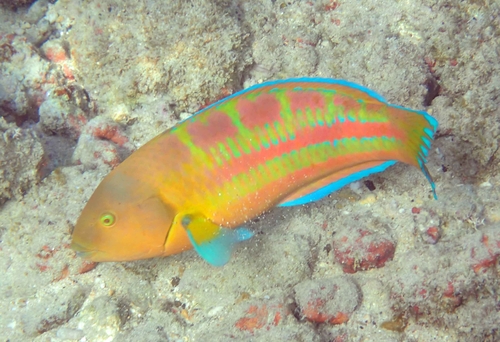 Kids at the beach
Hawaii in May is a wonderful time to go to the beach especially if you're a kid. With the exceptional Hawaii in May weather, warm days, cool water, and calm waves, children at any age will have a blast on Hawaii's beaches. Children will find it easy to dip their heads in the water, play in the surf, and you won't have to worry about the next wave toppling them over unaware.
If your children are very little, consider taking them to baby beaches or toddler beaches. These beaches tend to be more familiar to local residents who take their babies to these zero-wave zones to splash in the shallow, salty ocean water.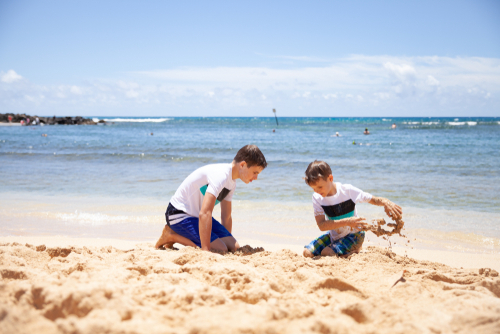 How crowded is Hawaii in May?
If you're worried about there being too many people in Hawaii, then May is one of the best times for you to go. Schools nationwide are finishing up their last month of school, which means the inevitable deluge of kids on break hasn't begun yet.
This also means that the local children are also still in session: elementary, intermediate, high school, and most importantly, University of Hawaii students. There are 10 UH campuses and these young adults will be in their classrooms and busy preparing for their finals instead of out hitting the beach.
Local tip: Traffic tends to be worse when UH is in session. All of those students driving to and from school will make rush hour traffic a hassle so take that into account when finalizing your itinerary.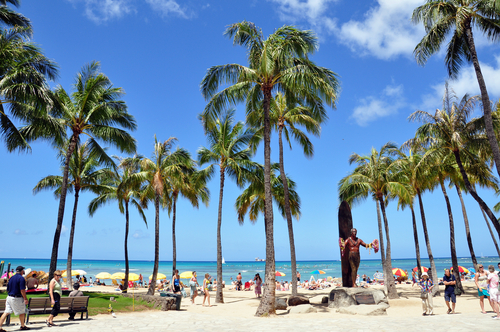 Golden Week: Another thing to be aware of is Golden Week, which runs (usually) from April 29 to May 5. This is a Japanese event where four of Japan's national holidays land in the same week. Including the weekends, Japanese people are able to take a week off to travel just by taking a day or two of vacation.
As you can imagine, a good chunk of these Japanese people end up vacationing in Hawaii during their precious Golden Week. All of Hawaii's tourism companies know about Golden Week, too, and everything from marketing to deals to promotions are geared towards this one-week event.
Festivals and events in Hawaii in May
Oahu events
May Day is Lei Day: May 1 may be May Day on the mainland, but here in Hawaii we say lei day. It's custom to gift a lei and there's even a big event at Kapiolani Park where there's music, live performances, a lei contest (the lei designs are amazing), and gorgeous lei and haku (traditional Hawaiian headbands made from leaves and flowers) available for purchase.
May Day Waikiki: Also on May 1 is a celebration of Waikiki in the days of old. There are free canoe rides, activities, and live performances all in honor of Waikiki "back in the day".
Parade of Farms: Local participating farms and agricultural communities host family-friendly farm tours, hands-on activities, give out samples, and provide delicious farm-to-table lunches.
Lantern Floating Ceremony: Held annually on Memorial Day, this is both a somber and enchanting ceremony for those who want to wish their loved ones farewell. Thousands gather at Ala Moana Beach with their lit lanterns and release them out into the ocean. The lanterns light up the ocean and evening sky in bittersweet silence as they float away.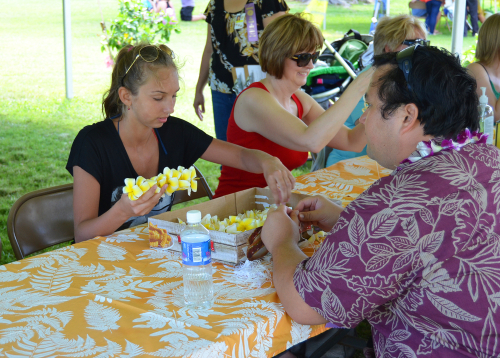 Maui events
Maui Matsuri: A Japanese cultural festival featuring live entertainment, food, arts and crafts, and family-friendly activities.
Seabury Hall Crafts Fair: Held the day before Mother's Day in Upcountry Maui, more than 100 local artisans gather to share their wares along with live entertainment, food vendors and family-friendly activities.
Big Island events
Kau Coffee Festival: Celebrating the unique coffee and coffee farms from Kau, Big Island.
Hamakua Harvest Annual Farm Festival: With over 40 food vendors, educational events about agriculture, entertainment, and family-friendly activities, this one-day event celebrates the local Hamakua agriculture.