This post may contain affiliate links, which means I'll earn a small commission if you purchase something through these links. You won't pay any extra; instead, you'll be helping Aloha With Love to thrive. Thank you! Learn more.
--
Most visitors to Oahu will choose a car rental as their main mode of transportation on Oahu. But it's very common to pair a car rental with different modes of transportation during their stay. Here's how you can get around Oahu.
Aloha with love,
Amy
Is A Car Necessary To Get Around Oahu?
You can have a perfectly wonderful vacation on Oahu without a car.
Oahu has a fantastic public transportation system that can get you almost anywhere on the island. It will take longer and you'll have to be aware of the schedule, but it is possible and will save you a lot of money.
Renting A Car
If you can afford to rent a car, I highly recommend driving a vehicle as your main mode of transportation on Oahu.
Honolulu International Airport has several nationwide car rental companies to choose from. When you exit out of baggage claim, walk to the median to catch a shuttle or follow the directions to the Consolidated Rent-A-Car (CONRAC).
Alternative Car Rental Options To Get Around Oahu
Discount Hawaii Car Rental is a unique service that works with major car rental companies to find the best vehicle that fits your budget. Even better is their customer service – you can talk to their representatives via live chat, contact form, or on the phone if you have any questions.
Lucky Owl Car Rental is a local car rental company you might want to consider if you're staying on Oahu for an extended period. I've never used them before, but I've heard good things about them from friends and family.
Renting A Car If You're Underaged (21 – 25 And Younger)
If you're under 21, renting a car from any car rental company will be almost impossible. Instead, check out the rideshare and carshare options below.
If you're 21 to 25 years old, most car rental companies will rent to you but you'll have to pay a young driver fee. Your best bet is to rent a car from a local company and check out their policies and/or prices.
Drive Hui (a local car sharing service) has a great article on renting a car if you're 25 or younger.
Rideshares And Carshares
Turo is a popular carsharing app that allows you to rent a car from local individuals.
Uber and Lyft are commonly used through most areas in Oahu. If you're staying in Waikiki, it will be easy for you to get in and around the downtown Honolulu area. From Honolulu Airport to Waikiki, expect to pay around $20 – $40 for the ride.
Drive Hui is a carsharing service on Oahu where you can rent cars by the hour from more than 50 stations across Oahu. It's a fairly popular service and its use among tourists has been slowly growing.
Holoholo (Hawaiian for let's go cruising) is a neat ridesharing app similar to Uber and Lyft with a few added benefits such as military clearance or can take on riders who need extra help getting in or out the vehicles. They also partner with SpeediShuttle, a well known airport shuttle, if you're traveling with a group of over 7 people.
Taxis
Taxis are commonly used on Oahu, particularly from Honolulu Airport to Waikiki or Kahala. You can also schedule a taxi in advance to pick you up, but these days most people opt for the convenience of Uber and Lyft.
Taxis typically cost about $40 from Honolulu Airport to Waikiki, but they're readily available right outside of the baggage claim on the median.
Tips And Things To Know When You Rent A Car
Parking is not always available for accommodations. Confirm with your vacation rental or hotel to see if parking is non-existent or requires an extra fee. Finding street parking can be a pain especially if there's an event going on, which happens often in Waikiki especially on the weekends.
Gas is typically more expensive than what you'll see on the mainland. Check out today's gas prices for each island here.
Some hiking trailheads on Oahu begin in suburban neighborhoods. Be respectful and lower your voice especially in the mornings because most households are sleeping.
Driving a car is sometimes not the best option. Attractions such as Diamond Head or locations in Downtown Honolulu may be more easily reached from Waikiki via public transportation due to the difficult of finding parking.
Renting A Moped
It's extremely popular to book a moped in Waikiki. Cheaper than a car rental and still providing quick transportation in Oahu, these are a common option for those on a budget. Keep in mind that mopeds can only be driven on surface streets. Driving a moped on the freeway will only get you a ticket.
Shuttle Transportation On Oahu
Some hotels and resorts offer their own shuttle services, but not all of them are free. Check your accommodation's website in advance to see what their shuttle services are like.
For the most part, most Oahu hotels and resorts rely on visitors finding their own transportation.
Airport Shuttles
You have a lot of airport shuttle options when it comes to getting to your accommodation.
The most well-known are SpeediShuttle and Roberts Hawaii – both of which are large companies that provide shuttle and transportation services throughout the state of Hawaii. Prices are fairly affordable and shuttle services are frequent. There are also many smaller shuttle services on Oahu that you can book with if you prefer a private shuttle experience.
Prices begin at around $16 per person.
Did You Know? Lei greetings at the airport must be booked in advance. If you book a lei greeting with transportation, you'll most likely receive your lei outside of the airport (where you'll meet your driver). Booking direct from a lei greeting company means your greeter will meet you at your gate.
Waikiki Trolley
Waikiki Trolley is actually a great way to sightsee all the major sights and attractions in, around and near Honolulu. Besides stopping at all the major hotels, the Waikiki Trolley will also take you to different shopping centers, popular eateries, landmarks, attractions, sightseeing spots, museums, hikes and more.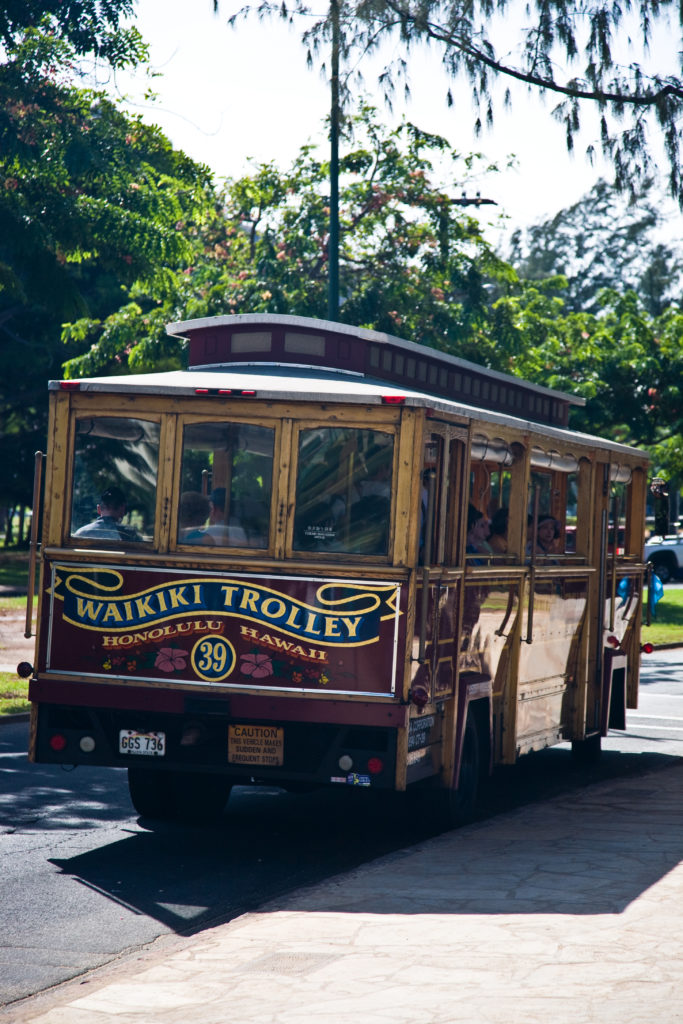 Public Transportation On Oahu
Public transportation on Oahu is extremely convenient and affordable. Bus routes even go to remote areas on the island. If you're on a strict budget, public transportation on Oahu is a good way to go.
Traveling on a budget? The Best Of Oahu In One Week: 7-Day Oahu Itinerary
TheBus
TheBus is Oahu's bus system and as of January 1, 2023, a single ride costs $3 while a day pass goes for $7.50. There's also a 7-day pass for $30 and a month pass for $80.
If you want to catch the bus from Honolulu Airport to Waikiki, catch the #20 bus. The #20 comes around every 20 minutes or so.
Local Tip: The farther you get from Downtown Honolulu and Waikiki, the longer your bus ride will be. The bus ride from Honolulu to Oahu's north shore takes about 3 hours.
Skyline
Skyline is Oahu's rail system which runs in tandem with TheBus. In fact, you can treat it as another bus route. Prices, transfer regulations and fare-capping rules are all the same. The only difference is that cash is not accepted. To board Skyline, you must purchase a Holo Card ($2 at select retail locations), load it up with cash, then scan your way in.
Holo Cards can be used on both Skyline and buses.
Exploring By Bicycle
Biki Bike stations are located throughout Waikiki and the denser areas of Honolulu. They're a fun way to travel between attractions in Downtown Honolulu. There are a variety of payment plans that work for both residents and visitors.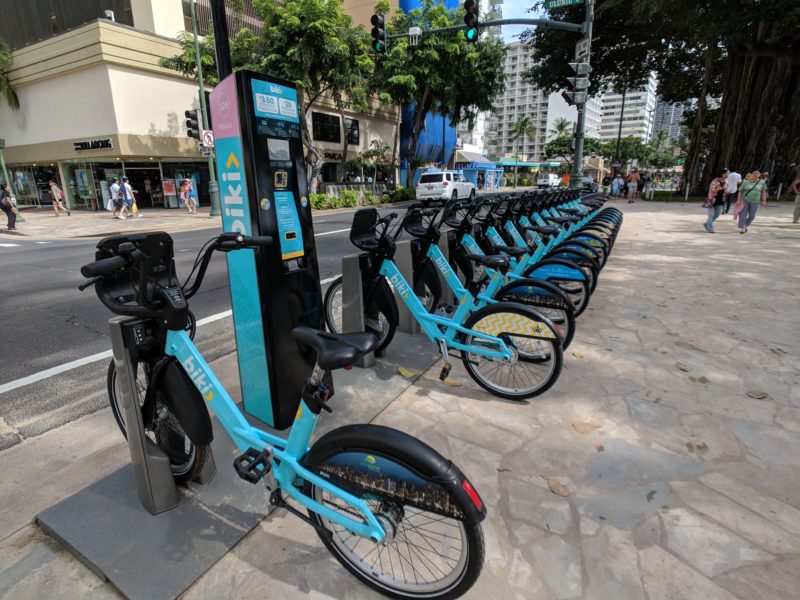 Get Around By Guided Tours
Even if you decide to not rent a car, you can still see all the important attractions and landmarks by booking a guided tour. Oahu has a huge tourism industry and there are plenty of activities to choose from.
If you don't want to deal with the researching and planning required for driving around Oahu, I recommend booking a tour guide for Oahu. There is a variety of guided tours with experiences such as turtle watching, waterfall visits and even food tastings.
If you're on a budget and still want that incredible tour guide experience, I recommend Shaka Guide's GPS audio tours for Oahu.
Getting Around Oahu By Foot
There are plenty of walkable areas on Oahu.
Waikiki and Downtown Honolulu will take you more than a few days to explore by foot. There are plenty of shops to explore, beaches to relax at and restaurants to try as you see what downtown has to offer.
Haleiwa Town is another great area to explore by foot. Located on Oahu's north shore, Hawaii's surf town is packed with boutique shops, restaurants and beach activities.
Kailua Town is a personal favorite of mine to explore. The small town beach vibe is unique and I always enjoy getting some shopping therapy done when I'm in the area.
Island Hopping
The Big Island may not be the only island you plan on visiting. It's common for travelers to include 2 or even 3 islands in their Hawaii travel plans so they can see as much of the different islands as possible. Hawaiian Airlines and Southwest Airlines are your main choices for interisland flights. But if you're okay with smaller commuter airplanes, I suggest giving Mokulele Airlines a try if you want to save some money.
Learn More: Guide To Island Hopping In Hawaii
Oahu Cruises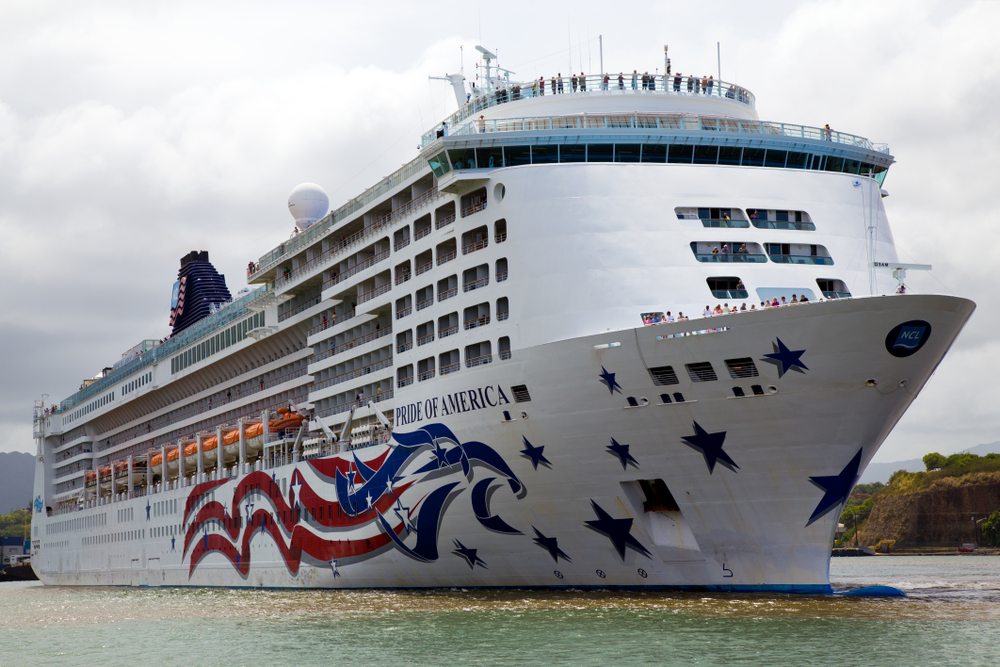 A unique method of transportation on Oahu are the variety of cruises you can ride.
If you're interested in a multi-day cruise, check out the Pride of America. The ship sails from Honolulu and over the course of 1 week you'll visit the 4 major islands and stop at 5 ports.
There are also many day cruise excursions on Oahu such as snorkeling or dolphin cruises. Whale watching cruises are especially popular on Oahu and shouldn't be missed!