This post may contain affiliate links, which means I'll earn a small commission if you purchase something through these links. You won't pay any extra; instead, you'll be helping Aloha With Love to thrive. Thank you! Learn more.
--
There are all kinds of opinions about Oahu out there: too crowded, best nightlife, lots of traffic, amazing hikes, too many tourists, yummy local restaurants…
The truth is, Oahu has a little bit of everything. If you stay in downtown Honolulu and Waikiki – then yes, it's crowded and there are plenty of tourists. But on the flip side, you'll never run out of things to do. There are tours to enjoy, shops to visit, entertainment to see, events to witness, the list doesn't end. And if you ever get bored, just walk outside and there's plenty to see.
But the best thing Oahu has is that despite the crowds, you can still find the secluded beaches, uncrowded hikes, and non-touristy activities. You just have to know where to look (because they aren't in downtown Honolulu or Waikiki!).
Getting around Oahu
This 1-week Oahu itinerary is written for those who plan on using a rental car when visiting Oahu. There are plenty of rental car companies at the Honolulu Airport and apps like Turo are quite popular here even among local residents who are island hopping.
It's also possible to get around Oahu by bus. We have an extensive bus system here and it's easy to get to the best sightseeing spots in Oahu. Just be aware that it will take more time to get there the farther you travel away from downtown Honolulu or Waikiki.
Day 1: Arrival into Oahu
When you arrive in Oahu, you'll be landing at the Daniel K. Inouye International Airport (HNL), formerly known as the Honolulu International Airport. Transportation out of Honolulu airport is easy. There are taxis and shuttles readily available 24/7 and you can meet your Uber or Lyft driver in the designated rideshare pickup area.
Book a lei greeting: Be greeted with a fresh flower lei by your own lei greeter. This is a memorable experience for romantic getaways, family get-togethers, and surprise Hawaii gifts.
Assuming you're staying in Waikiki, take some time to orient yourself by taking a walk in Waikiki – there is so much to see and do here. Waikiki has over 100 restaurants and local shops to explore. There are also coffee shops, souvenir stores, and top brands that line the Waikiki strip.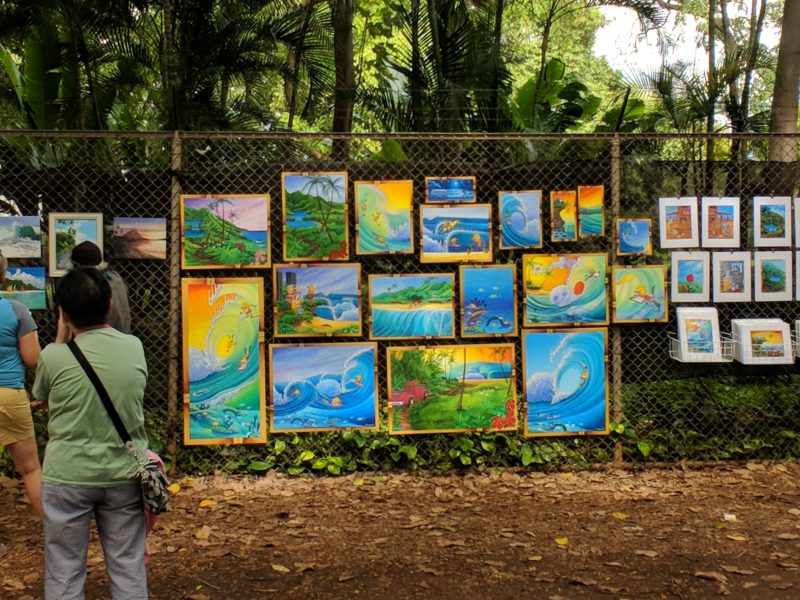 Here are some of my favorite things to do in Waikiki when you take stroll:
Visit the Art on the Zoo Fence right across Kapiolani Park to meet some local artists.
If you love shopping, stop at International Market Place or Ala Moana Shopping Center
If you just like walking around, you can enter the different hotels and enjoy the architecture and views. My favorites are the Moana Surfrider and The Royal Hawaiian – some of Hawaii's oldest large hotels.
Day 2: Visit the North Shore and its beautiful beaches
The North Shore in Oahu refers to a long stretch of beach that's popular for snorkeling, turtles, but most of all surfing. During the winter swells, there are several surfing tournaments to spectate and it's common for local residents to take the day off to go and watch the surfers ride these big waves.
Haleiwa town is a neat little surf town where both tourists and locals hang out for shopping, food, and activities. Popular beaches such as Waimea Bay are almost always crowded with full parking lots, but there are plenty of gorgeous beaches where you can park on the side of the road and walk a few steps to the sand.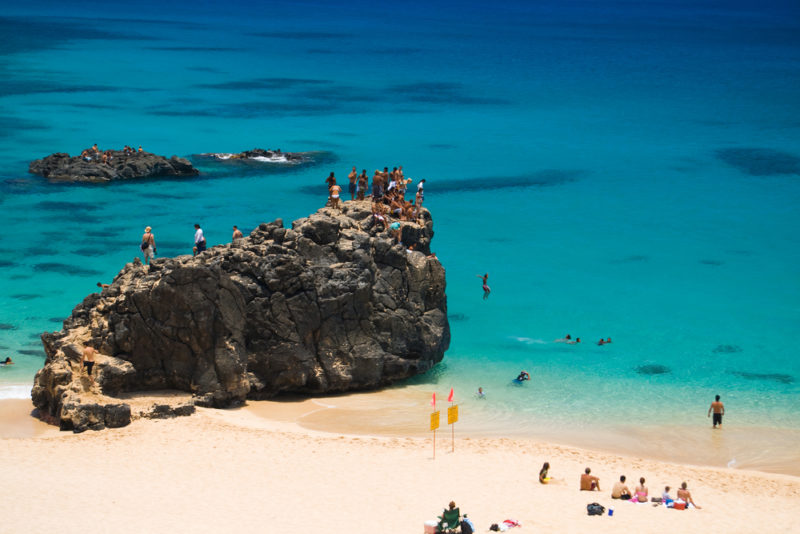 Some of my favorite things to do in the North Shore:
The North Shore has some gorgeous ocean hikes, particularly on the northwest side of the island.
If you're traveling with your family (especially with kids), I recommend one of these beach parks to spend the day at.
For lunch there are plenty of restaurants and food trucks to try out in Haleiwa and are a great choice to try out local food.
In Kahuku (about a 1-hour drive past Haleiwa and further down the North Shore), the shrimp trucks are popular to stop at for a tasty lunch.
For those who want to see the Hawaiian green sea turtle, here's how you can see turtles in Oahu.
Day 3: Snorkel with fish and turtles
I love snorkeling. All you need is a mask, snorkel, some fins and you can easily spend a couple of hours watching sealife interact with each other.
Not every beach is suitable for snorkeling. Some beaches have rough waters or just aren't a popular place for fish to hang out. You'll also find different species depending on which beach you choose to visit.
Hanauma Bay is one of the more popular and well-known snorkel spots for Hawaii visitors. Its a protected marine life conservation area that is perfect for beginners as the bay is well protected from rough waves.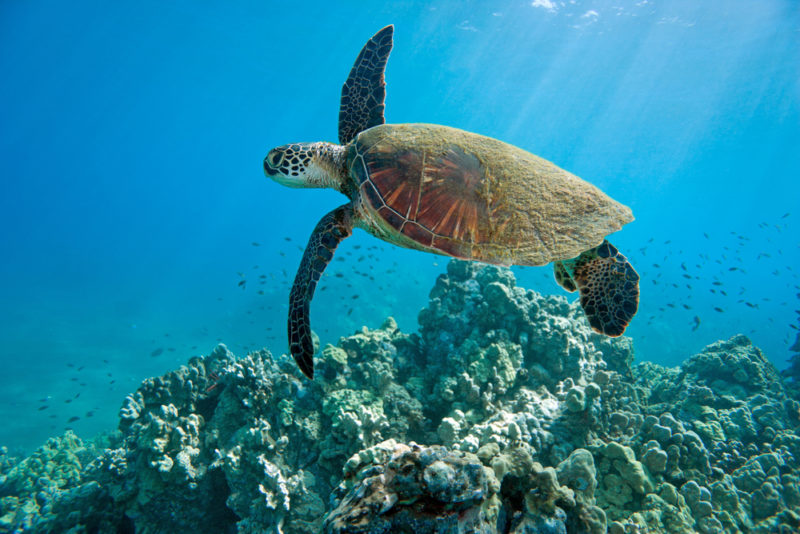 For more fantastic snorkeling spots on Oahu, try out these beaches:
Aweoweo beach park is one of my personal favorites as its a small beach park with turtles swimming just off the shore.
Strong swimmers will have a blast at Electric Beach. The water tends to be deeper here, but there's a chance you'll see dolphins.
Another great spot for superb snorkeling is Shark's Cove – probably one of my favorite snorkeling spots in Oahu.
For more on snorkeling spots in Oahu, here's a few suggestions of some snorkel spots that aren't so crowded.
Day 4: Museums for Hawaiian history and culture
Sometimes you just want a break from the sun's harsh rays. Oahu has some great museums that are rich in Hawaiian culture and history. From small, private tours of homes to large nonprofits running world-famous museums, everyone will find something of interest to them.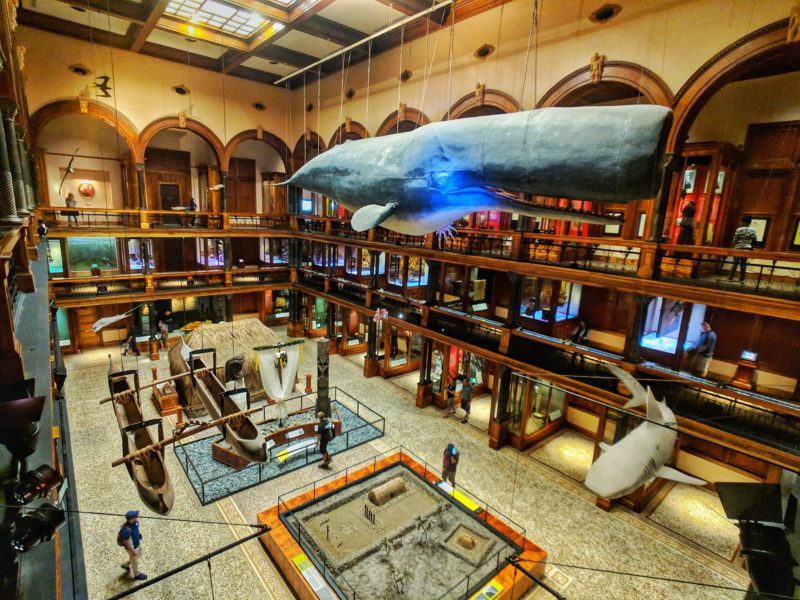 Some of my favorite museums that provide an excellent glimpse into Hawaii's history and culture:
Pearl Harbor is one of the top historical places to visit in Oahu. Besides visiting the USS Arizona Memorial, there are also museums and other WWII-related activities to do and see.
In addition to Pearl Harbor, don't miss the USS Missouri, USS Bowfin, and the Pearl Harbor Aviation Museum.
If you want to learn more about Hawaiian culture and the Hawaiian people, there's no better place to be than the Bernice Pauahi Bishop Museum.
Go off the beaten path to the Old Waialua Sugar Mill for a free mini coffee and chocolate tour.
Day 5: Circle island tour around Oahu
When local residents say "circle island" we mean "drive around the island. If you did this nonstop, a circle island tour would only take you a few hours. But as you can guess, there are so many sightseeing spots, vistas, and attractions along the way that it's easy to stretch a circle island tour into a full-day activity.
The best part about a circle island tour is that you can do this yourself with a rental car. Besides gorgeous attractions such as Valley of the Temples or driving to Tantalus for an amazing panoramic view of Honolulu, there is plenty to see, do, and eat as you explore Oahu by car.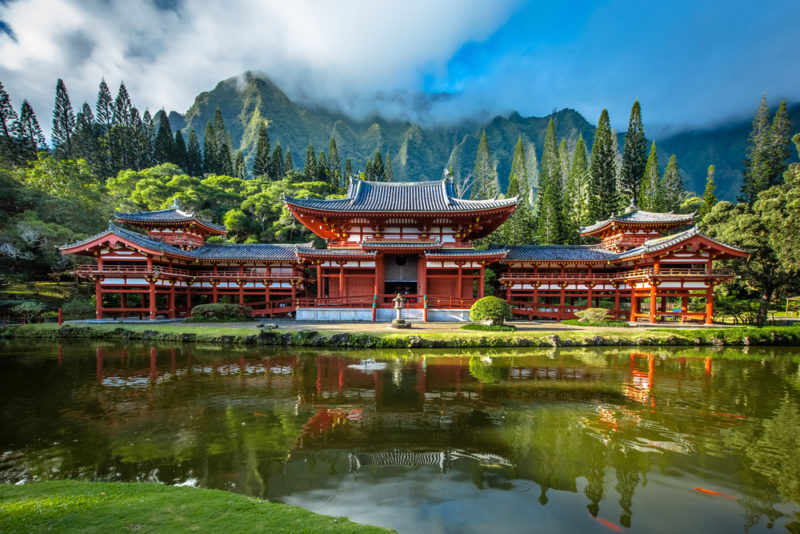 Just past Hanauma Bay, you'll come across a sightseeing spot for the Halona Blowhole where water shoots straight up from the force of the waves.
On the North Shore, stop by Puu O Mahuka Heiau, where you'll find the remains of Oahu's largest ancient Hawaiian temple.
One of my favorite spots to take my visiting friends is the Nuuanu Pali Lookout. There's a fantastic view of the Windward side of Oahu and it's so much fun when it's a windy day!
If you're into ancient Hawaiian history, the Kukaniloko birthstones are also a great spot to stop at.
Day 6: Go on a hike and see the view
In Oahu, going on at least one hike is an amazing way to spend a couple of hours seeing the raw beauty of this island. Depending on the level of your physicality, you'll want to choose the right trail for you. For those looking for an easier trail, see this list of hikes in Oahu that might work for you.
You'll also want to be aware of what you want to see while you're hiking. Do you want to hike in a forest and see a mountainous view? Or, would you rather see the Pacific Ocean as you climb your way up? Are you like me and would rather do a shady hike?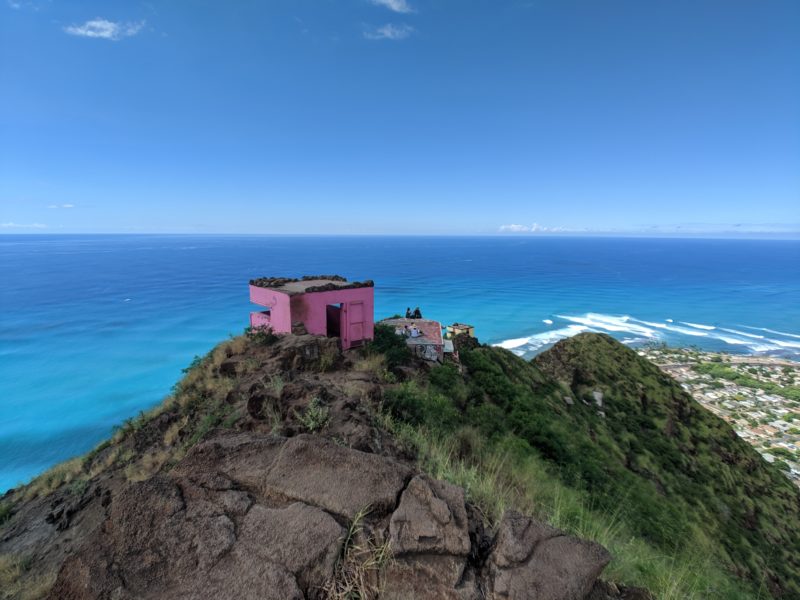 Some of my favorite hikes on Oahu:
Day 7: Get ready to go home
Going home and leaving Hawaii can be bittersweet. Oahu is such a wonderful place to explore and 7 days just isn't enough time to give it the attention it deserves. But there are ways you can bring Hawaii home with you. We have plenty of local stores and unique items to bring home as a memento of your time in Oahu.
For those on a budget, believe it or not you can find souvenirs in our local Walmarts and Costcos. From a visitor perspective, you'll find plenty of Hawaii-only items being sold at Costco.
The most popular souvenirs from Hawaii are chocolate-covered macadamia nuts, Kona coffee, pineapples, and items made from koa wood.
If you're looking for one last quick thing to do near your hotel (assuming you're staying in Waikiki), here are some of my suggestions:
Hike up Diamond Head. Despite the crowd, the view of Waikiki from the top is amazing. If you're lucky, you'll see the KCC farmers' market across the street at Kapiolani Community College.
There are quite a few free things to do in Waikiki. Some require that you sign up in advance so plan ahead!
If you're into local food, I recommend trying Musubi Cafe Iyasume. Musubi is a combination of white rice, nori (seaweed), and some kind of topping. You'll find a nice selection here and these make for an easy meal on the airplane, too!
There is so much to do in Oahu, you won't have a difficult time filling up your free time. In fact, I think it's actually more difficult finding enough time to do all the things you want to see, try, and eat!
I recommend you pace yourself though. A lot of visitors to Hawaii will at first spend most of their time in the sun only to get sunburned and spend the rest of their vacation in pain. Be sure to arrange some indoor activities to give your skin a break.
Have a fantastic time in Oahu! Comment below if you have any questions.
Aloha with love,
Amy