This post may contain affiliate links, which means I'll earn a small commission if you purchase something through these links. You won't pay any extra; instead, you'll be helping Aloha With Love to thrive. Thank you! Learn more.
--
On the eastern most point on Oahu, you'll find what I think is one of the most breathtaking hikes in Hawaii. With a conveniently wide path winding all the way to the top, Makapuu Lighthouse Trail (Kaiwi Shoreline Trail) is a relatively easy and great hike to go on with friends, family, kids and it's even pet-friendly! The drive there is exceptionally pretty, and the hike is the perfect midway point during a circle island ride on Kamehameha Highway.
Aloha with love,
Amy
About Makapuu Lighthouse Trail
Located at the far eastern point of Oahu, hiking the Makapuu Lighthouse Trail remains one of the most popular things to do in Oahu. Driving past Hanauma Bay, you'll reach the Makapuu Lighthouse Trail by car in about 5 – 10 minutes. You'll see a long road leading up to the trail head and most likely several cars parked along the side of the road.
There's a small parking lot that gets filled up fast, but you can also park on the side of road. You'll be farther from the trail head, but the hike itself doesn't take too long (although it does get hot on this side of the island). If you want to avoid parking so far away, come early in the morning. Not only is it cooler, but Makapuu Lighthouse Trail is well-known for its amazing sunrises! (Bring a flashlight if you're coming to see the sunrise.)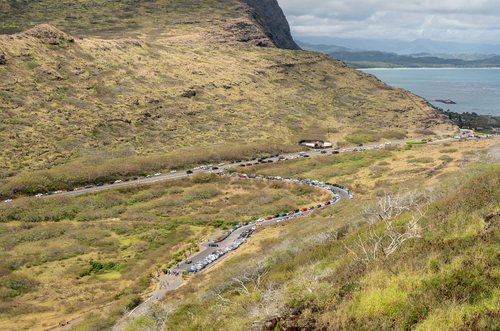 Walking on the trail
In my opinion, walking on the Makapuu Lighthouse Trail is one of the best out there if you need a flat surface. It's a smooth path all the way up, but it is a steady incline so it may make you sweat depending on your fitness level. There are plenty of viewpoints as you go up (basically each turn has a viewpoint), but the path is wide enough that you can stop on the side and enjoy the view if you need a breather.
For me, it takes me about 30 – 40 minutes to get to the to top at a standard pace including breaks to enjoy the view. But you can certainly get to the top at a dash if you wanted to. I've seen people with canes walk up the Makapuu Lighthouse Trail and once even saw a local resident push someone on a wheelchair to the top.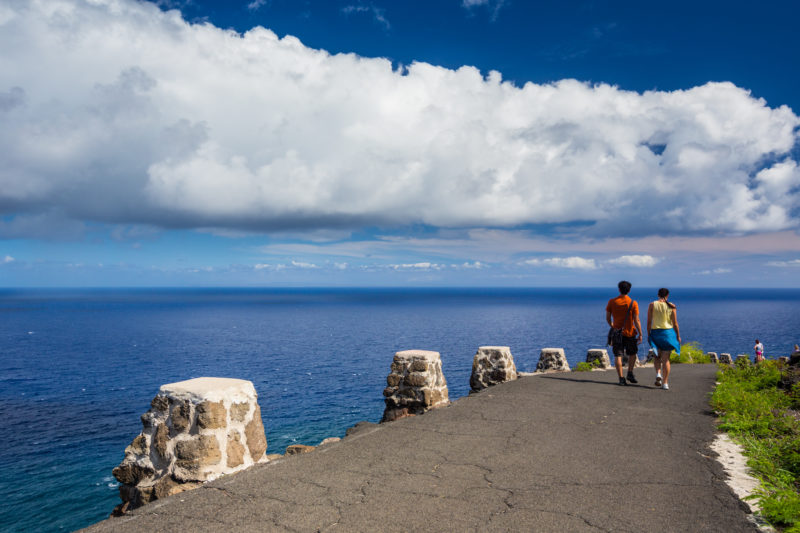 Humpback whale watching season
If you're lucky enough to be here during the winter, keep a lookout for humpback whales in the ocean. They come in quite close to shore and the best way to spot them is to continuously scan the water looking for their spout (it's a puff of mist that shoots up vertically as they come to the surface to breathe).
It's a well-known fact that the area around Makapuu Lighthouse is a favored spot for humpback whales to frequent on Oahu. There are informational signs posted at various viewpoints as you make your way up.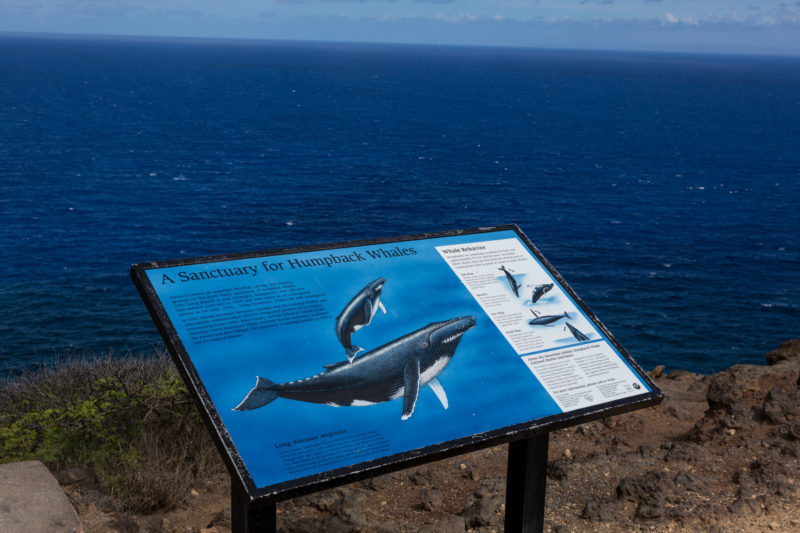 The view from the top
At the very top, you'll get a sweet panoramic view of the coastline and a gorgeous sight of the larger Manana Island (Rabbit Island) and smaller Kaohikaipu Island in the forefront. Further out along the coastline you'll see Moku Nui and Moku Iki Islands (the Mokes) and on especially clear days, you'll even be able to make out Molokai sitting right on the horizon when you look east.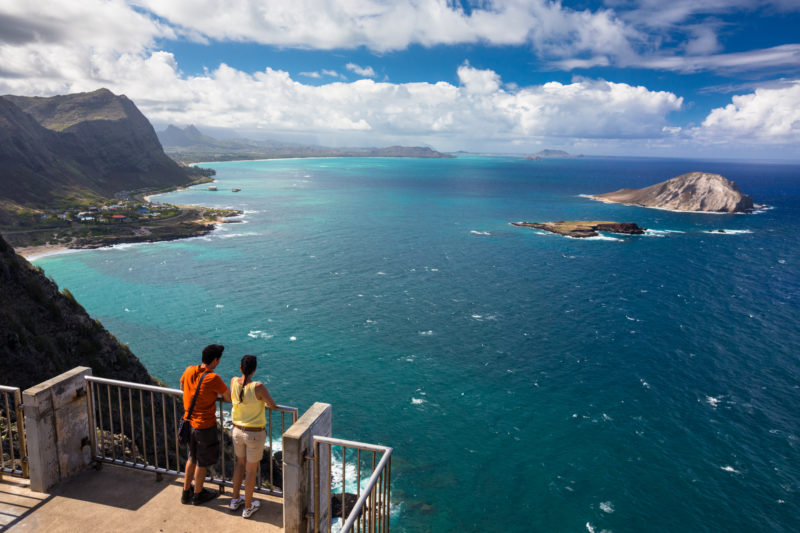 Hiking on New Year's Day
Early morning on January 1st each year, hundreds of people climb up Makapuu Lighthouse Trail to greet the new year's first sunrise. Needless to say, this is the one day of the year where the early morning parking disappears fast. Get there early if you plan to participate so you can snag a good parking spot.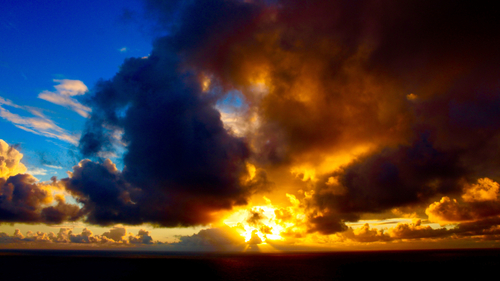 Things to do near Makapuu Lighthouse Trail
This side of the island is very sparse when it comes to buildings or facilities, but it's still a huge attraction for both tourists and local residents because of the beaches and natural beauty. There are several outdoorsy things to do in Oahu near here:
Hanauma Bay: One of the most popular things to do in Oahu is to head to Hanauma Bay for the day for a wonderful snorkeling session. This place is great for any age and is well-suited for beginners.
Koko Head Railway Trail: Fondly referred to by local residents by just "Koko Head", this is straight-up hike that resembles a StairMaster workout. As you climb the old tracks, you'll hear words of encouragement from fellow hikers as you go up.
Koko Head Shooting Complex: Oahu's only shooting complex, which can get packed during certain hours.
Koko Crater Botanical Garden: This is a very different botanical garden compared to others in the state because the Koko Head area is naturally hot and dry. You'll see a lot more cacti, dirt and little shade, but it's a beautiful place to be if you like being outdoors.
Kaiwi Shoreline Trail and Pele's Chair: Sharing the same trail head as the Makapuu Lighthouse Trail, this dirt trail leads to the ocean and Pele's Chair – a lava rock formation that looks like it was made for a volcano goddess to sit on.
Makapuu Lookout: Drive past the Makapuu Lighthouse Trail (away from Hanauma Bay) and you'll see a small parking lot with a large viewing platform. Keep a lookout for the World War II bunkers that are here.
Makapuu Beach and Baby Makapuu: Makapuu Beach can be seen from both the Makapuu Lighthouse and Makapuu Lookout viewing platforms.
Sea Life Park: A marine park with a variety of sea creatures including turtles, dolphins, and native sea birds.
Sandy Beach: Sandy's is known for three things: the wind, bodyboarding, and spinal and neck injuries (its nickname is Broke Neck Beach). It's common to fly kites at this beach and you can often spot paragliders circling above. Unfortunately, I don't recommend Sandy's waters due to its mean shorebreak.
Makapuu Tidepools: Another thing to do in Oahu that I cannot recommend are the Makapuu Tidepools. Access is on the Makapuu Lighthouse Trail and the tide pools, while often appearing on Instagram and thought of as "off the beaten path" have swept people into the waters and ended in fatalities.