This post may contain affiliate links, which means I'll earn a small commission if you purchase something through these links. You won't pay any extra; instead, you'll be helping Aloha With Love to thrive. Thank you! Learn more.
--
One of the best things to do in Maui is to drive the Road to Hana. Hana highway is filled with waterfalls, beaches, lava formations, hikes, views, greenery, history, with unique shops along the way. The last time I drove the Road to Hana was with another friend and we completed the entire trip in one day. But if you have the time, you can easily split the Road to Hana into 2 or even 3 days with no problem. In fact, you'll probably be glad you have the extra time to really explore everything the Road to Hana has to offer.
Aloha with love,
Amy
About the Road to Hana
There's a good reason why driving the Road to Hana is one of the most popular things to do in Maui. It ranks just as high as Haleakala National Park or snorkeling at Turtle Town. Incredibly unique to Maui, it's no wonder that it attracts tourists and visiting locals alike.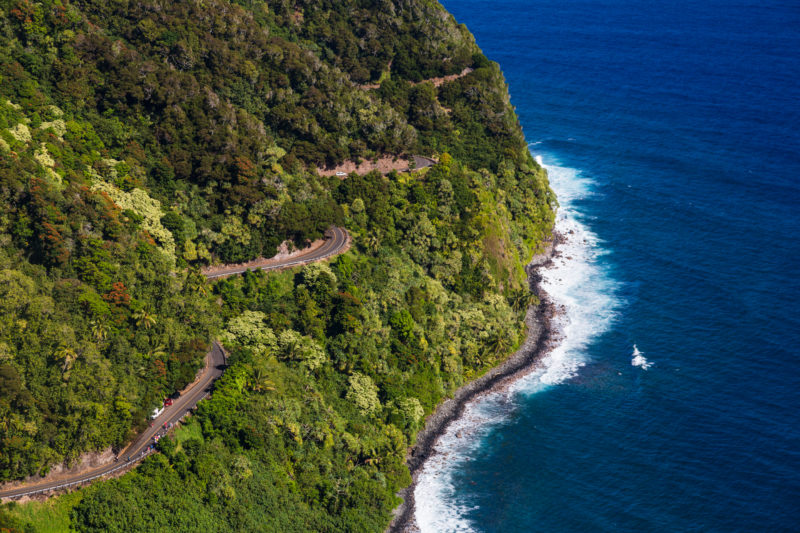 Cool facts about the Road to Hana
It might be called the Hana Highway (Hwy 36 & 360), but this road actually has 620 turns and 54 (mostly one-lane) bridges. This might turn away those of you who get car sick easily, but what makes the Road to Hana a real gem is that there are so many stops along the way. It's hard to not stop at every waterfall or viewpoint you pass by.
For most Road to Hana drivers, the journey begins in Paia Town and ends at the Kipahulu Visitor Center in Haleakala National Park (the entrance to the popular Pipiwai Trail and Oheo Gulch). The ride takes place on the back side of Haleakala, the northeastern coast of Maui.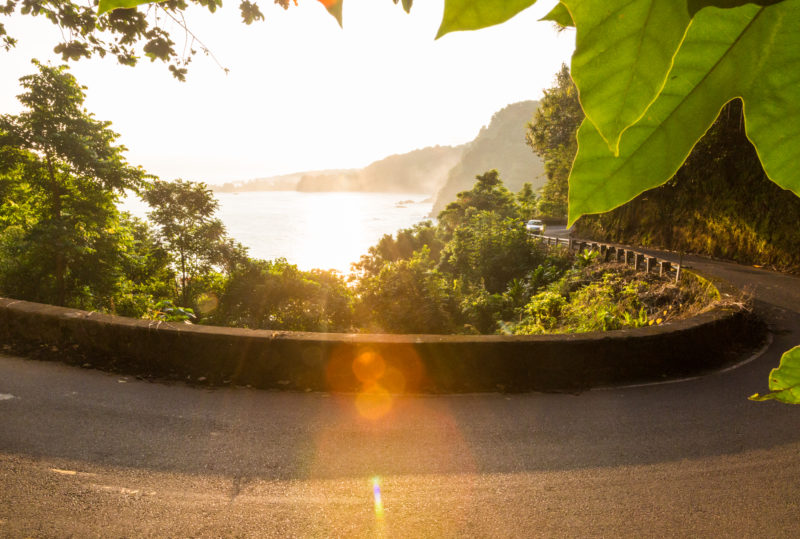 Driving the Road to Hana
There are 4 options when it comes to driving and exploring the Road to Hana:
Drive to Hana and back in one day.
Take a Road to Hana tour with a guide who knows the best spots.
Spend 2 or more days exploring while staying in nearby accommodation.
Explore the Road to Hana by car, then fly back to Kahului for cheap. This seems like a super fun option that I'd like to try one day!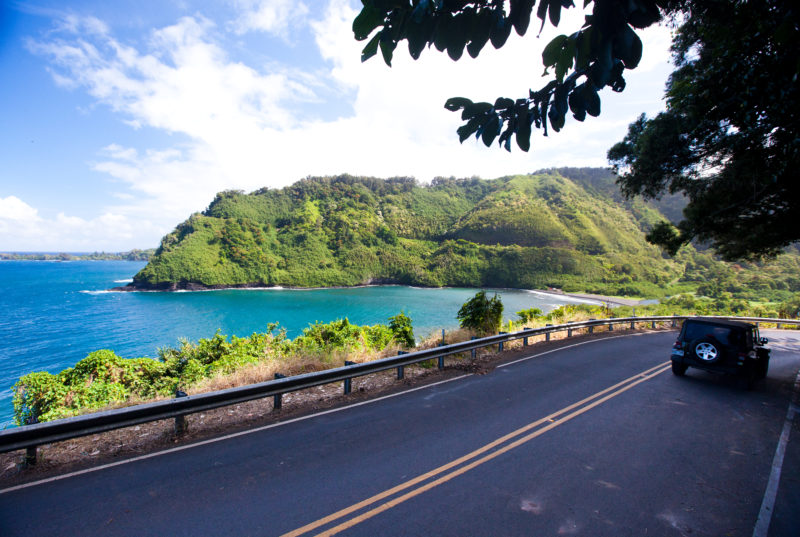 Hana one-day round trip
Driving to Hana and back in one day is what most tourists end up doing. Most people want to squeeze as many things to do in Maui as possible into their itinerary. This means you need to wake up early (I recommend leaving by 5 or 6 AM) in order to make the most of the daylight.
There are no streetlights on the Hana Highway so once it gets dark, it gets dark fast. You'll only have your car's headlamps and maybe the red tailgate lights in front of you (depending on traffic) to rely on. So if driving in the dark is not your thing, plan to head back a few hours before sunset.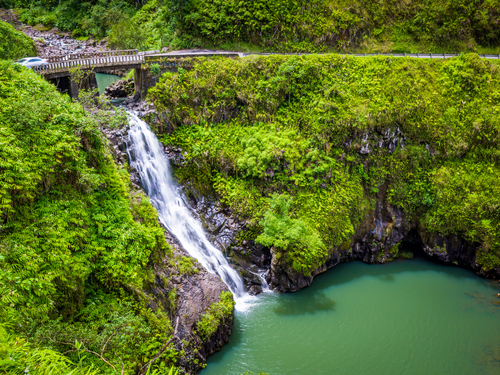 My experience: If I could do the Road to Hana again, I think I'd like to stay overnight at least one night. My one-day round trip meant I could only do short stops and whenever we stopped and hiked, I was constantly looking at my watch or looking at the map to see how far I came and how much more I had left to do.
Don't get me wrong, the experience was wonderful, but there was a sense that I was being rushed and instead of being able to fully enjoy the sights and surroundings, a part of my brain was always conscious of the time and that I still wasn't close to Hana Town.
Where to stop on the way
Some of my personal favorite stops on the Road to Hana are:
Twin Falls Trail: A beautiful hike leading up to two waterfalls side by side. However, don't do this when it's raining or there's a chance for heavy rain. The stream can flood and you won't be able to get back.
Waianapanapa State Park: Beautiful views and black sand beaches.
Hana lava tube (Ka Eleku Cavern): A self-guided lava tube tour that is a fun and unique experience for the whole family.
Hamoa Beach: Located near the end of the journey, this is one of my favorite beaches in Maui.
Upper Waikani Falls (Three Bears): Another great waterfall hike with three waterfalls.
Pipiwai Trail: A little past Hana. Located in Haleakala National Park just past the Kipahulu Visitor Center. This is the longest trail and it ends at Waimoku Falls.
Oheo Gulch (7 Sacred Pools): A little past Hana. A much shorter hike (a walk down to the coast) also part of Haleakala National Park.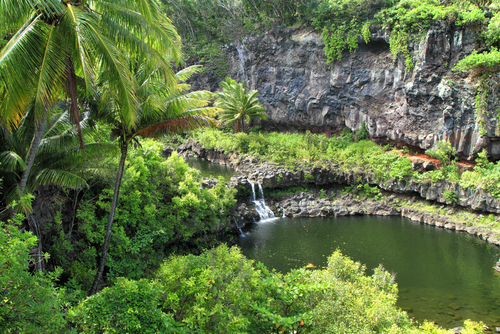 Even more importantly, you'll need to eat along the way. Some notable places to stop on the Road to Hana for sustenance are:
Huelo Lookout Fruit Stand: You'll see this fruit stand in the beginning of your journey. It's a great place for a smoothie breakfast so you can start your day energized. There's a lookout point here, too, so you can enjoy the view as you snack.
Aunty Sandy's Banana Bread: Located on the Keanae Peninsula, Aunty Sandy's banana bread is baked fresh daily and is very popular among both tourists and local residents.
Halfway to Hana: Snack shop with incredibly tasty banana bread, sandwiches, ice cream, drinks – everything you need to feel refreshed from the first half of the Road to Hana.
Hana Farms Roadside Stand & Restaurant: If you're looking for something a bit more hardy, Hana Farms has a great substantial menu with items like wood-fired pizzas, fresh farm fare, and colorful salads.
There are a handful of food trucks near the end of the Road to Hana. Give them a try if you're into something quick and tasty.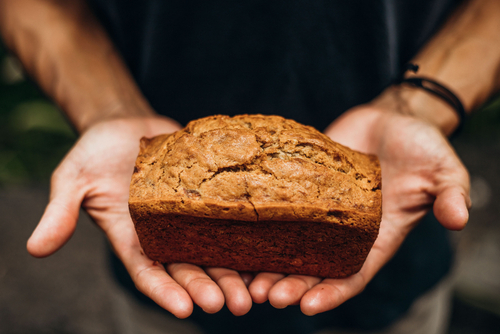 Other things to do near the Road to Hana
There are plenty of things to do while on the Road to Hana, but here are a few other things to do in Maui that are close by:
Paia Town: This is the unofficial starting point of the Road to Hana. Instead of driving past so you can get started on Hana Highway, it's worth it to spend a morning or afternoon walking around Paia. There are a bunch of unique shops and restaurants that give off a boutique vibe.
Go past Hana: You might think Hana Town is the end of the drive, but there are quite a few exceptional things to do in Maui that's right after Hana. Besides the Pipiwai Trail and Oheo Gulch that I mentioned earlier, there's also places like Charles Lindbergh grave, Wailua Falls, and Haneoo Road where you can get a good view of Alau Island.