This post may contain affiliate links, which means I'll earn a small commission if you purchase something through these links. You won't pay any extra; instead, you'll be helping Aloha With Love to thrive. Thank you! Learn more.
--
There are only two highways to get around Kauai – Kuhio Highway (Route 56) travels between Kauai's north shore to Lihue and Kaumualiʻi Highway (Route 50) travels from Lihue to Waimea. Here's what you need to know about transportation on Kauai.
Aloha with love,
Amy
Getting Around Kauai Without A Car
Is it possible? Yes. Would I do it? Probably not.
If you're visiting Kauai as a tourist, you're probably on a limited time schedule. Having reliable transportation will get you where you need to go so you can make the most of your trip.
Kauai is more "country" than most of the other major islands and lacks convenient public transportation and alternative transportation methods. If you must travel without a car, plan carefully in advance so you don't waste time waiting around for a ride.
Renting A Car
Getting around Kauai by car is the easiest mode of transportation on Kauai.
For the most part, Kauai's car rentals are located near Lihue Airport with a couple of outliers in Kapaʻa. There's a decent selection of national car rental companies such as SIXT, Budget, J & J, Avis, Payless, Hertz, Enterprise, Alamo, National, Advantage and Economy.
If you would like to support the local Kauai transportation economy, consider renting a car from a local business:
Discount Hawaii Car Rental is a unique service that works with major car rental companies to find the best vehicle that fits your budget. Even better is their customer service – you can talk to their representatives via live chat, contact form, or on the phone if you have any questions.
Renting A Car If You're Underaged (21 – 25 And Younger)
If you're under 21, renting a car from any car rental company will be almost impossible. Instead, check out the rideshare and carshare options below.
If you're 21 to 25 years old, most car rental companies will rent to you but you'll have to pay a young driver fee. Your best bet is to rent a car from a local company and check out their policies and/or prices.
Drive Hui (a local car sharing service) has a great article on renting a car if you're 25 or younger.
Rideshares and carshares
Turo is a popular carsharing app that allows you to rent a car from local individuals.
Uber and Lyft are spotty at best. Your best chance at catching these rideshares is in Lihue near the airport and maybe up and down along the east coast. If you end up hailing one to go to a more remote area, you'll have a tough time coming back.
Holoholo (Hawaiian for let's go cruising) is a neat ridesharing app that services the Hawaiian Islands. Although the presence of Uber and Lyft are weak on Kauai, Holoholo actually does pretty well. However, I recommend putting in your request early (the day before if possible).
Taxis
Taxis are available on Kauai and they're affordable if you're headed to Lihue.
You can call these taxi services at the Lihue Airport or walk out to their vehicle if you see them. If they're waiting for passengers, they'll be at the curb right in front of the baggage claim.
Tips And Things To Know When You Rent A Car
Expect to pay more for gas on Kauai (more than what you would see on Oahu, Maui and the Big Island). If you see an average for Hawaii, it's most likely the average gas price in Honolulu. Check out today's gas prices for each island here.
Although Kauai is less populated, it has an ongoing problem of illegal parking taking place at popular hikes and beaches on the north shore. The fees can be steep for parking in no-parking zones – exceeding $200 – so be mindful of where you're parking. At the time of writing this, the fines will only be imposed on non-residents.
Shuttle And Trolley Transportation In Kauai
There are four shuttle options to get you to your hotel and back to Lihue Airport. Roberts Hawaii and SpeediShuttle are the more popular and usually more economical especially if you choose to rideshare with other passengers. Both companies are statewide and service many of Hawaii's major airports.
Airport shuttles
If you're staying at the Marriott's Kauai Beach Club, they'll have a complimentary shuttle service at the group tour area outside of baggage claim running every 15 to 30 minutes.
Poipu Shuttle
Make it a point to hang out in Poipu for a night so you can hop on the Aloha Spirit Kauai Shuttle for a ride. With just a phone call, the shuttle will take you wherever you need to go within the Poipu area in the evening. The shuttle is free and you'll have a grand time with your driver as you drive through Poipu.
Kauai North Shore Shuttle
If you're staying on Kauai's North Shore (Waipa, Wainiha, Haena) and headed to Haena State Park, the free Kauai North Shore Shuttle is something you'll want to look into. The shuttle ride requires advanced reservations and a little admin work on your end if you want to arrange a particular stop, but it's at no cost to you and you won't have to worry about parking as you hike and camp.
Public Transportation In Kauai
The Kauai Bus covers transportation from Kekaha to Hanalei. You can see from the map below that the bus route is sparse because the rest of the island is mountains, rainforests, and canyons. If you decide to rely on the bus to travel between towns, I recommend staying in Lihue (where the red route is). Almost all of the bus routes overlap at Lihue, making it the most convenient place to stay.
If you'd rather not stay in Lihue, another strategy would be to stay in Hanalei (north) or Koloa/Poipu (south) and explore the immediate area. When you're ready to move, use the bus to travel to your next destination.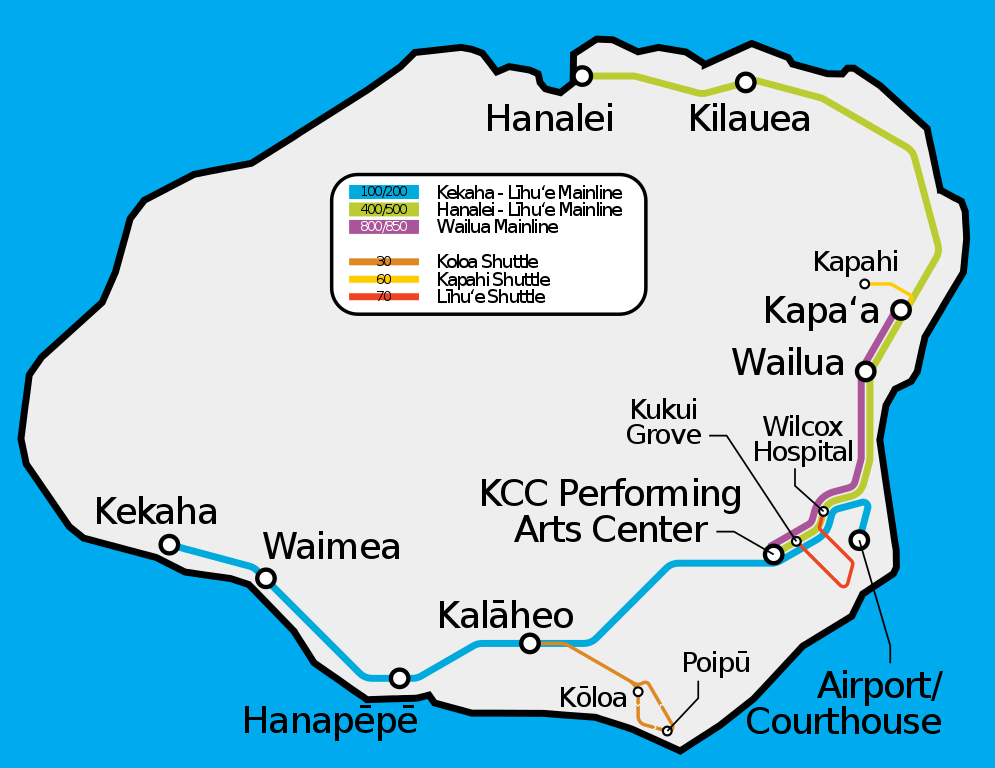 The bus fare costs $2.00 per ride and $5.00 for a day pass. If you plan on relying heavily on the bus, there's also a monthly pass available for $50.00. Senior citizens (65+) and youth (7-18) do have discounted rates but they must be able to show their ID if asked. Children 6 and under ride free with a paying passenger.
Getting Around Kauai By Bicycle
There are only a few bike rental shops scattered along the north, east, and south shores of Kauai.
North Shore
Kapaʻa
Lihue
Poipu
Get Around By Guided Tours
If you'd rather avoid the longer drives and heavy trip planning, I recommend booking a Kauai tour guide to see all the best spots and attractions. Most popular are the tours that venture into Waimea Canyon and the circle island tours.
If you're on a budget and still want that incredible tour guide experience, I recommend Shaka Guide's GPS audio tours for Kauai.
Getting Around Kauai By Foot
Despite the limited choices for alternative transportation, once you're in one of the bigger towns, Kauai is fantastic by foot! A popular favorite is Poipu, where there's an entertaining collection of shops and restaurants along the beach. Nearly everything is within walking distance and the views you get are outstanding.
Another good one is Hanalei on the north shore. There are no condos or resorts here, so you'll have to rent a vacation rental or cottage if you plan to stay in the area. But Hanalei Bay and its boardwalk is beautiful, plus you get a great view of the Na Pali cliffs.
Island Hopping
Kauai may not be the only island you plan on visiting. It's common for travelers to include 2 or even 3 islands in their Hawaii travel plans so they can see as much of the different islands as possible. Hawaiian Airlines and Southwest Airlines are your main choices for interisland flights. But if you're okay with smaller commuter airplanes, I suggest giving Mokulele Airlines a try if you want to save some money.
Kauai Cruises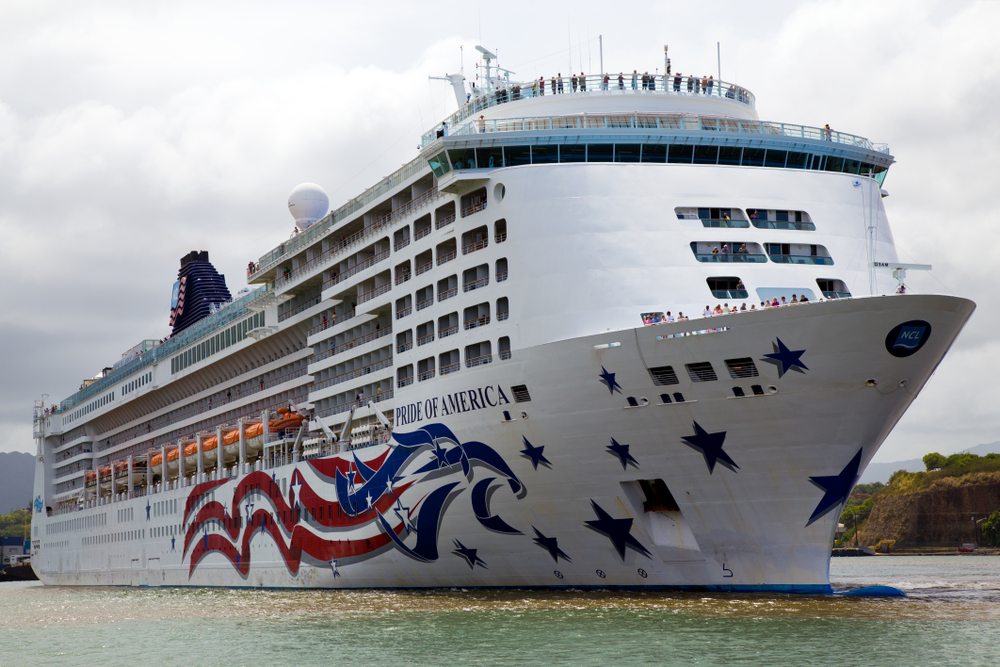 If you're interested in a multi-day cruise, check out the Pride of America. The ship sails from Honolulu and over the course of 1 week you'll visit the 4 major islands and stop at 5 ports.
For half-day or day-trip cruises, check out Kauai's snorkeling cruises or popular sunset cocktail and dinner cruises. Many of them take you along the Na Pali coast and the views are absolutely incredible!
Ferry Between Kauai And The Big Island
There are some old sources on the internet promoting the Hawaii Superferry, but this does not exist anymore. If you want to visit several islands in your trip, consider going to Maui where there's a ferry that runs to Lanai and Molokai.
Learn More: How To Get Around Maui: Transportation Guide