This post may contain affiliate links, which means I'll earn a small commission if you purchase something through these links. You won't pay any extra; instead, you'll be helping Aloha With Love to thrive. Thank you! Learn more.
--
For most cases, in order to get the best view while flying to Hawaii, try to get a seat on the right side of the plane (when facing forward). If that's not possible, no worries! When leaving the island, aim for a seat on the opposite side for that spectacular view.
If you're flying into Oahu under special circumstances like a smaller airplane company or private jet, it would be best to ask the agents/pilot which side is best since the landing strip may be in a different location or orientation.
Aloha with love,
Amy
Flying into Hawaii
While most airports generally look the same, Hawaii is a treat because of that first amazing view you can get of our beautiful islands. Flying into Hawaii you'll see the lush, dark green mountains embrace Honolulu almost like a hidden city in an Indiana Jones movie.
While we have plenty of islands to choose from, whether or not you plan to stay in Oahu or a neighbor island, chances are you are flying into Honolulu International Airport first. After landing at this main hub, passengers going off to a neighbor island have to transfer to the inter-island terminal to catch their connecting flight.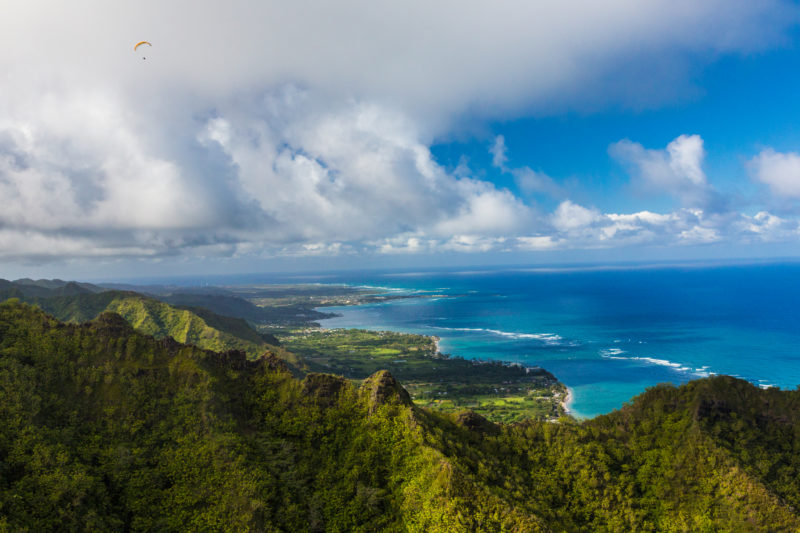 If you're catching a connecting flight to a neighbor island, make sure you leave enough time for you to get to the inter-island terminal! If your flight is delayed, you'll be rushing the whole way with no time to enjoy the uniqueness of the outdoor atmosphere of the Honolulu International Airport.
If you are running late for your next flight, make sure you get on the Wiki Wiki shuttle that the staff will have ready for you right outside the automatic doors of your arrival gate. Just ask if you don't see it. (My personal advice to you as a former lei greeter in the airport. Much of my free time was spent frantically running along with customers to their next flight).
More about flying into Hawaii
Best Hawaiian Island: If you're unsure about which island you should be flying into, check out my guide on how to choose the island that's best for you and your Hawaii travel plans.
Mokulele Airlines: A small airline company that serves inter-island travel. I use it most often when flying between Honolulu and Molokai.
Hawaiian Airlines' Boston and Honolulu flight: One of longest domestic flights is from the east coast to Hawaii.
Honolulu International Airport: Learn more about Hawaii's biggest and main airport, how to navigate it, and my personal travel tips.