This post may contain affiliate links, which means I'll earn a small commission if you purchase something through these links. You won't pay any extra; instead, you'll be helping Aloha With Love to thrive. Thank you! Learn more.
--
After hurricane season leaves our shores, the days get shorter, the morning cool air lasts longer and my dog begins to beg to cuddle on my bed at night. Unfortunately for her, I have a new (expensive) mattress and she has a perfectly comfortable bed on the floor.
These are my seasonal cues for one of the best seasons in Hawaii – whale watching season.
I used to work as a guest service agent – a fancy word for waitress – on a sunset cruise off the coast of Waikiki. The ship would also operate as a whale watching vessel, running a morning and lunch whale excursion that would leave me overworked and happily paid with time-and-a-half.
The season lasts from November to May officially, but whale numbers are low at the beginning and end. Most whale watching companies will begin in December and run through March and sometimes April.
Whale season in Hawaii will be here soon so here's a whale tip for all you winter travelers. Although the official season is from November thru May, I personally see the most whales from January thru March.
While humpback whales can be spotted swimming around anywhere around the islands, there are a few hot spots where these amazing creatures tend to congregate. And if you're looking for that out-of-this-world breaching whale photo, you'll want to head to these spots first!
Here's a detailed density map of where these intelligent creatures like to hang out from the Humpback Whale National Marine Sanctuary. This map will tell you which shores you'll need to head to this winter season!
Wishing you plenty of fun whale watching in Hawaii!
Aloha with love,
Amy
Local Tip: I've said it once and I'll say it (over and over) again: my favorite whale watching season is February. Personally I feel that the month of romance is the very best time to see whales in Hawaii. There's just so many of them swimming around! So if you're coming to Hawaii in February, definitely book that whale watching tour!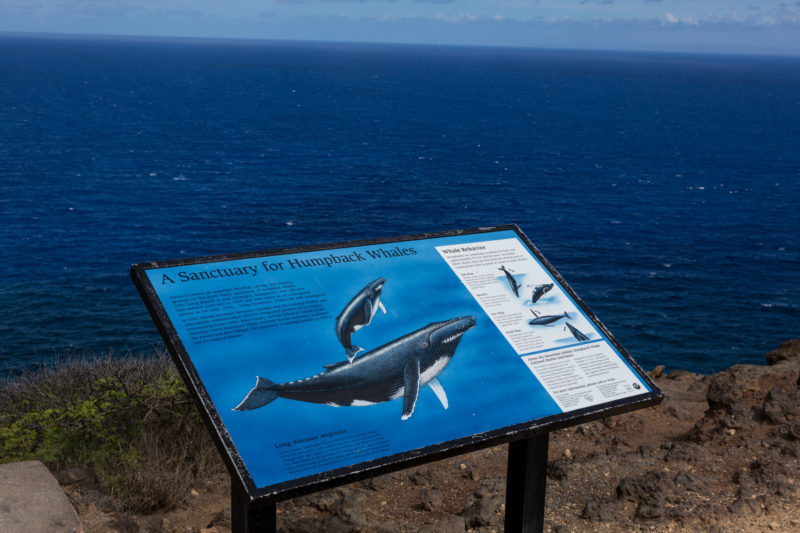 Oahu
While Oahu's northern tip is littered with whales, it's difficult to see whales in this area because there are no high view points to give you a good vantage point. If you're only going to stay on Oahu, don't despair! It's common to see whales on the easy and gorgeous Makapuu Lighthouse Trail and sometimes the Kaena Point Trail (also famous for Hawaiian monk seals).
Maui, Molokai and Lanai
Humpback whales love this area between these three islands and all three are popular spots for whale viewing. Most Hawaii vacationers end up on Oahu and Maui and if they don't spot whales on Oahu, their chances on Maui will shoot through the roof.
Local Tip: Head to Maalaea Bay during February (my "sweet spot" month for whale watching).
Big Island
Looking for whales on the Big Island? Head to Puukohala Heiau National Historic Site (Hill of the Whale) where you'll be in the middle of whale traffic. The view here is gorgeous and with Spencer Beach Park next door, you can enjoy a nice lunch on a picnic table along with your first class panoramic view. Other popular viewpoints are Lapakahi State Historical Park and Kapaa Beach Park.
Local Tip: Schedule at least a couple of hours here to explore the ruins, visit the gift shop, walk the short hike and learn a Hawaiian craft.
If you're in the mood for a hike, walk your way up to the Puu Kuili cinder cone in Kekaha Kai State Park – this view is absolutely gorgeous and I highly recommend it on very clear weather days!
Kauai
The Poipu area is locally known for viewing whales from land, but you may want to head to the Kilauea Lighthouse and Wildlife Refuge (there is an entrance fee) if you're in primetime whale watch season. Not only can whales be spotted here, but also dolphins and a variety of unique island birds.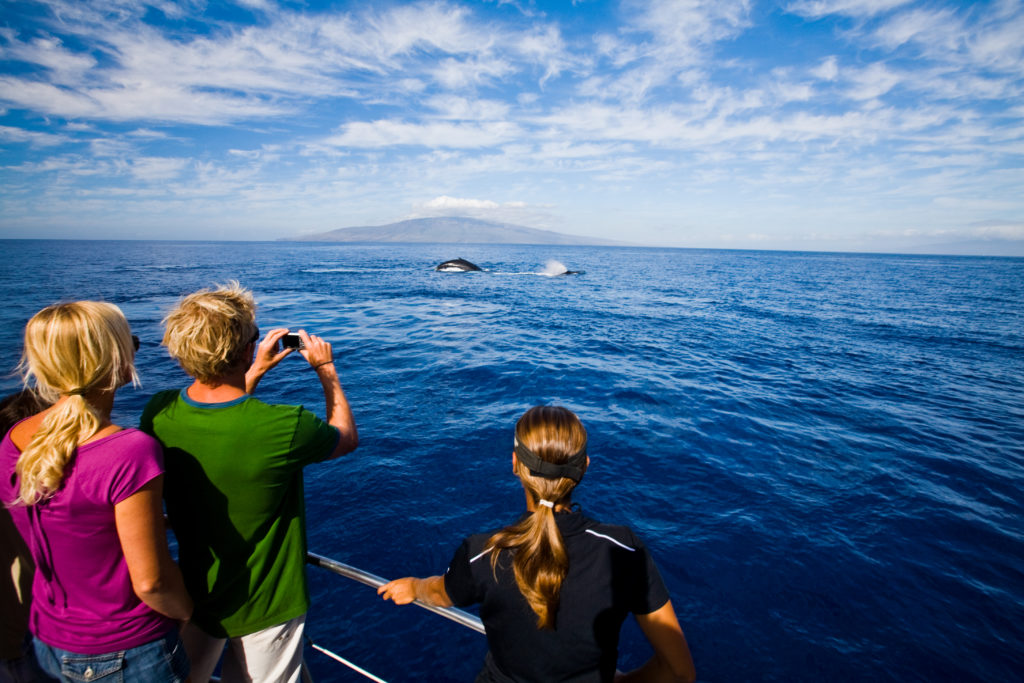 Whale Watching Tours
The best way to see whales is on a whale watching boat tour. These tours will take you into whale territory where you'll be able to observe humpback whales face-to-face. Other common animal sightings are sea turtles, flying fish and dolphins!
Local Tip: A whale watching tour or a good vantage point aren't the only ways to see whales. Activities like a snorkel tour, romantic sunset sail, turtle snorkel, dolphin snorkel, parasailing, helicopter ride and even fishing charters will give you a chance to see these huge mammals. Check out HawaiiActivities.com for hundreds of Hawaii attractions and excursions.
"Voluntour" Whale Watching
Now you can help count whales each year. Sign ups begin in December so be sure to sign up quick before openings run out! If you can't volunteer, support the sanctuary's efforts through purchasing their shirt – I absolutely love their design this year!