This post may contain affiliate links, which means I'll earn a small commission if you purchase something through these links. You won't pay any extra; instead, you'll be helping Aloha With Love to thrive. Thank you! Learn more.
--
Despite what you may think, Hawaii in April is not the rainiest month to visit Hawaii. By the time April hits, the rainy season is at the end of its run and the warmer days of May are already drawing near. One of the best things about visiting Hawaii in April is how green everything is. Forested hikes are exceptionally lush and even our drier areas will be a little greener through the month of April. It's a wonderful time to be in Hawaii especially since the number of visitors is less than usual.
Aloha with love,
Amy
Weather in Hawaii in April
The rainy season in Hawaii typically lasts from December through March, although take this information with a grain of salt. Some islands and regions are drier or wetter than others. There's about 12.5 hours of sunlight in Hawaii in April, which is average for Hawaii (11 – 13.5 hours depending on the month), so you'll have plenty of time to hit the beach and explore.
Oahu: On average, Oahu has a high of 79 F and a low of 66 F with about 5 days of rain (1 inch), but these tend to be very light showers occurring early in the morning before you even step outside. You'll barely notice the wetness and will instead remark on how fresh and green everything looks in the morning.
Maui: Maui tends to be a little cooler than Oahu with a high of 73 F and a low of 56 F, but with only about 4 days of rain. However, Maui does get a little more rain than Oahu (1.7 inches). The rains will still be short showers in most cases, but I expect more rainfall especially if you're on higher ground.
Big Island (Kona): Kona is known for being hot and dry, so the temperature on Hawaii Island hovers at a 83 F high, 69 F low, with only 1 day of rainfall at 0.5 inches. You can expect the Big Island in April to be sunny all day every day.
Big Island (Hilo): On the flip side, Hilo is known to be green, lush and beautiful all the time, which means it rains quite a bit. Daily temperatures average out at about a high of 80 F and a low of 66 F, with 21 days of rain at 11.8 inches. This sounds like a lot, but this much rain in Hilo in April is quite average compared to the rest of the year.
Kauai: Kauai is also known for being wet and rainy, which makes it a gorgeous place to explore the outdoors as everything is green and the waterfalls are full. With a 72 F high and 57 F low with 23 days of rain at 12.1 inches, Kauai in April is at its wettest. Take into consideration that although Kauai in April is its wettest month, Kauai is almost always raining somewhere. It's still completely gorgeous and worth it to visit in April.
Molokai: Molokai in April has a high of 78 F, low of 64 F, with 5 days of rain at 1.8 inches so the rainy season is certainly reaching its end.
Lanai: Lanai in April is similar to March's weather and temperatures. It has a high of 75 F, low of 62 F, and 5 days of rain at 1.8 inches.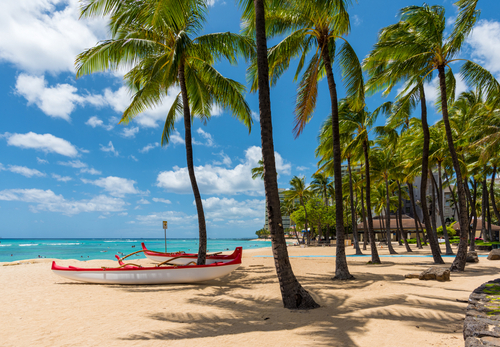 Blooming plumerias
What many people don't know about Hawaii in April is that our plumerias are in their peak blooming season. Depending on the species of plumeria, temperature, and weather conditions, the plumerias will bloom from March thru May. I personally enjoy walking around in Hawaii in April and seeing all of the plumeria blossoms fully opened and smelling their spectacular fragrance as I walk by.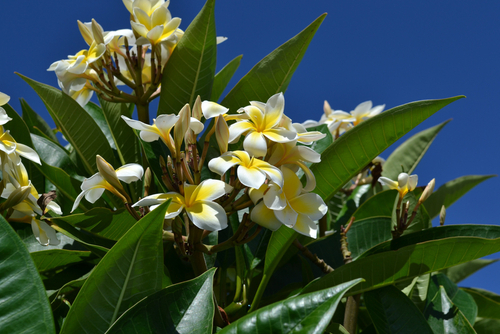 Humpback whale watching season in April
The humpback whale watching season in Hawaii runs from November thru April, with the peak season running from January thru March. In my opinion, you'll be really lucky if you spot a whale in April in Hawaii. By this time of the year, most have left on their migration.
However, if you really want to see a humpback whale in Hawaii in April, your best bet is the body of water between Maui, Lanai, and Molokai. This area has the highest concentration of humpback whales.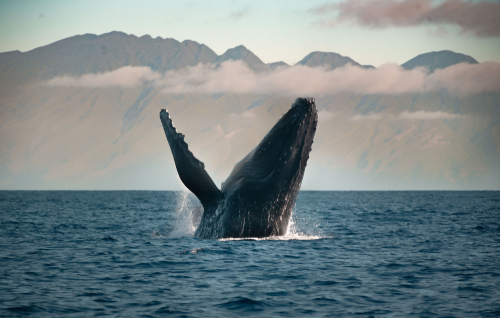 What's the ocean like?
From the high surf winter swells to the mellow late summer waters, April is more of a month of transition for ocean waves in Hawaii. You might have a few days of rough waters, but in general the swell has really calmed down significantly. On most days it's safe for kids to swim with proper supervision. If you're really worried about the ocean waves, I recommend spending your beach days on the southern shores of Hawaii as it's relatively calm on the south all year round.
Surfing competitions
Unfortunately, you won't be able to spectate any big surfing competitions in Hawaii as those take place during the winter, when the big surf swells come in. However, Hawaii in April is still a great time to take a surfing lesson if you're interested in learning.
Snorkeling
Most of Hawaii's snorkeling spots are pretty calm by the time April in Hawaii rolls around (even on our north shores). I do recommend sticking to beginner snorkeling spots if you're inexperienced, but in general April is a good month to go snorkeling in Hawaii. Kids can also swim and snorkel easily in Hawaii's waters in April.
Traveling to Hawaii in April
In terms of affordable ticket prices and budget itineraries, Hawaii in April is one of the best times to visit the islands. With school still in session and Japan's Golden Week happening in May, there's usually less people in Hawaii in April compared to the other months. It's a good time to look for flight deals and hotel discounts.
Festivals and events in April
Oahu events
Maui events
East Maui Taro Festival: In addition to being a large farmers' market, there will also be poi pounding demonstrations, arts and crafts, food booths, live entertainment, and the opportunity to learn all about taro – a staple in Hawaii food.
Big Island events
Merrie Monarch Festival: Hawaii's biggest hula competition featuring talented hula dance groups is held in Hilo, Big Island.