This post may contain affiliate links, which means I'll earn a small commission if you purchase something through these links. You won't pay any extra; instead, you'll be helping Aloha With Love to thrive. Thank you! Learn more.
--
March in Hawaii is a transition period where winter morphs into summer. Since we're so close to the equator, Hawaii doesn't really have a true spring or summer. Instead, March is the month where there tends to be a mix of hot and cold days, as if the seasons aren't quite sure what it ought to be.
Nevertheless, Hawaii in March is a wonderful time to visit the islands. It's still humpback whale watching season, the days are cool enough that you won't be sweating outside, and the early morning showers will stop just before you leave the house so you'll wake up to dewey, fresh greenery every morning.
Aloha with love,
Amy
Weather in Hawaii in March
I personally enjoy the weather in Hawaii in March. The weather is a lot cooler than in summer and since the rainy season is near its end, you can often head to the beach and it will be completely sunny. If your accommodation is already near the beach, you'll actually run into more sunny days since any clouds will gather at the mountains.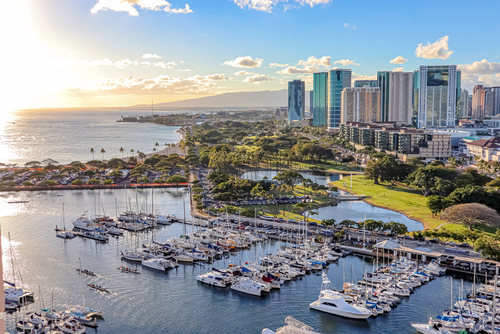 Oahu: Oahu in March has a high of 78 F, low of 64 F, with 5 days of rain at 1.5 inches. In my experience, the first half of March has more rain, while the end of March is already looking like April weather. The Oahu beaches usually have great weather in March, but keep your eye on the weather when you do hikes in the mountains as we get occasional flash flood warnings in Hawaii in March.
Maui: Maui is typically cooler than Oahu with a high of 71 F, low of 55 F, and 6 days of rain at 3.4 inches. Maui in March is the rainiest month, which means the waterfalls in Maui will be absolutely gorgeous. There are several waterfalls you'll be able to sightsee by hiking or just by stopping on the side of the road.
Big Island (Kona): The Kona side of the Big Island is known for being hot and dry, so with a high of 82 F, low of 68 F, and only 2 days of rain at 0.8 inches, Kona will have spectacular weather even when the other islands are rainy and cloudy.
Big Island (Hilo): On the other side of the Big Island is Hilo, which is known for its rain even during the summer. It's why everything looks so fresh and green in March in Hilo. With a high of 80 F, low of 65 F, 18 days of rain at 13.1 inches, Hilo in March is one of rainiest months, beaten out only by November.
Kauai: Kauai is the wettest island in the state and is a little different than the other islands in terms of the rainy season. April is actually the wettest month for Kauai's rainy season, with March having only 19 days of rain at 8.1 inches. The temperature with a high of 72 F, low of 56 F, is relatively the same compared to the rest of the winter months.
Molokai: As usual, Molokai's temperature closely resembles Oahu's. It has a high temperature of 77 F, low of 63 F, and 6 days of rain at 2.8 inches.
Lanai: Lanai has a high of 75 F, low of 61 F, with 4 days of rain at 1.7 inches.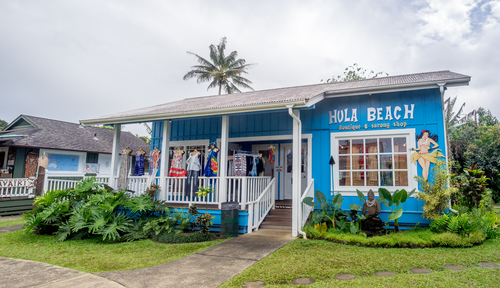 Plumeria Season
Hawaii in March is the beginning of plumeria season, where the different plumeria species begin to bloom releasing their fragrance. The season lasts from March thru April, so depending on the species, you'll see plumeria buds that are blossoming or are just about ready to open.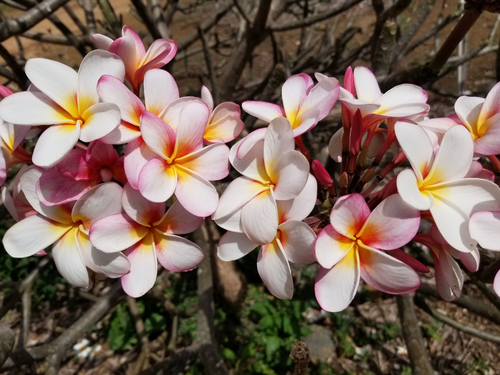 Humpback whale watching season in March
The humpback whale watching season in Hawaii runs from November thru April, with the peak season running from January thru March. Some of the humpback whales are still around in Hawaii in March (especially early March), and most of the whale watching tours and cruises are still running all around the state.
However, if you really want to see a humpback whale in Hawaii in March, your best bet is the body of water between Maui, Lanai, and Molokai. This area has the highest concentration of humpback whales.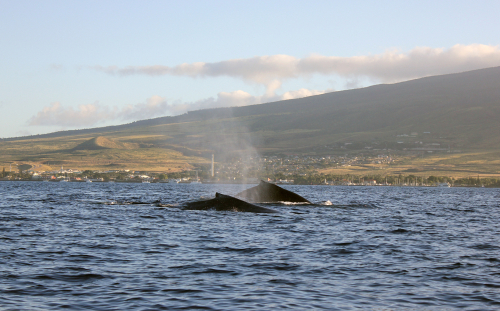 What's the ocean like?
While Hawaii in March is still considered one of the winter months here in the islands, the big surfing waves that hit the north shores of Hawaii have decreased significantly. But keep in mind that the north shore waves can be on the rough side as the northern shores of the islands still attract local surfers on a daily basis. So if you aren't a good swimmer, snorkeler, or the waves are not great for a beach day, stick to the south shores where it's calm almost all year round.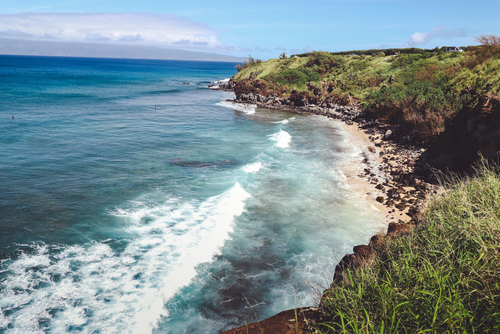 Surfing competitions
While there are no pro surfing competitions in Hawaii in March, the surf is still big enough where you can watch seasoned surfers glide on the big waves in the northern shores of the islands. These larger waves still hang around early March, but by mid to late March they begin to die down and give way to summer's tamer swells. It's also a great time to learn how to surf as well.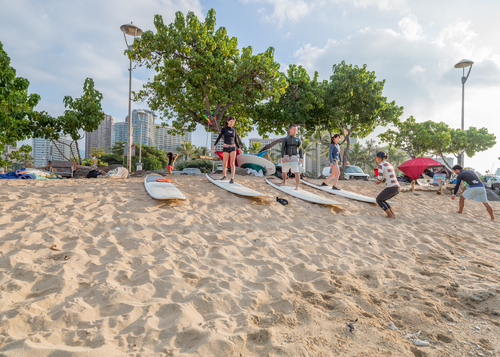 Snorkeling
Since the waves are more on the rough side in Hawaii in March, I recommend avoiding the northern shores of Hawaii if you're looking to snorkel. Unless the seas are unusually flat, stick to the calm southern shores or naturally protected bays for exploring Hawaii under the water.
Traveling to Hawaii in March
Hawaii in March is a popular time to travel to the islands. The visitor account is above average in March, which means ticket prices and accommodation are a bit more expensive than usual. This is mostly due to spring break, which typically runs for about a month beginning around mid-March. In order to avoid these higher prices, I suggest looking at late February to early March, right before spring break begins.
Festivals and events in March
Oahu events
The Honolulu Festival: A huge cultural event held in the heart of Waikiki featuring a parade, cultural dancing, music, and activities.
Big Island events
Kauai events
Anahola Prince Kuhio Day Celebration: A celebration of all things Hawaiian that began with the vision of Prince Jonah Kuhio Kalanianaole. There will be live music and entertainment, food, and activities.