This post may contain affiliate links, which means I'll earn a small commission if you purchase something through these links. You won't pay any extra; instead, you'll be helping Aloha With Love to thrive. Thank you! Learn more.
--
I had zero plans for my weekend so my coworker invited me out early Saturday morning for a quick snorkel at Electric beach.
"Of course!" Why wouldn't I?
On Instagram, you'll often see Electric beach photoshopped as a bright blue oasis and for some reason many visitors equate the name with this impossible color. In actuality, the beach is really named after Kahe Electric Powerplant, which is right across the street. Not nearly as romantic, but it's neat to know why this beach's nickname is "electric".
Regardless of the name, Kahe Point is a beautiful beach for a snorkel or scuba dive. There's plenty of fish (and other sea creatures) to see and if you're lucky, you may just be in for a surprise!
Aloha with love,
Amy
Local Tip: Instead of Electric beach, try Kahe beach, Kahe Point or Kahe Point beach park. Using these names over Electric beach will up your street cred.
What Can You See At Electric Beach, Kahe Point Beach Park
Besides the many varieties and schools of fish (you'll see a lot!) you'll also have a chance to see:
Green sea turtles
Hawaiian spinner dolphins
Hawaiian Monk Seals
Sharks!
How to find the green sea turtles
Warning: Please respect all of Hawaii's wildlife and do not touch turtles – it's illegal and you'll get mean stares or even reprimanded. Turtles are extremely culturally important and any interaction with them is considered taboo.
I've always been lucky finding turtles near the 2 big Kahe Powerplant pipes. The pipes are part of the powerplant's cooling system and sends out warm water that attracts schools of fish, turtles and even the occasional dolphin.
The turtles like to swim along the pipe's huge structure, inspecting as they mosey along. During high tide, I like to look closer near the rock walls closer to shore.
Where to find the pipes: Start at the small sandy beach and look straight out to sea. You'll probably see some snorkels congregating and sticking out of the water. Warm water shoots out of pipes so look for a slight haze above the water. Head straight out and you should run right into it.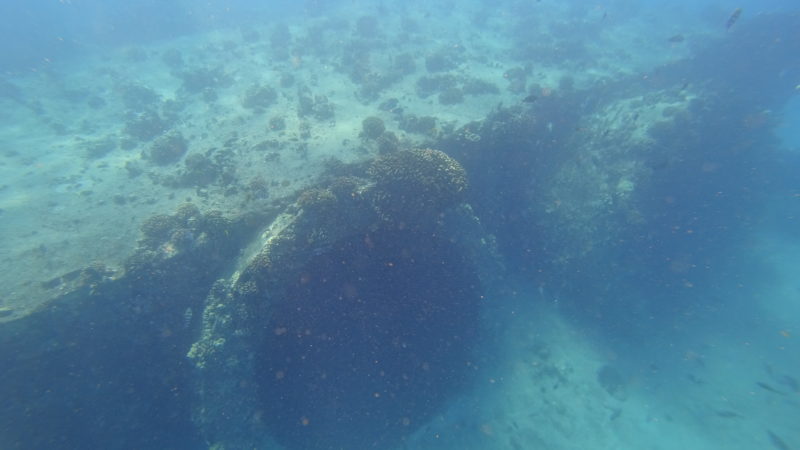 How to find the Hawaiian spinner dolphins
These guys aren't so difficult to find, but they do tend to move around a lot. It's a fact that they do love to hang around Kahe point though, so keep your eyes open!
One strategy is to hang around near the snorkel boat tours. When the boats come in, the tours look for the dolphins and usually have their group jump right where the dolphins are so they can catch a glimpse.
Local Tip: Another great way to see dolphins is to not go in the water! Bring your beach chairs and picnic gear out to the edge, set up camp and enjoy the view – there's plenty of space. The dolphins jump, flip and put on a private show for any lucky onlookers. The signal to listen for is excited shouts by snorkelers and you're set.
How to find the Hawaiian monk seals
Warning: Please respect all of Hawaii's wildlife and especially do not approach monk seals. They usually avoid humans, but will attack if you come too close – especially if their young are close to you.
Since Hawaiian monk seals can be a bit more people-shy than turtles, any monk seal spotting is purely by luck. However, if you're determined to spot one, check out my Kaena point hike at the very end of the Waianae coast. It's a gorgeous hike and relatively flat so most people will be able to hike to the point and back.
How to find the sharks
I haven't seen a shark while in the water (nor do I really want to), but I have heard many others say they spotted sharks at Kahe point. Usually it's the scuba divers who spot the sharks, so if you really want to see them, I suggest joining a scuba diving tour along the Waianae coast.
Book A Tour: Scuba diving tours on Oahu
Local Tip: Kahe point is known for how clear the water is, which makes for some of the best snorkeling and scuba diving in Oahu. In fact, you'll probably see some locals taking advantage of the clear water conditions to do some spear fishing.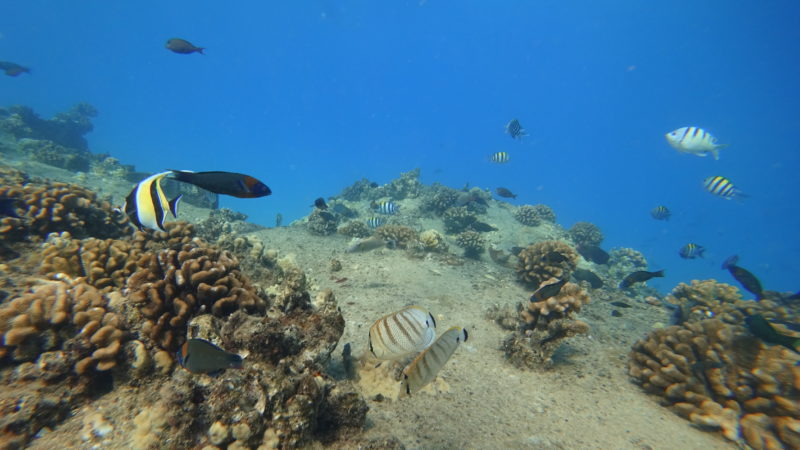 Tips For Electric Beach, Kahe Point Beach Park
Parking your car
When you turn into Kahe Point beach park, there is a designated parking lot on the left that's often full. More likely than not you'll end up parking on the right side between the trees on a dirt and rocky road at an incline. Go slow so that you don't damage your vehicle. There's a constant flow of people walking back and forth to their car so look both ways before you pull out.
Local Tip: In general, Waianae is not the safest place to leave loose items in your car. Before you arrive, figure out what you're going to do with your wallet, money, cards, keys, phones, purses, bags, etc. because you don't want to be fiddling with precious items in front of any watchful eyes.
My favorite way to carry everything with me are these universal pouches made for smartphones. There's plenty of space to add your ID, credit card and some cash to tide you over until you get back to the hotel. Hang it around your neck, tuck the pouch into your rashguard or bikini swimsuit strap for added security (or in your boardshort's pocket) and you're ready to snorkel.
Local Tip: Don't wear fancy/expensive slippers to any beach – I've been taught from a young age that it's your fault if someone decides your slippers look better on their feet! Cheap and plain rubber slippers are your best bet. I won't include a link to Amazon's rubber slipper selection because you can find way cheaper options locally at any Wal-Mart, Target, Longs Drugs Store or other large neighborhood market in Hawaii.
Getting into the water
Warning: There is no lifeguard here so please keep an eye out on each other, snorkel/scuba in pairs and always check in to stay safe.
From the sand to right about where I'm floating in the picture below, it takes some hard swimming and energy to get out here. The small space forces waves to crash into you as soon as you begin. Weak swimmers and young children will find it difficult if not impossible to pass the waves.
I especially don't recommend that young children snorkel here or even play in the water as they could fall easily. There are large rocks underfoot as soon as you get about 2 feet deep and young children could potentially injure themselves.
However, the water does calm down significantly as you come out and going in is a breeze since the waves are naturally pushing you back towards the shore.
Local Tip: If you have some weak swimmers or young children in your group and you'd still like to snorkel at Kahe Point, I recommend booking a snorkel tour instead. That way you'll bypass the rough waves and everyone will be able to jump in, float and enjoy themselves.
Book A Tour: Swim with wild dolphins cruise – snorkel, kayak, SUP
Book A Tour: Snorkel with wild dolphins tour from Koolina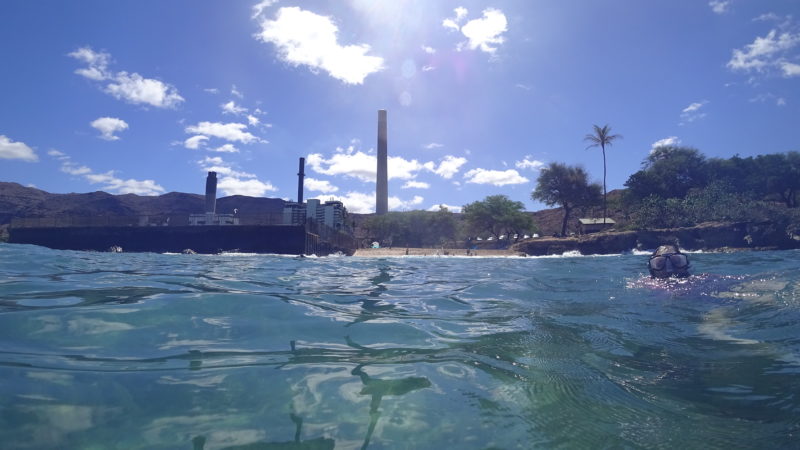 Local Tip: Older kids that handle themselves well in ocean waves will have a great time riding the shore waves on a boogie board. The waves are close to shore and you don't have to worry about your kids drifting off sideways like at a normal beach.
Swimming in front of the pipes
While it's fun to watch fish ride the blasts of warm water shooting out of the pipes, I wouldn't recommend you follow suit as the water could push you right into a rock.
Common sense will tell you to not swim into the pipes, but I will admit I tried to swim in front to get a picture before I wimped out (they're creepy!). There are no lifeguards at this beach so be careful and mindful of your actions and the consequences.
Facilities
There are simple outdoor showers, bathrooms and a large cement pavilion that's available for the public to use. While there aren't any picnic tables available, a few people will pack their beach chairs and set up camp in the few spots of shade along the cliffs, on the beach, or under the pavilion.
The pavilion usually has 3 – 5 scuba groups at any one time, but there's still plenty of space to set up a small party with folding tables and potluck goodies.
How To Get To Electric Beach, Kahe Point Beach Park
From Ko Olina by car (4 minutes)
From any Ko Olina hotel, exit via Alii Nui drive
Keep left at the fork and follow the signs for Waianae
Take the first left into Kahe Point beach park
From Waikiki/Kailua/Kaneohe by car (roughly 45 minutes, more with traffic)
From your accommodation, get onto the H-1, westbound. For those in the Kailua/Kaneohe area, the H-3 to the H-1 might be a faster choice for you.

Local Tip: At exit 19B, the H-1 will become the H-2 while the H-1 will be an exit on the right. Both options are OK. The H-2 will rejoin the H-1 in 4.5 miles, which will take you out to Kahe Point beach park.

The H-1 will become HI-93. Turn left into Kahe Point Beach Park at about 3 miles.
Local Tip: Rush hour from Waikiki heading west is on weekdays, 3 PM – 7 PM.
From Haleiwa, North Shore (roughly 45 minutes, more with traffic)
From your accommodation, get onto Kamehameha Highway
At the traffic circle, take the 2nd exit onto Kaukonahua road
Turn left onto HI-803 (there are no street markings so make sure you have a map
After 7 miles, turn right onto HI-750 for Kunia road
After 8 miles, take the right exit onto the H-1 westbound ramp to Waianae
After 8 miles, turn left into Kahe Point Beach Park
Local Tip: Rush hour from Haleiwa eastbound is on weekdays, 5:30 AM – 7:00 AM and everyday, 3:00 PM – 5:00 PM.
What's Near Electric Beach, Kahe Point Beach Park?
Recommended restaurants near Electric Beach, Kahe Point Beach Park
Kaahaaina Cafe (Ka'aha'aina Cafe) – My personal favorite. They're only open on weekdays from 7 AM – 2 PM. The food and service is cafeteria style serving local dishes with a dazzling view of the Waianae coast.
86-260 Farrington Hwy, Waianae, HI 96792
Monkeypod Kitchen by Merriman – It's pricey, but the food and ambiance are great! The best time is their happy hour 3 PM – 5:30 PM, 9 PM – 11 PM for affordable prices.
92-1048 Olani St, Kapolei, HI 96707
Faith's Place – Formally known as Tasty Freeze (most of us still call it that) when we were growing up, this is one of those old Mom 'n' Pop/hole-in-the-wall stops with fast burgers, fries and a killer mustard-mayo sauce.
85-859 Farrington Hwy, Waianae, HI 96792
Other attractions near Electric Beach, Kahe Point Beach Park
Kaena Point Hiking Guide – See Hawaiian monk seals and laysan albatrosses on a relatively easy and flat hike.