This post may contain affiliate links, which means I'll earn a small commission if you purchase something through these links. You won't pay any extra; instead, you'll be helping Aloha With Love to thrive. Thank you! Learn more.
--
I love snorkeling at Shark's Cove in Pupukea, North Shore. Located just a few minutes drive north past Waimea Bay, Shark's Cove is guaranteed to give you an amazing time snorkeling with colorful fish in Oahu.
Despite its name, Shark's Cove did not get its name from sharks – although a few small sharks do reside here. Whew! Instead, it is said that the shape of the reef in the cove resembles a shark's fin from an aerial perspective.
While Shark's Cove mostly attracts snorkelers, it's also a popular spot for diving tours to take their customers. The water can get deep in certain areas and there are a number of holes and crevices to explore and swim through.
How to get to Shark's Cove in Pupukea
Shark's Cove is located in Pupukea in the North Shore of Oahu. Since Kamehameha Highway is the only main road along the North Shore, Shark's Cove is impossible to miss. Just keep a lookout for the Pupukea Foodland – Shark's Cove is practically right across the street.
What time should you get to Shark's Cove? Shark's Cove is a very popular snorkeling spot in Oahu. I recommend getting there before 9 AM if you want a parking spot close by. Only street parking is available so the later you arrive, the farther away you'll be.
But if you don't mind walking, it's not a big deal. I've walked 15 minutes to Shark's Cove with my snorkel, mask, fins, and a towel and still had a blast.
What you need to bring to Shark's Cove
Shark's Cove is for intermediate snorkelers so I recommend you bring along your fins in order to swim with ease in the current. The cove itself is protected, but be careful if you venture out of the cove during our winter months. The North Shore is known for high surf and big waves during this time.
In the summer, you can easily swim outside of the cove along the rock wall to explore more sea life. In my experience, this area is where I've had the most luck with snorkeling with turtles in Shark's Cove.
Shark's Cove facilities
If you don't have any snorkel gear or need snorkeling fins, across the street you'll find a snorkel rental shop with gear of all sizes. The shop keepers can answer any questions you have about Shark's Cove, too, as they are very familiar with the area.
Public bathrooms and outdoor showers are available at Shark's Cove. They're a short and easy walk to get to from the Shark's Cove entrance point.
If you're hungry, you can also try out the lunch trucks across the street. Another option is to head to the Pupukea Foodland (also across the street) and try out some local dishes. Foodland is a local grocery chain here that always has bentos (boxed lunches) in stock and their poke (flavored cubes of raw fish) is a staple for local residents.
Snorkeling in Shark's Cove
Because the water in Shark's Cove is deeper and the waves can be rough when you leave the safety of the cove, I only recommend Shark's Cove for intermediate snorkelers. Beginner snorkelers should get started at Hanauma Bay or Kuilima Cove so they can get used to breathing with a snorkel.
Local tip: There are no lifeguards at Shark's Cove. Always snorkel with a buddy and keep an eye out on each other.
Sea creatures in Shark's Cove
My favorite thing about snorkeling in Shark's Cove are the schools of fish. You'll see them every so often in certain areas of Shark's Cove and I can easily float for a half-hour in the same spot watching them move in sync. The sunlight bounces off their scales and they'll even drift around you when the current pushes you too close to them.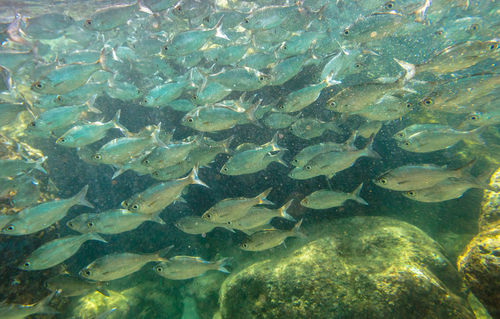 Here are just a few creatures to keep an eye out for:
Hawaiian green sea turtle
Parrot fish
Moray eels
Butterfly fish
Trevally (jacks)
Trigger fish
Needle fish
Sea urchins
Hawaiian flagtails
Small sharks
The best time to snorkel in Shark's Cove
Spring, summer, and fall are all great times to snorkel in Shark's Cove, but take extra caution during winter – particularly during the months of December, January, and February.
The entire North Shore is known for big surf during the winter, which is also when all of the surfing tournaments are held. While the surrounding reef and rock walls do a good job in protecting the cove from rough waters, the occasional strong current and waves can force its way in from time to time. Always check the weather and tide before you go.
Where to snorkel in Shark's Cove
To reach the entrance point of the cove, you'll have to walk down a dirt and rock path from the street level. There isn't much open space in this area so don't expect to have room to lay out and relax here.
There's just enough room for you to make a small pile with your towel, extra clothes, and footwear. As you snorkel, you can only cross your fingers and hope that nobody takes away your things (so don't bring any valuables). I've snorkeled at Shark's Cove many times and haven't had a problem with theft yet.
What you can do is carry your valuables with you such as your phone, car key, hotel key card, credit card, and some cash in a waterproof bag. If you have swim shorts with a pocket (velcro is best), double bag your items in a ziploc bag.
Snorkel with kids in Pupukea tide pools
Shark's Cove is not a place for little children who aren't strong swimmers. Instead, walk 5 – 10 minutes south (towards Waimea Bay) of Shark's Cove and you'll come across the Pupukea tide pools (aka Shark's Cove tide pools).
Depending on the tide, this is a wonderful place for small kids to get their feet wet. During high tide, kids can practice their snorkeling. Low tide is perfect for wading and checking out the small pools for fish, crabs, and other sea creatures.
The Pupukea tide pools are a rocky area so make sure you have on proper footwear especially if you plan on walking around. There is some sand in this area that's rarely used, so this is the place to lay your towel out if you want to get a tan in.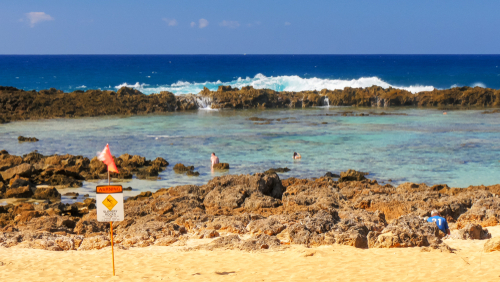 If you love snorkeling and are in Oahu, put Shark's Cove on your to-do list. You won't regret it. A friend of mine visited me a few years back and to this day she continues to tell me that her best memory in Oahu was snorkeling at Shark's Cove.
The fish are plentiful and the variety of species you'll see will surprise you. I always enjoy my time at Shark's Cove and I can easily spend 2 – 3 hours here inspecting the crevices and holes that the fish drift in and out of.
Enjoy your snorkel here and let me know what you think! Also, if you're interested in doing more on the North Shore, see this list of things to do there.
Aloha with love,
Amy