This post may contain affiliate links, which means I'll earn a small commission if you purchase something through these links. You won't pay any extra; instead, you'll be helping Aloha With Love to thrive. Thank you! Learn more.
--
This is a helpful list of every single beach on Oahu, how they're different, what makes them special, why you should go (or shouldn't go), and a few other local tips about the best beaches on Oahu. I've made this list as useful as possible so read the "how-to" guide below so it all makes sense.
Aloha with love,
Amy
Safety for beaches on Oahu
I want you to be safe during your stay on Oahu as you explore our beaches. I also want to protect the beaches on Oahu so future generations can also enjoy them during their lifetimes. Please read the following about safety so you know what to expect during your beach day.
Turtles and Hawaiian monk seals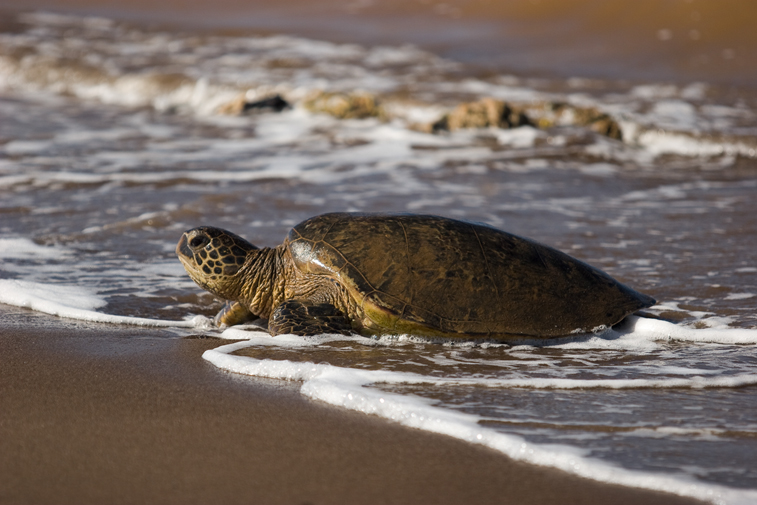 While exploring the beautiful beaches on Oahu, you may see sea turtles and Hawaiian monk seals in and out of the water. Touching and harassing them is illegal on the state and federal level and will get you a fine. Keep your distance and remember, they are wild animals. It's recommended that you stay 10 feet away from turtles and 50 feet away from seals (they are pretty quick on sand and will attack).
Reef-safe sunscreen
Protect Hawaii's coral reefs and ocean life by wearing reef-safe sunscreen when you play in the water. Make sure the ingredients don't include the harmful chemicals oxybenzone and octinoxate.
Winter and summer waves
During the summer, most beaches have calm waters that are perfect for almost any age to enjoy. However, during the winter, most of Hawaii's northern shores are hit with big winter swells, which is when the experienced and professional surfers make their way to the islands. If you're headed to Hawaii during the winter, stick to the safer southern shores which don't change too much all year round.
How to use this best beaches on Oahu guide
There are many reasons why a beach would make it to the "best beach on Oahu" list. Maybe it's great for snorkeling, catching a wave, lounging, fishing, or perfect for kids. Since there are so many types of beaches on Oahu, it's impossible to pick just 5, 10, or even 20! Instead, I've decided to list every single beach on the island with a short description so you can decide for yourself whether or not it's a beach worth your time and gas money.
I'll start from the North Shore's Kaena Point (northwestern point on Oahu) and work my way clockwise around the island. For your convenience, this list has been separated into regions in reference to the image below:
North Shore: Famous for surfing and beautiful beaches.
Windward Coast (Windward Oahu): Has both crowded and secluded beaches.
South Shore: Busy but very convenient if you're in Waikiki.
Central Oahu: Limited access due to military.
Leeward Coast (West Oahu): Great for long, sandy beaches.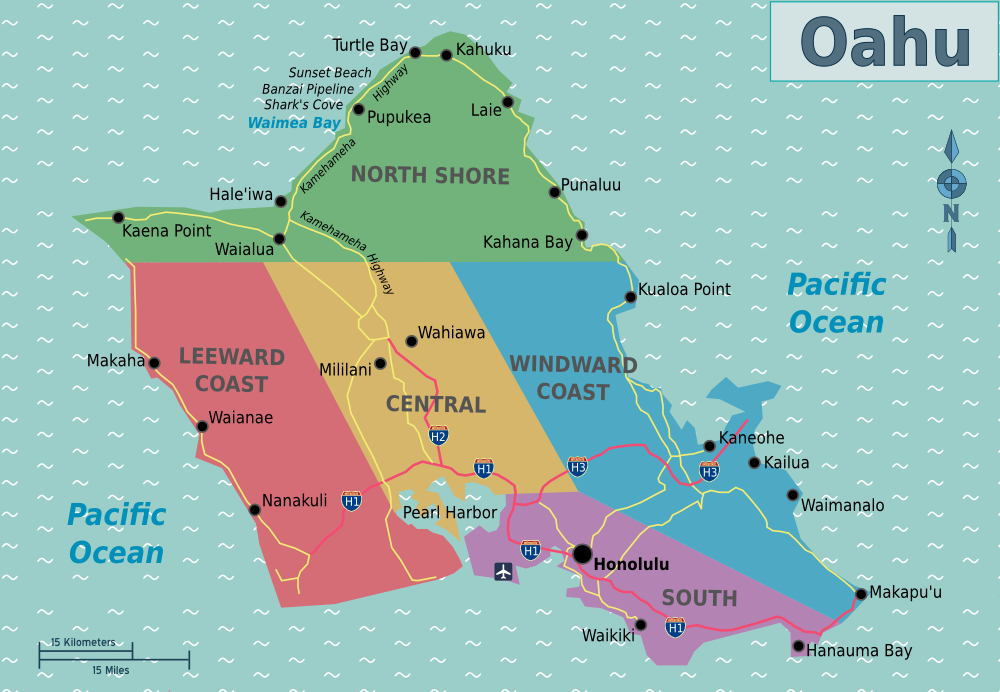 North Shore beaches
I like to split up the North Shore beaches into 3 distinct sections:
Mokuleia beaches: Kaena Point to Haleiwa
Haleiwa and North Shore beaches: Haleiwa to Turtle Bay
Windward North Shore beaches: Turtle Bay to Kahana Bay
Mokuleia beaches
The beaches in the Mokuleia area are generally less crowded with more of a local crowd. It does get busy on 3-day weekends due to the weekend campers (you'll see a gazillion tents set up everywhere you look), but any other day and you should be able to find a beach that's relatively secluded. Compared to the rest of the North Shore, there are a lot less tourists here, but potentially more locals especially during the weekends.
Mokuleia Rock Beach: It's too windy and rocky to swim safely here, but the view is incredible and you'll have that "end of the Earth" feeling. Watch the locals fish here or hike to Kaena Point from the Mokuleia Trailhead. This is a personal favorite of mine where I take many of my friends to sightsee the "far end" of the North Shore.
Mokuleia Army Beach: A very pretty off-the-beaten-path sandy beach that's never crowded. You can sometimes see sea turtles and Hawaiian monk seals.
Kealia Beach: Use the Makaleha Bay Public Access Path to reach this secluded beach. Located across the street from Dillingham Airfield and the Kealia Trail. Don't leave valuables in the car as theft is an issue in this area.
Mokuleia Beach Park: Large public park with ocean access. Great spot for windsurfing. I've sometimes found it hard to park here especially if I get here midmorning or later.
Lost Survivors Beach Camp: The pilot episode for LOST was filmed here and you get the odd LOST fan visiting this beach every so often. It's a beautiful sandy beach that's usually secluded.
Polo Beach: Unofficial clothing-optional beach. Park at the Polo Beach Parking on the side of the road, use the Polo Beach Access (long sandy walkway) and head to your right past the surf.
Hawaii Magazine has a great article about the legalities of nude beaches in Hawaii and how they'll affect your choice of beach.
Mokuleia Beach: Usually secluded and great for a dip as the shallows are long stretches of shoreline with a sandy bottom.
Oloheo Beach Park: Difficult to reach because there are no nearby access roads. A row of suburban homes on Crozier Drive blocks any walkways. If you manage to find a rental here, you'll have a very secluded beach all to yourself.
Aweoweo Beach Park: A great beach park that I often frequent with friends and family.
Dole Private Beach Park (Puuiki Beach Park): Beautiful beach park with facilities that's accessible only to Dole employees and their families. Often used for graduation or birthday parties.
Kaiaka Bay Beach Park: Giant beach park with a little bit of everything: camping, bbq, fishing, swimming, sandy beach, and rocky areas. Plus, it's a family favorite for late afternoon picnics.
Haleiwa and North Shore beaches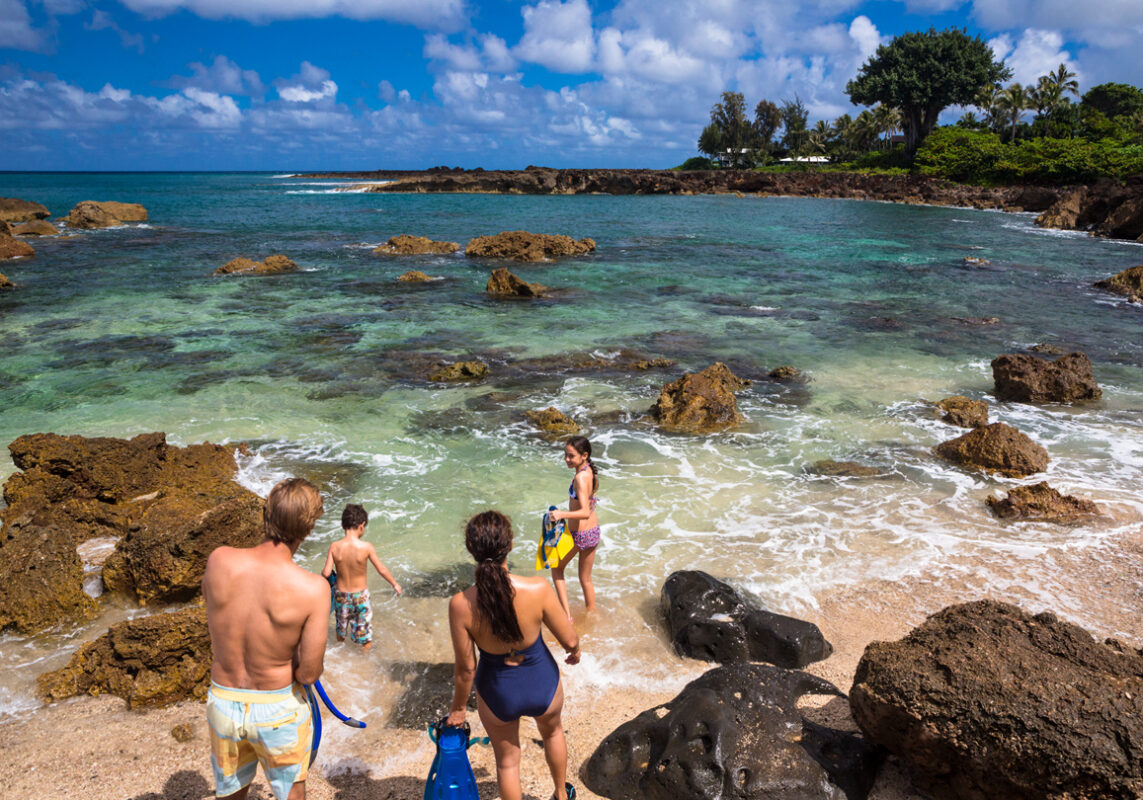 The beaches from Haleiwa to Turtle Bay Resort make up the western half (leeward half) of Oahu's touristy North Shore and includes some of the best beaches on Oahu for surfing. In general, I recommend coming here early so you get a prime parking spot and beat the inevitable traffic from Laniakea Beach (Turtle Beach).
Haleiwa Beach: Sandy and rocky beach that's great for watching the sunset. Turtles like to pull themselves up ashore for the night here.
Haleiwa Aliʻi Beach Park: Sandy beach with large grassy area and bathroom facility.
From here to Kawailoa Beach is where my family does a lot of fishing. We mainly do shore fishing for papio (jack trevally).
Haleiwa Aliʻi Beach: Popular for big weekend parties and surfing. Come early in the morning to see local surfers catching a few waves before their day begins. Walk out on the rock wall and you'll see a lot of turtles swimming by (as well as fishermen – you might even see me!)
Haleiwa Beach Park: Large beach park with a decent parking lot, picnic tables, basketball courts, and showers.
Maeaea Beach: Within the vicinity of Haleiwa Beach Park. The general area is great for standup paddleboarding.
Puaena Point Beach Park: Great spot for beginning surfers and fishing spot.
Kawailoa Beach: Walk along the coast from Kahalewai Place (outskirts of Haleiwa Beach Park) to get to this beach. Secluded except for the lone fishermen every so often (I'm sometimes here with my Dad). Sometimes rays and turtles can be seen playing in the surf. There's another Kawailoa Beach further down that is much more well-known.
Papailoa Beach: A bit difficult to find with a tiny parking lot, but turtles can often be spotted here on the sand and swimming along the rocks. Don't leave your valuables in the car as the parking lot is hidden from the main road.
Laniakea Beach: Also called Turtle Beach (not to be confused with Turtle Bay Beach) because of the frequent turtle sightings. A volunteer is always posted at this sight to educate the public on these gentle creatures. If you're stuck in traffic on the North Shore, most likely it's because of the huge crowds here.
From here to Velzyland is where you'll see the more experienced surfers especially during winter's big swells. The most sensationalized beaches on Oahu for surfing on the North Shore are Waimea Bay, Ehukai (Banzai Pipeline), and Sunset Beach. The Vans Triple Crown Surfing Tournament takes place at Haleiwa, Ehukai and Sunset. The Quicksilver Eddie Aikau Big Wave Invitational takes place at Waimea Bay.
Chuns Reef: Popular surf spot for easy to moderate levels. The lava rocks can really do some damage so it's not a great place for pure beginners.
Leftovers/Rightovers Surf Break: Lesser-known surf spot for moderate to expert levels. Leftovers breaks left and Rightovers breaks right.
Uppers Beach Park: Despite the name, there is no beach park here – only lava rocks. There is a surf break (must be experienced), but not much surfing is done here since there are better places to catch a wave. Instead, this is a great spot for fishing.
Waimea Bay Beach: Gorgeous sandy bay that attracts a lot of beach-goers. The parking lot is tiny considering the amount of visitors so get there early. It's great during the summer for a beach day, but during the winter it becomes the focal point for big wave surfing on the North Shore.
The next three locations are part of a marine conservations district, which makes the snorkeling here excellent. That also means no fishing or spear fishing allowed.
Three Tables: The name comes from the 3 flat reefs that can be spotted during low tide. It's a fun place to snorkel if Shark's Cove next door gets too crowded. The sandy beach here is small compared to other Oahu beaches, but still very pretty. It's also a good spot for younger kids to get used to snorkeling.
Shark's Cove: Not really a beach (there's very little sand), but a great snorkeling spot (one of my friends who visited me says this is her favorite spot to snorkel). I suggest wearing slippers down because the "sand" is very rocky and sharp.
Pupukea Beach Park: A deep water access point to Shark's Cove with great views. Connects to Kahawai Beach Support Park.
Ke Iki Beach: Large, sandy white beach that's usually not crowded because everyone is at Shark's Cove. Great gem of a beach in the middle of busy Pupukea.
Log Cabins: Consistent surf spot for expert surfers, although it does tone down in the summer.
Rock Piles Beach: Not a great place to swim, but an excellent spot to watch expert surfers during the big winter waves.
Ehukai Beach Park: Also known as Banzai Pipeline for its beautiful barreling waves. Very dangerous to even get near the water because a stray wave can rush over you and pull you in. Lifeguards are constantly warning spectators to not get too close and end up jumping in anyway to save someone because they got too close. Instead, come here to watch the surfing competition and professional surfers.
Sunset Beach: Probably the most famous beach among visitors to Oahu's North Shore. Surfing is great, the sand is beautiful, and the sunsets are divine. Plus, the parking is not bad, too!
Velzyland: Popular surf spot for locals especially during the winter.
Waialeʻe Beach: Quiet beach that's off the beaten path.
Kawela Beach: Secluded and quiet beach where you can walk and explore the rocks.
Pahipahialua Beach: Usually rough waters due to the churning currents.
Kawela Bay Beach Park: Usually quiet and secluded since it requires a small hike to get to. There are several paths here and a few things to see along the way so it's a nice walk.
Turtle Beach at Kuilima Cove: Located at the Turtle Bay Resort, Kuilima Cove is a well-protected sandy beach that's great for kids and beginner snorkelers.
Kaihalulu Beach: Secluded beach that's accessible via Turtle Bay Resort.
Windward North Shore beaches
The eastern half of the North Shore is what I call the windward side of the North Shore, which is different from Windward Oahu (usually locals refer to Windward Oahu when they're talking about Kailua, Kaneohe, Waimanalo and Makapuu). The beaches on Oahu's windward North Shore are somewhat less crowded for surfing, but instead you'll find weekend campers and big parties, swimmers, fishermen, and a different lifestyle that's far removed from the "touristy" side of Oahu.
Punapalaha Beach: Also called Keiki Beach (Children's Beach). Even during the big winter waves, this is generally a safe spot to take your kids due to the large rocks blocking the waves from knocking them over.
Hanakailio Beach: Accessible via a small hike. You can reach Kahuku Point from here, which has some great views.
James Campbell Beach: Part of the James Campbell National Wildlife Refuge which remains inaccessible to the public to protect many of Hawaii's endangered migratory seabirds that nest here. The refuge does offer tours once in a while, which is a rare treat.
Kahuku Beach: Usually a quiet beach that sea turtles and Hawaiian monk seals sometimes like to sunbathe at.
Kahuku Golf Course Beach: Pretty beach with plenty of sand and views. There are rumors that this is clothing optional beach – not true. You'll find this is a popular beach for families and kids.
Malaekahana Beach: Lesser known beach that's used mostly by people staying at the Malaekahana Beach Campground.
Mokuʻauia Beach: All-around nice beach that's great for families, beginner surfers and boogie boarders. You can see Kihewamoku Islet Seabird Sanctuary and the larger Mokuʻauia Islet Seabird Sanctuary in the distance.
Malaekahana State Recreation Area: Lovely beach with a little bit of everything including camping.
Although there are several nice beaches coming up, they're not visible from the main road because there are homes in between the ocean and Kamehameha Highway. You'll have to park (which is a challenge in this area) and walk your way in.
Hukilau Beach Park: Very famous beach where the Hukilau song and dance came from. The Hukilau event ran from 1948 to 1971 and attracted a huge crowd. They'll still play, sing and dance this song in other luaus around the state.
Temple Beach Park: A very pretty sandy beach that's located directly in front of the beautiful grounds of the Laie Hawaii Temple.
Clissold's Beach (Bikini Beach): Fun beach that's great for smaller kids. You'll have to find street parking and walk through an access road to get here.
Laniloa Beach: A smaller beach that's good for swimming and sunrise.
ʻŌnini Beach: Named after the ʻŌnini reef, a small plane crashed here while filming the tsunami of 1957.
Pounder's Beach: You'll know why it's named Pounder's when you see all the white water! Fun spot for kids and adults to get "pounded" by the waves.
Laielohelohe Beach Park: Beautiful park, pretty beach, and excellent views. Shares the same parking lot as Pounder's Beach next door.
Kaipapau Beach: Shares the same area as Kokololio Beach Park. Quiet beach with a big parking lot.
Hauula Beach Park: Often busy with local families hitting the beach for the weekend. Camping is allowed here, but I wouldn't recommend it due to the homeless people in the area.
Kapalaoa Beach: Small beach with an even small parking lot, but that means there's very little people! There's a fun "crooked" palm tree here that you'll have fun taking pictures with.
Hauula Beach: Long, sandy beach that's great for walking and exploring along the sand.
Kapaka Beach: Connected to Hauula Beach and is a fun spot for a dip in the ocean.
Makao Beach: Years ago it used to be a sandy beach, but now it's a rocky shoreline. Sit on the rocks and you might see turtles and rays.
Kaluanui Beach: Quiet beach where Kaluanui Stream flows into the ocean.
I really enjoy the beach parks coming up in this area of the North Shore – in fact, some of these locations are my personal favorite beaches on Oahu. I have childhood memories of many beach days, picnics, and BBQs sitting under the shady trees, playing in the sand, and doing some fishing over the weekend. Plus, parking is on the side of the road so there's almost always space available.
Punaluu Stream Beach: Named after the stream that flows out into the ocean. I used to play in this stream when I was a kid.
Punaluu Beach: Stretches past Punaluu Beach Park where I spent many beach days as a child growing up. Great spot for families as there is plenty of shade, picnic benches and you can usually find parking along the side of the road.
Kahana Bay Beach Park: One of my favorite spots for camping with friends. There are 2 fun hikes across the street, too.
Swanzy Beach: Good beach for small kids. The Swanzy Beach Park is a nice stop to take a break if you're driving circle island.
Kaaawa Beach: Crystal clear waters makes this beach one of the best beaches on Oahu. Parking can be a little hard to come by, but it's not impossible.
Kalaeoio Beach Park: Small beach with a small beach park. Nice spot for kids to play and have a picnic.
Kanenelu Beach: There are no obvious markings for this beach so you'll probably pass right by without noticing. Park on the side of the road and enjoy the view.
Windward Coast (Windward Oahu) beaches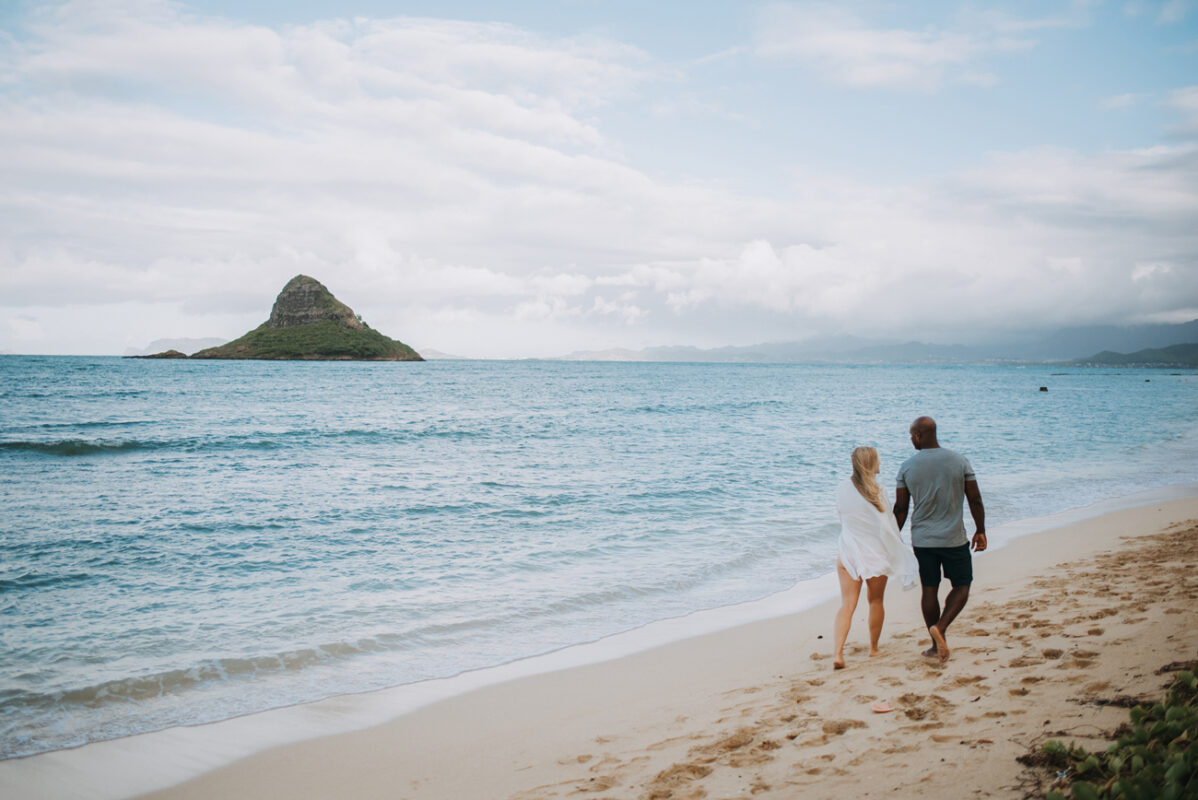 The beaches in Windward Oahu are just different. In fact, some of them make the top lists for best beaches in Hawaii and even best beaches in the world. It all comes down to the sand and how swimmable they are. The beaches in Windward Oahu have silky white sand that feels like soft powder running through your fingers. There's also a distinctive lack of rocks on the beach, which makes this a great spot for running, swimming, and playing in the surf, so they're very popular for beach days and lounging.
Kualoa Beach: Right at the cusp when the North Shore merges into the Windward Coast. It's a nice beach where you can enjoy the view. If you plan on swimming, head further down instead.
Kualoa Rock Beach: There's not much sand here, but the beach itself is still gorgeous (along with the view). There's rarely people here if you want a view all to yourself.
Kualoa Regional Park: A large park with a ton of parking and the best view of Mokoliʻi Island (Chinaman's Hat). It's not a very swimmable beach, but you can kayak to Mokoliʻi Island and camp at two locations (reservations required).
Secret Beach: Most people book a kayaking excursion with Kualoa Ranch to get here. The novelty is fun, but there are other amazing beaches on the island that are just as secluded and fun.
Waiahole Beach Park: This is a great beach to stroll at low tide because of the amazing views, but I wouldn't recommend swimming here as the waters are often muddy due to the rains.
Kahaluu Beach: Fun place to launch a kayak where Ahuimanu Stream enters the ocean; plus, you can get a closer look at Kahaluu Fishpond.
Laenani Beach: Pretty little beach nestled in a cozy neighborhood. Laenani Neighborhood Park is a great little gem with basketball courts, showers, and a stone wall where you can sit and enjoy the view.
Heeia Kea Boat Harbor: Not a beach, but a popular spot for kayakers to launch and explore in calm waters and sea turtles in the shallows. The oceanfront homes are fun to look at with interesting architecture.
The following beaches on Oahu are located on the Kaneohe Marine Corps Base so you'll need military access or you can carpool with a friend who has a valid military ID to enter.
Secret Beach (military ID required): Great little beach for families and snorkelers.
Pyramid Rock Beach (military ID required): Gorgeous sandy beach that's often secluded and perfect for a beach day with its picnic area, showers, and porta-potties.
North Beach (military ID required): Great for experienced surfers especially during the winter swells. During the rest of the year, it's a great family beach with some tidepools that are fun to explore.
Fort Hase Beach (military ID required): A fun family beach since it's located on the southeastern side of the Kaneohe Marine Corps Base.
From here to Waimanalo Beach is where the sand gets deliciously smooth and soft (and stuck everywhere – parents be warned). There are very few rocks so it's a great area for a family beach day.
Castles Beach: A fantastic alternative if Lanikai Beach and Kailua Beach are too crowded. Street parking only and accessible via the Kailuana Beach Public Access. This is actually where I like to go if I don't wake up early enough to get to this side of the island or I just don't want to deal with the Lanikai and Kailua crowd.
Kalama Beach: Almost identical to Kailua Beach since they're right next to each other. If you're lucky enough to grab parking at Kalama Beach Park, you'll have a blast!
Kailua Beach: Famous for its powdery white sand and beach activities such as kayaking and standup paddleboarding. The parking lot is big but fills up very quickly since it's so popular.
Ironwood Grove: If you're looking for shade, head to the eastern end of Kailua Beach.
Lanikai Beach: Extremely famous beach with its amazing views of "The Mokes" (Mokulua Islands), Moku Nui and Moku Iki Islets that are also bird sanctuaries for Hawaii's seabirds. The sand has receded in recent years, but the beach is still beautiful if you can find street parking.
Public Beach: Go past famous Kailua and Lanikai Beaches and you'll get to Public Beach that's even closer to the Mokulua Islets. There's very little sand here so it's best to bring only a towel with you as there's no place to put your belongings.
Bellows (military ID required): Huge beach with a beach park and facilities accessible to those with military ID. I love piggybacking in my military friends' cars because its a wonderful beach for all ages.
Bagley Beach: Quiet beach that you'll have to walk to from Bellows or Sherwoods.
Sherwoods: Personally, my favorite beach of all time if I'm going to spend a day at the beach playing in the surf, lounging in the sun, and BBQing all day. It does get busy, but as long as you come here in the morning, there should be plenty of parking.
Waimanalo Beach: Right next to Sherwoods – in fact, Sherwoods Beach Park and Waimanalo Bay Beach Park are right next to each other and it's hard to tell the difference. The bathroom and shower facilities are convenient and the soft sand feels wonderful on the toes.
Kaiona Beach Park: Fun little park against a sandy beach that's great for families with kids. It usually doesn't get too crowded here, which is great.
The waves start to get rough around this area so do your research on the next few beaches on Oahu to find out if this is where you want to spend a beach day at.
Makapuʻu Beach: Large beach that has some great surf. On the eastern end near the parking lot is "Baby Makapuʻu" where there are a few sandy tidepools where Moms sit with their babies. I've even seen infants in here and they're loving it!
Makapuʻu Beach Park: Large beach that sits right against the Makapuʻu Lookout cliffs. Popular spot for local residents to bodysurf and play in the waves. Don't swim way out into the deep as the waters are very rough in this area and it will be difficult to get back to shore. As a general rule, just stay near the shore and play in the white water like everyone else.
Makapuʻu Tidepools (PLEASE READ): Not a beach, but I'm adding it here for awareness. Accessible from the Makapuʻu Lighthouse Trail and heavily visited by those seeking the 'gram or "secret" spots. The waves here are EXTREMELY unpredictable and have pulled several unsuspecting (young and healthy) people out to sea to their deaths. The latest one was a local 21-year old woman in 2021. An even sadder one I remember was a father who took his 3 daughters to the tidepools on a very calm day in 2016. An unexpected wave swept his 6-year old daughter out to sea and the father (46) jumped in to rescue her. Both did not survive.
Pele's Chair: The name refers to the stone formation resembling a chair presumably for Pele, the goddess of fire and volcanoes. Next to the formation is a small lagoon you can swim in. Accessible via the Makapuʻu Lighthouse Trail.
Kaloko Beach: Not a good place to swim because of all the rocks, but a fun place to explore the rocks and crevices and fish from the shore.
Sandy Beach Dunes: Rough waves don't make this a swimmable beach, but the tidepools are fun to walk through and look for small fish and crabs.
Sandy Beach (PLEASE READ): Famous for bodysurfing, kite flying and injuries. I don't recommend going into the water here because the strong undercurrent has injured many people including paralysis. Instead, watch the locals surf the waves and grab a bite to eat at the lunch wagons.
Halona Beach Cove: A small, almost-hidden cove that's picture perfect during the summer months. The views are fantastic and there's even a lava tube you can explore. During the winter months, the waves get really rough and it's not suitable for swimming in.
There are two popular viewpoints here: the Lanai Lookout and the Halona Blowhole Lookout. There are bright yellow DANGER signs posted at these lookouts to dissuade you from going down to the rocks. Unfortunately, many people go down and don't realize that the waves are very, very rough here. If you fall in, don't expect to get back out – the waves are that strong. Instead, you'll be thrown against the sharp lava rocks and rescue boats will have a difficult time reaching you because the waves are that strong.
South Shore beaches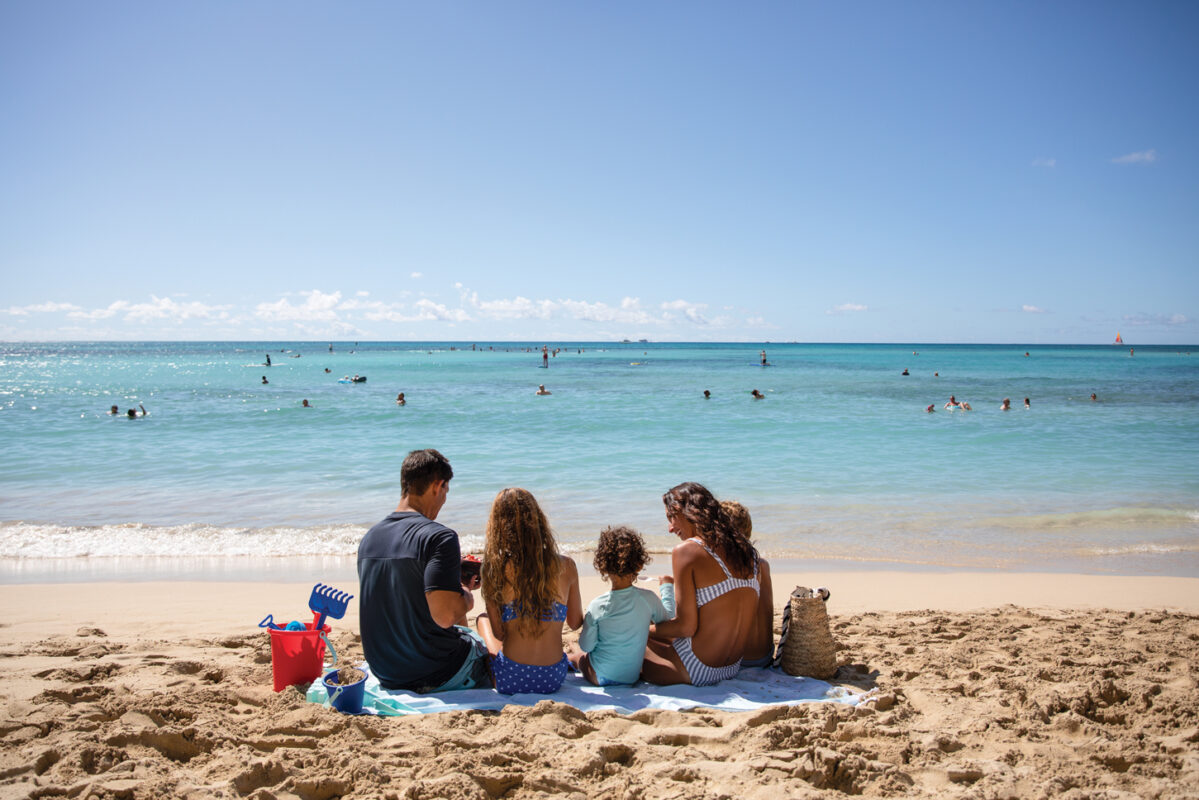 All of the southern beaches are generally safe and a great option for families and young kids for the entire year. It's only the northern shores that get hit by the big winter swells, so even if your beach plans are cancelled during the winter, it's a pretty safe bet that you can head to a southern shore instead for a beach day. In general, the southern beaches have some of the best beaches on Oahu all year round.
Hanauma Bay: Very famous snorkeling spot at a nature preserve. Advanced reservations are required as well as an entrance fee mainly for crowd control.
Spitting Caves: Not a beach, but a popular spot for cliff jumping. Neighborhood residents highly discourage cliff jumping here because of the many lives lost. It's very difficult to get back onto shore after you jump in.
China Walls: Hidden in the same neighborhood as Spitting Caves, this is also not a beach, but a large rock wall that creates a wave when the deep water currents slam into it. It's a popular spot for locals to "surf" this wave.
Kokeʻe Beach Park: A tiny gem of a park (it's more of a grassy lawn) hidden in the neighborhood. There's not really a beach, but it makes for a good spot to take little ones so they can splash around. It's actually a great fishing spot for fishing.
Marshalls Beach: Secluded beach with a mix of sand and rocks.
Maunalua Bay Beach: Small beach that's fun to walk and explore if you're already in the area and need something to do for an hour.
Kuliouou Beach: An extremely calm and flat shorelines that's perfect for young children.
Kawaikui Beach Park: Nice area to picnic or enjoy the view. The beach is on the rocky side, but you can still take a dip in the gentle waves.
Wailupe Beach: Pleasant beach that's not very swimmable, but fun to explore especially during low tide. Wailupe Beach Park is on the small side but usually not crowded.
Kahala Beach: Most beach-goers are belong to The Kahala Hotel and Resort and Waialae Country Club.
Thukkie Beach Lookout: Park on the street and walk your way in via a beach access road to this secluded beach.
Hunakai Beach: Local residents like coming here to relax and chill. Same with most of beaches here, park on the street and walk in via a beach access road.
Here's where I start to call this area Waikiki because you can reach it if you're staying in the tourist hub.
Cromwell's Beach: Right next to the Shangri-La Museum, it's a great spot for photography since the pebble-like rocky bottom makes for a unique blend of colors. Parking is limited. Come during low tide so you have some sand to sit on.
Kuilei Cliffs Beach Park: Beautiful beach to walk and explore.
Diamond Head Beach Park: An enjoyable sandy beach that's less crowded than Waikiki next door. Come early to find parking.
Leahi Beach Park: A small grassy park with a short pathway against the water. There's no sand, but you won't miss it since the grass is just as comfortable to sit on.
Makalei Beach Park: Off-the-beaten-path beach park that's perfectly situated so close to crowded Waikiki. There's a small sandy beach off to the side and showers where you can rinse off.
Tonggs Beach: Tiny pocket of a beach with a sliver of sand.
Kaluahole Beach: Very small sliver of sand mainly accessible for patrons at nearby establishments.
The true Waikiki beaches: They run from Kaimana Beach to Kahanamoku Beach.
Kaimana Beach (Waikiki): The southernmost beach on Waikiki. Very few people are here, so it's a good place to escape from the Waikiki crowd.
San Souci Beach (Waikiki): Nestled between the Waikiki Aquarium and the Waikiki War Memorial Natatorium. It's rocky here, but it has the best snorkeling in Waikiki.
Queens Beach (Waikiki): Across the street from the northern side of Kapiolani Regional Park (named after Queen Kapiolani), it's a well-known boogie boarding spot along the Waikiki Wall.
Kuhio Beach (Waikiki): Also called Kuhio Ponds in reference to the two sections guarded by two manmade sea walls. It's a great place for kids to splash and play since there practically no waves.
Royal Hawaiian Beach (Waikiki): In front of The Royal Hawaiian Resort where there are plenty of umbrellas and lounge chairs to rent.
Gray's Beach (Waikiki): The beach doesn't really exist anymore since the sand keeps getting washed away. But it's a nice place to catch a view.
Fort DeRussy Beach (Waikiki): It's actually one of the cheaper places to rent an umbrella and lounge chair so you can relax on the beach.
Kahanamoku Beach (Waikiki): The northernmost beach on Waikiki. It fronts the Hilton Hawaiian Village and there's even the Hilton Lagoon (Duke Kahanamoku Lagoon), that kids can swim in.
Magic Island Lagoon: Part of Ala Moana Beach, the lagoon on manmade Magic Island is a fun place to spend the day at. Walk out on the rocks to fish or see whales as they swim by during whale watching season.
Ala Moana Beach: Beautiful and well-protected sandy beach where it's popular to swim and standup paddleboard. Parking can be tough, but if you're in Waikiki or Downtown Honolulu, you might not need a car to get here.
Kewalo Basin Park: Popular surf spot in front of a nice park. Sit on the wall and watch local surfers on the waves.
Point Panic: The only place where it's bodysurfing only. There are buoys to mark designated bodysurfing areas so it's a neat spot to come and watch surfing in its purest form.
Out of Waikiki and Downtown Honolulu, these following beaches are closer to Honolulu Airport and Central Oahu.
Sand Island Beach: Large beach park that used to be known as Quarantine Island during the World War II era. The sandy beach here is popular for low-key family get-togethers over the weekend. You have a great view of the harbor and shipping containers coming in and out of the channel.
Keʻehi Lagoon Beach Park: Although the beach park and beach is almost always empty, nobody really swims here. It's mostly used by the Kalihi Kai Canoe Club as far as I know. It's not the safest beach in the area because of the large homeless population in the area.
Honeymoon Beach (military ID required): Private lagoon accessible only through reservation with the Hickam Harbor Office.
Hickam Beach (military ID required): Fantastic sandy beach that doesn't get too crowded. There's no shade though so bring an umbrella to block the sun.
Kamehameha Beach (military ID required): Flat, sandy beach that's great for little kids to splash around in.
Central Oahu beaches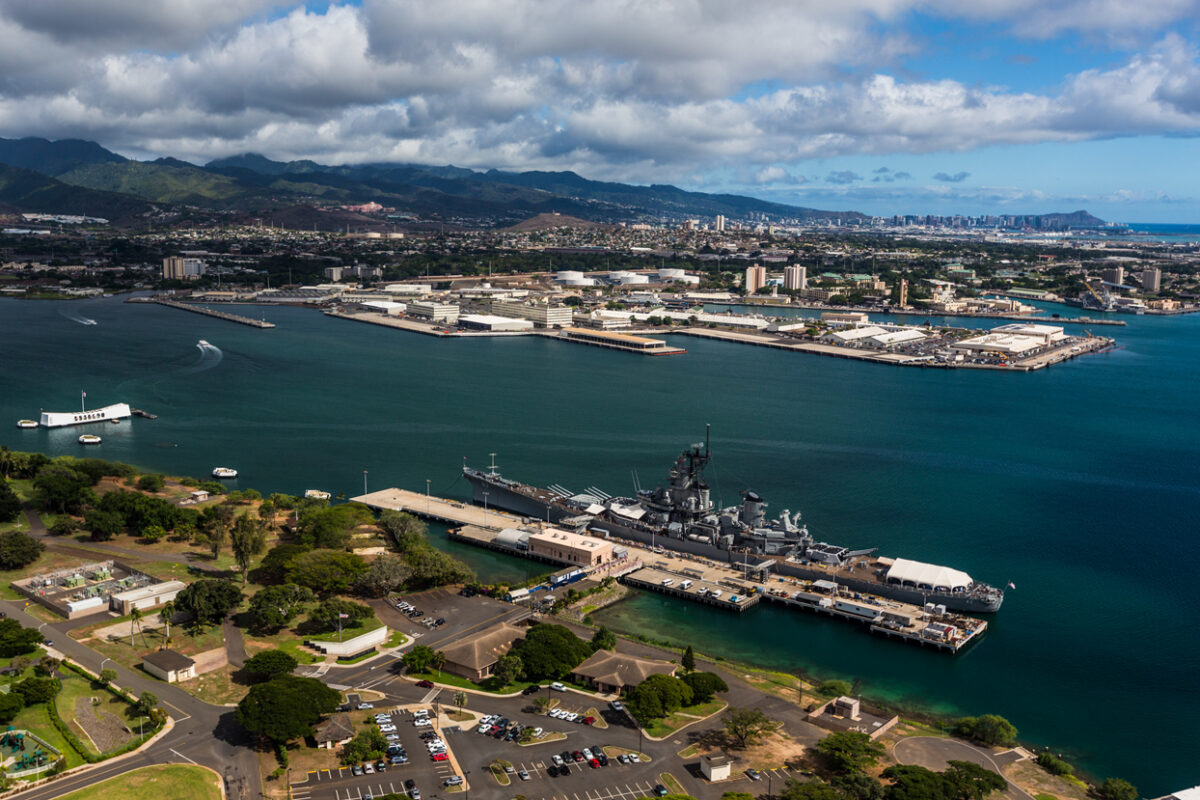 There are very few beaches in Central Oahu for 2 reasons: it's in the middle of Oahu and this entire area is associated with Pearl Harbor, the military, and marshlands. In general, you don't want to swim in these beaches on Oahu. Pollution is a concern and you know it's bad if you see signs everywhere that say to not eat the fish you catch. Stick to these beaches as sightseeing spots instead.
Aiea Bay State Recreation Area: While you don't want to swim here, you do get some cool views of Pearl Harbor. I've heard rumors that the park has had a "CLOSED" sign on the gate for a while now.
Neal S. Blaisdell Park: A large park that has beach access and nice views, but I wouldn't go into the water. There are signs that say to not eat the fish you catch in this area.
Kai Beach (military ID required): Located on Ford Island and isn't very popular or well maintained.
Kapapapuhi Point Park: A very pretty park with some cool boardwalks and picnic tables. However, signs say no fishing and no swimming. Formerly known as the West Loch Shoreline Park.
Leeward Coast (West Oahu) beaches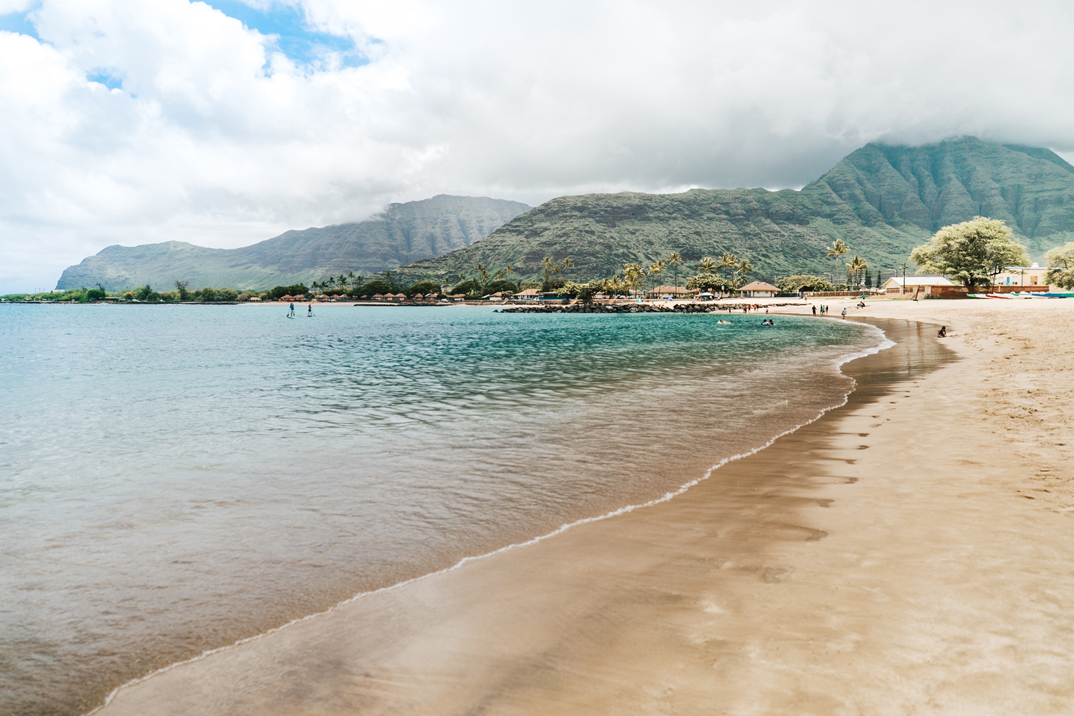 After passing the Ko Olina resort area, you'll find that a lot of the West Oahu beaches are pristine and crystal clear. Look forward to amazing views, dolphins, turtles, Hawaiian monk seals, and even whales during whale watching season. The farther you go, the emptier it gets and many of the beaches here are sandy and never ending.
I want you to know that the locals in West Oahu may not be as friendly towards tourists as they are everywhere else on the island. Many of the people who live here are Native Hawaiians who have a strong attachment to their island home and do not like what tourism and the U.S. government has done to the island, culture, and families. Keep that in mind as you travel and if you feel at all uncomfortable, leave and move on – it's not worth fighting about. (I also want to say that this is not everyone in West Oahu – you'll meet kind and awesome people here, too! But I know most travel articles tend to gloss over this and ignore the dangers, which I don't want to do because it impacts your safety.)
Iroquois Point Beach: Wonderful sandy beach in a gated community, but with public access. Show your driver's license and car insurance to get through the gate.
Puʻuloa Beach Park: Really nice sandy beach that locals frequent because it's so far from tourist hotspots.
Oneʻula Beach: Fun beach for walking and exploring. It's possible to float and play in the water, but it tends to be too rocky to get any deeper.
White Plains Beach: A favorite of mine where you can learn how to surf. I come here often with friends who like to surf (I'd rather float which you can also do here).
Eisenhower Beach: Good beach for surfing or playing along the shore, but not for swimming or you'll get roughed up by the waves.
Kalaeloa Beach Park: You can surf here, but fishing is even better at this location. Campsites are available with an advanced reservation.
Nimitz Beach: A really nice, sandy beach where you can see Waikiki and Diamond Head from.
Barbers Point Beach Park: There are better beaches to spend the day at, but it's not a bad place to walk and enjoy the view. There's an industrial feel to the area, but the lighthouse makes it interesting.
The next few coves are in the vicinity of the Ko Olina resort area, which markets themselves as a secluded mini-Waikiki. They sit between Kapolei and Waianae – two major cities in West Oahu.
Ko Olina Lagoons 1, 2, 3 and 4: Kohola Lagoon, Honu Lagoon, Naia Lagoon, and Ulua Lagoon respectively, these 4 manmade lagoons are accessible to the public but are mainly visited by visitors staying at one of the resorts in Ko Olina. All are very safe and protected from the ocean waves.
Lanikuhonua Lagoon: Pass the 4 manmade lagoons and you'll come to this not-so-secret lagoon that usually doesn't have too many people. It's a great place to watch the sun go down.
Paradise Cove Public Beach: A wonderful little cove that's fun to snorkel at! Don't be surprised when you see a few turtles.
Milo Cove: Walk even further down and you'll come across this little known cove that you'll probably have all to yourself. There's no real parking nearby so you'll have to walk from Ko Olina or Electric Beach.
Kahe Point (Electric Beach): Nicknamed Electric Beach because it sits right in front of the Hawaiian Electric Kahe Power Plant, this is a fantastic spot for snorkeling and there's a chance you'll see dolphins, too.
Tracks Beach Park: Easily identifiable with the old train tracks from the sugar plantation days running parallel to the shoreline. This beach is gorgeous and the view is superb.
Black Rocks Beach Park: A lovely small park with some picnic tables where you can enjoy the view. Pop over to Pohakunui Cove and you may have it all to yourself.
Mermaid Caves: Not a beach, but a popular spot in recent years because of the fantasy-like photos you can take here.
About here is where I start to worry about broken car windows and theft. While exploring these beaches on Oahu, carry your valuables with you and don't leave anything tempting or questionable in the car such as a jacket or bag. This doesn't mean I don't come to this area – it just means I'm careful with where I park and what I leave in the car.
Nanakuli Beach Park: Gorgeous sandy beach that's great for families and kids since there's a lifeguard on duty. Park at Kalanianaole Beach Park.
Zablan Beach: Rocky ledge with a small sandy cove on the northern end. During the summer, it's a nice spot to play in since the waters are so flat. Be careful during the winter as the waves make this beach dangerous.
Ulehawa Beach Park: On calm days, this is a fun little beach to bring the kids to so they can splash in the pocket tidepools. It's not a great swimming beach, but you can play in the small sandy areas without getting hurt or scratched up by rocks.
Maili Point Beach Park: Convenient beach park to stop at after a hike up the Maili Pink Pillbox Trail. You can usually find parking except maybe on the weekends when it gets really busy.
Surfer's Beach Park: Named for the waves and the surfers it calls, there are also fun tidepools to explore especially at low tide.
Maili Beach Park: Long beach with plenty of sand if you walk away from the parking lot. There are several complaints about the homeless people in the area, so make sure you don't leave any valuables in the car.
Mana Kai Beach: Sandy beach with a long parking lot and a good view. Tends to be on the quieter side despite being right next to Maili Beach Park.
Lualualei Beach Park: Small park with a few shady spots and picnic benches. Not great for swimming, but a good spot for fishing with all the rocks.
Pokai Bay Beach: Half sand, half slabs of rock, it's a good spot if you're just looking for some place to relax and Pokai Beach (Pokai Bay Beach Park) is too crowded.
Pokai Beach: Fronting Pokai Bay Beach Park, this is a popular beach and large park with protected waters and plenty of space. At first glance it may seem crowded, but parking is not too bad and you can usually find a shady picnic table and space on the sand to lounge on. This is one of my favorite West Oahu beaches to visit with friends for a beach day.
Mauna Lahilahi Beach Park: A nice beach that's surprisingly secluded because there's no parking nearby. You'll have to walk on over and there are no bathroom facilities in the area.
Papaoneone Beach: Three condos sit between this beach and Farrington Highway so it's actually a really location that doesn't get all that noise pollution.
Aki's Beach: A cute pocket beach that's a popular spot for turtles to pull themselves up on to bask in the sunshine.
Makaha Beach Park: Huge sandy beach with plenty of space and popular spot to spend a beach day. There's very little shade though so bring an umbrella so you don't get roasted.
Keaʻau Beach Park: Beautiful beach park for camping or a picnic. You can't swim here, but the view of the waves crashing on to the rocks is lovely.
From here to Kaena Point (going north), there are no buildings which is fantastic for sightseeing, but junk for your car. Theft is high so bring all of your valuables with you. Make it easy for thieves to see what's in your car – ex: don't leave a sweater or bag in there. They'll break your window to check. Some people recommend leaving your car doors unlocked, but I've never done this. To each their own!
Keaʻau Beach: Locals like to come here especially on the weekends. This is where the buildings begin to disappear and all you see is ocean and mountain.
Ohiki-lolo Beach: Wonderful spot to get out the car, stretch your legs, and sightsee. The views here are fantastic especially since they're aren't a lot of people here.
Makua Beach: Very few people and it's fun to explore the whole beach. Some parts of it are sandy, other parts have tidepools to explore, and some areas are safer to swim in depending on the current.
Keawaʻula Beach: Better known as Yokohama Bay among the local surfing crowd, this is the last proper sandy beach before hitting the Kaena Point Trailhead at the end of road. Lots of space to park your car and popular for locals to set up their tents and enjoy the beach.
Tips for beaches on Oahu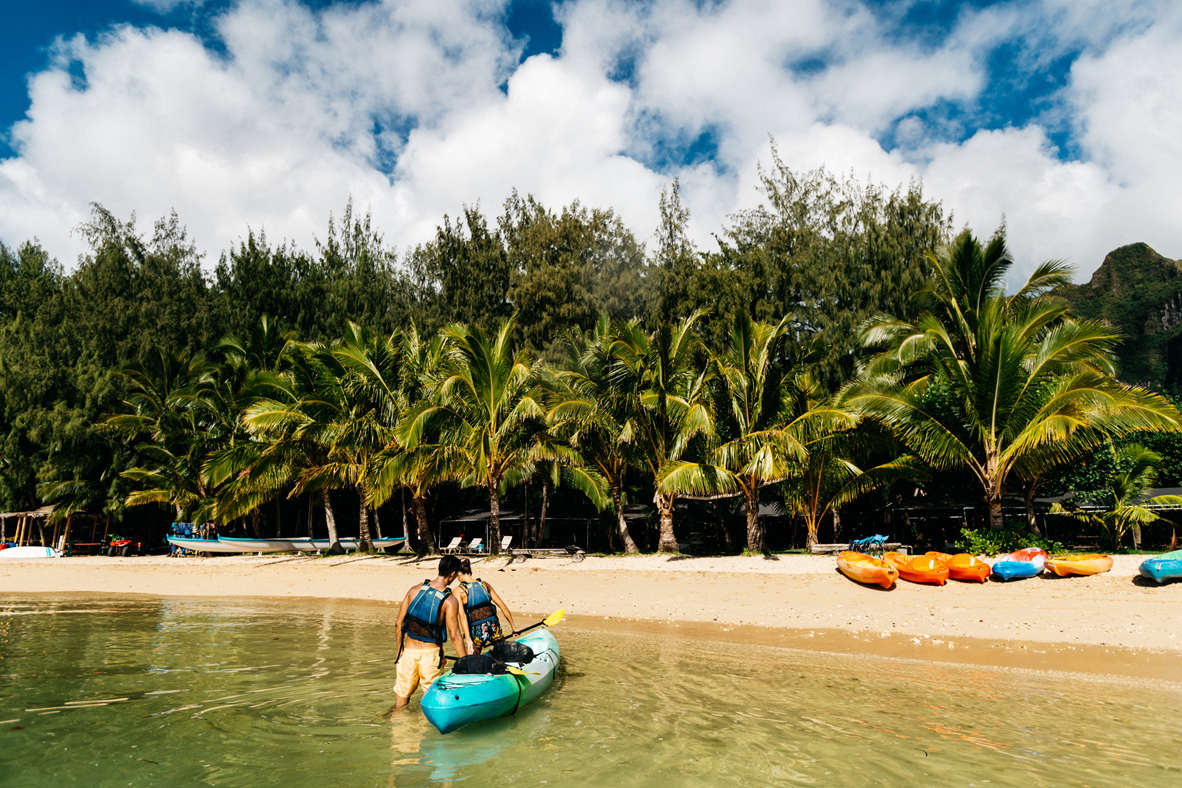 What you might not know is that all beaches in Hawaii are public beaches. That means all beaches are open to the public. However, some beaches become "private" due to the large complexes, hotels, condos, and even homes built along the shore, which blocks access. Here are a few more tips that may answer your questions on beaches on Oahu.
Beaches vs beach parks vs bays
In this list I vary between beach, beach parks and bays. Some beaches have beach parks, some beach parks don't have beaches, and some bays have neither. I tried to use the most convenient location according to Google Maps so you can easily find your way or check reviews.
Also, not all beaches on Oahu have names. In fact, you usually can't tell when a beach becomes the next beach because there's no demarcation line. You can often walk along a shoreline and unknowingly walk through several beaches and pass multiple beach parks if you walk far enough.
Most bays tend to have sand, but keep in mind that not all beaches (or beach parks) are the same. Some beaches have sand, some are all rock, and some have neither where the water rides up directly against the sea wall. You can't swim at all beaches, too. Just as there are swimming and snorkeling beaches, there are also fishing beaches or viewpoint beaches.
Homelessness
Unfortunately, homelessness is a growing issue here in Hawaii and it isn't getting any better. Beaches are a safe place for many homeless people as they have access to showers, bathrooms and even food. There are certain beaches on Oahu where the impact of the homeless leaves a mark. I encourage you to look at recent reviews to make sure you're OK with the beach's conditions and surroundings as the homeless are always on the move since the City & County keep moving them around.
Theft can be an issue. As a general rule I don't leave valuables in my car and I even take out jackets and tote bags that could potentially look like something to steal. So far this has worked and I have yet to suffer a break in (fingers crossed!).