This post may contain affiliate links, which means I'll earn a small commission if you purchase something through these links. You won't pay any extra; instead, you'll be helping Aloha With Love to thrive. Thank you! Learn more.
--
Hiking is one of the best things to do in Hawaii and Maui has some really stunning trails for those searching for outdoor activities. There are plenty of waterfalls to see (the Road to Hana is exceptional) and my favorites include a bamboo forest and a coastal hike. Of course, you can't forget Haleakala – if you have the time and ability, I highly recommend at least one Haleakala hike during your Hawaii travels.
Aloha with love,
Amy
About hiking in Hawaii
Hiking in Hawaii can be dangerous and there are some basics you need to know. Most important is that Hawaii is made up of lava rock which is very porous and brittle. That means it breaks easily! Many falls, fatalities, and missing persons reports are filed each year and I don't want this to happen to you as you travel Hawaii. Be sure to read my post on the dangers of hiking in Hawaii.
1. Sliding Sands Trail (Keoneheehee)
The Sliding Sands Trail in Haleakala National Park in Maui is one of the best hikes in Maui in my opinion. It's so very different from your "average" waterfall and rain forest hikes in Hawaii. The crater flashes red, orange, brown, green, tan, dark grey, and you get the feeling you're walking on Mars. It's really cold up here though, so do your research for this hike and come prepared.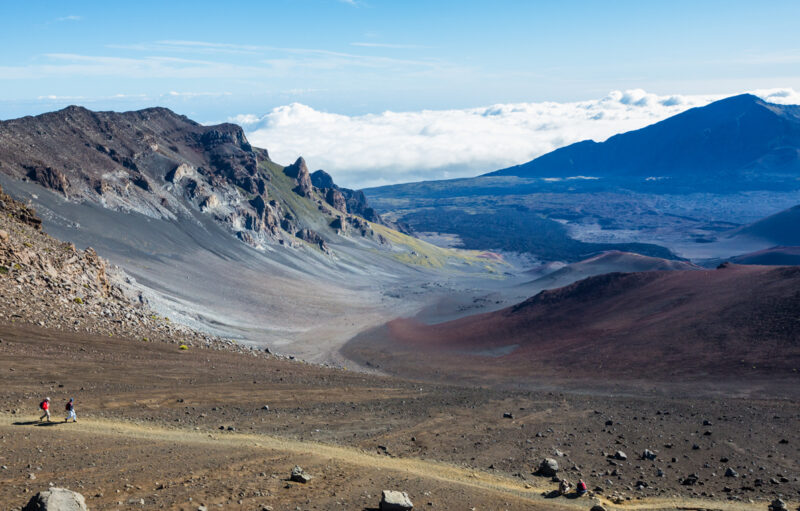 2. Pipiwai Trail
Although Pipiwai Trail is part of Haleakala National Park (Kipahulu Visitor Center), access is actually via the Road to Hana near Oheo Gulch (Seven Sacred Pools). The trail leads to Waimoku Falls, which feeds Oheo Gulch closer to the coast. The boardwalk through the bamboo forest is especially lovely and great for photos!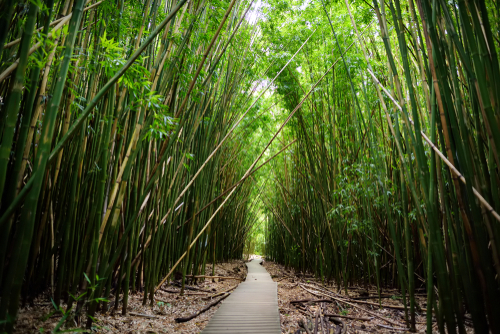 3. Waianapanapa Coastal Trail
Usually Waianapanapa State Park is a stop on the Road to Hana, but if you have the extra time, consider hiking the Waianapanapa Coastal Trail. The hike is relatively easy compared to the more strenuous uphill waterfall hikes in Maui, but wearing good, sturdy shoes is a must as you'll be walking on lava rocks at times. Keep in mind that you'll need to pay and reserve your Waianapanapa time slot ahead of time.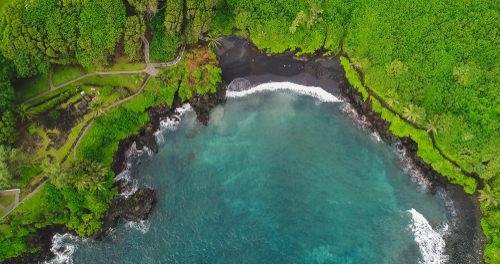 4. Twin Falls Trail
One of the more popular hikes on the Road to Hana and probably the first one you'll come across. The trail head is marked by the colorful Twin Falls Fruit Stand you'll see on the side of the road. While this waterfall is gorgeous, be mindful of the weather, rain, and flash flood warnings. This area is prone to sudden floods during heavy rains. But outside of bad weather conditions, this is a fantastic hike in Maui to get your feet wet!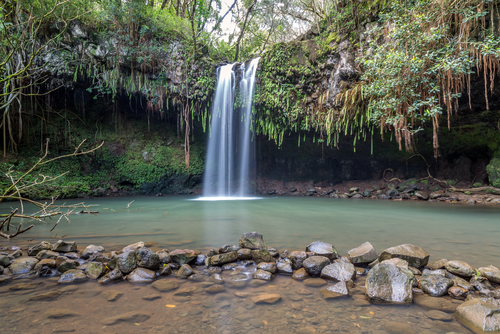 5. Hosmer Grove Trail
I especially love Hosmer Grove Trail because of all the native birds you'll see! It's a shorter hike made up of 2 loop trails and a great option for those who can't afford to do a longer hike. Located in Haleakala National Park, be on the lookout for native birds like the Hawaiian nene goose, scarlet honeycreeper (iiwi), and the common amakihi (a green Hawaiian honeycreeper).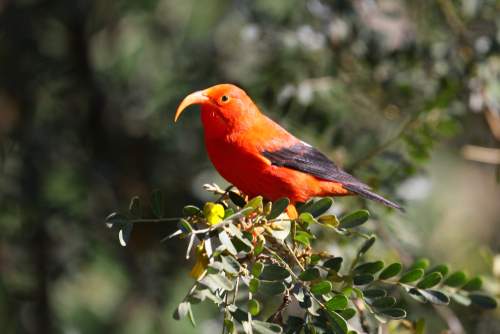 6. Waihee Ridge Trail
For more experienced hikers looking for a workout, Waihee Ridge Trail is a Maui hike with views that will remind you of Kauai! I suggest going on the driest and clearest day possible. Any sign of rain and the trail will be muddy, slippery and you might not be able to see much. But on clear days, the view up here is fantastic and you'll be glad you came out.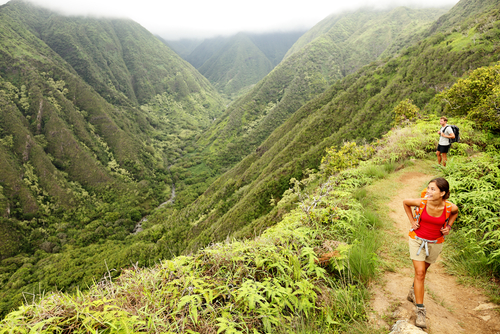 7. Hoapili Trail (La Perouse Bay)
Hoapili Trail is a very different kind of Maui hike. It begins at La Perouse Bay and you'll enjoy coastal views and rugged lava rock trails. The scenery keeps changing making it a fun trail with lots to see (the goats are cool), but you'll need to wear good shoes, a hat, and lots of sunscreen as it gets hot out here. Bring lots of water!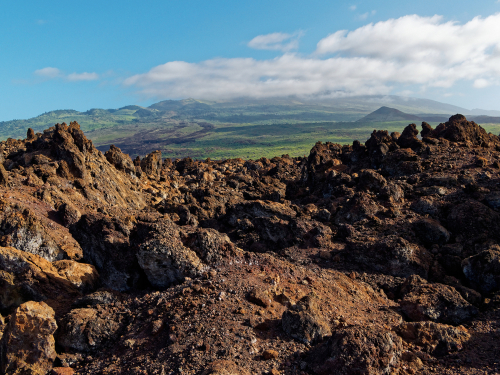 8. Iao Valley State Park
Nicknamed the Iao Needle, Iao Valley State Park has a short trail that's suitable for all ages. More park than hike, it's still a great place to stop and stretch your legs. The trail is a pretty walk through a valley as you make your way closer to the Iao Needle. Everything is lush and green here, so don't be surprised if it begins to drizzle.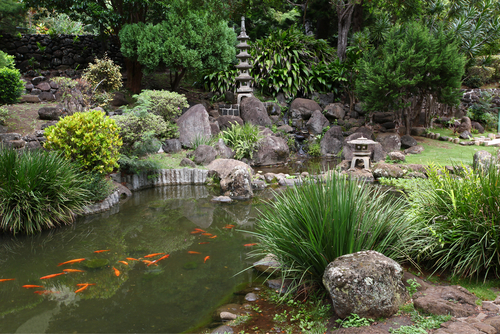 9. Waihou Spring Trail
Located in Upcountry Maui, the Waihou Spring Trail is a nice slice of a nature walk with cool forests, caves to explore, and logs to climb. The pine trees here are unique (they're part of an experiment for growing saw timber) and not something you see often here in Hawaii. The upper trail is enjoyable for any age and kids should have no problem. If you're up to the challenge, check out the lower section where you can explore the spring. The path is narrow and steep, but well worth the challenge. Just remember you'll have to come back up to get out which can be tough for some.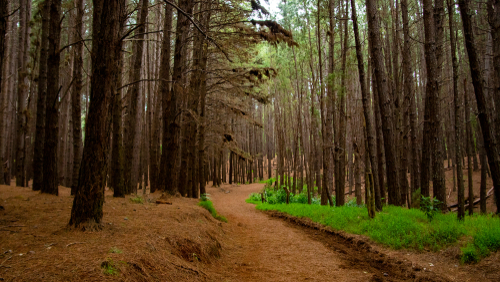 10. Lahaina Pali Trail
This is a challenging hike that will take you at least 3.5 hours, but the neat thing about this trail are the magnificent, sweeping views you'll get of Maui. Majestic Haleakala comes into view, you can spy on boats and whales in the ocean, and you'll come right up against the windmills, too. It gets extremely hot out here so bring plenty of water and try to come out in the morning or on cloudy days.