This post may contain affiliate links, which means I'll earn a small commission if you purchase something through these links. You won't pay any extra; instead, you'll be helping Aloha With Love to thrive. Thank you! Learn more.
--
From the moment you book your flight tickets, the last thing on your mind are the dangers you face when enjoying the view in Hawaii. The islands are paradise. It's a place of aloha, beauty, relaxation and fun. Your planning is filled with prospective restaurants, Hawaiian festivals, surf lessons, shopping and of course hiking.
Now, the last thing I want to do is burst your bubble, because I think Hawaii hiking is fantastic! Just like in the pictures, the scenery is mind-blowing, the landscape one-of-a-kind, and the waterfalls simply refreshing. But, the reason why Hawaii is such a unique attraction, is the same reason why you cannot hike here the same way you do at home.
Aloha with love,
Amy
Hawaii is made up of lava rock
Many injuries, deaths, and missing person reports here in Hawaii are the result of Hawaii hikes. What's most important about Hawaii is that our islands are made up of lava rock. If you've never held lava rock before, it is extremely light, brittle, porous, and you can even smash it with your own body weight if you were determined enough. (I work with lava rock in my aquaponics systems.)
Hawaii is an island chain completely formed by volcanos. Unlike the massive and heavy granite rock you find on the mainland and in most other places, our volcanic rock is light and porous. In other words, it crumbles. In fact, if you ever get a chance to compare the weight of a lava rock and a regular rock while in Hawaii, I'm sure you'll be very surprised at the weight difference.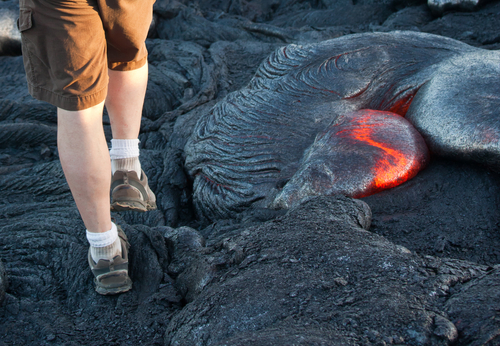 Volcanic rock can be broken easily because it is so brittle and is especially unstable when it has been raining. There have been several cases of very experienced hikers who have fallen to their deaths because of the lava rock they were standing on suddenly crumbled.
Be prepared for flash floods
Waterfalls are beautiful, fun and awe-inspiring. There is no question as to why waterfalls attract so much attention. Visitors and locals alike delight in waterfall trails where the end is a satisfying dip in a large pool of cold water on a hot Hawaiian day. However, waterfalls also mean rain, rivers, streams, and floods.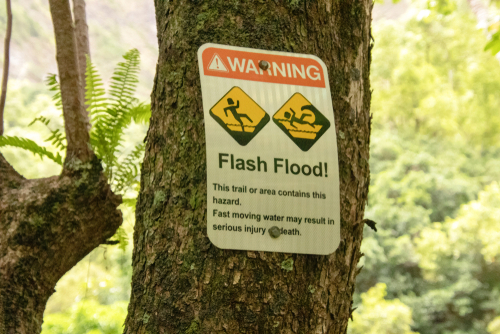 The more it rains, the more chances of falls, slips and rushing currents. Heavy rains on top of Hawaii's lava rock can spell disaster so please use common sense and take extra precaution during particularly rainy days for any Hawaii hiking you may do.
In addition, because Hawaii is a tropical island, many hikes up in rainy mountains don't dry fast. After a heavy rainfall, you can expect a lot of mud (and mosquitoes!) for several days even with clear skies and sunshine.
Local tip: Mosquitoes love Hawaii's moist and humid weather. You'll find them on hikes with a lot of trees and little sunshine and wind. Rainwater collects in pockets on the ground where they lay their eggs. Mosquito repellent -especially near your ankles – are a must.
Don't go off the trail
There have been a number of times where hikers (or hikers' bodies) have been found off the trail. I cannot stress enough how important it is to be constantly looking for trail markers. Because of our bright sun and healthy rains, hikes that go through dense forests are thick and overgrown.
Rain or even strong winds can dislodge rock and mud and hide even the most visible of trails. Besides the risk of becoming lost, there are dangers such as unstable rocks, unseen cliffs, wild pigs and tripping over roots and underbrush. The safest hikes will always be those with good trails such as Diamond Head or Makapuu Lighthouse Trail. As with any hike (not just Hawaii hikes!), make sure you are hiking with company.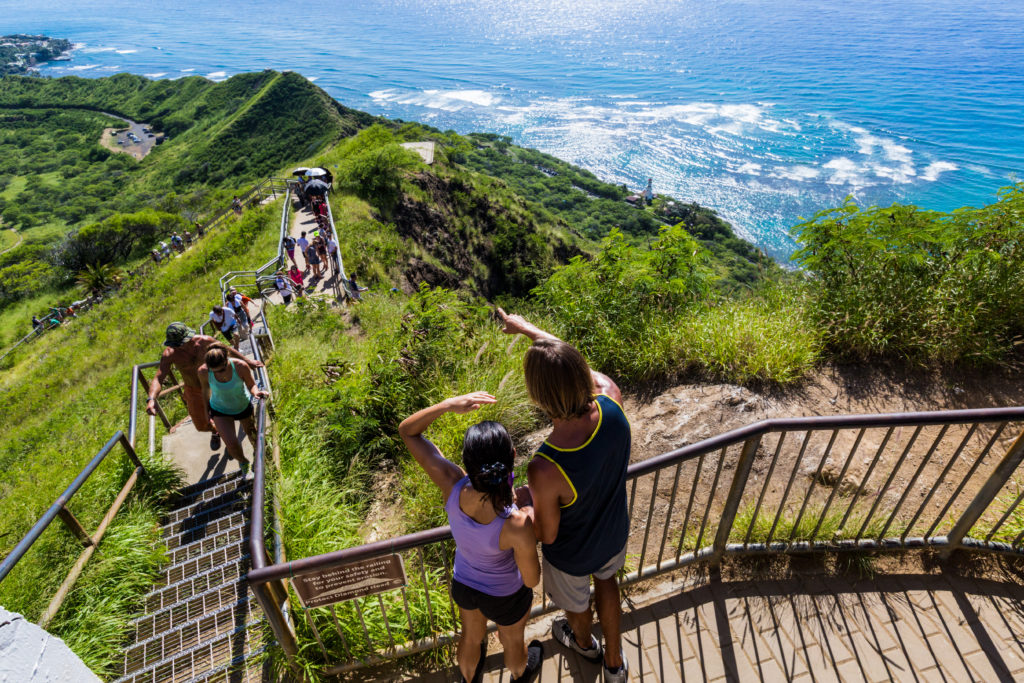 Leptospirosis
Leptospira, a bacteria that lives in some of Hawaii's freshwater ponds, rivers, streams, etc. causes a blood infection called Leptospirosis in humans and animals. Symptoms range from mild to severe (everyone reacts differently), but deaths have happened.
You'll have to decide for yourself whether to swim in freshwater ponds here in Hawaii, but I do want you know that Leptospirosis exists and that you should know the warning signs, which can appear weeks after your return from Hawaii.
Here's a great article on Leptospirosis in Hawaii and what to look out for.
Should you hike in Hawaii?
So should you hike in Hawaii after reading this post? Of course! Hiking is one of the best things to do in Hawaii. The clean air, green leaves, and early morning wind gives me that peace of mind to breathe deep and enjoy life. It is not only relaxing, but makes me feel a deep connection with the magic of the land that I live in.
However, I have grown up in Hawaii and have read the recurring sad news of lost hikers and called-off searches over the years. Many visitors (and even local residents) don't do their research and understandably the excitement of going on a hike often covers up the need to lecture your hiking group on the porous lava rock like a geology class.
I do hope though that by reading this post and through your own research and common sense, you'll be armed with a basic understanding of Hawaii's landscape that will allow you to choose the best Hawaii hiking for you, your family and friends.