This post may contain affiliate links, which means I'll earn a small commission if you purchase something through these links. You won't pay any extra; instead, you'll be helping Aloha With Love to thrive. Thank you! Learn more.
--
When my Dad hears "Rainbow Drive-In" he tells me the memory of his college days as a student at the University of Hawaii at Manoa, standing in line for a $1.60 chili dog plate. It was the best deal for a hungry college student.
Rainbow Drive-In set the precedent for "plate lunch" in Hawaii and they're still a big name these days. Local residents still make this a mandatory stop when they're in the area, but tourists are now in the know and have joined in the fun (and the lines).
Enjoy this local gem – it's a family favorite!
Aloha with love,
Amy
About Rainbow Drive-In and their plate lunches
Rainbow Drive-In. "Rainbows" for short. You'll find this Oahu must-eat icon often on those "best things to do in Hawaii" publications. It's the one place where I have taken every single one of my friends to eat when they're visiting the islands. It has been the pit stop for local residents before they hit Waikiki beach and after their Diamond Head hike for years. Even my Mom (a health nut) loves to eat the Mixed Plate from Rainbows Drive-In.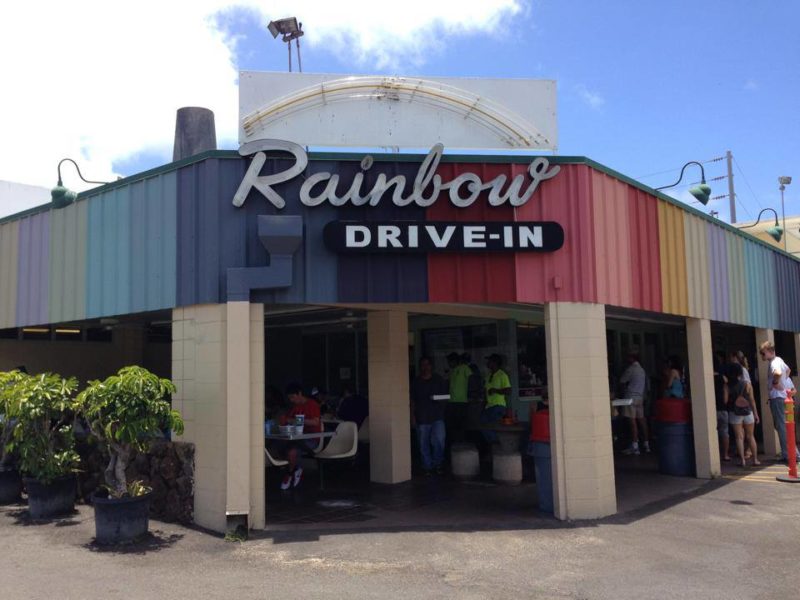 Since 1961 Rainbow Drive-In has served Hawaii their iconic plate lunches of 2 scoops rice, 1 scoop mac salad, and a hearty main dish on top of sliced cabbage. Way back then, the plate lunches had to be served fast due to the limited lunch time for workers. Even today the food still comes out quick, hot and ready to eat! Open daily from 7 AM to 9 PM, it's one of my favorite places to go when hunger strikes.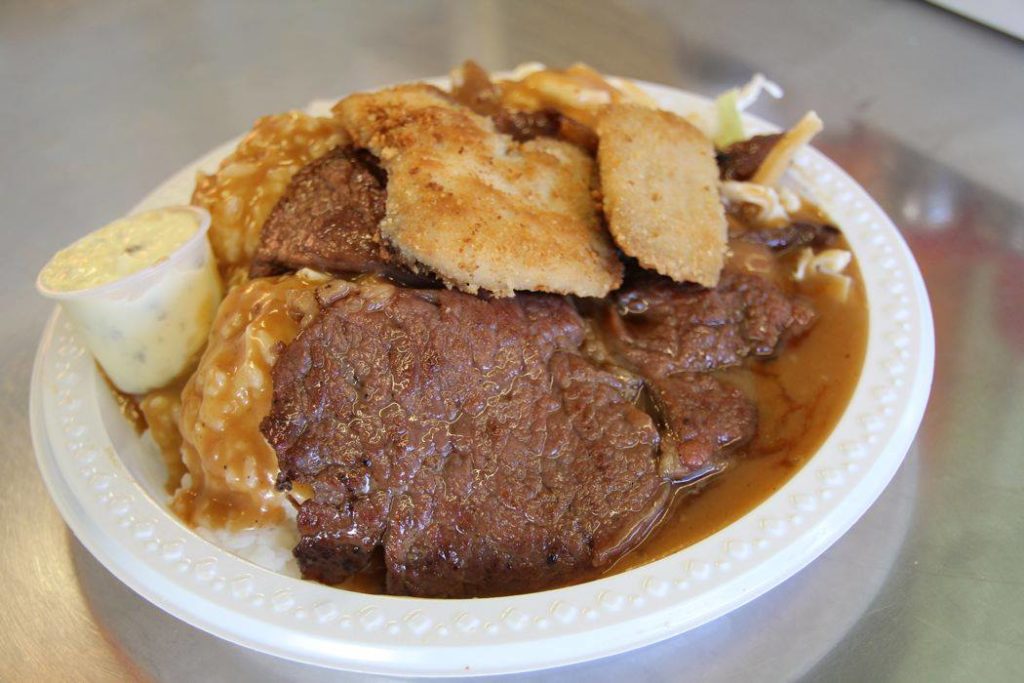 While you can go to Rainbow Drive-In at any time, my favorite time to eat here is after a hike or a day at the beach. Nothing quite beats their hearty meals that fill you up and make you feel just a tad lazy for the rest of the day.
Breakfast is also a big deal in the world of plate lunches so if you have a chance, check out their morning menu. We locals love our spam, Portuguese sausage and fried rice for breakfast, and Rainbow Drive-In does their breakfast right.
Local Tip: Breakfast at Rainbow Drive-In is usually $8 or less!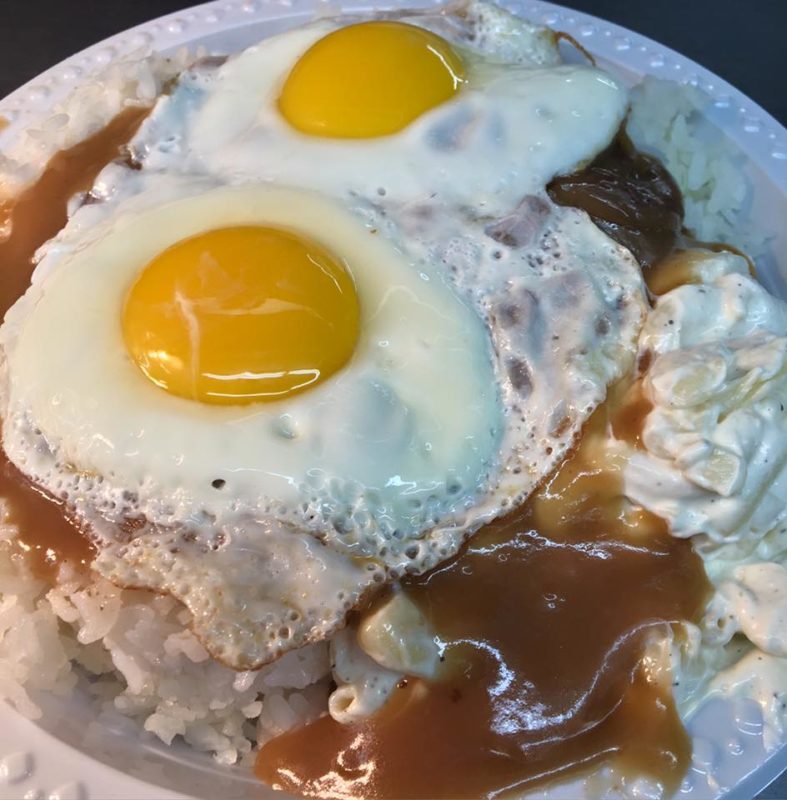 What to expect
Be ready for the long lines at Rainbow Drive-In – but don't be discouraged! Rainbow Drive-In began their business in 1961 with the intent to serve those with a short lunch period and they have their speedy system nailed.
Several windows are open, people know what they want, the line moves quickly and your food is out usually in less than 5 minutes. They'll shout out your food order (not your name) so keep your ears open. Most people stand off to the side because the food comes out that fast.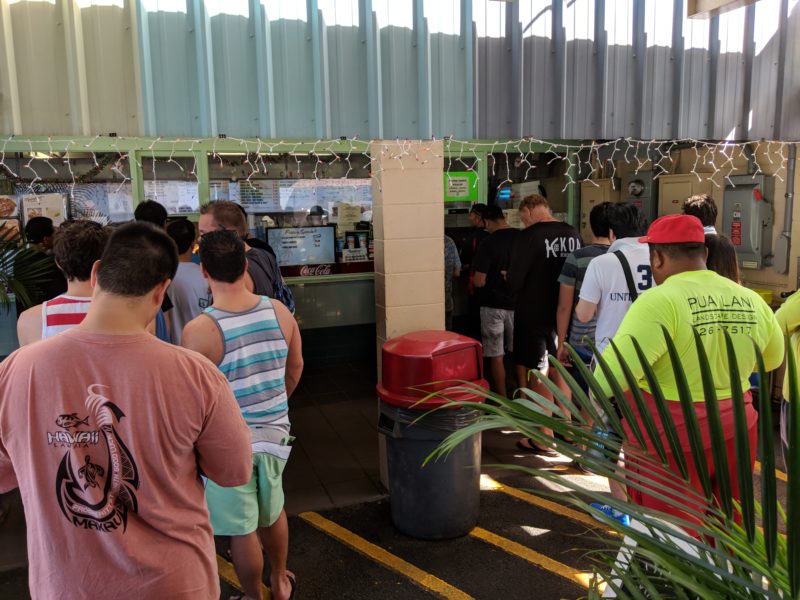 How To Get To Rainbow Drive-In
Getting to Rainbow Drive-In is easy especially if you're staying in Waikiki. It's located on Kapahulu Avenue (Kanaina Avenue), one of the main streets in this area that's also home to many restaurants popular with the local crowd.
They've also opened several additional locations so you don't necessarily have to go to the original location to get your fix. Rainbow Drive-In relies on having a big crowd to serve their food fresh and hot, so it's very likely you'll pass by one as you explore. Check their website for updates on their other locations.
The biggest difference between their original location and other Rainbow Drive-In branches is that the original has Rainbowtiki, their souvenir and gifts shop. You can purchase vintage t-shirts, totes, mugs, and other locally-designed items as you wait for your food.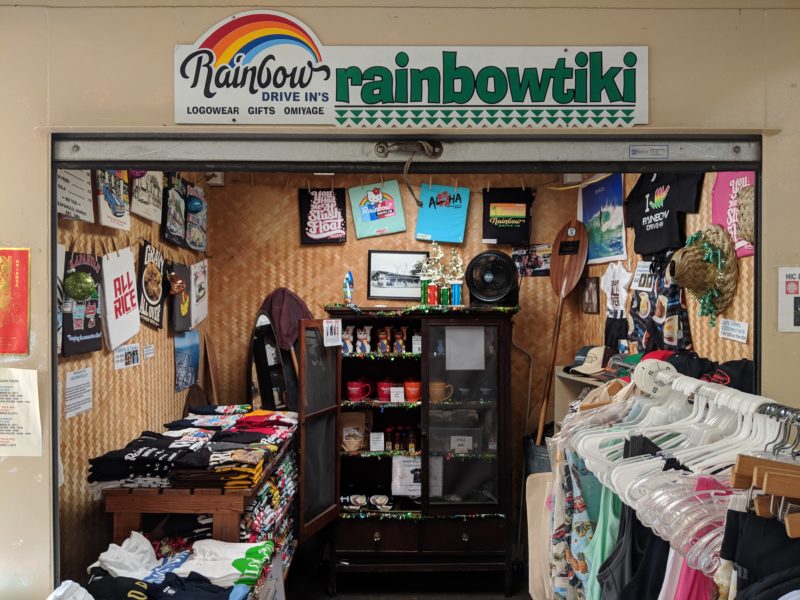 How To Park At Rainbow Drive-In
As you can probably guess, Rainbow Drive-In's parking lot can be horrendous if you don't have a plan. The parking lot is small (can you believe it was even smaller before they renovated?), so have a strategy set when you come. Here's how I usually do it:
Parking Strategy 1: Go outside of the main lunch and dinner hours. You'll probably find a spot or two. This works best for those coming to Rainbow Drive-In by themselves.
Parking Strategy 2: If you're traveling with a group, have the driver decide on what they want in advance. Their job will be to wait in the car and snatch a parking spot if it opens up while you're waiting. Everyone else hops out of the car. One person orders and if you have more bodies, the rest finds a table when it opens up because tables and seats are limited, too!
Local Tip: My family likes to eat at the closest section of Kapiolani Park – a 2-minute drive away. Set your GPS to Waikiki Elementary School and park on Leahi Avenue. Pick any of the picnic tables under the monkeypod trees and eat. There are bathrooms nearby and a jungle gym, too.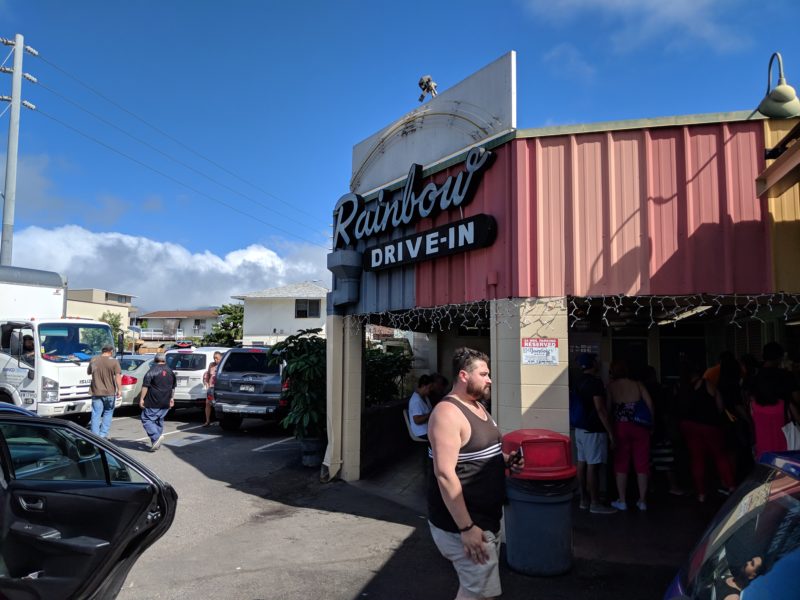 Recommended menu items to order
Not each location has the same menu, so take a look at the menu on the Rainbow Drive-In website before you go. If you're headed to the original location on Kapahulu Avenue (Kanaina Avenue) here are my favorites:
Mixed plate (a family favorite): Breaded chicken, fish, and teriyaki beef.
Instead of a soda, I always get the strawberry slush. If you like ice cream, order the strawberry slush float like my Dad does.
The chili dog plate is what my Dad used to order as a college student and he still gets it from time to time.
A lot of local residents are fans of Rainbow Drive-In's gravy, so any of the gravy plates are popular, too. Try the pork cutlet with gravy plate.
One of my old school high school teachers loved their shoyu chicken plate.
If you're wanting to try a loco moco, a popular local Hawaii dish, you can't go wrong with ordering it here at Rainbow Drive-In.
Other things to do in Oahu near Rainbow Drive-In
Because the original location of Rainbow Drive-In is so close to Waikiki, there's plenty to do nearby:
Uncle Bo's Pupu Bar & Grill is another popular spot for food that's right up the road from Rainbow Drive-In. I prefer going here in the evening as I think the food and atmosphere complements a dinner atmosphere better.
Sunrise Restaurant doesn't have a website (see their Yelp page), but they're well known among neighborhood local residents for their Okinawan and Japanese food. They even have goya champuru (bittermelon stir fry) – a staple dish in Okinawa.
Diamond Head Market & Grill is another popular restaurant for localized plate lunches, salads, and sandwiches. Word on the street is that the Hawaii 5-0 crew eats here pretty often!
The Honolulu Zoo is a great place to stop especially if you have young kids with you. They even encourage you to picnic on their enormous lawn during your visit.
Kuhio Beach is one of the more famous beaches of Waikiki. Park for free on Monsarrat Avenue (between The Honolulu Zoo and Kapiolani Park) and walk over within 5 minutes.