This post may contain affiliate links, which means I'll earn a small commission if you purchase something through these links. You won't pay any extra; instead, you'll be helping Aloha With Love to thrive. Thank you! Learn more.
--
It seems to be goat season for me. Just last weekend I went for a relaxing yoga with goats session at 21 Degrees Estate where we also did some chocolate tasting, a wellness workshop, and indulged in farm-to-table appetizers (which were absolutely delicious). Fast forward one week and it's now Christmas weekend and the cheesecake I decided to bake asks for goat cheese. So off to Sweetland Farm in Waialua I went!
If you're looking for something off-the-beaten-path and a bit on the unique side, make a stop at Sweetland Farm on your way to Haleiwa or the North Shore. It's a small family-owned goat farm with a small farm shop, tours, and you can even feed the goats! Plus, the mountain view from here is absolutely gorgeous.
Aloha with love,
Amy
Getting to Sweetland Farm
Sweetland Farm is located in Waialua where there's quite a bit of farming going on. The area is most popular for growing coffee and chocolate (cacao), but there are also honeybees and Wahiawa's pineapple fields (Dole Plantation). It's a fun side stop between Dole Plantation and Haleiwa, so if you have the time and the interest, it's worth a stop at Sweetland Farm especially if you have kids.
Sweetland Farm is in a wide open area where you have a fantastic view of the Waianae mountain range. When you get there, you'll also see some elevated houses similar to the houses you'll find on the neighbor islands (elevated houses are better for airflow, insect control, flooding management, etc.). According to one of the owners, these houses are really old and were going to be torn down, but they had them relocated here. I think they look great and really add to the atmosphere.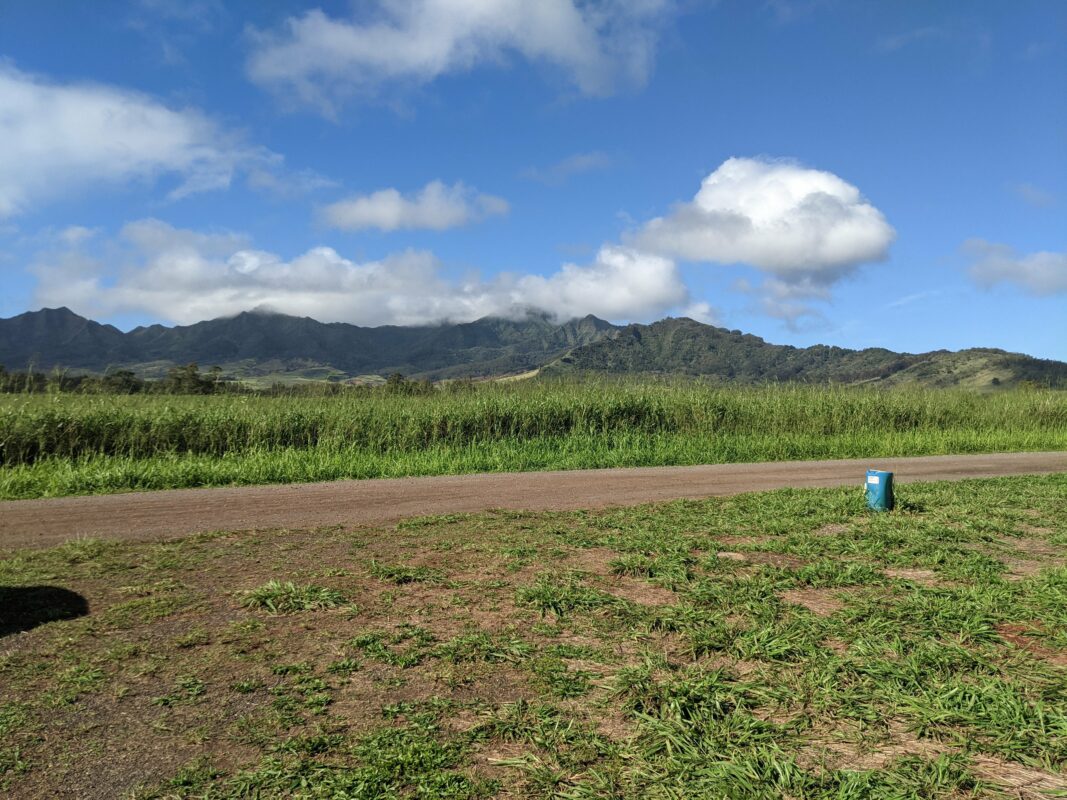 At the time of writing this, the farm is only open on Fridays (10am – 2pm) and Saturdays (9am – 2pm). Just a few months ago it was only open on Saturdays so perhaps we can expect more open hours as they grow. Look for the big white Dairy Goat Farm sign on Kaukonahua Road. You'll drive down a long dirt road, which will fork off (left for the goats, right for the Waialua Egg Farm by Villa Rose Ranch).
The farm store
The parking sign will direct you to park on the grassy lawn just outside of the perimeter of the buildings. Another sign will direct you towards the farm store where they have goat cheese, goat milk ice cream, kitchen items, souvenirs, and a small selection of made-in-Hawaii goods from nearby local businesses.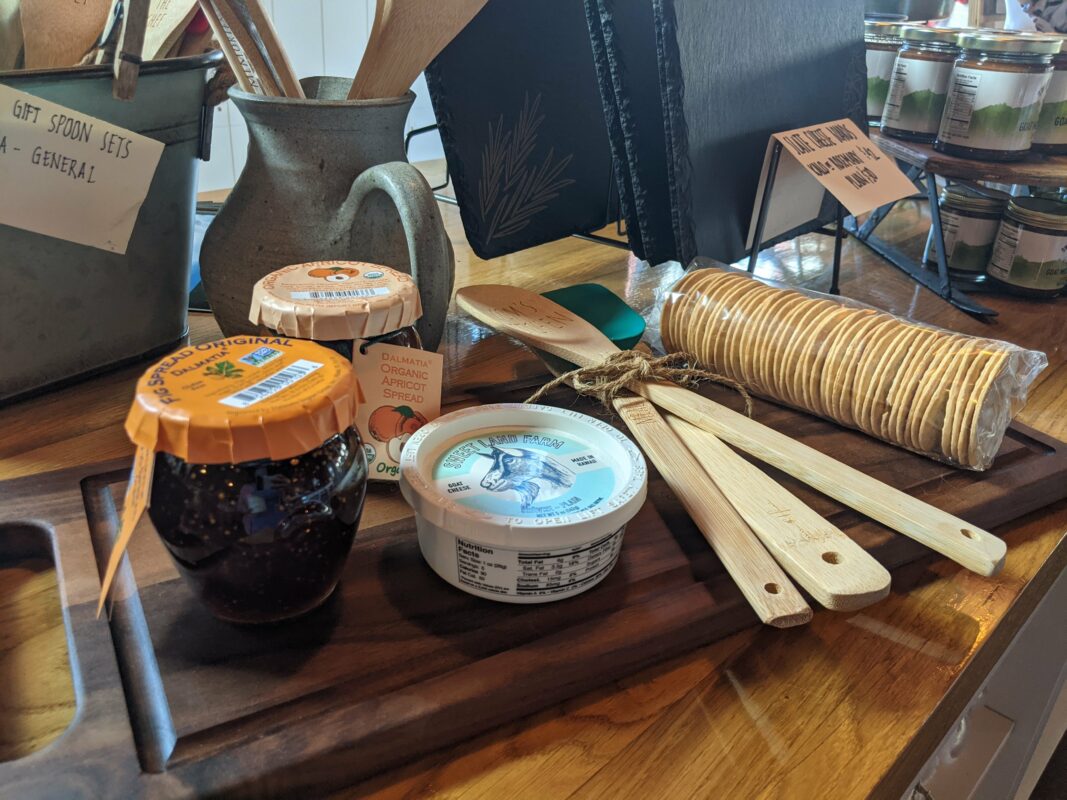 I wanted to bake 2 cheesecakes, each recipe calling for 10.5 oz, so I got the chevre goat cheese which comes in 8 oz. containers ($11 each). I weighed them at home and 2 of my containers were 8 oz, the third was 7.9 oz – close enough for me. 21 oz went to my cheesecakes, the remaining went as a topping on my foccacia bread that I happened to make for a Christmas party.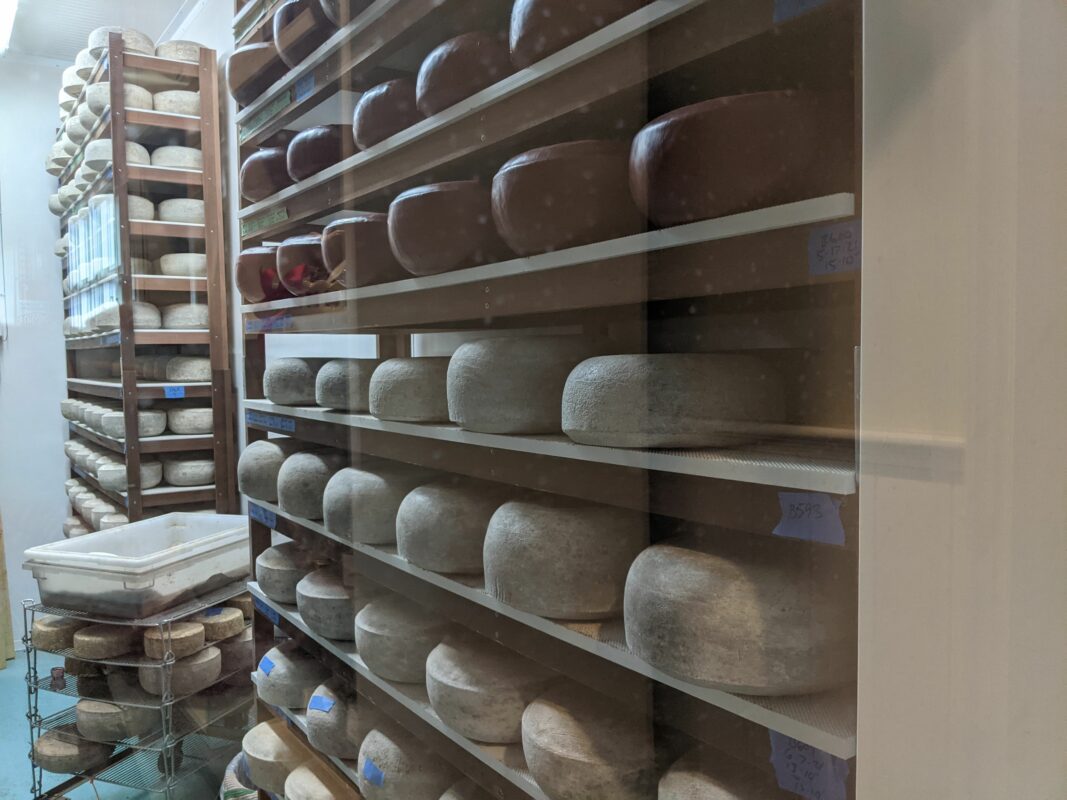 From inside of the store, you can also peek through a window to get a look at their shelves upon shelves of aged goat cheese. I've never seen cheese being aged like this in a facility before so at first I thought this was pottery! But goat cheese makes a lot more sense and it was cool to see them all lined up.
They do have tours here which are pretty popular I'm guessing since I saw at least 15 people waiting around for their tour to start. I was told tours are at 10am and 11:45am, but that can change as the business grows. Sweetland Farm doesn't have a website, but their Facebook is active. (Sweetland Farm, if you're looking for someone to build you a website, I love designing websites for small local businesses here in Hawaii!)
Feeding the goats
You can buy a large bag of goat feed for $6 and the goats see you coming from a mile away when you have that magical paper bag in hand. If you have no goat experience, know that they are eating machines that will eat your farm, lawn, or yard bare. My Mom had a terrific blast and burst out laughing while feeding the goats.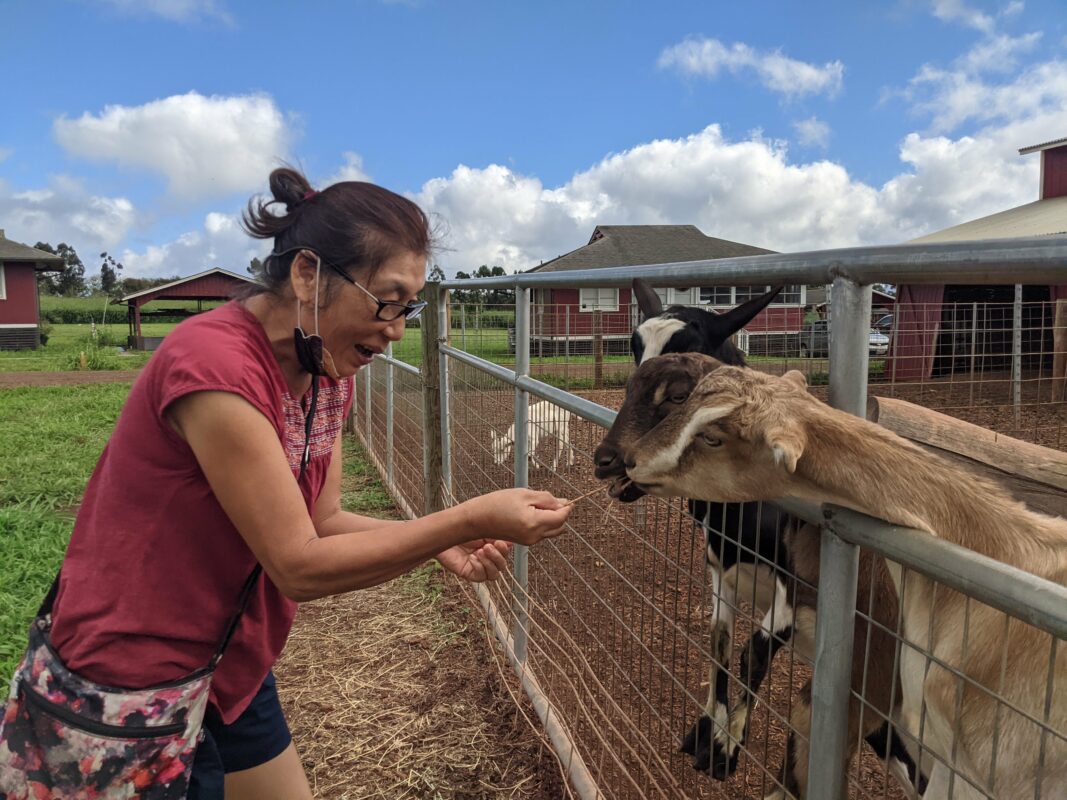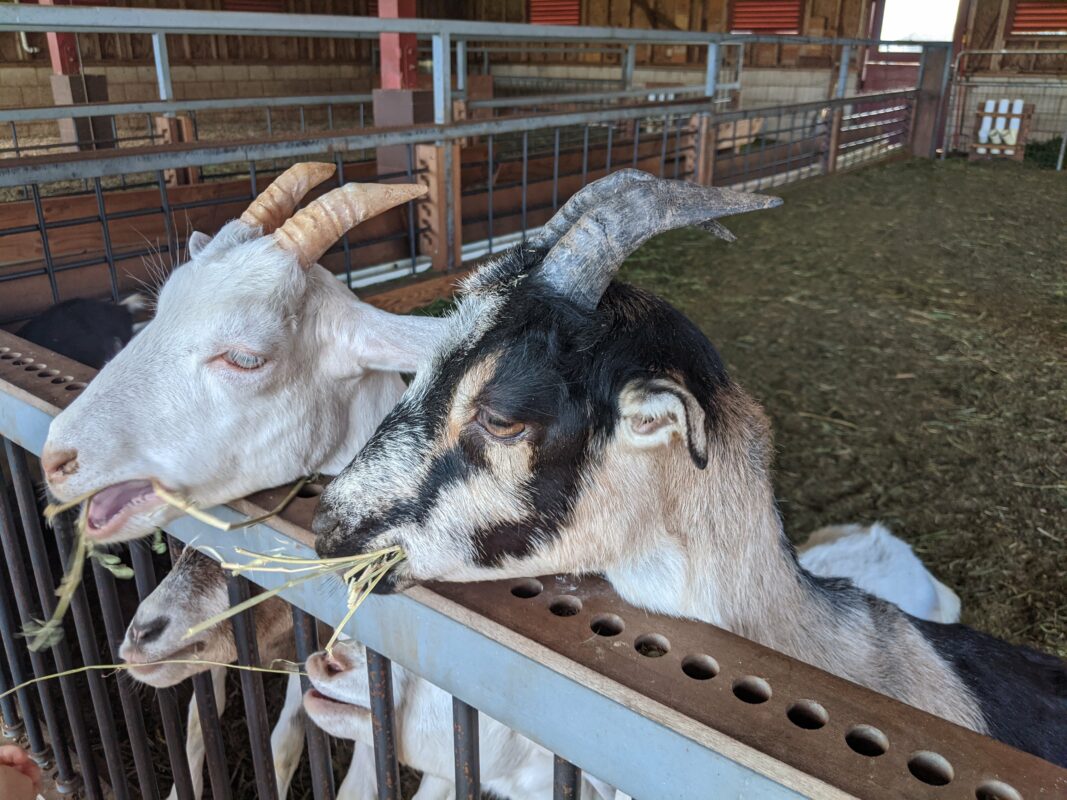 Cheese review
This time I only bought the plain chevre, which was light and creamy with a delicious tang to it! I had to stop myself from tasting it more than once because I knew I wanted to use the left over cheese for my focaccia bread. I was using goat cheese for my cheesecake because I wanted a not-so-cheesy cheesecake. New York cheesecakes tend to be too sweet for me, so using goat cheese was a great way to lighten it up.
I have to say, the cheesecake and the focaccia bread both received high praise from everyone (especially Dad who adores cheesecake). I even gave Daisy a taste and let her lick the empty Sweetland containers clean – needless to say she gave them 4 paws up.
I'll definitely be visiting Sweetland Farm again. I love that I can get fresh goat cheese from a farm close to my house and visiting the farm just felt therapeutic to me. The drive is beautiful, there is plenty of picnic benches to sit on and enjoy your ice cream or snacks at the farm, the goats are friendly, and the view is gorgeous and peaceful. The experience was enjoyable for both children and adults and I won't hesitate to recommend this farm to my friends and family!