This post may contain affiliate links, which means I'll earn a small commission if you purchase something through these links. You won't pay any extra; instead, you'll be helping Aloha With Love to thrive. Thank you! Learn more.
--
Yoga with goats, a mini farm tour, wellness workshop, chocolate tasting, and farm-to-table appetizers at 21 Degrees Estate Cacao Farm was an amazing, relaxing, and joyful experience for me! I've been hearing about yoga with goats for the past year and finally booked myself an outing with a couple of good friends of mine.
The evening went beautifully and I highly recommend this activity if you're looking for something a little different and enjoy peaceful interactions with nature. This is also a great activity as an evening business retreat or bonding activity.
Aloha with love,
Amy
Book Now: 21 Degrees Estate tours and activities
About 21 Degrees Estate
This lovely cacao farm is run by Maria and Michael – a husband and wife team that started 21 Degrees Estate in September 2014. Their mission is simple: to create the world's best chocolate.
The farm runs a variety of tours and activities. Most popular are their chocolate tasting experiences, which I can certainly attest to. Their chocolates are unique in flavor and the tastings allow you to really experience the flavors and scent of their chocolates.
When most of us think of eating chocolate, we imagine ourselves eating piece after piece after piece to satisfy those chocolate cravings. But I love that my chocolate tasting experience taught me how to appreciate tiny pieces of chocolate so I could analyze and learn which one was my favorite.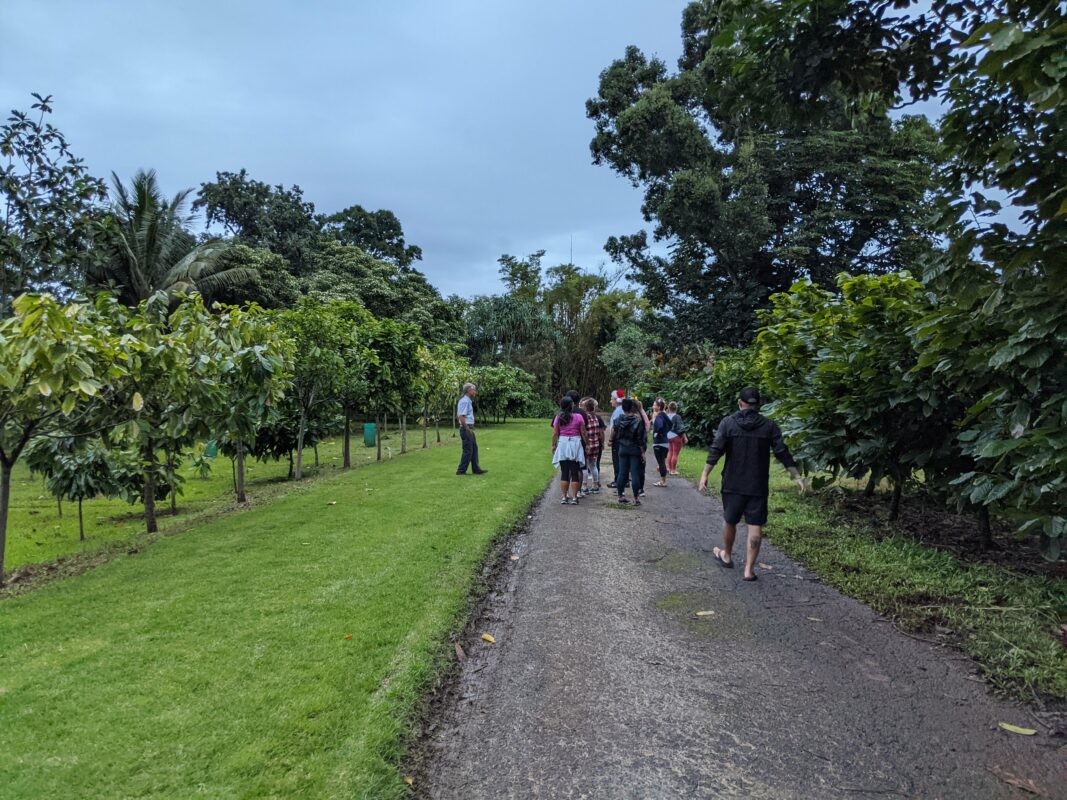 About the yoga with goats experience
My friends referred to this activity as "goat yoga". But actually, that was only a part of the entire experience. There was a short intro into the cacao farm at their lower orchard, a wellness workshop about happiness, a prelude of chocolate tasting, and the farm-to-table appetizers. In addition, there's a ton of laughter, smiles, conversation, and just a bunch of feel-good emotions throughout the evening that will make your soul smile.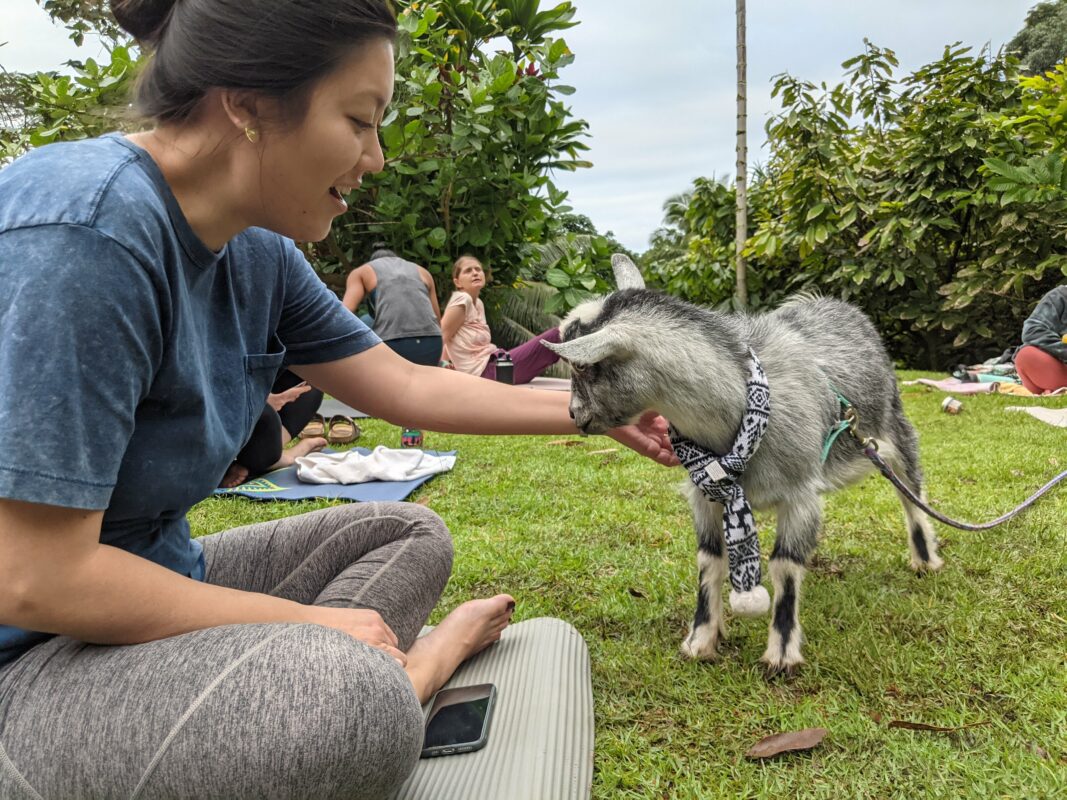 Yoga with goats
We were split into 2 groups and my group did the yoga with goats first, while the 2nd group had the mini farm tour and wellness workshop. We were encouraged to bring our own yoga mats, but they had several extra mats for those of us who didn't have one or forgot theirs (like I did).
There were 4 goats on the lawn wearing festive Christmas scarves (one was even wearing a Christmas sweater!) and each one wore a harness and leash that was attached to a spike in the ground. You're free to choose where to place your mat, so if you know you'll want to be engaging with the goats, place your mat within their area. There's was plenty of space even with our group of about 20 people.
If you'd rather focus on the yoga, just place your mat out of the circumference of the goats. You'll have time before and after to pet, feed, and pose with goats and take pictures.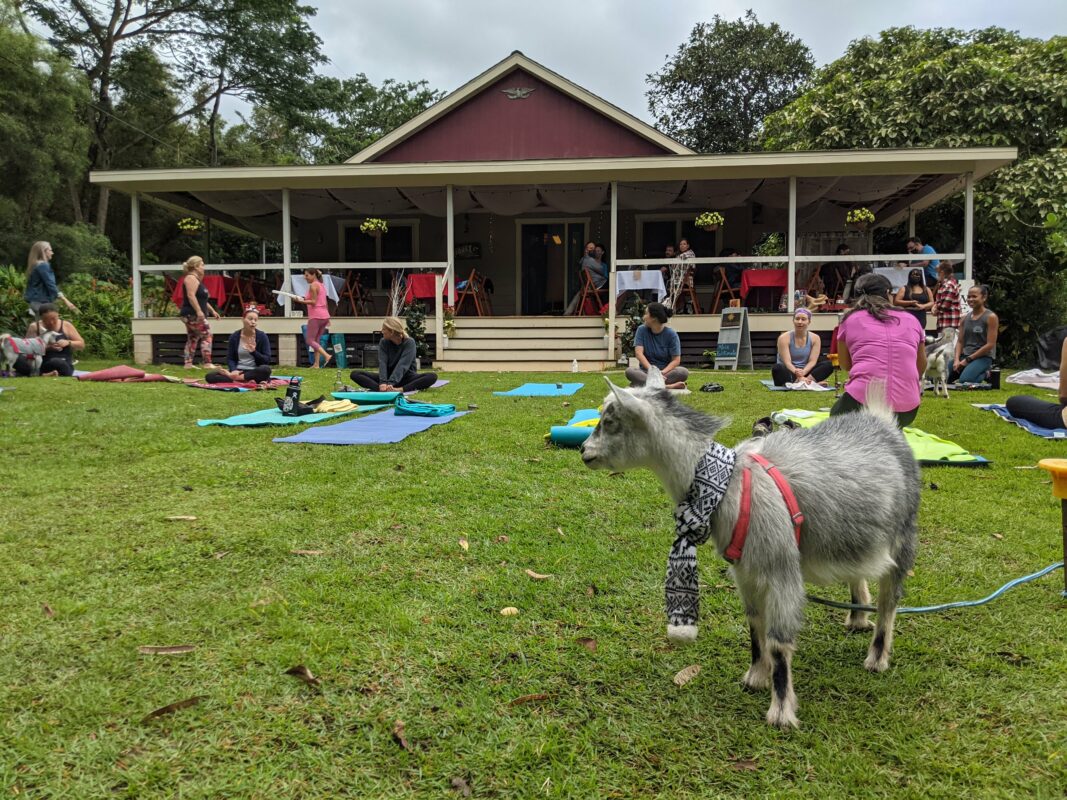 The goats are very food-motivated. Luckily, you're given a small container of goat kibble that you can use to entice them toward you. They notice immediately once you start opening your container and although they have teeth, it doesn't hurt even if they nibble your fingers.
I've only ever done yoga maybe 2 or 3 times in my life, so this class was great for me. All of the positions were easy enough for me to do, and I felt no guilt or embarrassment to stop what I was doing and play with the goats. That was the biggest appeal for me at the end of the class – that I could choose to do or not do the yoga and not mind about disturbing the class or sticking out like a sore thumb.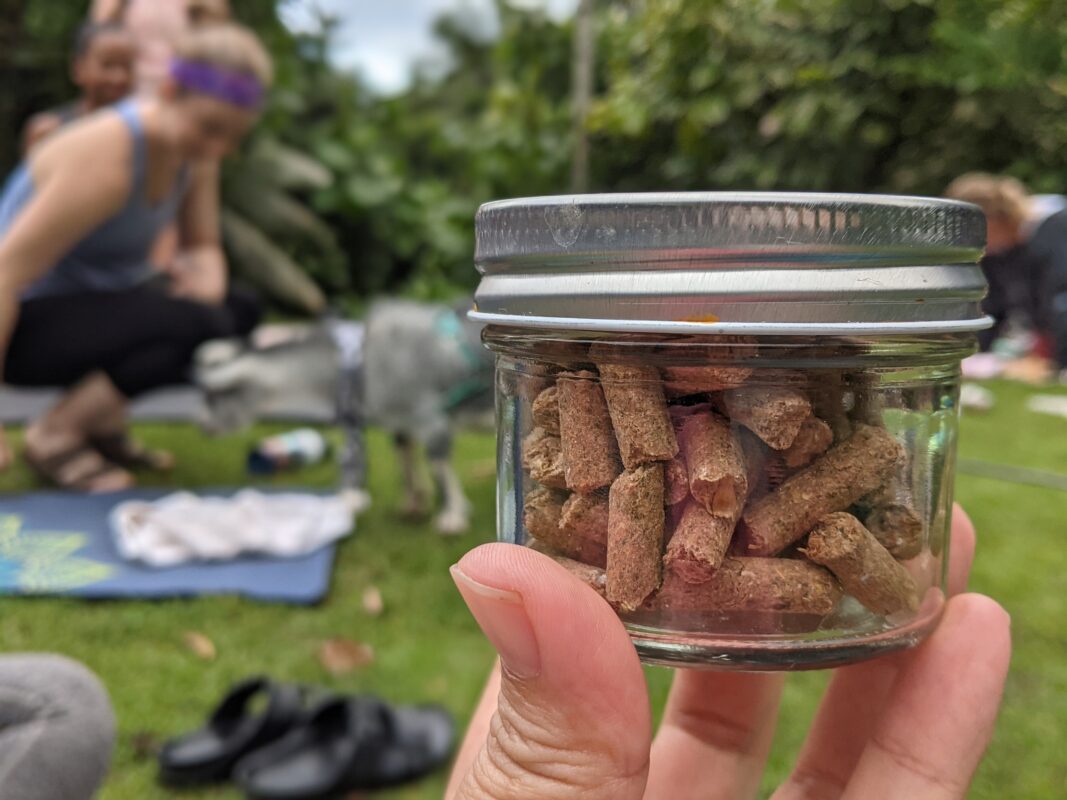 Mini farm tour and wellness workshop
The mini farm tour was more of a 5-10 minute intro into how 21 Degrees Estate began, their cacao trees, and the evolution of their chocolate and operations. Following that was a wellness workshop where we learned about happiness and how to include more joy in our lives (and when to say no to things that don't make us happy).
This workshop came at the perfect time since it's less than a week until Christmas. With all of the holiday rush, shopping, family obligations, baking, and gifts, the holidays can and do make most of us a little crazy and let's face it…angry, upset, frustrated, and completely unhappy. It was great that I could take a step back and analyze my own interactions with others during the holiday season.
Chocolate tasting and farm-to-table appetizers
Following the wellness workshop, we headed to the festive tables decorated with red accents, twine, and holiday decorations. The event is bring-your-own-wine for the chocolate tasting, but they also provide fresh water for you to drink. One by one, we were introduced to the different chocolates, drank our beverages of choice, and oohed and aahed with each new flavor (they were all delicious!). My favorite ended up being their chocolates from their summer harvest…which tasted completely different from their spring harvest!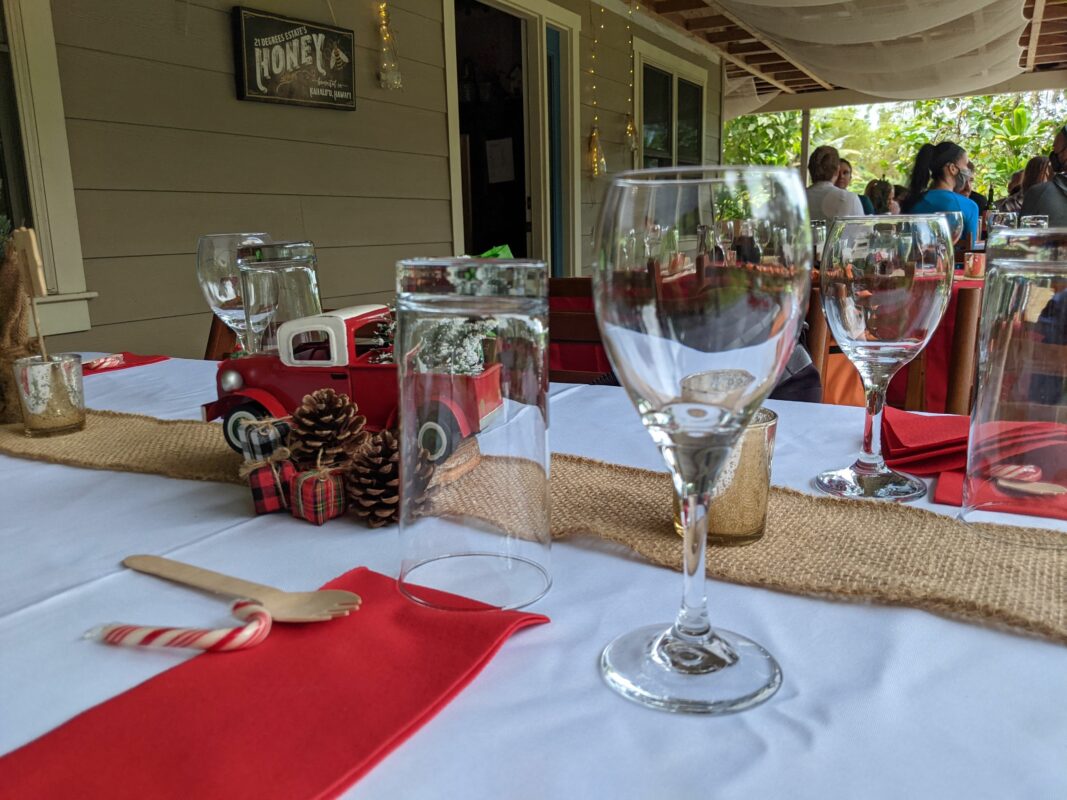 Following the chocolate tasting were the farm-to-table appetizers and what was really amazing about the whole experience up to that point is that it's all about putting your happiness and yourself first. So this eating experience wasn't just shoveling the food in my mouth like how I imagine most of us eat. Instead, I found myself taking my time, choosing my next bite with intention, drinking water to cleanse my palate, laughing with the others on my table, sharing my thoughts on the flavors with everyone. And I enjoyed it!
I'm not a shy eater and I love to eat. But I found myself naturally slowing down and enjoying the experience of being with others as the main event (rather than the food). When I finally got to the end of my appetizer plate's last item, the chocolate truffle, I was high on joy and smiles and couldn't stop feeling happy and content with how the night had gone.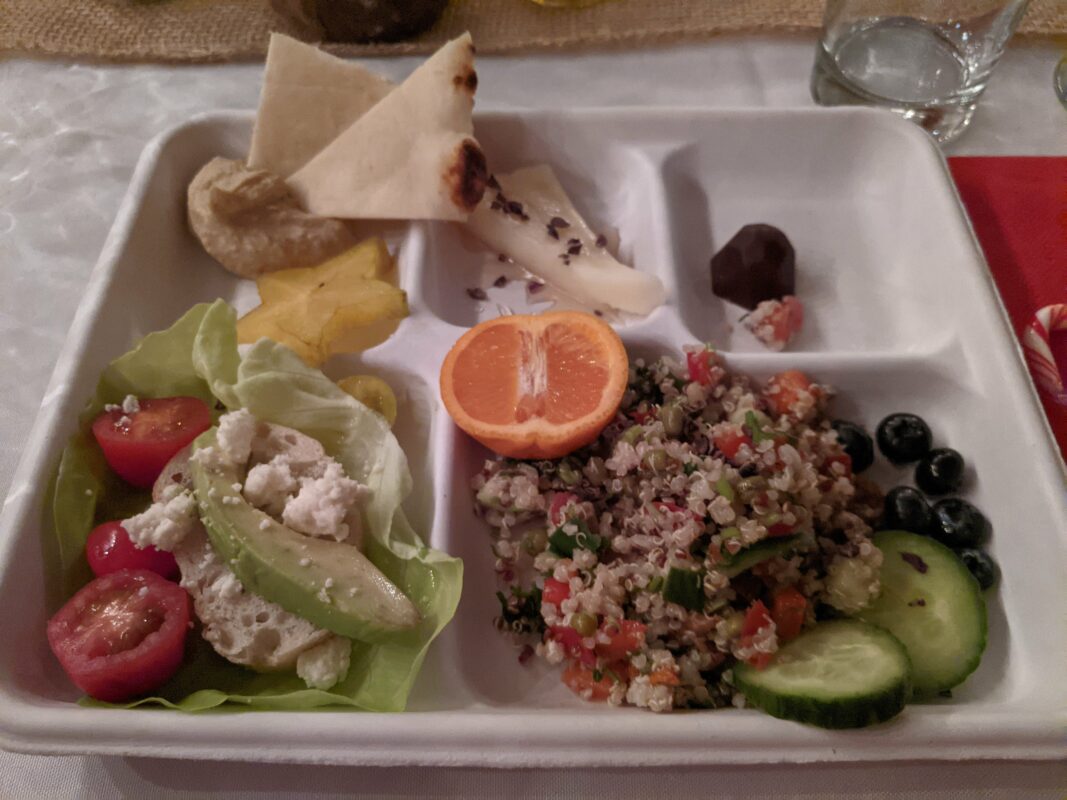 After the meal, they bring out their chocolates, honey, and other farm products for you to purchase if you'd like. I ended up getting two of their chocolate bars: the 2021 summer harvest and coffee, rose, and cardamom. I break off a piece every so often and enjoy the flavors as they melt in my mouth.
Things you should know
The day that I signed up for was December 19, 2021, and we've been having pretty wet and rainy weather for the past month or so. The ground was muddy, but you're there to enjoy the outdoors so just keep that in mind. If you aren't careful and get too close the goats with food in your hand, they'll climb up onto you and dirty your clothes. I didn't mind, but it's something for you to consider if you don't want to stain your yoga clothes. The yoga mats also got really muddy, too. But I think for most occasions you don't have to worry about the mud.
Before the event, 21 Degrees Estate sent me several emails so I felt well-informed about everything. Most importantly, they suggested longer yoga pants and bug spray, which I completely agree with! I wore mid-calf yoga pants, but didn't spray myself with bug spray. The next morning my feet were itchy with mosquito bites everywhere. Next time, I'll definitely bring my own bug spray (they had a bottle available for us to use at the site as well).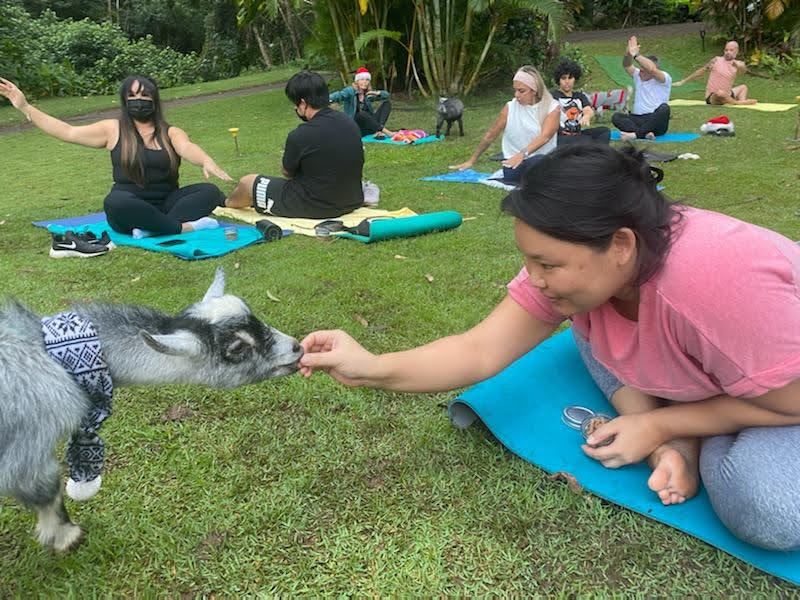 Besides their yoga with goats session, 21 Degrees Estate holds a variety of other tasting experiences such as high tea and whiskey during different times of the year. I had so much fun at this event – more than I was expecting to, so it was a great outing for me. I loved how happy I felt at the end of the evening and it almost felt like I was recharged and ready to roll with the rest of my life.
Book Now: 21 Degrees Estate tours and activities