This post may contain affiliate links, which means I'll earn a small commission if you purchase something through these links. You won't pay any extra; instead, you'll be helping Aloha With Love to thrive. Thank you! Learn more.
--
This past Christmas I decided to bake a cheesecake for my Dad since he LOVES cheesecake. The only problem I find with cheesecake is that the entire slice is too rich and the last bite isn't as good as the first bite was. So I substituted some goat cheese (don't worry, there's still regular cream cheese in it) and added some lime zest and lime juice to cut through the sweetness. You could also use lemon, but in my experience lime works way better. Plus, it's cheaper here in Hawaii.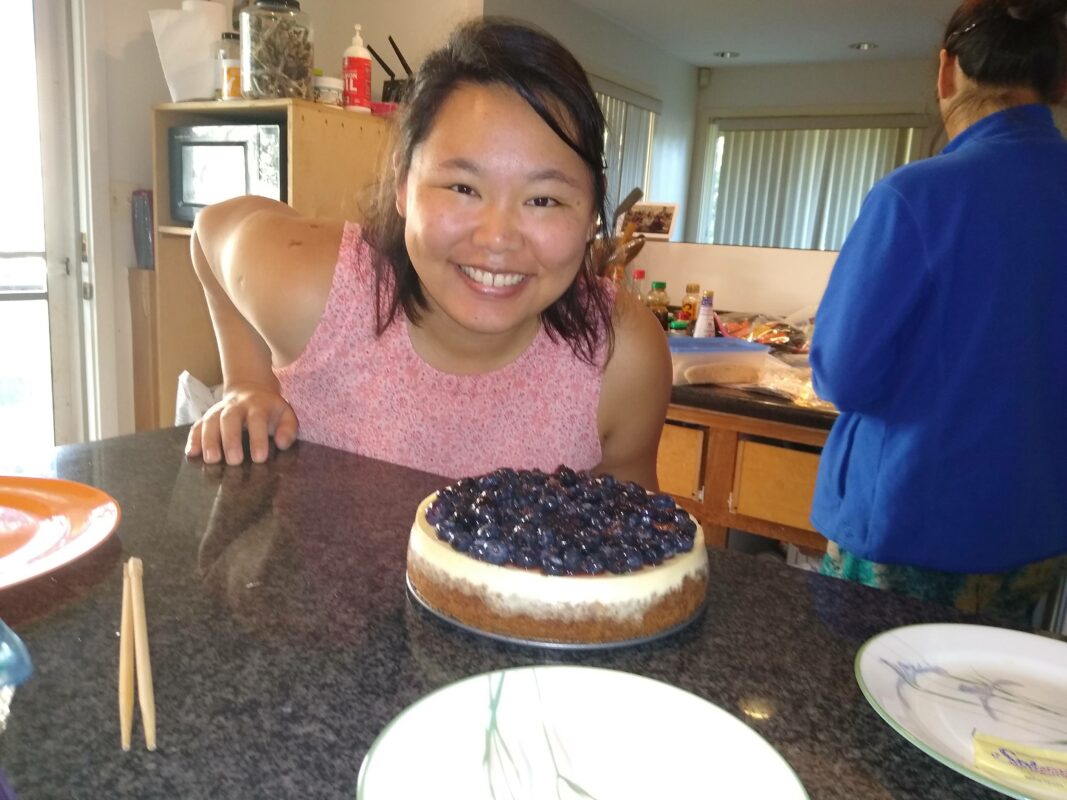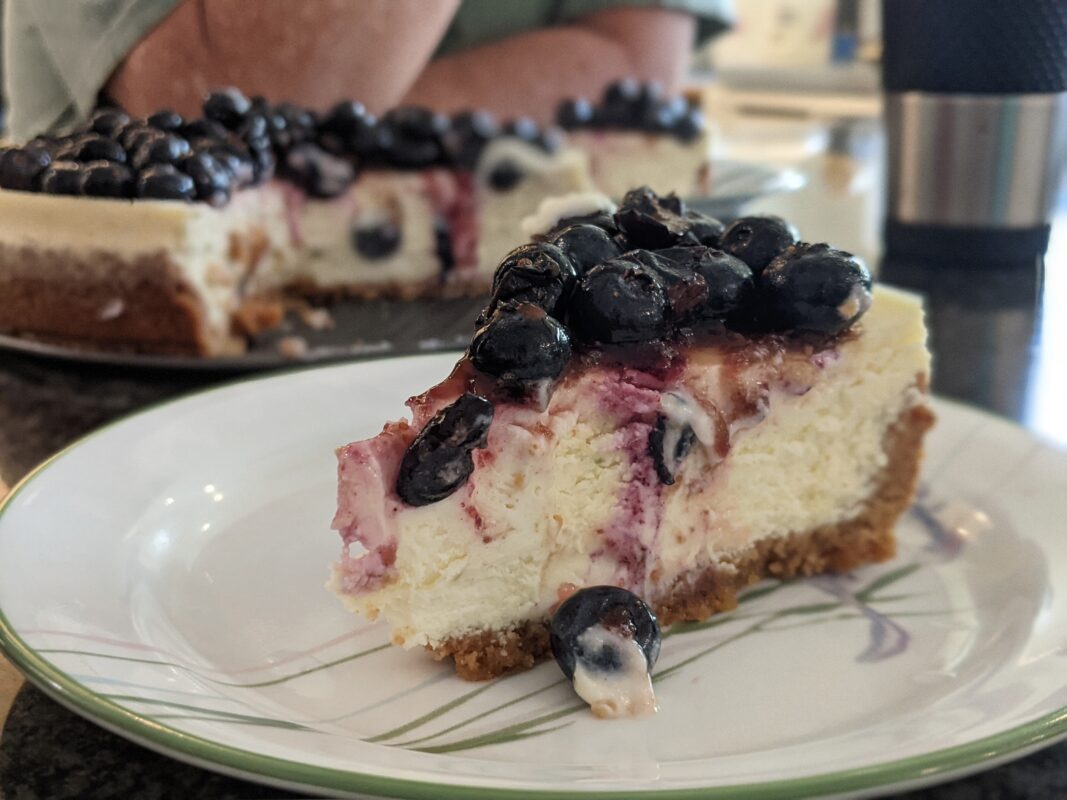 Why is lime better? Besides being more tart than lemon, limes are a dime a dozen here in Hawaii (everyone seems to have a healthy lime tree in their backyard). They grow really well here and we're always trying to give our limes away (and getting more in return).
Aloha with love,
Amy
PS – Goat cheese sourced locally from Sweetland Farm in Waialua, Oahu. Check this cool little goat farm out – they've got tours, too!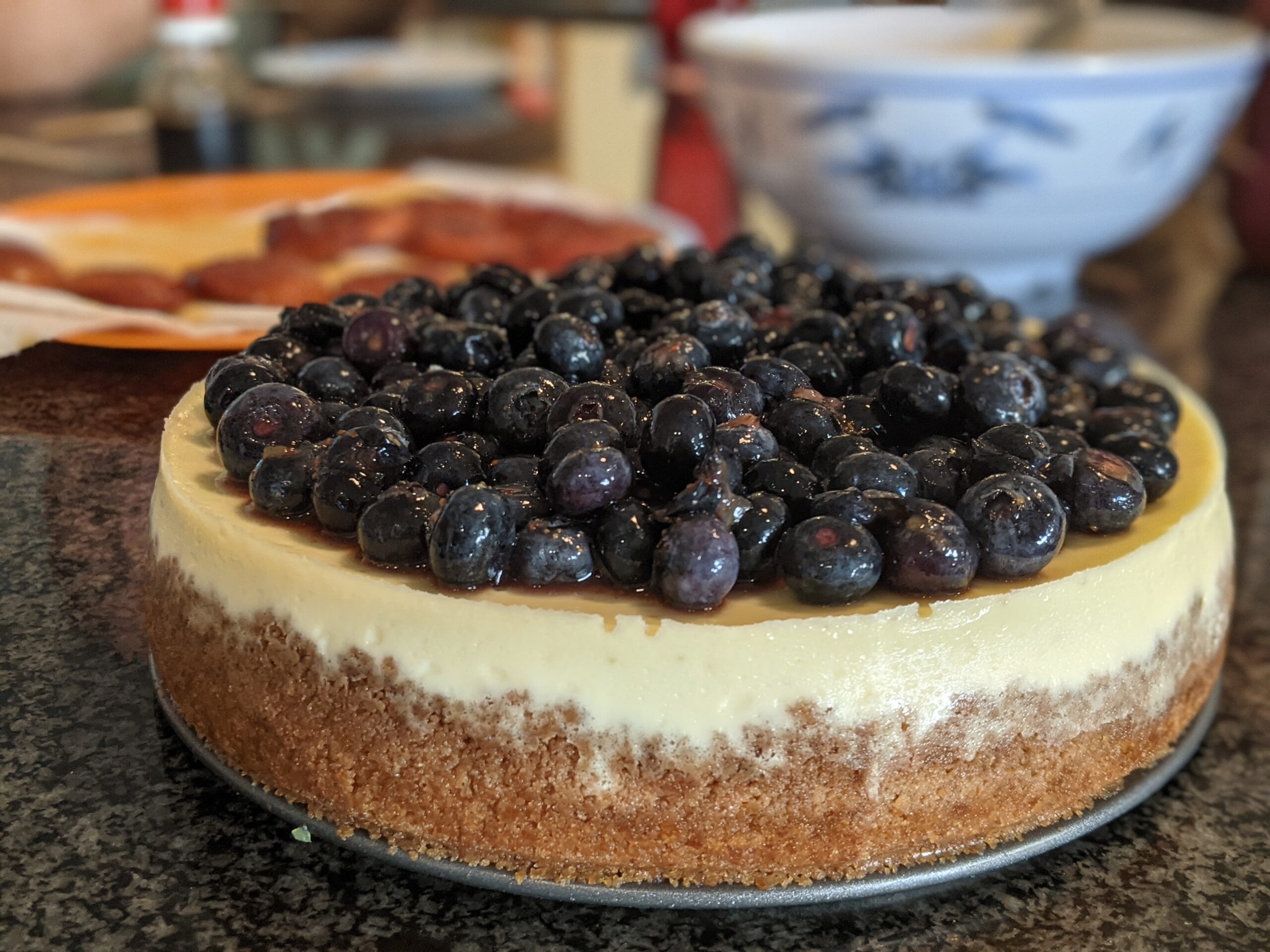 Equipment
1 9-inch springform pan

1 stand mixer

Electric mixer OK.

1 oven-safe large pan

For water bath. Springform pan must fit inside.
Ingredients
Crust
10

graham crackers

Crushed.

2

tbsp

sugar

1

egg yolk

Large.

½

tsp

kosher salt

6

tbsp

butter

Room-temperature.
Filling
⅔

c

sugar

8

oz

cream cheese

10.5

oz

goat cheese

Fresh. Not aged. Chevre works great.

1

tsp

vanilla extract

½

c

heavy cream

2

tbsp

lime zest

Between 1 – 2 tbsp.

2

tbsp

lime juice

4

eggs

Room temperature.
Topping
3

c

blueberries

3 – 4 cups depending on preference.

1½

tsp

sugar

lime juice

honey
Instructions
Crust
Crush graham crackers. I like to put the crackers in a ziploc bag and use a rolling pin. Add sugar, salt, butter, and egg yolk. Mix with hands. Crust should be crumbly but easily hold its shape when squeezed into a ball.

Add half of the mix to the sides of the springform pan and pat flat. Add the remaining half to the bottom of the pan and pat down flat. Bake in 350° oven for 10-15 minutes. Edges should be slightly darker brown.

Remove from oven and let it cool on the side. Reduce oven temperature to 325°.
Filling
Mix together sugar, cream cheese, goat cheese, and vanilla extract until it's smooth and creamy. 1-2 minutes.

Add heavy cream, lime zest, and lime juice. Mix. 1 minute.

Add one egg at a time. Slow down the mixing until egg is incorporated, then increase speed again until it's time to add in the next egg.
Water bath prep
Boil enough water to fill the bottom of your large pan (for water bath). About 1-inch high.

Add large pan into oven to preheat.

Wrap springform pan in saran wrap, then again with aluminum foil. This is to prevent water from leaking into springform pan while baking.

Add boiling water into large pan.
Bake
Pour filling into springform pan.

Put springform pan into water bath. Bake at 325° for 30 – 35 minutes.

Open oven and check filling. There should be a slight jiggle when you shake it. Close the oven, turn it off, and leave cheesecake in the water bath and in the oven for another 2 hours to cool down slowly. Transfer to fridge.
Filling
Crush ⅓ of blueberries in a bowl with a spoon. Squeeze in a healthy dose of lime juice (you want to be able to taste the lime with the cheesecake) and mix with 1½ tsp of sugar and some honey.

Add another ⅓ of intact blueberries to crushed blueberries. Mix.

Spread out this blueberry mix evenly on top of the chilled cheesecake. Don't forget to add in the "blue juice" from the crushed blueberries.

Fill in the gaps with the remaining ⅓ of blueberries. Chill until time to eat.
Notes
I prefer an 8-inch springform pan, but this recipe works for the more common 9-inch springform pan, too.
You can use lemons, but I much prefer limes with this cheesecake. It cuts through that rich sweetness so much better. Plus, limes in Hawaii are easily found (a lot of people have a lime tree in their yard with little or no maintenance).
In Hawaii, blueberries are most commonly the freshest and cheapest berry in my opinion. You can use raspberries and blackberries if you can find them fresh and juicy. Strawberries work, too.