This post may contain affiliate links, which means I'll earn a small commission if you purchase something through these links. You won't pay any extra; instead, you'll be helping Aloha With Love to thrive. Thank you! Learn more.
--
I've been using my basic solar cooker setup for about a week now and I wanted to try a soup or stew. Since we had some potatoes and canned clams, I decided to try and make a clam chowder for the family. It was a great success, although I did have to finish it off on the stove to add the milk and roux (the pot I had was just too small). But I think it's entirely possible to solar cook a clam chowder – you just need a big enough pot or less mouths to feed!
I also substituted Portugese sausage and some Italian sausage in for bacon as we were out and I didn't want to go to the store, although I will probably add in less next time so the clams stay on the forefront for flavor. But this is a great way to entice non-clam eaters to try the soup.
Clam chowder ingredients
This attempt was all about using whatever I had in the house, so feel free to try out your favorite clam chowder recipe in your solar cooker. Into the black pot went:
5 russet potatoes
3 celery stalks
1 small onion
1 carrot
1/2 a Portugese sausage
1 Italian sausage
3 cans of clam + juice
A healthy dose of salt and pepper
1 cup of water
1 cup of corn
Roux: 4 tbsp butter and flour
On the stove: 2 cups of milk
This much filled up the pot easily and I initially left out the corn because I didn't want the water to overflow the pot (I added the corn 5 hours later when I checked the water level). Solar cooking doesn't allow the water to escape so you really have to be mindful of how much water you put in. In fact, the original recipe called for 2 cups of water!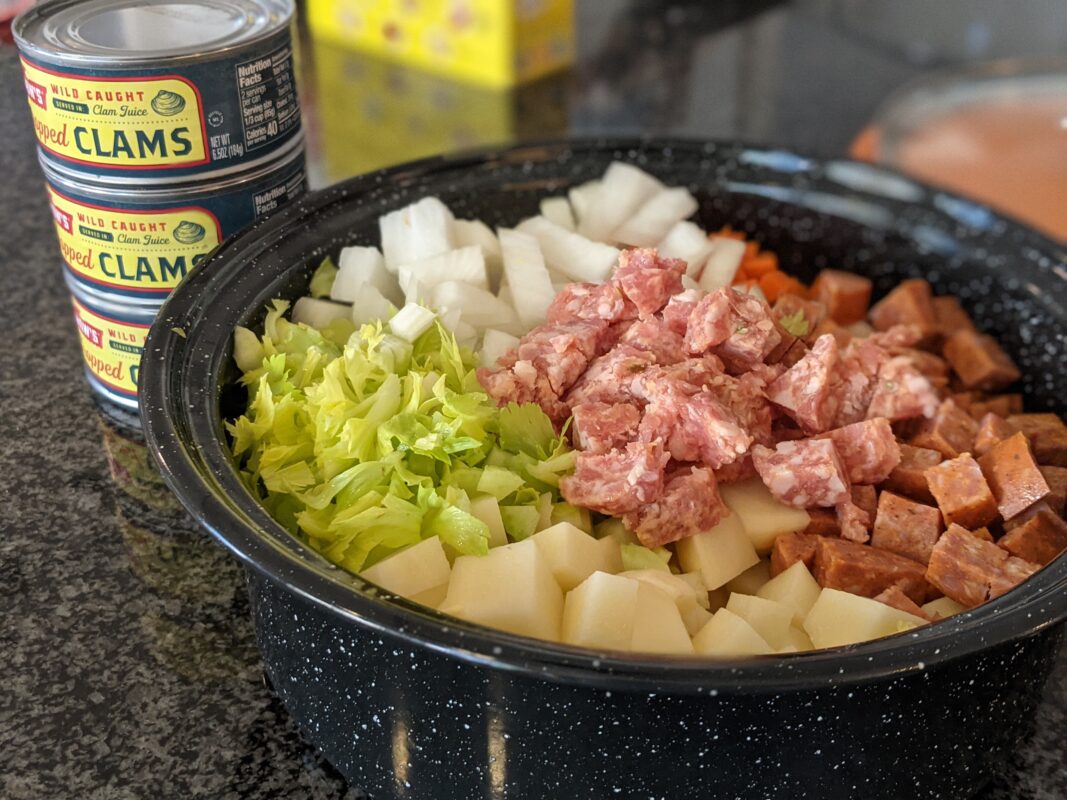 Solar cooking and weather
It was a gorgeous and hot day with only a few wispy clouds dotting the sky. The clouds were heavier near the sun's direction (behind me in the photo), but the sun burned them up quickly so I had strong sunlight throughout the day. I had the chowder out by 9 AM and slowly rotated it toward the sun every 1-2 hours.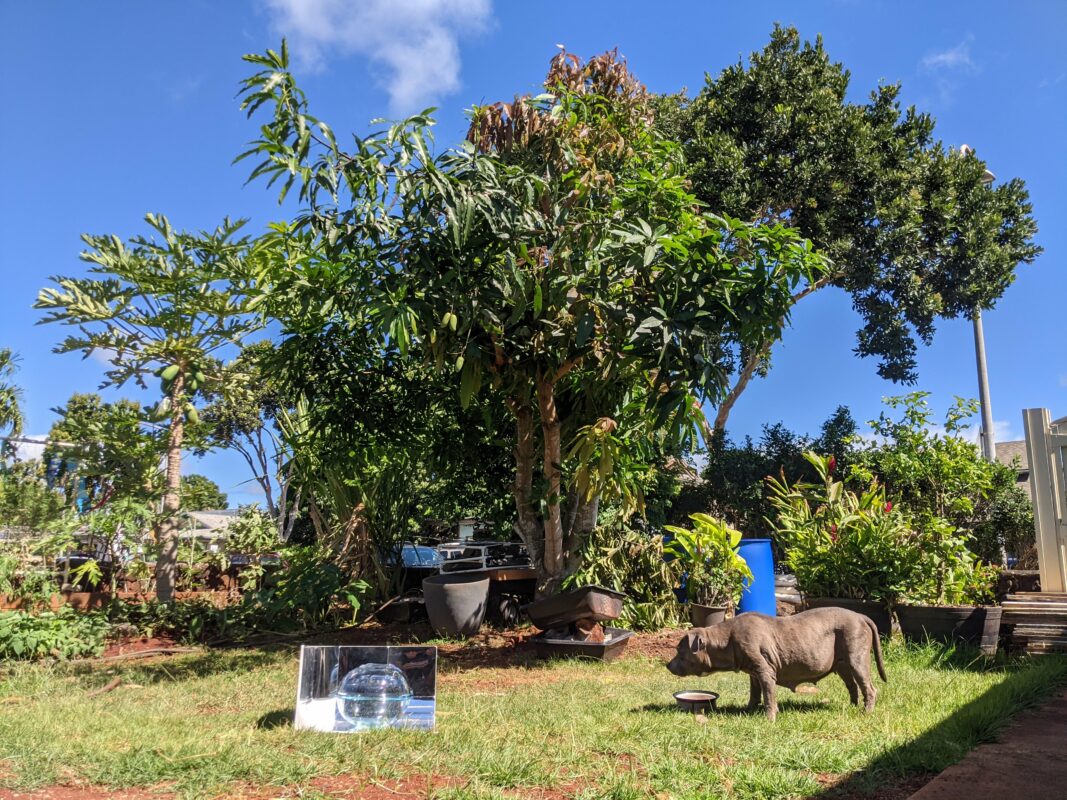 At 2 PM I gave the chowder a look and it was steaming hot and smelled wonderful. The water level surprised me though and I was really happy I had only added 1 cup of water. I gave it a good mix (the clams had stuck together so it took a while to mix it all up), added the corn since there was still some room left, and let it cook until 4:30 PM.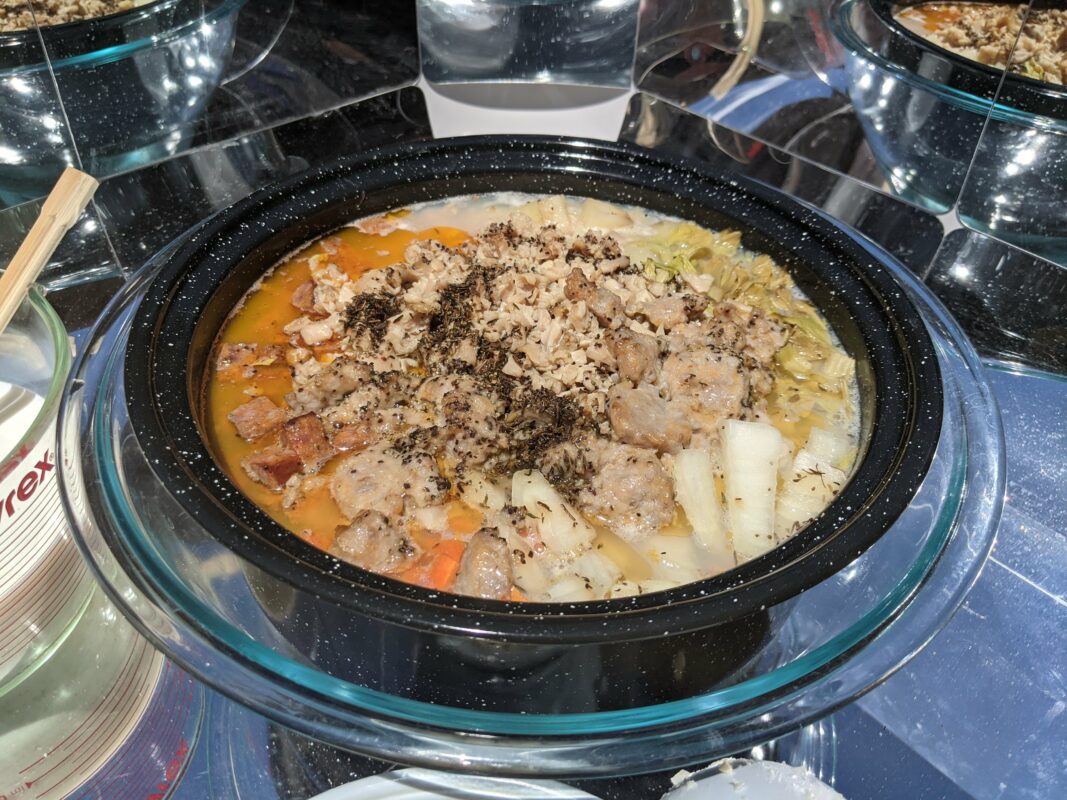 On the stove
At about 4:30 PM, I brought everything into the house and transferred the clam chowder into our large dutch oven on the stove. Since the soup was already steaming hot, it only took a couple of minutes to get a good simmer going. I added 2 cups of milk and let it cook covered as I made the roux.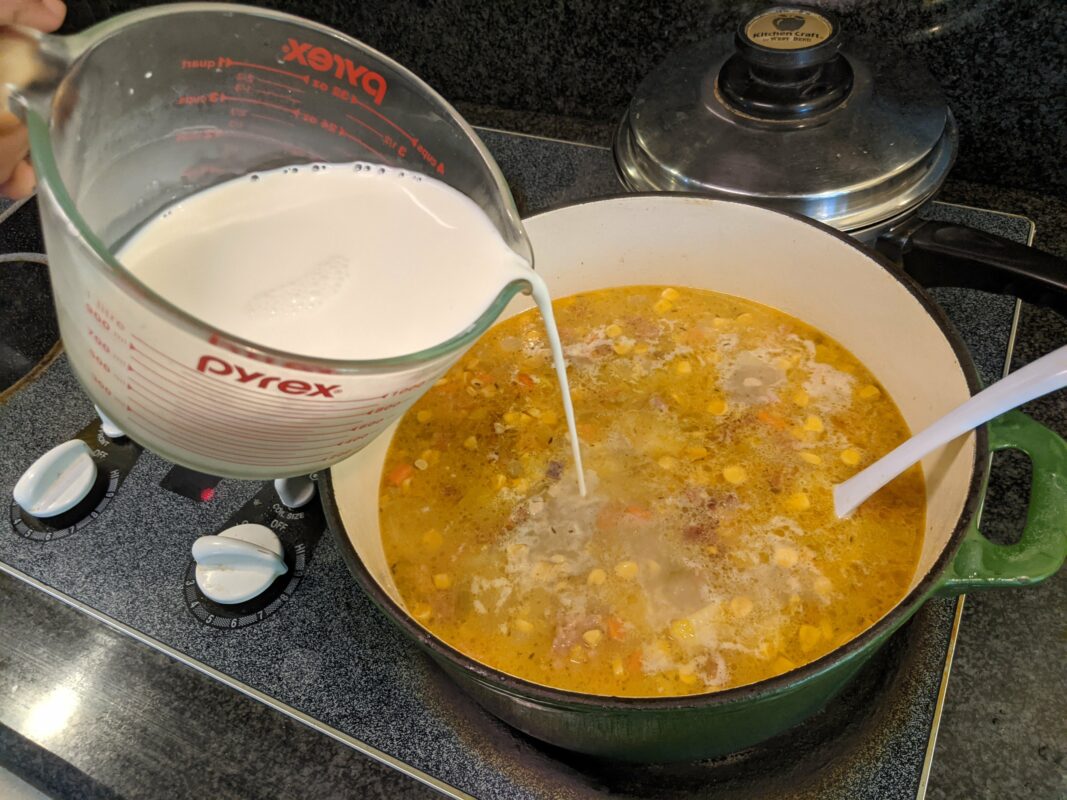 As the chowder and milk cooked on the stove, I melted 4 tbsp of butter (half a stick) in a small pan and added flour one handful at a time until the roux was a nice, thick paste. I whipped the roux with some of the liquid from the soup so it wouldn't clump up and then poured it into the chowder to get that creamy effect. I left this to simmer on the stove for a good 20 minutes or so and dinner was ready!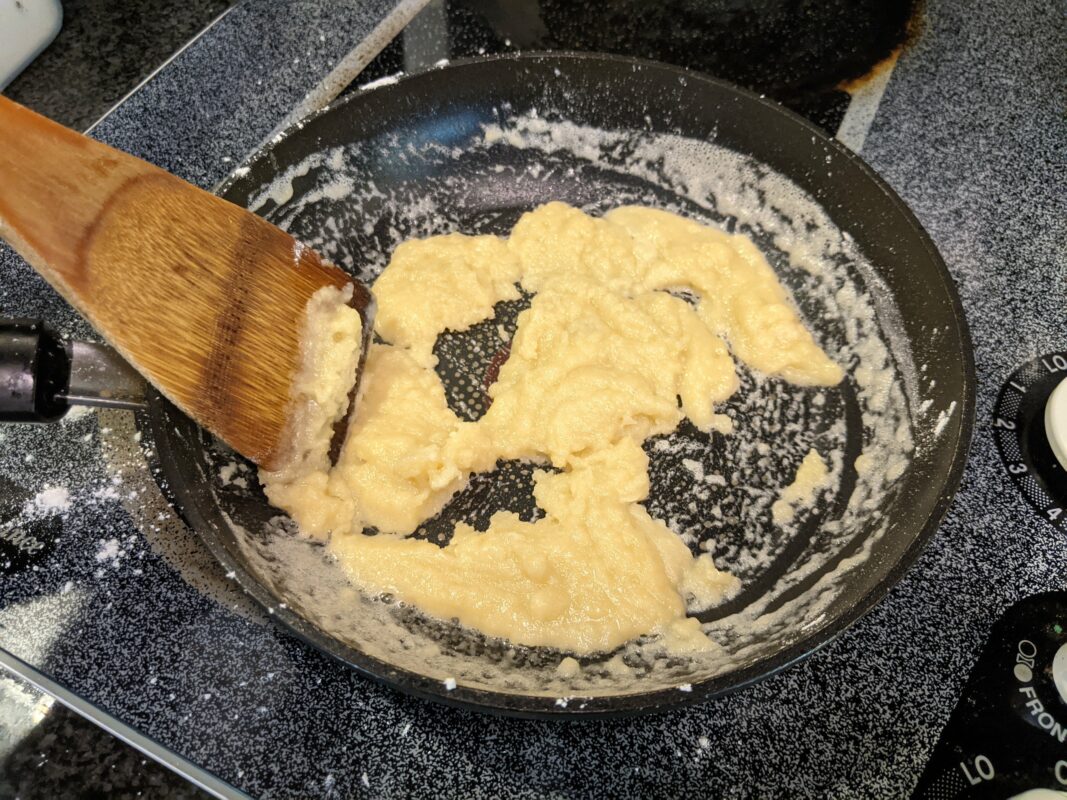 This solar-cooked clam chowder came out great in my opinion! The vegetables weren't overcooked or too soft. In fact, I was surprised that the russet potatoes held their shape and firmness so well. Even the corn was completely cooked despite being added to the pot frozen at 2 PM. The dish got compliments around the table and we left the dinner table with full and happy bellies.
The only thing I might change about solar cooking clam chowder is decreasing the amount of meat. I can see why most recipes just call for bacon bits as a topping. The crispy saltiness of bacon breaks through the creamy soup and lets the natural flavor of the clams shine. Although the sausages are packed with flavor, it seeps out into the soup while cooking leaving the meat itself less flavorful than before. Plus, it would have been nice to have a little more room in the pot!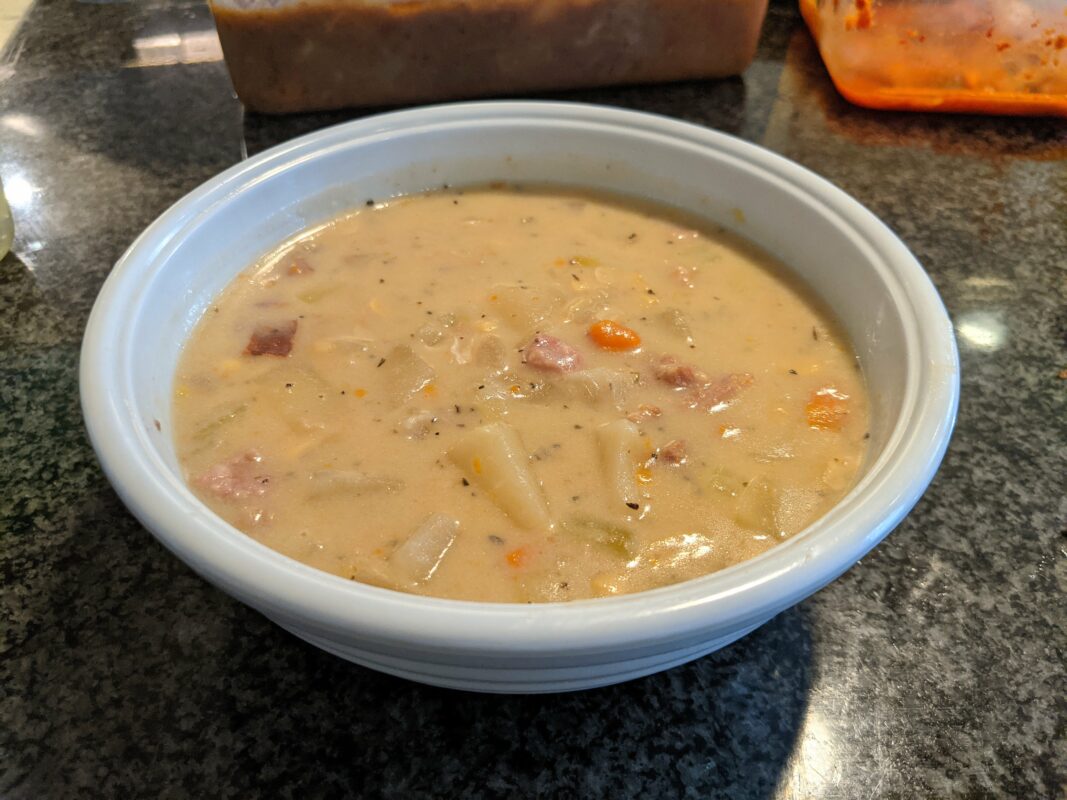 Thoughts on solar cooking clam chowder
Unfortunately, I wasn't able to do this completely outside. Initially, I was afraid that the cooking process would be too slow for the milk. But after seeing how hot the clam chowder got I don't think I'll worry next time. But the main reason why I couldn't finish this outside was because my pot was too small! I'm cooking for 4 adults and water doesn't escape when you solar cook so those 2 variables took up a lot of space. The roux also has to be cooked on a hot fry pan, so there's no completely escaping the stove if you want a thick and creamy clam chowder.
In the future, I'll have to be careful with soups because of the potential for extra water coming out of the ingredients or adding more liquid after everything has cooked. Since a soup like clam chowder is often considered to be a main course for most meals, I'll have to gauge my pot size and number of mouths. But side dish soups like miso soup or fish cake and long rice soup would work well in a pot this size.
Aloha with love,
Amy