This post may contain affiliate links, which means I'll earn a small commission if you purchase something through these links. You won't pay any extra; instead, you'll be helping Aloha With Love to thrive. Thank you! Learn more.
--
Can you imagine sitting on Hanalei beach and enjoying this calm sunset view? The Hanalei area is a quaint and very pretty spot that is perfect for relaxing and living life one sandy footstep at a time. While it's a popular spot for tourists, it still retains it's identity of being a secluded part of Kauai that is tucked away from mainstream visitors. In fact, many Hanalei visitors use the area as a base – spending all day outside exploring. The surrounding hikes are engaging and gorgeous while the waterfalls here are spectacular.
Hanalei town exemplifies country life. You can amuse yourself with farmers' markets, local eateries and food trucks, and neat boutique shops with fun souvenirs. Hanalei beach is picturesque and a welcome sight to begin and end your day with. The bay offers some protection and you'll find gentle ocean waves during the summer months and larger surf from December.
If you're looking for a down-to-Earth, relaxing stay in Hawaii, head to Hanalei.
Aloha with love,
Amy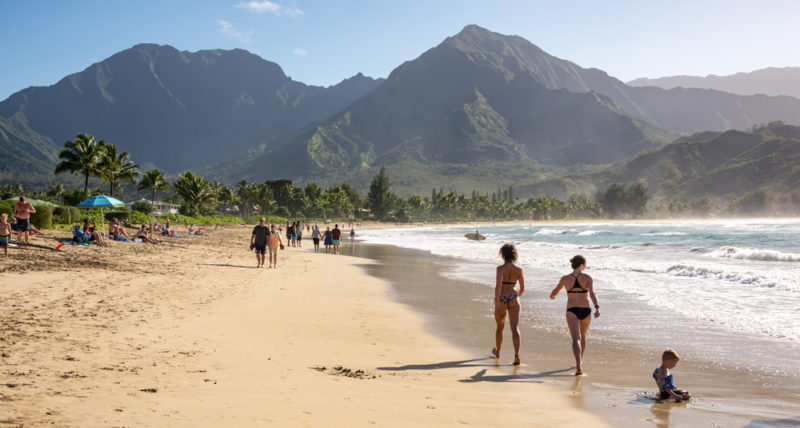 Hanalei Beach And Bay
Hanalei beach is a wonderful crescent-shaped stretch of sand and waves. Children can comfortably play in its waters as surfers head further out to carve out sets. Although Hanalei attracts many visitors, you'll find that Hanalei beach is never too crowded. There is always open space and the atmosphere is nothing like that of Waikiki. There are even snorkeling and kayaking tours at Hanalei beach where you'll be able to spot turtles and dolphins!
There's a well-known pier at one end of Hanalei beach that photographer will love to get a shot at and jumping off the pier and into the water can entertain kids for hours. Surfboards are rented out right at the beach and other accessories can be done in town. Waioli beach park (aka "Pine Trees") is right in the middle of Hanalei beach and is a great spot to watch surfers do their thing. Even walking the length of Hanalei beach is enjoyable and great exercise (and incredibly romantic during sunset hours).
Hanalei beach also holds the annual sand castle competition every August. Companies, family, friends all come out to compete to make huge pieces of natural art using Hanalei's perfect sand. It's definitely something to not miss if you're planning to be on Kauai in August.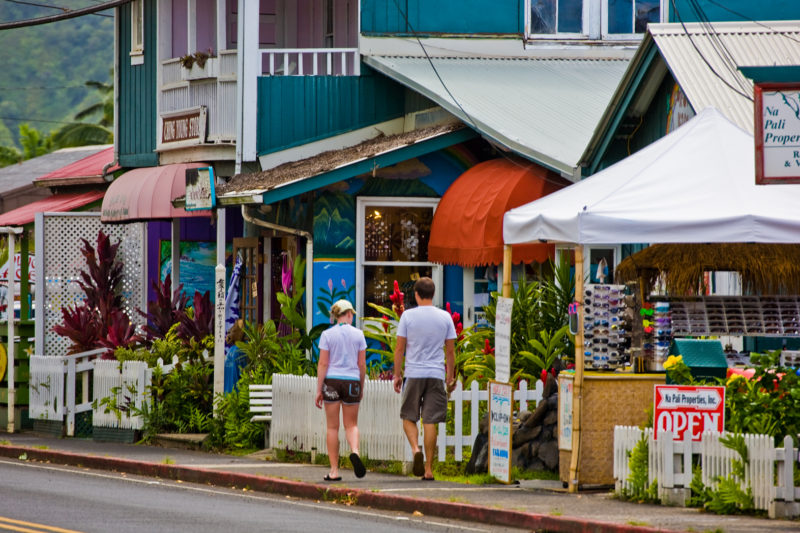 Hanalei Town
Southeast from Hanalei beach at the intersection of Aku road and Kuhio highway is where you'll find most of Hanalei's local restaurants. Tahiti Nui and Kalypso are 2 great restaurants that offer seafood and Hawaiian-fusion cuisine. But what really wins here are the food trucks. Trucking Delicious is a must when you visit Hanalei – plus, it's great that you can get the food to go and take it with you for lunch at Hanalei beach.
Of course, where there's food, you'll find shopping as well. The same area is lined with a handful of surf shops, jewelry stores, rental stores and snack stops to satisfy your cravings. Think small town shopping when you come here. West from this "downtown" at the Malolo road intersection is a large grassy lawn that is packed with at least 50 stalls during Hanalei's weekly farmers' market. This is a great place to see local Kauai and Hawaii products.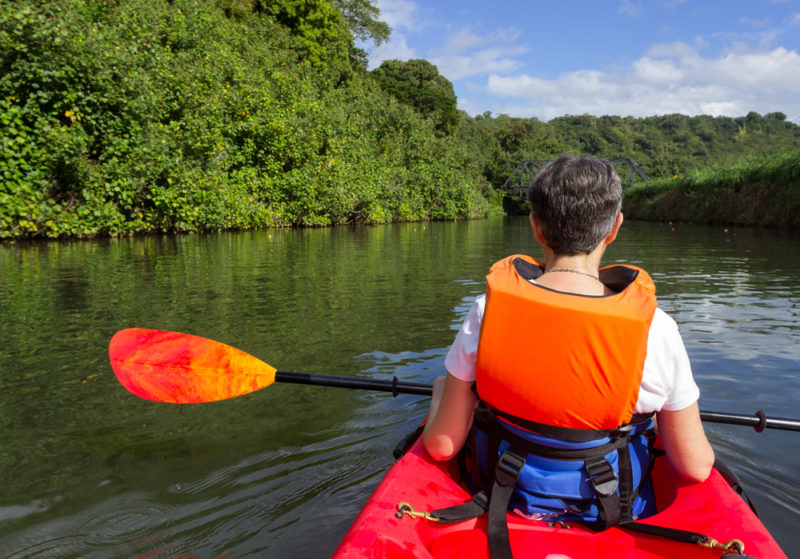 Hanalei Beach Activities
Earlier, I mentioned the snorkel and kayak tours at Hanalei – these are really worth it since the tour guides know the best spots and the bay itself is almost too big to explore by yourself. Get ready for turtle and dolphin watching!
From a Hanalei beach pick up, explore and snorkel Kauai's underwater reefs and sea caves.
Movie fans will definitely want to book a Hanalei movie tour. Hanalei is famous not just for its beauty, but also because it's been seen Hollywood multiple times. To name a few: Jurassic Park, South Pacific, and even Raiders of the Lost Ark!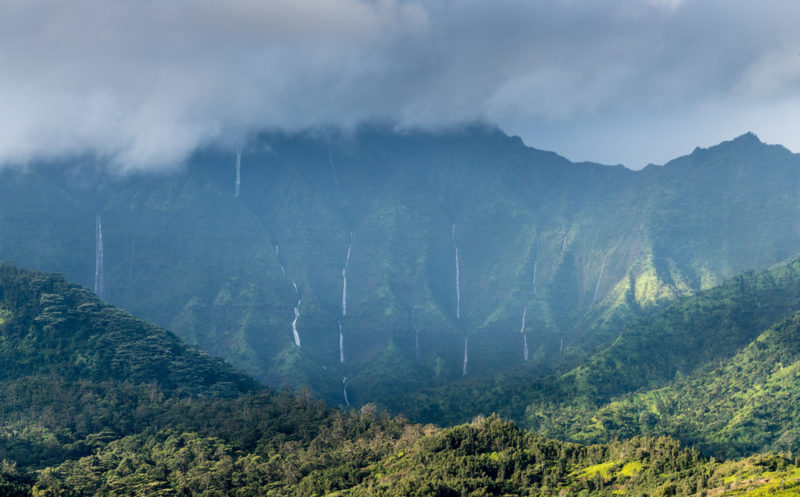 Hanalei Hikes, Waterfalls And Tours
A private tour of Kauai is a great way to really get to know this local island. In addition to Hanalei Bay, you'll explore beautiful waterfalls, beaches and lava tubes.
The Hanalei Mountains are also beautiful and you can explore them at from Princeville Ranch in a 3 hour tour filled with panoramic views.
Go for a drive though the Hanalei National Wildlife Refuge for some awesome birdwatching and taro fields.
Hikers should head to Okolehao trail for those gorgeous views.
Although not in Hanalei, there are two must-see spots on Kauai: Na Pali and Waimea Canyon.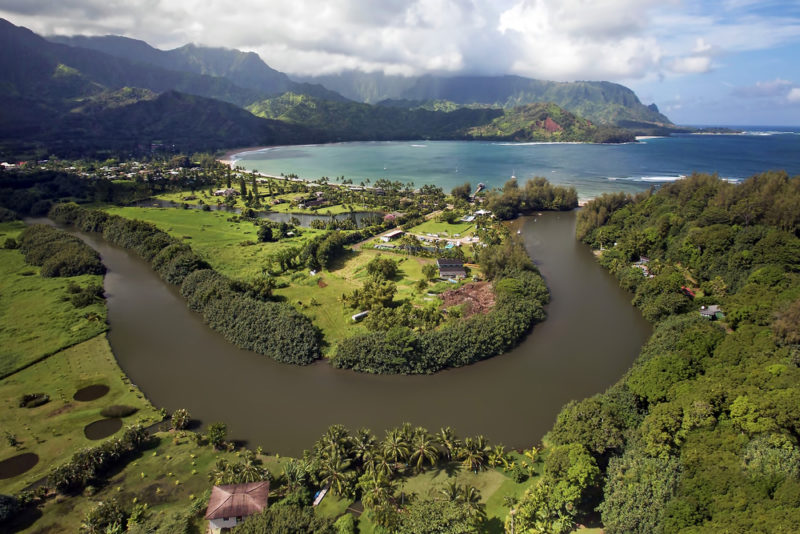 Hanalei Accommodation – Beach Houses vs. Resorts
The neat thing about Hanalei bay is that there are no resorts hugging the beach – which is terrific since big buildings tend to get in the way when we want to see all-encompassing mountains. But there are resorts on the other side of the Hanalei river (behind the camera for the photo above). So you'll have to make a choice if you plan on staying at Hanalei overnight. If you want immediate Hanalei beach access, then the handful of beach cottages, Airbnb rentals or Hawaii vacation homes are a great choice.
Hanalei beach cottages that I recommend:
Hanalei Dolphin Cottages – Quaint, comfortable and relaxing. With tasteful furniture and overlooking a river, this is a private cottage that you'll be pleased about. It's also located at one end where all the shops and restaurants are, which is incredibly convenient.
Hanalei Surfboard House – This place certainly captures your attention as colorful surfboards make up its fence. While it has that fun atmosphere to it from the outside, the inside decor is rather calming with Hawaiian-themed furniture and a variety of tropical plants.