This post may contain affiliate links, which means I'll earn a small commission if you purchase something through these links. You won't pay any extra; instead, you'll be helping Aloha With Love to thrive. Thank you! Learn more.
--
Ala Moana Center is always hopping with the latest trends and overflowing with fashion, technology, food, artwork, events, performances and that gorgeous Hawaiian weather! The mall is designed with an open-air concept that includes fishponds, sunny walkways, hip restaurants and even grassy lawns where you're welcome to sit and take a break in between stores. And shoppers aren't the only ones who will enjoy Ala Moana Center. There are plenty of specialty shops, attractions and bits of Hawaiian culture hidden throughout the mall that will keep anyone busy!
Definitely reserve most of the day for exploring Hawaii's largest shopping center. Walking the grounds and window shopping every inch of Ala Moana Center will take you 3 – 4 hours at the very least – and that isn't even counting actual shopping (and eating) time.
Wishing you a full wallet!
Aloha with love,
Amy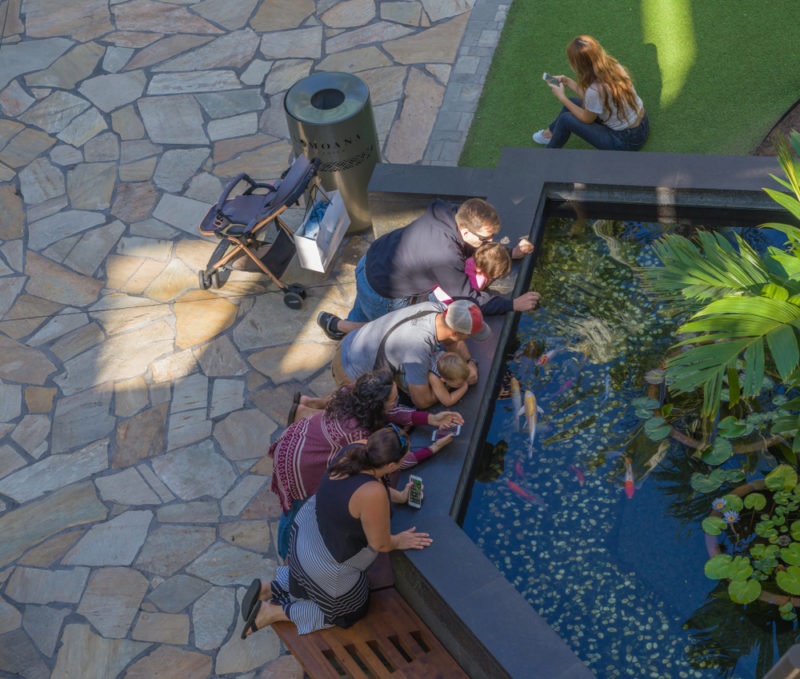 Besides Shopping, What Else Can You Do?
There is something for everyone at Ala Moana Center. I promise. Kids will be enraptured at the koi ponds (Japanese carp) and there's always something happening at Centerstage. Food is also a HUGE part of Ala Moana Center's culinary offerings – make sure you eat here at least once!
Check out Ala Moana Center's event page to see what will be happening when you're in town.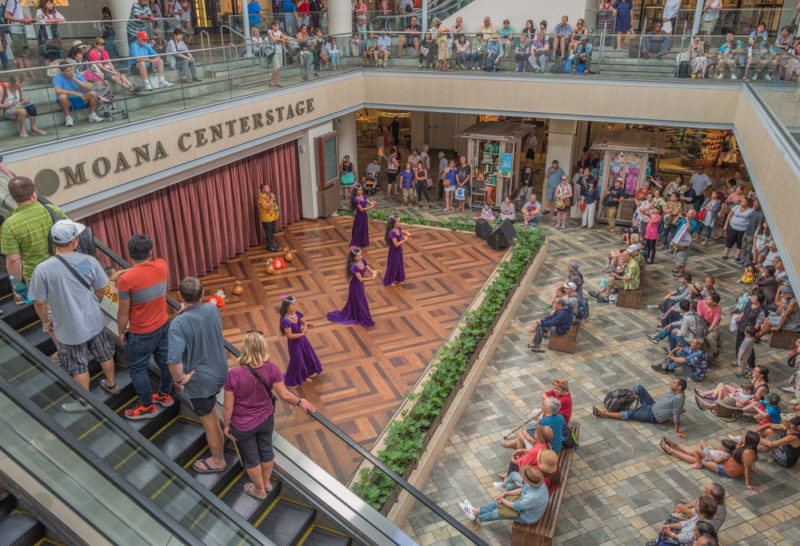 Ala Moana Center For Children
Ala Moana Center isn't just fashion and technology. There are plenty of stores that children will love to spend your money on.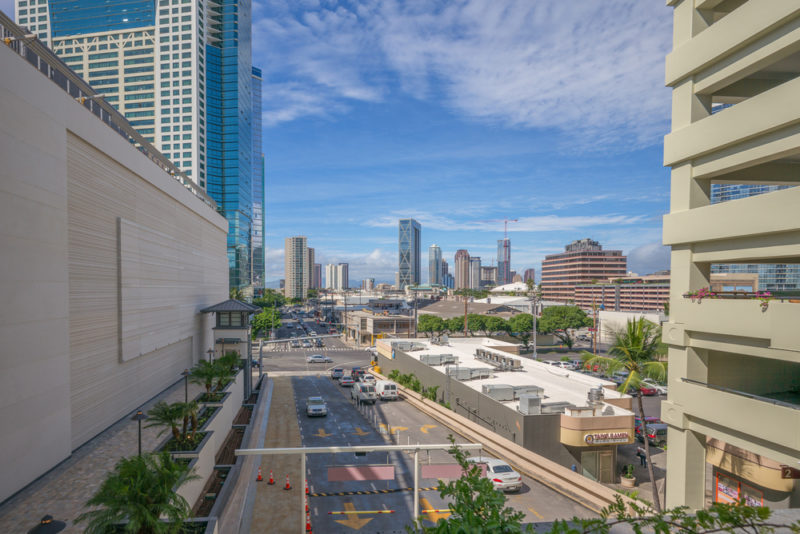 Ala Moana Center Transportation
As Hawaii's biggest mall, Ala Moana Center is pretty huge. While it's always been crowded every time I've come, I've also never had a tough time finding parking (except for holiday season). There are multiple entrances on each side so getting onto Ala Moana Center's premises is not a problem wherever you may be coming from.
You can get to Ala Moana Center by public transportation or even walking if you're in Waikiki. Many buses will pass through Waikiki and Ala Moana and even the trolley has a dedicated stop for Ala Moana Center. Check out the Visit Ala Moana Center's page for current transportation info.
Read more: Oahu Car Rentals: Budget, Transportation, And How To Save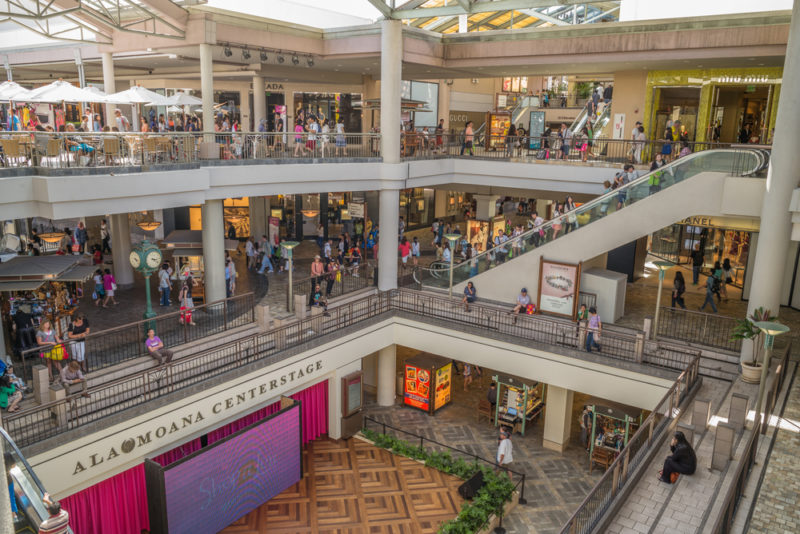 Shopping At Ala Moana Center
Shopping at Ala Moana Center means venturing into stores like Prada, Gucci, and Neiman Marcus like a boss. You'll see plenty of these top-brand stores with salespeople decked out in their finest suits and shiny shoes. But if you're on the hunt for more affordable brands such as Swatch or the new H&M store, then you're in luck. The Ala Moana Center stores are well-stocked with the latest fashions.
Clothes and accessories aren't the only things to be on the lookout for. There are a handful of boutique-type stores selling technology, health products, fragrances and even made-in-Hawaii goods and souvenirs. Here are just a few of my favorite unique Ala Moana Center stores: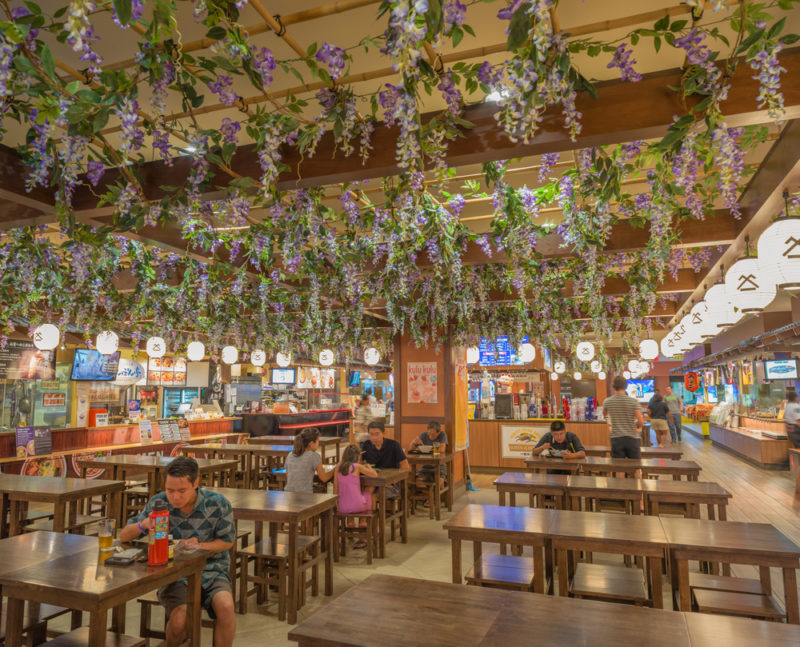 Where To Eat In Ala Moana Center
Food is an important part of your day and Ala Moana certainly takes care of that. With both budget-friendly and intriguing culinary options, you'll be able to find something to really enhance your day at Ala Moana Center. Here's where you should head to eat based on what type of food/experience you're looking for: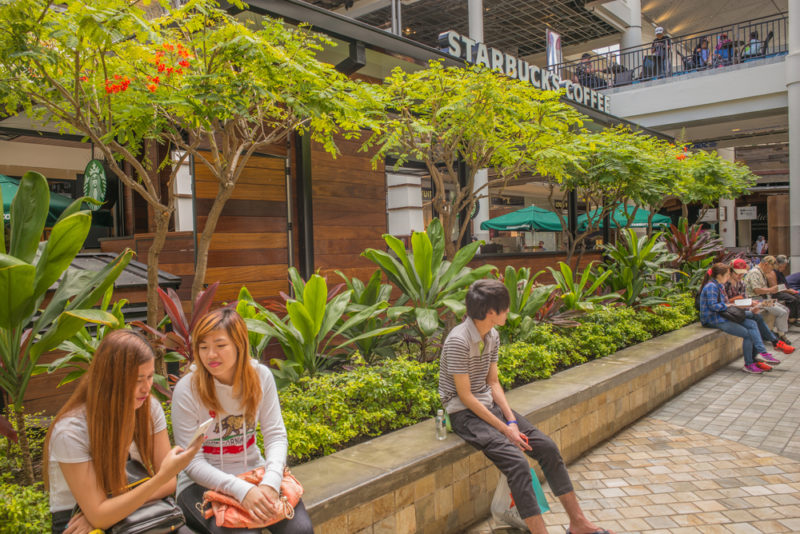 Ala Moana Center Tips