This post may contain affiliate links, which means I'll earn a small commission if you purchase something through these links. You won't pay any extra; instead, you'll be helping Aloha With Love to thrive. Thank you! Learn more.
--
Although Waimea Canyon is nothing compared to the Grand Canyon in size, you have to admit – it's still breathtaking. The Waimea Canyon trail offers gigantic and unbelievable views on such a tiny island. Self-guided driving tours with stops and lookouts make for a relaxing sightseeing day. Even paid tours for Waimea Canyon are well worth it because it's impossible to discover all of it in just a single lifetime.
Waimea Canyon activities are generally free, which is great news for the majority of us (including me). However, if you find yourself with a lingering sense to learn more about the Waimea Canyon, go for the paid tour!
Aloha with love,
Amy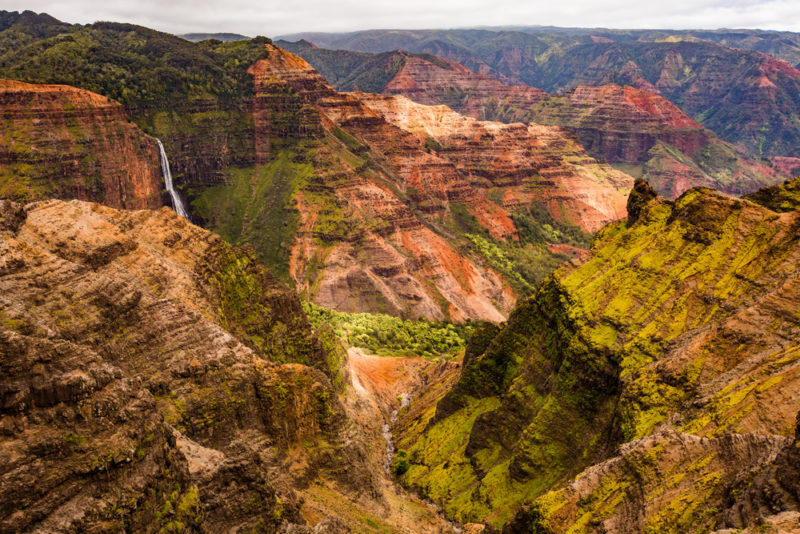 A Little Intro To Kauai's Big Canyon
If you're on Kauai, two things have got to be on your Kauai must do list: the Na Pali coast and the Waimea Canyon. While the Na Pali coast's untamed cliffs will get your heart pumping, the Waimea Canyon with her ancient layers of time will give you chicken skin. In fact, Kauai has lava flow dating back to 5 million years ago, making Kauai the oldest island of Hawaii's main islands.
Cool Fact: Waimea Canyon's nickname is the Grand Canyon of the Pacific!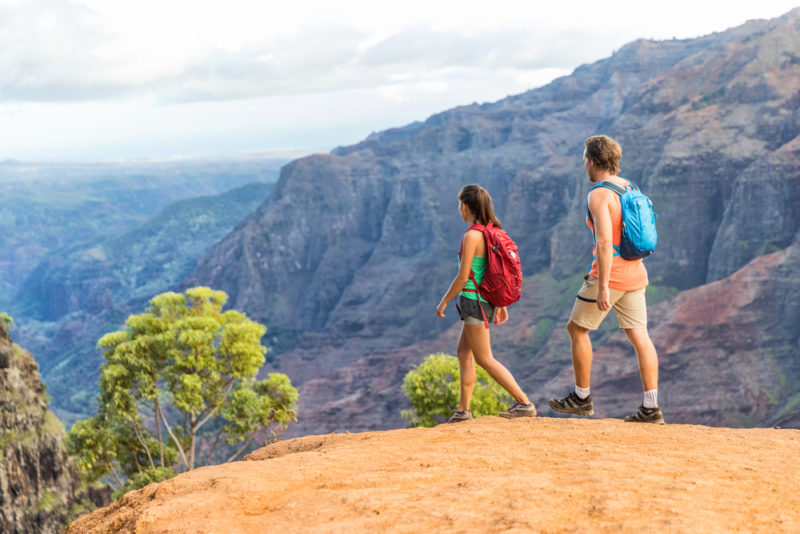 The Waimea Canyon Trail
The Waimea Canyon trail (aka "Canyon trail") is one of the most popular hikes to explore the Waimea Canyon. The trail takes you toward Waipoo falls, but you'll pass several smaller waterfalls on the way if it's been raining recently. While you won't be able to reach the base of Waipoo falls, you'll still get to see it at a closer distance. Plus, the views you'll get on the Waimea Canyon trail are so much different than the view at the top so it's certainly worth it.
Be prepared for the Waimea Canyon trail to go up and down, have plenty of tree roots, and some rather steep inclines. Be careful of rainy days where these ups and downs will have an effect on your traction and may cause you to slip and lose your footing. The best time to hike any Waimea Canyon trail is after a few sunny days to allow the rain to evaporate and dry out from the ground.
Another reason why the Waimea Canyon trail is a great choice is that kids love it! The challenges this hike provides really gets the blood pumping and it's a completely different experience than Kauai's numerous rainforest hikes. Plus, the added benefit of a waterfall, swimming pool (the smaller waterfalls are accessible) and potential mud seems to always be an incentive for kids.
Recommended Waimea Canyon Trail – Cliff Trail
Another way you can access the Waimea Canyon trail is via the Cliff trail. Park your car on the side of the road between mile markers 14 and 15 and walk down the dirt path until you get to a fork in the road. The way to the Cliff viewpoint is quick and easy and gorgeous. From there, you can easily backtrack to the fork and begin the Waimea Canyon trail.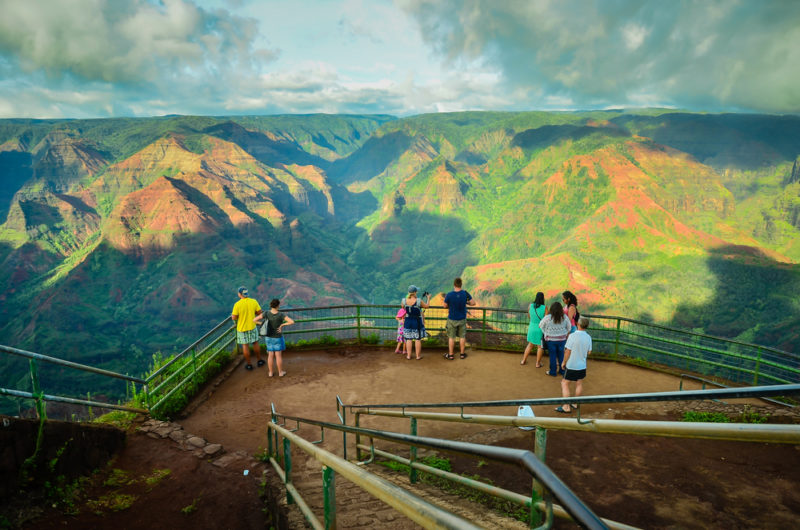 Waimea Canyon Drives And Lookouts
Like the Waimea Canyon trail, driving along the canyon is free and fun. If you choose to view Waimea Canyon by car, there are several lookouts along Kokee Road (Highway 550) that you can stop at but here are the more popular and well-maintained ones. What's probably the most popular lookout is the Waimea Canyon Lookout, which is just past the 10 mile marker. There's a large parking lot and viewing area so you really can't miss it. Because of its popularity, you'll probably get a lot of other people in your photos, which is not always bad since they'll provide a comparison to the vastness of Waimea Canyon.
Waimea Canyon Lookout, just past the 10 mile marker. Probably the most popular lookout. There's a large parking lot and viewing area so you really can't miss it. Because of its popularity, you'll probably get a lot of other people in your photos, which is not always bad since they'll provide a comparison to the vastness of Waimea Canyon.
Puu Hinahina lookout at the 13 mile marker. The view you'll get here is considerably different as you'll be seeing the canyon from a curve. While the lookout itself is smaller than the Waimea Canyon Lookout, I still highly recommend Puu Hinahina lookout as the canyon will run perpendicular to you. There is also a small platform where you'll be able to see Niihau island on a clear day.
At the 18 mile marker, you'll come across Kalalau Lookout where you can view the famous Kalalau Valley that opens out to the Pacific Ocean and the Na Pali Coast. But, the best view that you'll get of Kalalau Valley is at Puu O Kila Lookout about a mile later, and this one is a winner! Not only can you view the valley at a higher elevation, but there is also a ridge that you can walk around on to get different views and there is also Pihea Trail that you can hike from here as well.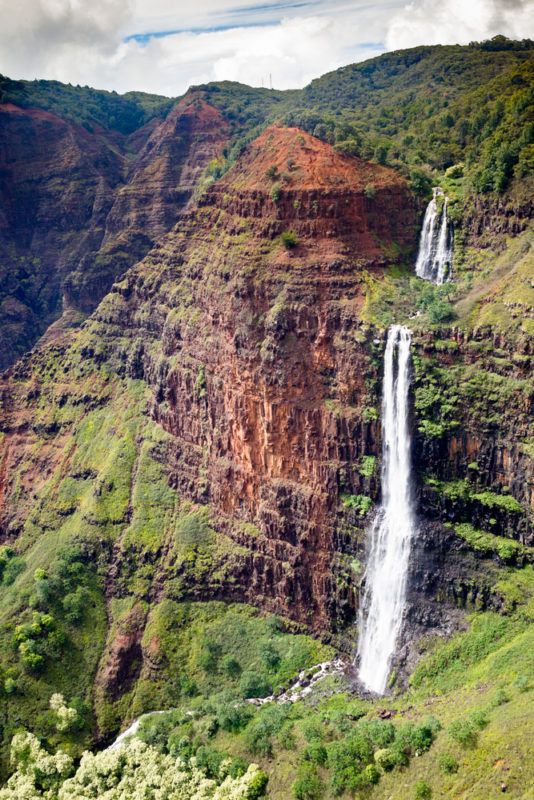 Waimea Canyon Tours
The great thing about Kauai is that you get a huge bang for your buck on a helicopter tour. Na Pali and Waimea Canyon are both very famous and should certainly be experienced as much as possible. The helicopter ride will allow you to not only see an aerial view, but also discover beautiful gems such as hidden waterfalls and hard-to-see landmarks.
A bike tour downhill from Poipu is a wonderful way to explore the Waimea Canyon. You can enjoy the scenery outside throughout the length of the canyon. Plus, your guide will tell you all about the history and fun facts of the Waimea Canyon and the island itself.
There are also a bunch of Waimea Canyon package tours that you can try out. If you're interested in waterfall swims, luaus, river cruises, jeep runs or in-depth hiking tours, this may be something for you to check out.