This post may contain affiliate links, which means I'll earn a small commission if you purchase something through these links. You won't pay any extra; instead, you'll be helping Aloha With Love to thrive. Thank you! Learn more.
--
A visit to Hawaii Volcanoes National Park is not just a popular activity on the Big Island of Hawaii. It's one of the best things to do in Hawaii and you'll be so glad to spend a day or two exploring the park in its entirety. Besides the obvious of seeing lava, you'll want to set aside time for hikes, lava tubes, viewpoints, scenic drives, and more. There's a lot to do!
Aloha with love,
Amy
About Hawaii Volcanoes National Park
Hawaii Volcanoes National Park is managed by the National Park Service and you can find all the information you need on the National Park Service website. The first thing you should know about this park is that there is plenty to do. In fact, the fee you'll pay to get in is actually good for one week. So if you have the time and interest, you might want to plan your Hawaii Volcanoes National Park activities over several days. However, most visitors do tend to squeeze as much as they can into one day since there are so many more things to do on the Big Island.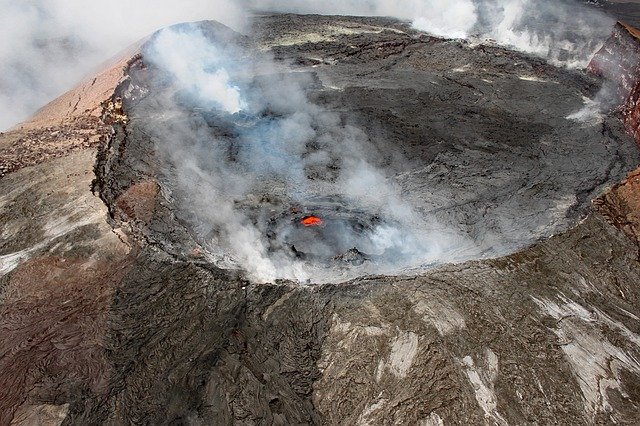 Rates and hours
As of January 2020, the entrance fees for the park are:
$30 per private, non-commercial vehicle for 7 days. Most Hawaii visitors will fall under this category with their usual car rental, as long as the vehicle holds 15 or less.
$15 per pedestrian or bicycle for 7 days, for those hiking or biking into the park.
$25 per motorcycle for 7 days. Since this is only $5 less than a car, you might want to consider carpooling if you're traveling in a group to save some big bucks per person.
$55 for the Hawaii tri-park annual pass. Valid for 12 months from the purchase date, this gives you one-year access to three of Hawaii's national parks: Hawaii Volcanoes National Park (Big Island), Haleakala National Park (Maui), Puuhonua O Honaunau National Historical Park (Big Island).
As a national park, there are several applicable passes and no-fee days you can use to gain entrance into Hawaii Volcanoes National Park.
Opening hours
While Hawaii Volcanoes National Park is generally open 24 hours a day, 7 days a week, it's important to remember that the ongoing eruptions, lava flow, smoke plumes, etc. can and will affect certain areas of the park. You may have limited access to certain areas and in some cases certain attractions will be completely blocked off for your safety.
Most of the time these changes are long-lasting. The best way to plan your trip and activities is to visit the NPS website for park updates and to watch local Hawaii news. Any lava flow, eruptions, or smoke plumes that could affect your health and safety is big news here in Hawaii and will be reported on.
Parking
The other thing that will put a dent into your itinerary is parking. The more popular sites will fill up fast so you should be prepared to be flexible and have some back-up destinations in mind. If you plan to spend some time at the Kilauea Visitor Center (a jumping off point for many attractions and hikes), start your day early and get there before 8 AM. There are only 125 parking spots here and with about 2 million visitors every year, this parking lot won't have any open space from 10 AM – 2 PM.
A few other popular spots that fill up fast (especially in the afternoon) are the Kilauea Overlook, Kilauea Iki Overlook, Thurston Lava Tube (Nahuku), and the Devastation Trail. Most of these will run out of parking between 10 AM to 2 PM and you'll be stuck either wondering what to do next or waiting around endlessly for a spot to open.
What's the weather like?
Hawaii Volcanoes National Park is vast and unlike most everywhere else on Hawaii, it's not just "hot" here. Depending on where and when and what time of day your visiting, you can expect everything from misty fog to snow (and sunshine, too!).
Kilauea: One of two volcanoes in Hawaii Volcanoes National Park. Be ready for rain, mist, and fog. You'll be at a 4,000-foot elevation so a rain jacket and even some warm clothing is a great idea. In fact, the summit can be 12 – 15 degrees cooler than sea level.
Mauna Loa: The second volcano in the park and the largest volcano on Earth. Reaching almost a 14,000-foot elevation, it's going to be cold at the summit! Dress warmly and know that snow is a possible factor year-found.
Weather changes: Keep in mind that the weather can change suddenly at both of these summits.
Air quality: Another thing to be aware of is that the air quality is measured here due to the smoke plumes that come out of the eruption. This is important for those with heart or respiratory problems such as asthma. Infants, children, and pregnant women should also take extra caution. Even here on Oahu, we take note of any vog (volcanic fog) that blows over. Some of my family, friends, and co-workers have suffered allergic-like reactions, migraines, and generally not feeling well.
Activities
Hiking
There are 13 day hikes and and 7 backcountry hikes you can do at the park, but I won't go over all of them here. You can find out more about each hike on the NPS website including any alerts such as closures or air quality warnings for certain areas. While all the hikes are interesting and have something to offer, here are my recommended ones:
Kilauea Iki Trail: One of the most popular hikes is the Kilauea Iki Trail. This hike takes you from the rainforest on the crater rim down into the caldera (where there's steam coming off the ground).
Devastation Trail: On a clear day, this is a great hike where you can see both summits of Mauna Loa and Mauna Kea.
Kipukapuauli Trail (Bird Park): For those searching for a short hike or want to stretch your legs, this one-mile loop trail is a small oasis of forest surrounded by lava rock with a number of Hawaii's native birds and plants to see.
Mauna Iki Trail: The highlight of this two-mile trail are the ancient footprints you'll see carved into the lava. It's believed that these footprints are the remnants from soldiers running away from a Kilauea eruption.
Crater Rim Trail: Most visitors will explore at least a small part of this trail during their visit as it is accessible from several locations.
Thurston Lava Tube (Nahuku): The lava tubes on the Big Island are a unique experience and I recommend going through at least one of them. There are several around the island (some run privately), but the Thurston Lava Tube is the most well-known as it's within park premises.
Puuloa Petroglyphs: Another really neat trail that takes you to one of the largest collections of petroglyphs in Hawaii. You'll be hiking on lava rock and then a boardwalk once you get closer to the 23,000 petroglyphs.
Mauna Loa: The most well-known backcountry hike is probably the long walk up Mauna Loa, the largest volcano on Earth.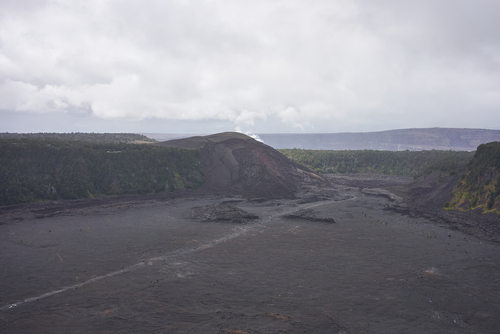 Explore the Kahuku Unit
The Kahuku Unit refers to the side of Mauna Loa dedicated to what was once one of Hawaii's biggest cattle ranches. There are several day hikes you can do here where you can see some great panoramic views and pastures.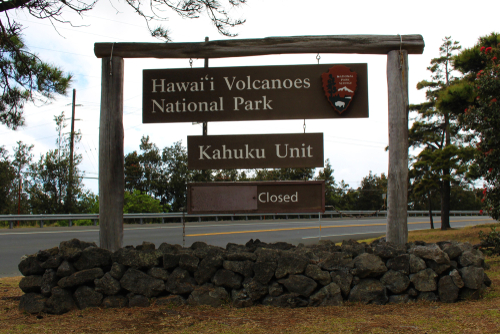 Driving
There are two fantastic drives to Hawaii Volcanoes National Park: the Crater Rim Drive and the Chain of Craters Road. Both can be done in the same day along with a hike. In fact, a popular itinerary choice is to drive both of these along with the Kilauea Iki hike in one day. All three of these can be done in one full day at the park.
About Crater Rim Drive: 11-mile drive that begins at the Kilauea Visitor Center and Kilauea Overlook. Don't miss Wahinekapu (Steaming Bluff) and the boardwalk at Haakulamanu (Sulphur Banks).
About Chain of Craters Road: 18-mile road that takes you from the Crater Rim Drive south to the ocean. You'll see a variety of lava flows, cinder cones, and craters on the way.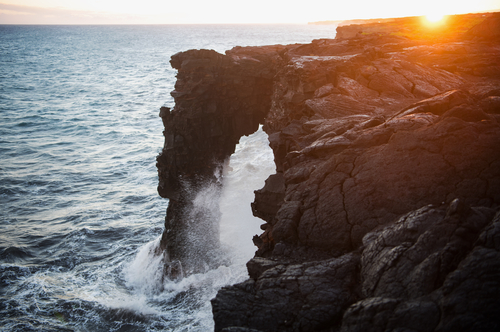 Camping and lodging
One of the coolest things to do on the Big Island is camping or staying overnight at Hawaii Volcanoes National Park. If you're an outdoorsy person, camping here is pretty memorable. There are 2 campgrounds (I recommend Namakanipaio over Kulanaokuaiki just for the convenience) and you can stay up to a week. So if you have the time and interest in all of the different hikes available, it might be worth it to spend a few days here.
For those who'd rather stay at a hotel, the historic Volcano House Hotel sits on the Kilauea caldera and is highly rated.
Things to know
Getting there
Hawaii Volcanoes National Park is quite a drive to get to from Kailua-Kona. The trip is about a 2.5 – 3 hour drive, so I recommend coming in from Hilo (a 45-minute drive) if you plan to only spend a day here. You can also consider camping or lodging at the park, or finding a rental in one of the small nearby towns.
It's important to note that driving yourself is the only way to get to and explore the park. The public bus (Hele On Bus) does not come here and neither is there a shuttle service to take you from place to place.
Closures and updates
This national park is all about volcanoes, which means you'll run into lava flows, smoke plumes, sudden weather changes, and potentially dangerous situations. The National Park Service staff are very good at making sure you do not put yourself in a bad situation by closing certain hikes, viewpoints, and points of interests as needed. Stay notified on any changes as they are closed or prohibited for a reason.
Plants and animals
On these volcanoes (and high elevations), you'll have a chance to spot some rare plants and animals. Some of them can't be found anywhere else in the world, which makes the nature experience here quite unique. There's a very special ecosystem here, so it's especially important that you leave no trace when you visit this park.