This post may contain affiliate links, which means I'll earn a small commission if you purchase something through these links. You won't pay any extra; instead, you'll be helping Aloha With Love to thrive. Thank you! Learn more.
--
Many of the best things to do in Kauai are outdoor activities. Kauai has a smaller population, which means there's a lot more nature, hikes, valleys, mountains, and crystal-clear ocean to explore. As Hawaii's oldest island, geologically, Kauai is extremely unique. The massive Waimea Canyon is unlike anything else on the other Hawaiian Islands and the Na Pali Cliffs never fail to impress.
Aloha with love,
Amy
Beaches
Of course one of the best things to do in Kauai is to go to the beach. Kauai has one of the smallest populations in the Hawaiian Islands, which means less crowded beaches and more sand for the rest of us. As the oldest island in Hawaii, Kauai has some very unique features so you'll get quite a view of mountains and sea cliffs on many Kauai beaches.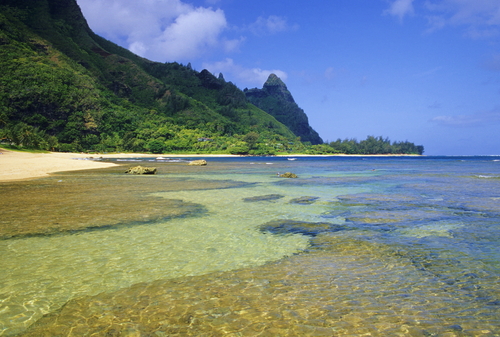 Here are some of the most popular beaches in Kauai that I think you should consider:
Tunnels Beach – One of the best snorkeling spots in Kauai, Tunnels Beach is located on Kauai's north shore and is named after the many underwater caverns in the area. Parking is tight here, so get here early. Once you're on the sand though there will be plenty of space to stretch out on.
Poipu Beach – This is one of the most family-friendly beaches on Kauai. It's a good spot for both children and adults especially during the big winter swells since this beach is located on Kauai's south shore. You'll also have a good chance of spotting napping sea turtles and Hawaiian monk seals on the sand.
Hanalei Bay – Probably Kauai's most famous beach, Hanalei Bay (and Hanalei Town) is a huge attraction for Kauai visitors. With a picturesque boardwalk and a fantastic view of the Na Pali cliffs, you can't beat Hanalei Bay.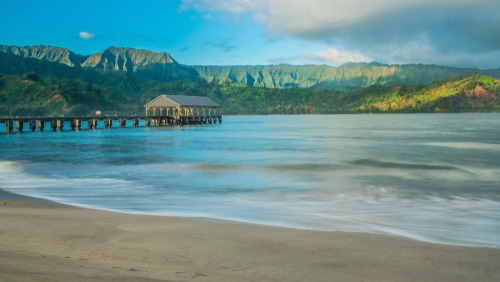 Lydgate Beach – Another very family-friendly beach located on the eastern shore of Kauai. There are lifeguards, bathroom and shower facilities, plenty of parking, and a great place for both children and adults to swim, snorkel, and play in the water.
Kee Beach – A gorgeous beach that requires a Haena State Park reservation for non-residents, but the view of the Na Pali Cliffs are fantastic and the waters are flat due to the surrounding reef protecting the shallows. This beach is on the north shore so the waves can get rough during the big winter swells. For general information about Haena State Park, visit the official Department of Land and Natural Resource's Division of State Parks website.
Anini Beach – If you're looking for a beach with less people, Anini Beach is a good place to check out. There's plenty of parking, a large grassy area, big trees that offer an abundance of shade, bathrooms, and picnic tables and benches where you can enjoy the view.
Haena Beach – One of the many smaller beaches that is located within Maniniholo Bay. The Manoa Stream runs through Haena Beach Park and you can also enter the Maniniholo Dry Cave for an interesting and eerie experience.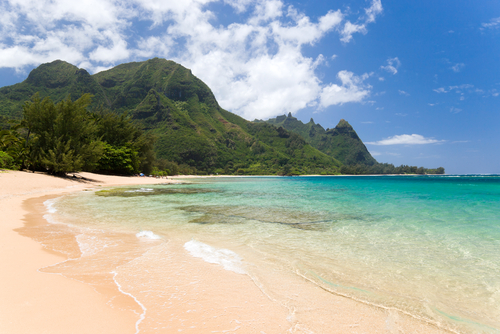 Shipwreck Beach – Fronting the Grand Hyatt Kauai Resort & Spa, Shipwreck Beach is popular among locals for surfing and boogie boarding. There's some wonderful views to be seen here and the Mahaulepu Heritage Trail runs along this beach. Don't miss the Makawehi lithified cliffs at the east end of this beach.
Polihale Beach – This beach at Polihale State Park boasts the longest beach in the State of Hawaii and it's one of my favorite secluded beaches, too. It's an interesting (and bumpy) drive to get here, but the mountain views and soft sand is worth it.
Hiking
One of the best things to do in Kauai is hiking. This island is very different compared to the other Hawaiian Islands because of how much older it is. Its had time to mature and create great sea cliffs, canyons, rivers, and deep valleys. So if you're a lover of outdoor activities, definitely look into hiking and outdoor things to do in Kauai because the view is sure to be striking.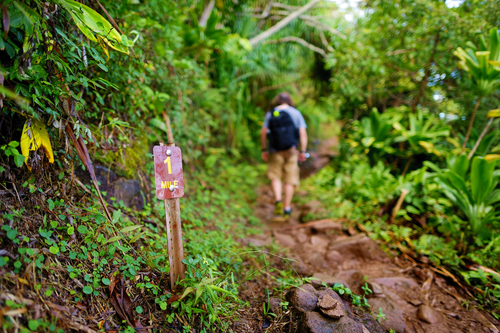 Here are the most popular hikes on Kauai that you can look forward to:
Kalalau Trail: One of the most famous things to do in Kauai is to hike the Kalalau Trail. This hike isn't for everybody. You need to be in great shape and experienced in advanced hikes as this trail is often muddy and treacherous in some areas. But if you're into difficult hikes, then you'll definitely want to check out this trail during your trip to Kauai. You will need to make a reservation or obtain a permit in order to hike, visit, or camp on the Kalalau Trail. Read up on the rules as early as possible as this hike is popular and availability can run out.
Mahaulepu Heritage Trail: A beautiful coastal trail along the southern shore of Kauai where you'll come across stunning ocean views, cultural sites, geological wonders, and wildlife such as humpback whales and sea turtles.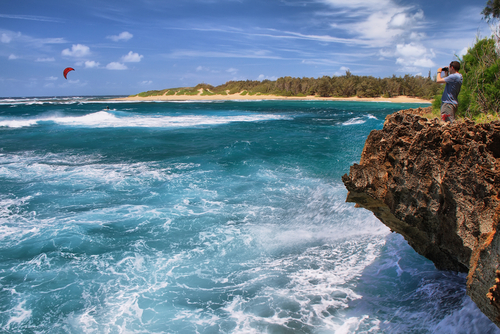 Nualolo Trail: An advanced hike that I'd recommend for experienced hikers used to slippery and muddy trails. Located in Kokee State Park, this hike takes you through Kuia Natural Area Reserve and has fantastic views of the Na Pali cliffs and valleys.
Hanakapiai Falls Trail: A very challenging hike with several stream crossings. Expect to fall, slip, and get muddy, but you'll reach one of the most breathtaking waterfalls on Kauai on this hike, measuring at about 300 feet tall.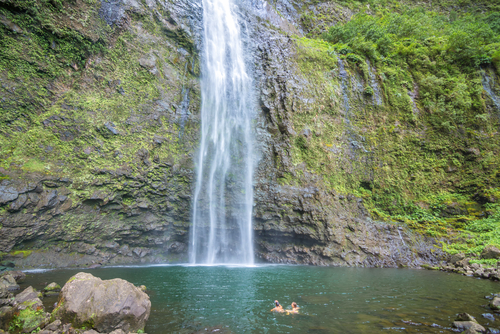 Kuilau Ridge Trail: Beginning at the Keahua Arboretum, the Kuilau Ridge Trail is a moderate hike with a variety of trees and plant life. At about one mile in, take a break at the picnic table!
Sleeping Giant Trail (East): Also called the Nounou Trail, the Sleeping Giant Trail takes you up along the chest of the Sleeping Giant (a mountain ridge that looks like a giant sleeping on its back).
Awaawapuhi Trail: Another popular hike in Kokee State Park that has some spectacular views of the Na Pali cliffs and Awaawapuhi Valley. This is an out-and-back trail that goes downhill, but you can also return via the Nualolo Cliff Trail (and walk back to you car).
Shopping
Kauai is filled with several little shopping stops made up of boutiques, bakeries, and eateries with that old-school local feel. The greatest thing about shopping in Kauai though is that there are so many made-in-Kauai (made-in-Hawaii) items everywhere you look. Kauai is isolated enough that it's cheaper (and less of a hassle) when you source locally. So you get those good vibes when you know that 100% of your money is supporting a true local company.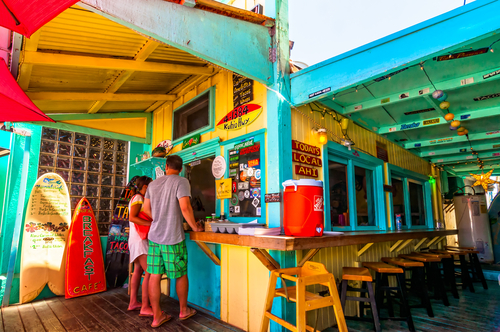 Here are the most popular shopping areas on Kauai that you can look forward to:
Museums
Kauai has a number of unique museums where you can explore local business operations, plantation history, and cultural background of the people who have called Kauai home for generations.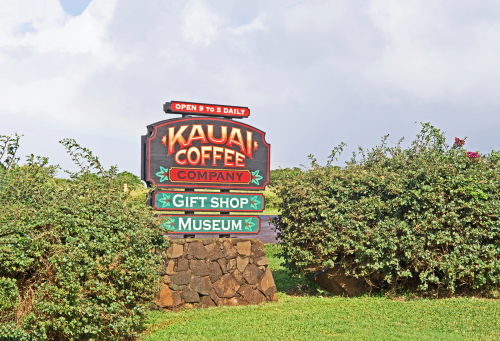 Here are the most popular museums on Kauai that I think you'll enjoy:
Kauai Coffee Company: As Hawaii's largest coffee farm (3,100 acres packed with more than 4 million coffee trees!), the Kauai Coffee Museum includes a lovely walk outdoors and a sampling of their delicious coffees.
Kauai Museum: A fantastic way to get to know Kauai's history and culture is a visit to Kauai Museum. The museum is deceptively small, but the two buildings are packed with enough displays and information to keep you history buffs busy.
Kilohana Estate: Spend the day here to learn about the old plantation life, the working farm, taste some rum, ride the plantation train, and even stay to enjoy Luau Kalamaku.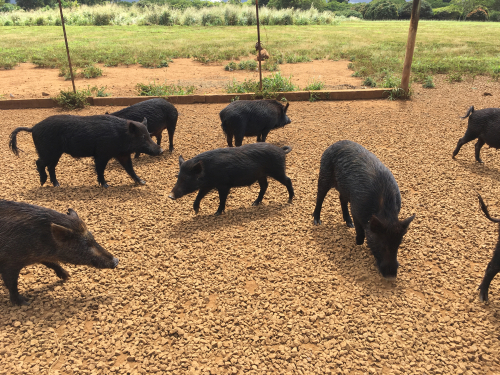 Grove Farm & Sugar Plantation Museum: The beautifully maintained home and surrounding buildings will give you a peek into one of Hawaii's first sugar plantations. It's a lovely outdoor tour that's both pleasant and relaxing.
Waioli Mission House & Church: Look for the quaint green house and you're in for a treat. This is a small, but really very well done museum tour that's done on select days on a first-come, first-served basis. This museum is run by Waioli Corporation 501(c) Non-Profit, which also manages multiple historical sites including the Grove Farm museum, so they share the same website.
Tours & Activities
Because of Kauai's unique environment, there are a ton of outdoor tours and activities for you to do. From kayaking on the Wailua River to guided hikes, you won't run out of things to do in Kauai.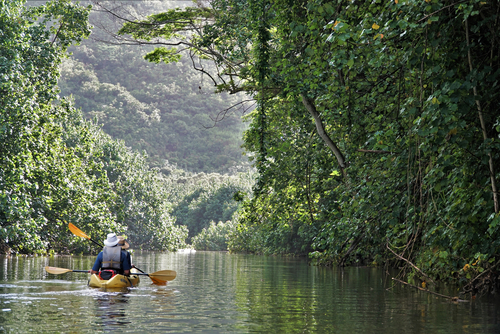 Here are some of my favorite things to do in Kauai that I think you'll enjoy:
Farms
For an outdoor experience that isn't too physically demanding, try one of the many Kauai farm tours on the island. Most farm tours involve a walk outside, a closer look into their operations, and often a taste test of their products.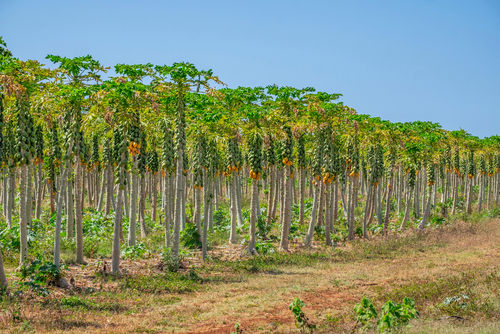 Here are a few Kauai farm tours that you'll have fun exploring:
Botanical gardens
One of my favorite things to do in Kauai is to spend a couple of hours exploring their gorgeous botanical gardens. Kauai is unique – it's a very wet island that gets more rain than the other Hawaiian Islands. That means everything here is lush, full, and green all year round. If you need some time to connect with nature without feeling rushed, a botanical garden in Kauai is the way to go.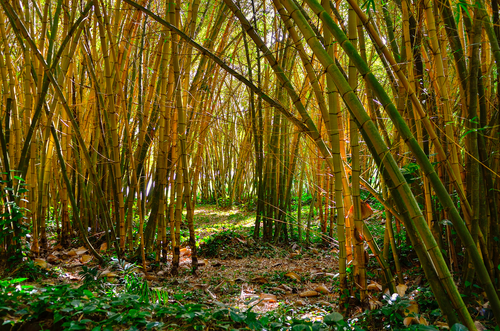 Here are some of Kauai's best botanical gardens that I think you should visit:
Scenic viewpoints
Every so often I like to hop in the car and take a drive around the island. I do this most often on Oahu where I live, but this is also easy to do on any of the other Hawaiian Islands, too. Especially on Kauai where the views of nature are spectacular, this is a really great activity for you to do if you're in the mood for a drive.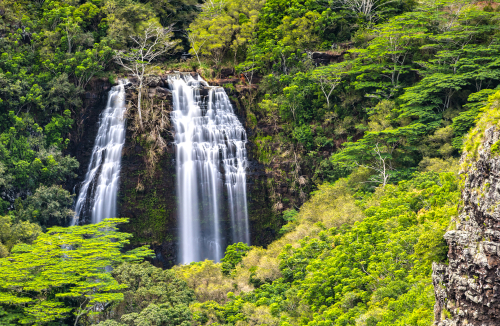 Here are a few of the best scenic viewpoints on Kauai:
Hanalei Valley Lookout: Even if you haven't been here, you've probably seen this popular lookout in a photo promoting Kauai. The lookout sweeps farmland, Hanalei Valley, and the Hanalei National Wildlife Refuge.
Opaekaa Falls: Head to the Opaekaa Falls Vista Parking for a pleasant view of this waterfall backed by lush green forests and mountains. The falls are best viewed after some rain as it naturally splits to become twin waterfalls.
Tree Tunnel: Maluihi Road on the southern side of Kauai presents a charming tree tunnel made up of eucalyptus trees. The tunnel stretches for about one mile and was actually a gift from Walter McBryde to the local community.
Spouting Horn: For something a little different, the Spouting Horn is a fun coastal stop where you can watch the power of the ocean shoot up a vertical spray of saltwater. The sprays can get pretty high so I recommend hanging around for a while so you can get that perfect shot.
Food & beverages
If you're anything like me, eating is going to be a big part of your travel itinerary. I love small, local shops with some history when I travel and it's no different for Kauai. I enjoy supporting these smaller businesses (especially on the less-populated islands) because they're often really unique to the island and the local culture there.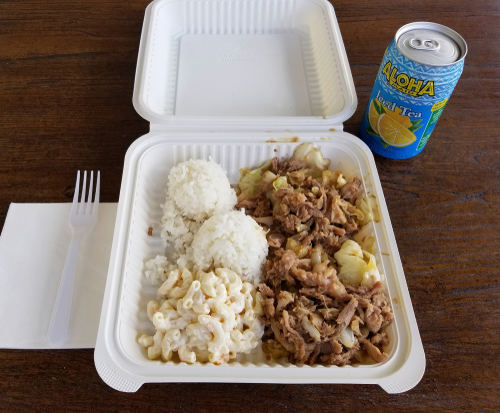 Some really great eats to try in Kauai: