This post may contain affiliate links, which means I'll earn a small commission if you purchase something through these links. You won't pay any extra; instead, you'll be helping Aloha With Love to thrive. Thank you! Learn more.
--
Pearl Harbor is an eye opener. It's also one of Hawaii's top attractions.
There are graphic photographs, remnants of the attack and stories to be heard from survivors and witnesses. Don't be surprised if you shed a tear or two and find yourself suddenly overwhelmed with emotion. I always end up teary eyed when I'm here. And honestly, I hope you get emotional, too. It's an unforgettable and incredibly moving experience.
Aloha with love,
Amy
Please check the National Park Service website for accurate and the most up-to-date information regarding your visitation.
Things You Should Know About Pearl Harbor
Google "Pearl Harbor" and you'll run into plenty of tours, websites, blog posts, and guides. Some are helpful, but most are confusing and can be a headache to read. Only a part of Pearl Harbor is free, which is what causes most of the confusion. By understanding what Pearl Harbor is before you arrive, you'll be much happier with the ticket or tour package you choose.
What does Pearl Harbor mean?
Most people don't know what "Pearl Harbor" the place is. It's not just a memorial, monument or museum. In actuality, "Pearl Harbor" is 4 different entities (in 4 different locations) and together they're called the Pearl Harbor Historic Sites. If you intend to visit all the sites (for all you history buffs out there), expect to stay at least 6 hours, but plan for 8 – 10 hours. There are 4 historic sites:
Pearl Harbor National Memorial (Pearl Harbor Visitor Center, USS Arizona, Oklahoma, and Utah Memorials)
USS Battleship Missouri Memorial
Pearl Harbor Aviation Museum
All 4 of these Historic Sites are each a standalone attraction. You can pick and choose which ones to go to, but the Pearl Harbor National Memorial is the only one that is free to visit. This is mainly because 1) it's a cemetery, and 2) because it is managed by the National Park Service – a government bureau of the U.S. Department of the Interior. However, National Park Service does cooperate with a local nonprofit, Pacific Historic Parks.
The other three Historic Sites are not run by the National Park Service, but they are nonprofits. They each have their own admission, museum, souvenir shop and tour packages.
Where Are The Pearl Harbor Historic Sites?
Pearl Harbor National Memorial and the USS Bowfin Submarine Museum & Park
(East of the Ford Island Bridge)
When you first enter "Pearl Harbor," you'll enter into Pearl Harbor National Memorial, also called the Pearl Harbor Visitor Center. This is where most visitors begin their Pearl Harbor journey. Straight ahead and everything to the left is the Visitor Center.
If you walk to the right of the entrance, you are entering into the USS Bowfin Submarine Museum & Park territory. There is no definitive line that visitors can see to tell the difference between these two entities. But they are right next to each other and it feels like they are both a part of the Pearl Harbor Visitor Center.
USS Battleship Missouri Memorial and the Pearl Harbor Aviation Museum
(West of the Ford Island Bridge, on Ford Island)
Both the USS Missouri and the Aviation Museum are on Ford Island. If you plan to drive yourself over, you must have a valid Military ID. Otherwise you will not be allowed access. The only other way you can get to Ford Island is via shuttle bus from the Pearl Harbor Visitor Center.
Read More: Battleship Missouri At Pearl Harbor Is Gigantic And Not To Be Missed
Read More: Plane Fanatics Will Love The Pearl Harbor Aviation Museum
What's Not Allowed At Pearl Harbor?
Most bags are not allowed
Pearl Harbor is an active military base so there are plenty of rules that you'll need to follow. The most important rule that catch many unaware is that bags are not allowed. This includes small purses, camera bags and even diaper bags. If you can conceal something inside the bag, then it won't be allowed. If you do walk up to security with a bag that's not acceptable, they will direct you to a small kiosk on the side where you'll pay $5 per bag for storage.
Local Tip: I do not recommend walking back to your car to put your bags away. This is a high-theft area and unfortunately thieves have a good view of visitors walking back to their car to put their bags away. There are security cameras, but theft continues to happen in broad daylight. If you are leaving your bags in the car, put them away out of view before you arrive at Pearl Harbor. Any fiddling as you leave the car is a good indication that your valuables are hidden.
What bags are allowed?
You can walk in with your wallet, phone, small camera, and water bottle in your pockets or hands without a problem. If you absolutely need a bag and don't have a suitable one, consider walking in with everything separately and purchasing a cheap reusable tote bag from the bookstore, which is right next to the security. All proceeds from the bookstore will go back directly to support the Pearl Harbor National Memorial and the National Park Service.
There are only a few exceptions for bags that are allowed on the premises:
Small bags not exceeding 1.5″ x 2.25″ 5.5″
Bags for medical purposes
Clear tote bags
Local Tip: Strollers are allowed everywhere throughout the Pearl Harbor Visitor Center except for in the movie theatre and on the boats that go to the USS Arizona Memorial. You're allowed to bring in the essentials (powder, diapers, snacks, etc.), but keep everything to a minimum and not in a bag or in the stroller pockets or you will get turned away.
What to wear to Pearl Harbor
There's no official dress code, but this is a place of remembrance where more than a 1,000 lives were lost in an instant. This is considered to be a cemetery and many Veterans have chosen to have their ashes buried along with their comrades who weren't so lucky to survive. In fact, many unnamed sailors still lay in Pearl Harbor's depths to this day.
A shirt, shorts and slippers are acceptable. Do not show up in a bathing suit or profane clothing as the staff have the right to ask you to leave.
Local Tip: I recommend wearing shoes because if you decide to do any extra activities while there, you'll be doing a lot of standing and walking, especially if you decide to visit the other Historical Sites.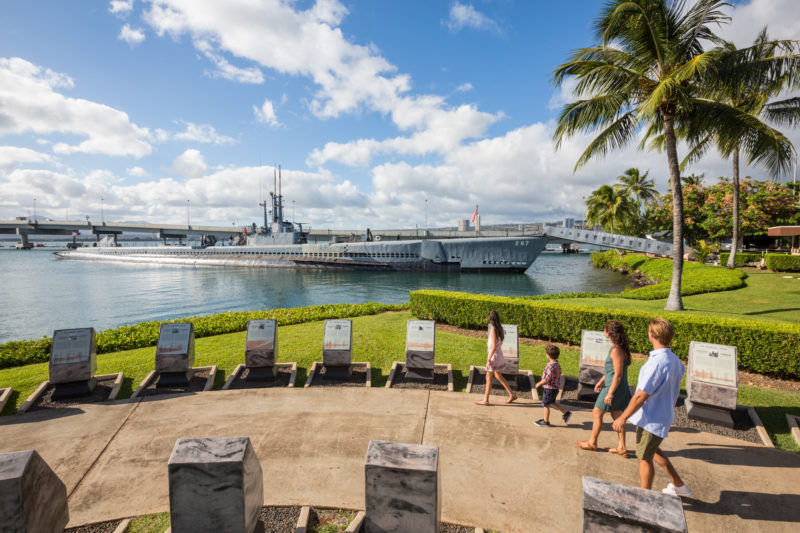 My Personal "Visit Pearl Harbor" Strategy
When I take my visiting friends to Pearl Harbor, this is how I plan my visit:
Arrive at Pearl Harbor parking lot at 6:45 AM and stand in line. The doors open and everyone starts to shuffle in at 7:00 AM. This way you're guaranteed a free program ticket and your movie and ferry ride to the USS Arizona Memorial is EARLY. Due to the pandemic, walk-in tickets are not available anymore and you'll need to reserve tickets online.
Watch the movie and visit the USS Arizona Memorial just a few minutes after you've entered the visitor center.
Explore the 2 free museums, the grounds and the souvenir shop.
Decide on other tours/museums that you'd like to visit based on how you feel. By going early, you can finish the free activities around 10:00 AM.
Why I don't recommend going later: I often find myself in the situation where visiting friends decide they'd rather sleep in than listen to my alarm clock. On these days, we usually end up at Pearl Harbor around 10:00 AM with a free program ticket that says our movie time is several hours later. It's really hard to spend 4 – 5 hours with only the free museum and Pearl Harbor grounds for entertainment. Most of the time we'll end up going back home early, thus wasting half a day in Hawaii and missing the movie and USS Arizona Memorial visit.
The only time when arriving later is a good idea is if you're very sure you'll be doing another paid tour or museum visit before your assigned movie time. Another plan some people come up with is to go eat lunch and return for their movie and boat time. I don't recommend this strategy unless you already know which restaurant you're headed to.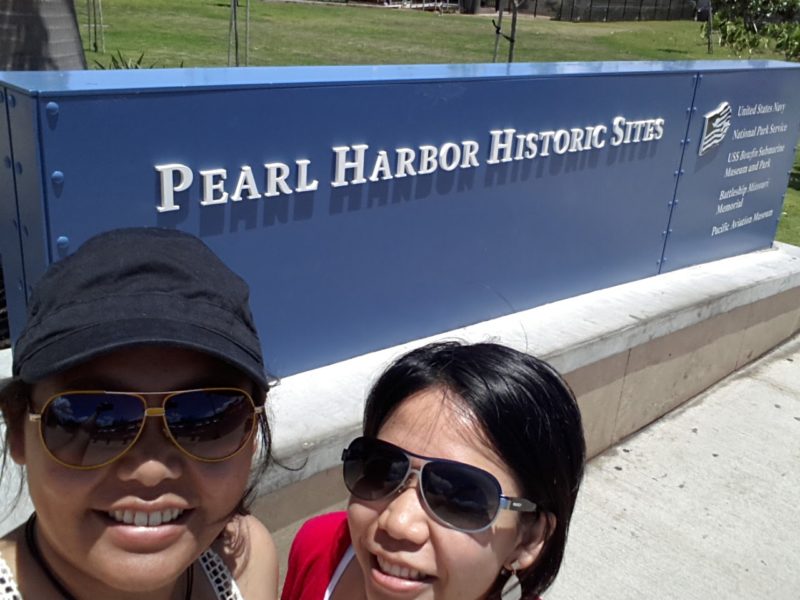 How To Get To Pearl Harbor
Driving to Pearl Harbor
From Waikiki:
There are several ways to get to Pearl Harbor from tourist central, but here's a straightforward option. Make your way to the H-1 freeway heading west. Once you're on the H-1, stay on the left to get onto the H-2, then move over to the right lane and follow the Stadium Area sign. Take a left onto the Aiea Access road and the Pearl Harbor parking lot will be on your right.
From Ko Olina (Kapolei):
Get onto the H-1 headed east and take the 13A off ramp for Aiea/Honolulu. The exit will loop you around like a U-turn. Stay on the right and follow the Stadium Area sign up ahead. Take a left onto the Aiea Access road and the Pearl Harbor parking lot will be on your right.
Local Tip: This exit is particularly crowded during morning weekday rush hours. Stay alert for sudden stops. It can also get crowded when there's a big event at Aloha Stadium such as a graduation or a UH football game.
From Haleiwa:
From Kamehameha highway (Kam Hwy is the road that circles Oahu), make your way to the H-2 headed south. After your pass the H-1 and H-2 merge, follow the directions above (Ko Olina) to reach Pearl Harbor.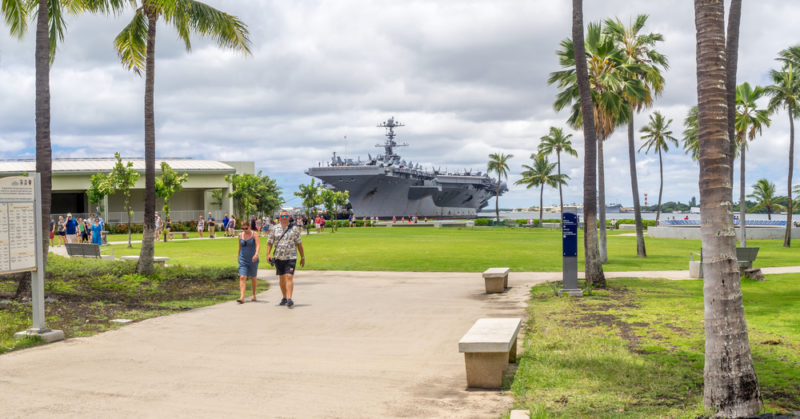 Public transportation
From Waikiki, it takes about 1 hour to get from Ala Moana to Pearl Harbor and will cost you just $5.50 for an all-day bus pass. There are plenty of buses that will take you to Pearl Harbor – you can check the routes at TheBus.org.
Parking at Pearl Harbor
Parking is free at Pearl Harbor, and if you get there early, there's plenty of it. You'll need to start worrying about parking if you intend to arrive later in the day. Pearl Harbor gets crowded fast especially with everyone vying for those 1300 free program tickets.
Security does makes its rounds here and you'll probably see them as you drive around, but that doesn't mean you should feel free to leave your valuables in your car. As I mentioned earlier, theft is big here even with the added security at the park.
How to get to Ford Island by car
Visitors can only access Ford Island 2 ways: with a valid military ID or on the shuttle that runs from the Pearl Harbor visitor center about every 15 minutes. Most people end up riding the shuttle to get to the Missouri and Pearl Harbor Aviation Museum.
Local Tip: One perk for those driving in with a military ID – you'll have access to the USS Utah memorial. The shuttle does not make a stop here so take advantage of this if you're driving in.