This post may contain affiliate links, which means I'll earn a small commission if you purchase something through these links. You won't pay any extra; instead, you'll be helping Aloha With Love to thrive. Thank you! Learn more.
--
I've been slowly working my way through the Honolulu Mauka Trail System and wanted to bring my dog Daisy with me since she's had some extra energy the past few weeks. Mom decided to come with and early Sunday morning we made out way to Tantalus Drive.
This is a fun 2-3 hour out-and-back hike for the average person (it took us 3.5 hours because Daisy is a waddler) with fragrant Micronesian Gingers, lots of yellow and red strawberry guavas, a bamboo pathway, boardwalk and a gorgeous viewpoint.
You'll pass plenty of other trails on the way to Pauoa Flats, but we decided to save these for another day.
Aloha with love,
Amy
Begin Your Hike At Tantalus Drive
Drive up Makiki Heights to get to Tantalus Drive. About 10 minutes in, you'll drive up several hairpin turns. After the last hairpin turn and before the bridge, there will be a small turnout on the left where you can park your car.
Be very careful driving up and down Tantalus Drive. It's very tempting to stop on the side of the road to snap a picture of the view or trees because you think that no one else is on such an empty road. I kept checking my rearview mirror and within 15 minutes, 3 different drivers caught up with me. One even zoomed and passed me by without slowing down.
This hike starts from Tantalus Drive, but the trail that you'll start walking on is Kalawahine Trail. From the "parking lot", walk past the bridge and you'll see the access point on the left next to the steep driveway.
Local Tip: Tantalus Drive is a long windy road covered by tall looming trees with hanging branches. It's a beautiful and an enjoyable ride for those who don't suffer from car sickness. Drive this backdoor scenic route to get to Tantalus Lookout on Round Top Drive, one of my favorite viewpoints of downtown Honolulu.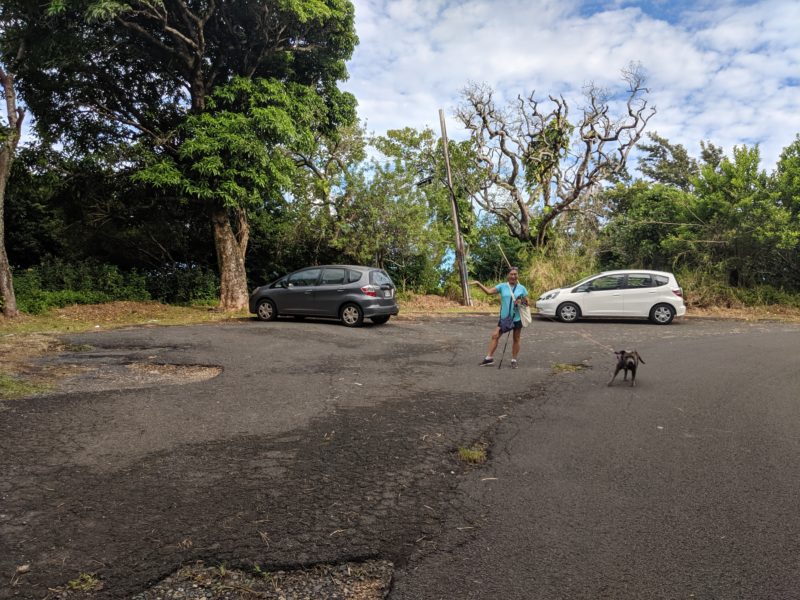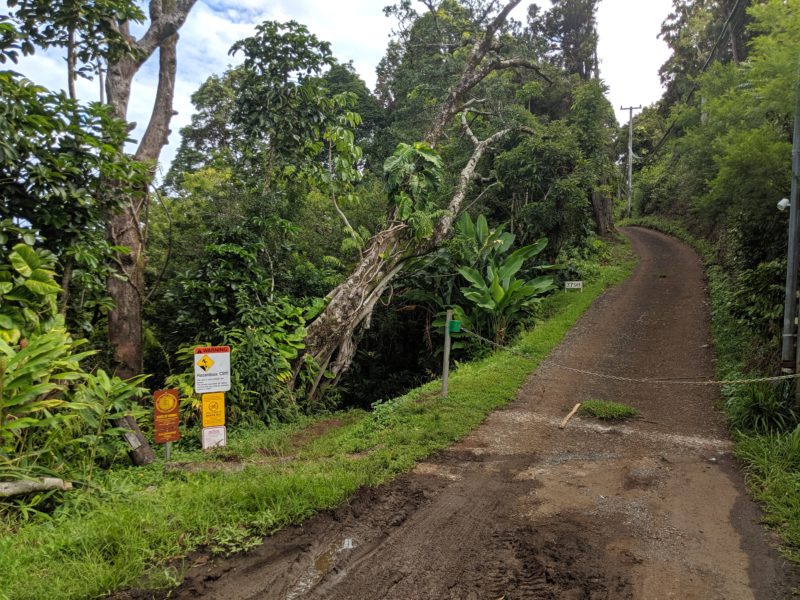 Hiking Kalawahine Trail And Pauoa Flats Trail
Kalawahine Trail
The best part about this whole hike is the shade. The sun rarely makes direct contact with your skin and I loved that you don't need to do worry about wearing a hat, putting on sunscreen or wearing sunglasses. The downside is the mud. Since it had rained a couple of times earlier in the week, some parts were slippery and muddy. For the most part, I was alright in normal athletic shoes; but, I did lose my footing a couple of times.
I'm not sure if it was the rain earlier in the week, but the Micronesian Ginger flowers were in full bloom and we couldn't help but sniff our way past these fragrant bushes. We walked past a couple of huge clusters and hung out for a few minutes at each one to enjoy the scents.
Local Tip: If you head to Chinatown on Maunakea Street, resident lei makers can often be found making Micronesian Ginger leis by hand. The smell is amazing and it's a popular lei for anyone who loves fragrant flowers. My favorite is the White Micronesian Ginger lei wrapped with ilima flower petals.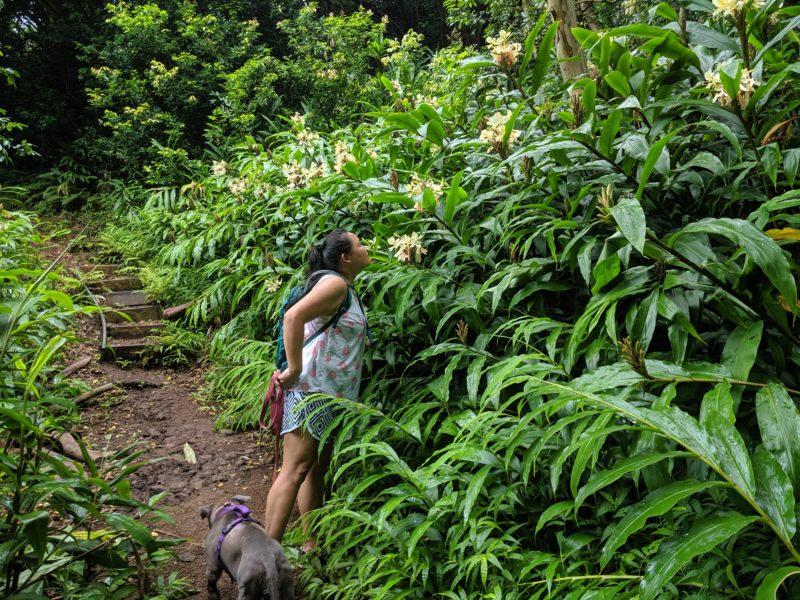 The beginning of the hike was flat and easy. The trail was easy to make out and the scenery kept changing, which made the entire hike interesting as we progressed. Sometimes it was ginger flowers, then it was strawberry guavas, and the trail even opened up to a wide path, which made it seem like we weren't in Hawaii anymore.
As we got further in, there were more steps or rocks to climb over. This wasn't too bad especially if you don't care for hikes with a steady incline. Each "climb" only took me 2 or 3 steps up and avoiding the mud was actually a bigger deal for me. At times it did feel like there was a slight incline, but it was barely noticeable.
Local Tip: You'll see a few signs along the way indicating that this trail is home to native Hawaiian snails. These little guys are all endangered and it's best if you don't touch the plants or you risk invading what little space they have to call home. Not many of them are left these days as their habitat grows smaller each day.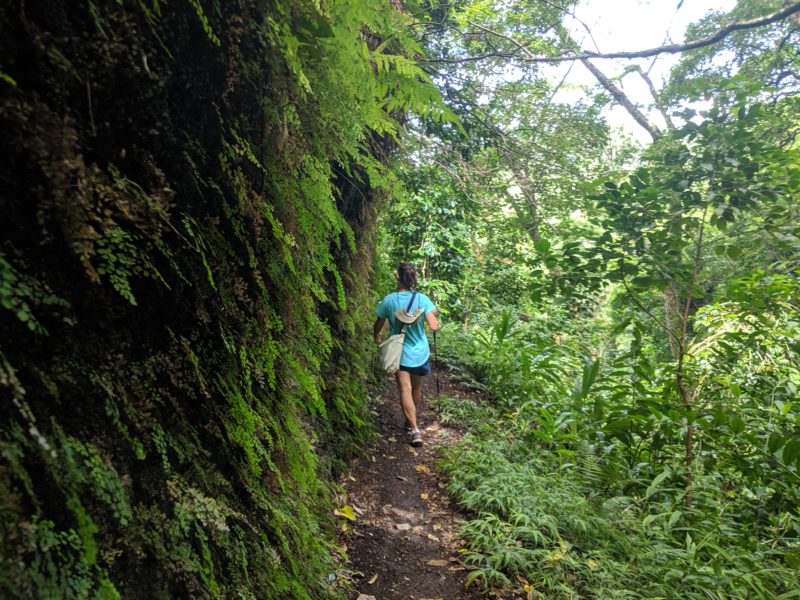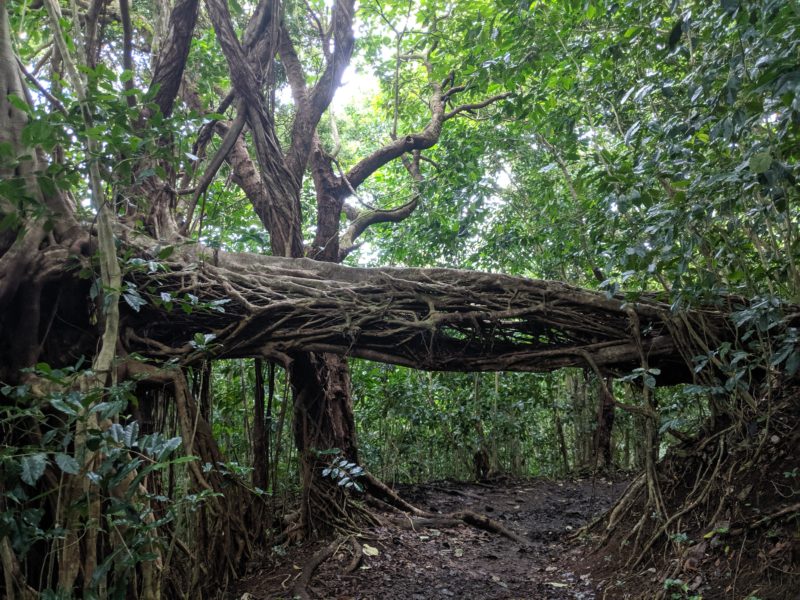 Roughly two-thirds into Kalawahine Trail, the path will split into two. Continue straight (left) on Kalawahine Trail to take the same route we did. You can also take a right on Manoa Cliff Trail (follow the posted sign) for a slightly longer path. This will stretch your hike out by another 30 minutes or so. Both routes will eventually meet up with Pauoa Flats Trail.
Local Tip: I've noticed that on older maps, some parts of Kalawahine Trail is sometimes referred to as Manoa Cliffs Trail. Google Maps calls the route before and after the split Kalawahine Trail, while the physical sign for the right path at the split is Manoa Cliffs Trail.
Pauoa Flats Trail
If you take a left at the split like we did, you'll eventually meet up with Pauoa Flats Trail at this boardwalk. The whole things is pretty sturdy, although there are some parts that are "bendy". If you opt for taking a right at the split, you'll reach this intersection coming from the right side of the photo.
The boardwalk makes for some easy walking and neat photo opportunities. It was really nice to have a flat surface to walk on and allowed me to look around more instead of constantly watching my feet so I wouldn't trip. Take a left here (or go straight if you took a right at the split) and in a few minutes you'll reach the bamboo forest.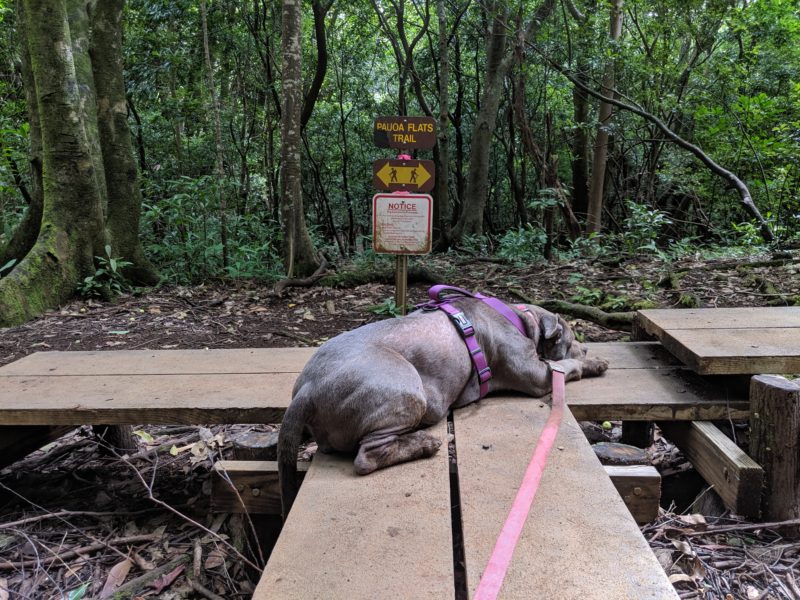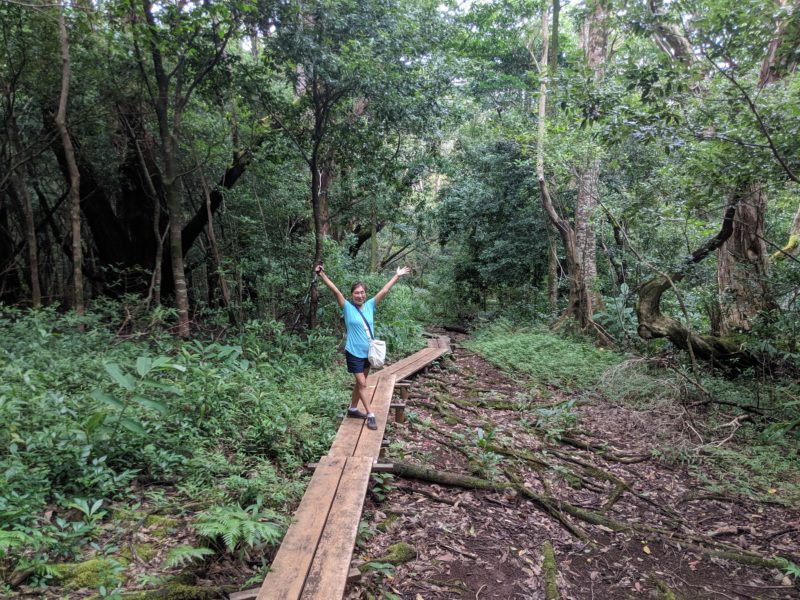 After the boardwalk was by far the muddiest. If you do plan on hiking up here when there has been a lot of rain, be ready to slip and slide in some areas. There were wide pockets of mud that covered the pathways and we found ourselves weaving in and out of the bamboo to avoid sinking in ankle-deep mud. But in the end it's all worth it when you reach the Pauoa Flats Trail bench.
Local Tip: On Pauoa Flats Trail after the intersection with Kalawahine Trail, you'll pass 2 more trail access points. First on the left will be the Nuuanu Trail, which connects to Judd Trail and the Jackass Ginger Pool. Further down you'll see access to Aihualama Trail on the right, which leads to Aihualama Falls (aka Manoa Falls). Aihualama Trail is not on Google Maps as far as I know.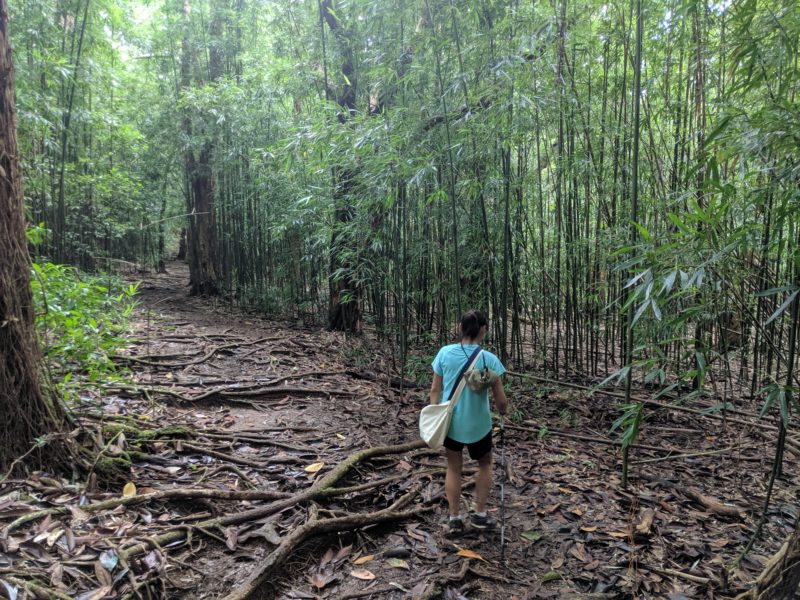 Pauoa Flats Trail Bench
The view from the bench was divine.
There was no one else while we were there and we spent at least 30 minutes chatting, resting, cloud watching, eating strawberry guava, and just enjoying being the only ones up here. The view overlooks Nuuanu Valley and down below is the Nuuanu reservoir. You can also see Pali Highway and the teeny-tiny cars racing along; but, we were so far away that it almost seemed like the drifting clouds were making more noise than the vehicles!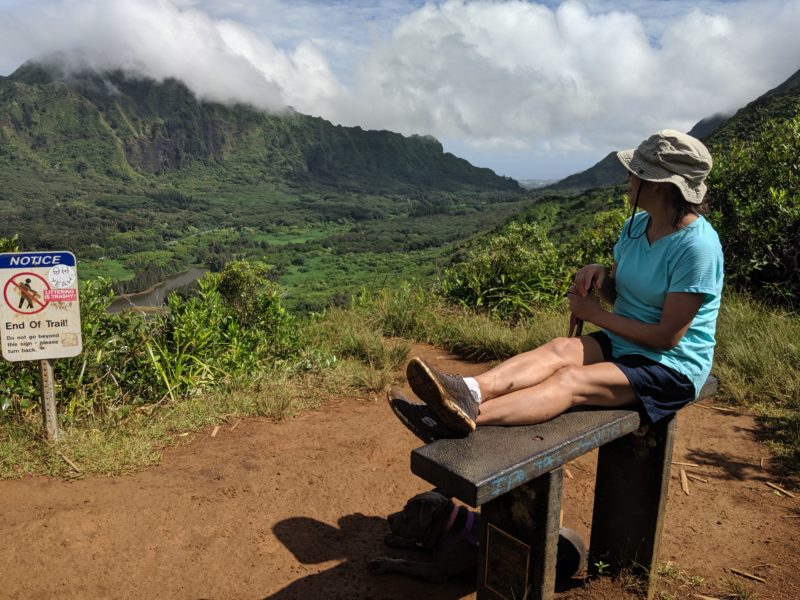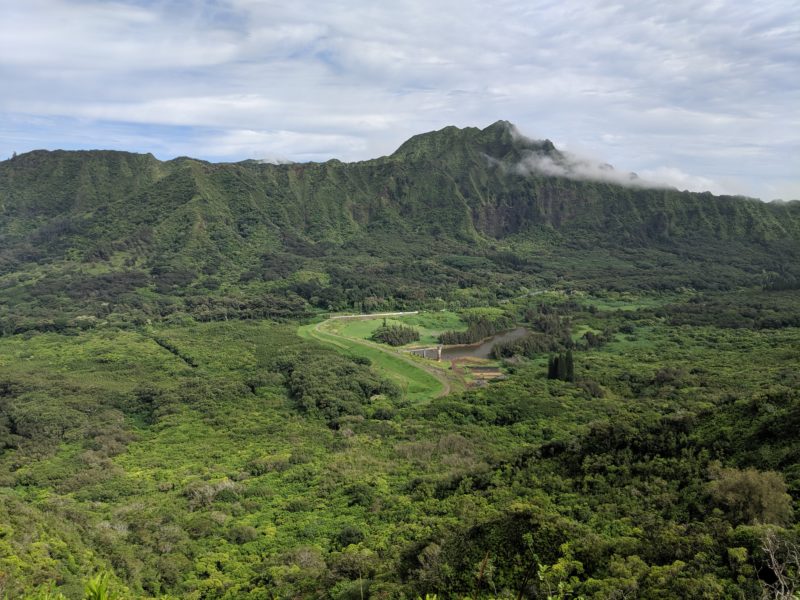 Going back was a breeze. It may have taken us a while to arrive at Pauoa Flats Trail bench, but our return was probably only about an hour. Even Daisy knew we were going home so she didn't even stop for a water break!
I could also tell that we were going downhill, which made our return that much more easy. The decline was just a slight angle, but it was enough to keep my feet and momentum moving.
Overall, this hike was great. Not only was it shady, but we were also rewarded with a beautiful view that we had all to ourselves. Most people would find this route from Tantalus Drive to Pauoa Flats pretty easy I think. The incline is minimal (because you've driven up most of it) and there's very little elevation change to and from the Pauoa Flats Trail bench. It also helps that there's a large variety of flora and fauna to see on this hike.
This would also be a great hike for children and older people to do together. There's nothing too tough about Kalawahine Trail or Pauoa Flats Trail. It's really just a long walk on a well-worn path through a forest. Perfect for almost any age!