This post may contain affiliate links, which means I'll earn a small commission if you purchase something through these links. You won't pay any extra; instead, you'll be helping Aloha With Love to thrive. Thank you! Learn more.
--
I was flying to Boston for a convention and decided this was the perfect time to document my experience on Hawaiian Airlines' longest domestic flight. My flight from Boston To Honolulu was on June 25 on the Hawaiian 89 flight and I used about 26,000 Hawaiian miles for this leg of the trip. The one way trip price was about $750.
My seat was in the economy class and on paper the flight included a breakfast and a snack. The trip was expected to take 11 hours and 5 minutes covering 5,095 miles. I did have to pay an extra $30 for my check-in. Although I'm a Hawaiian Airlines member, I did not get a free bag for this flight because I didn't use my Hawaiian Miles credit card to pay for the remainder of my ticket.
Flying Boston to Honolulu was relatively stress free and standard. But I really liked the ending speech done by Hawaiian Airlines flight attendant Scott Henton! If you have him on your flight you're in for a treat.
Aloha with love,
Amy
What To Expect On The Hawaiian Airlines Boston To Honolulu Flight
This Boston to Honolulu flight was scheduled to leave Boston (BOS) at 9:20 AM and arrive at Honolulu (HNL) at 2:25 PM. Takeoff was prompt – the plane started moving at 9:23 AM and we left the ground at 9:35 AM. The flight touched ground early at 2:10 PM and we taxied in at 2:13 PM. By the time I got my check-in bag, it was 2:40 PM.
My seat was 38H – an aisle seat on the right (starboard) side of the plane. When you first board the plane and get to your seat, you'll get a free blanket and pillow and your touchscreen will include a usb charger and 3.5mm headphone jack. I'm really glad to see that they aren't charging for blankets anymore (unless you want another one). I'd heard from a couple of people that blankets were $10 a pop, but this seems to have been done away with.
Local Tip: I forgot earbuds and asked a passing flight attendant if they had any to pass out. They did! And although the earbuds are really basic and bare minimum, they were still comfortable because they had the eartip gels (regular size) on them. I still use them!
One really nice touch about 2 hours left in the flight was when the flight attendants passed out hot towels. This was a very welcome service after flying for 9 hours straight. I used that to wipe my face and hands and felt so much better and refreshed.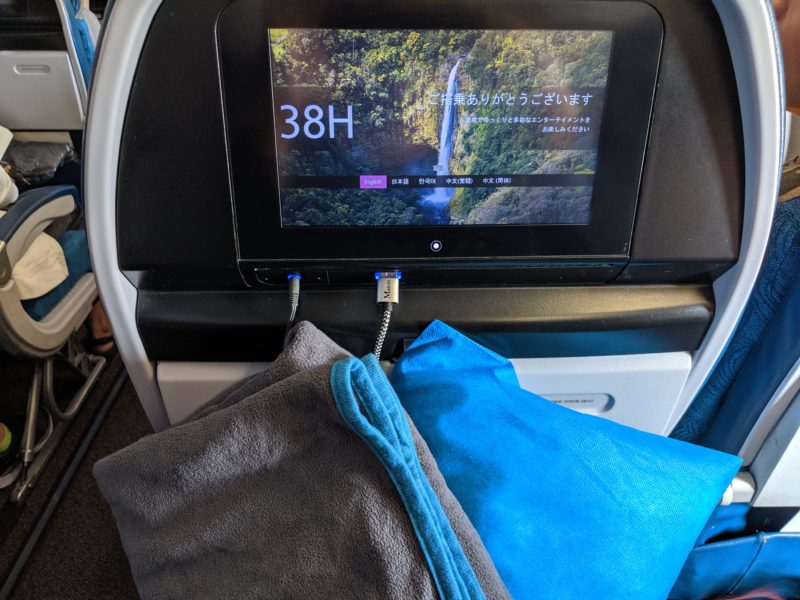 What's on the touchscreen?
There are 5 written languages available to maneuver the in-flight entertainment: English, Japanese, Korean, Traditional Chinese and Simplified Chinese. I counted 70 different movies – more than enough to keep you busy on the 11-hour flight. There was a good mix of recent movies, fantasy, comedy, drama and even a small handful of international films, namely Korean and Japanese.
Access to the in-flight entertainment begins as soon as all required introductory videos are finished and takeoff is successful. In-flight entertainment will end roughly 20 minutes before landing.
In addition to the movie variety, you can also listen to music, play games, watch TV, find out more information about the flight you're on and there's even an explore Hawaii section. Children also have their own platform on the touchscreen that includes a decent collection of kid-friendly movies and games.
Local Tip: The touchscreen games are simple and the screen sensitivity comes nowhere close to the level of your smartphone. If you like to game on flights, I recommend downloading offline games in advance to keep you busy.
Although I enjoyed everything the touchscreen had to offer on the Boston to Honolulu flight, I did not like that the touchscreen was unadjustable. It was stuck into the chair in front of me and I couldn't fully enjoy the movies once the person in front of me decided to lean their chair back. Even leaning my own chair back didn't give me the same viewing angle. I've been on many flights where the screens could rotate up and down, and this simple hardware problem sticks out like a sore thumb.
Local Tip: During the boarding process, the touchscreens play a welcome video of Hawaiian music as you stow your bags. These are quite big stars in Hawaii's music industry so if you like their tunes, note their names so you can find their music later.
Filling out the State of Hawaii in-flight questionnaire
Hawaii has many unique habitats, environments, wildlife and plants, the State of Hawaii is very careful about what comes in and out of the islands. You'll be handed a questionnaire that you'll be required to fill out (one per family).
Local Tip: Pack a pen in your carry-on. You'll give these back to the flight attendant as you exit and for some reason they don't provide pens for you to use.
Most of the questions are common sense and they center around raw fruits and vegetables, plants, and animals. Our forests suffer hugely from invasive plants, bugs and animals that suffocate indigenous Hawaiian species. By blocking entry to carriers of diseases and bugs, the risk to Hawaiian life is lowered significantly.
Regarding raw fruits and vegetables, while you can certainly pack them as a healthy snack for your Boston to Honolulu flight, you should eat them before you arrive in Hawaii. There are also amnesty bins where you can throw your raw fruits and vegetables away right before you exit out to baggage claim.
Local Tip: Go the extra step to protect Hawaii's sensitive flora and fauna. Give your shoes a quick brush, wipe or scrub especially if there's dirt on them. This will help in preventing seeds, diseases and bugs from entering Hawaii.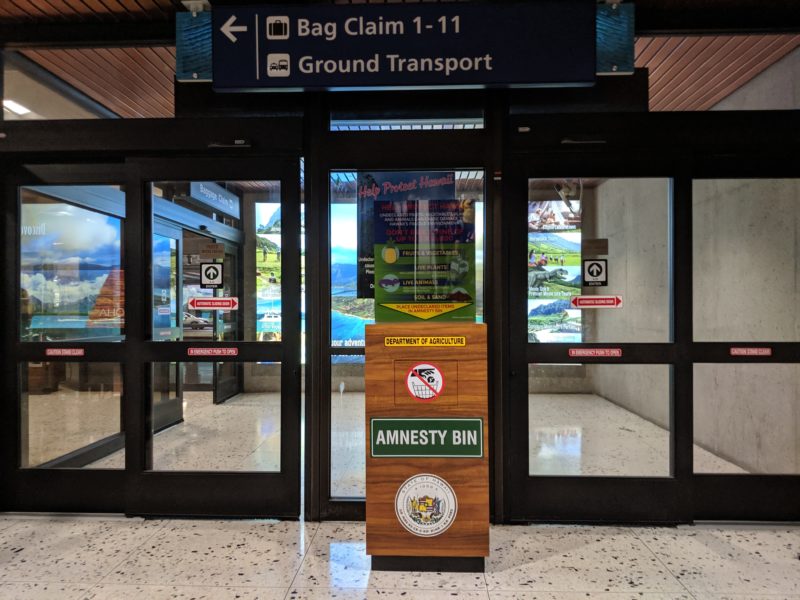 The Real Highlight Of My Boston To Honolulu Flight Was Scott Henton
Usually during pre-landing, flight attendants will drone the same speech about safety, reminders, "we hope you enjoyed this flight", "we were happy to serve you", etc. It's the same speech done across all flights and unfortunately passengers tune these out.
But this time I had flight attendant Scott Henton, whom I learned firsthand does a wonderful mini tour of Oahu as the island comes into view. He took the time to introduce several points of interest on both the left and right sides of the plane, and even recommended activities, beaches and fun things to do in different parts of Oahu.
It was such a small thing on Scott's part, but the value for the passengers was immense. Everyone was looking out the windows and that feeling of raw excitement when you know you're about to touch down in paradise only grew larger.
Mahalo, Scott!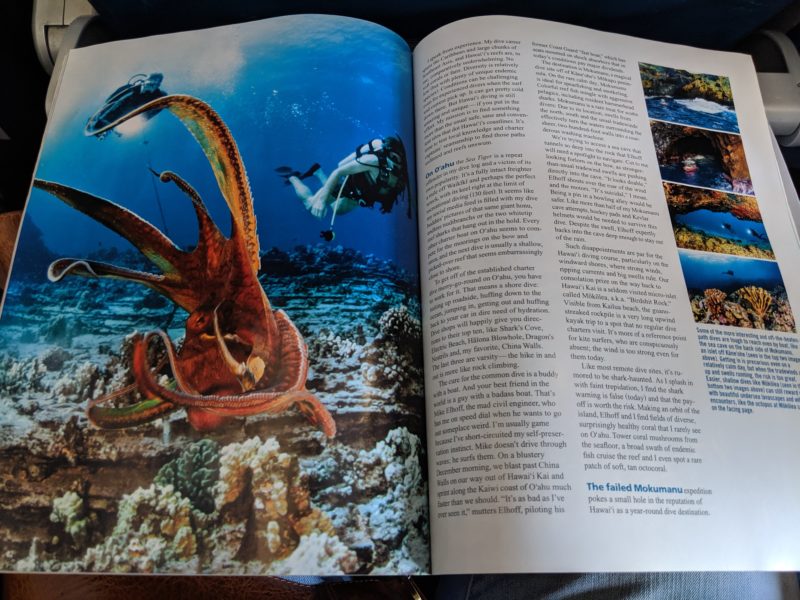 Hawaiian Airlines Meals On The Boston To Honolulu Flight
My receipt might have said snack and breakfast included, but I got a lot more than that! As expected, hot and cold beverages were offered multiple times during the flight and they even had a complementary red or white wine available during the meal. Throughout the flight, there was also a full bar available. I don't drink a lot so I did not take advantage of this.
The first snack with refreshment happened soon after takeoff once everything settled down and the plane had leveled off. We got a Pineapple Coconut Breakfast Bite by Leila Trading Company, which was a granola with coconut and pineapple flavor that was pretty good.
In between meals, we received another snack – this time a more mainstream airplane snack of crackers with filling. These tasted fine and it was good to hear that more were available upon asking.
The meal I didn't like
After that came the meal – I'm not sure which meal this was since our ticket only said snack and breakfast provided. But with a name like Yakisoba with mushroom sauce, it sounded more like lunch or dinner to me.
I was not impressed by the entree – I even forgot to take a picture of it because I just had a bite and decided I didn't want it (and I'm the kind of person that always eats everything!). The noodle entree was tasteless. Everything else was fine – it's hard to mess up cucumber tomato salad and a cookie from Honolulu Cookie Company.
Local Tip: In general, Hawaiian Airlines is known for their in-flight meals because they are inspired by the culinary world in Hawaii and often a big-name chef helps them develop the menu. It's a huge selling point in Hawaiian Airlines' marketing so I'm normally excited to see what I'll get. But this one was a big (and rare) pass for me.
The meal I did like
Towards the end of the flight, I got what I can only assume was breakfast. This came in a cute paper bag with handles (which I didn't need because I gobbled up everything). The menu was simple: chocolate-covered macadamia nuts, a small bag of savory crackers and a ciabatta sandwich.
I can't call this "island inspired" because the ciabatta sandwich had more of a Boston/Italian flavor to me. There was a thin layer of sliced eggplants, green peppers, mayonnaise, feta cheese and Italian seasoning. Although they could have put in a bit more filling (there was too much ciabatta bread in each bite), the taste was delicious and I enjoyed it way more than the previous "island-inspired" yakisoba with mushroom sauce.
Local Tip: As the flight attendants offer drinks, here's a local mix for you that I think you'll enjoy. Guava juice is a local favorite but they don't often serve it in restaurants. Try the guava juice out and if you want to add a kick to it, ask them to mix it with some soda water or Sprite for some refreshing carbonation. It will wake you up!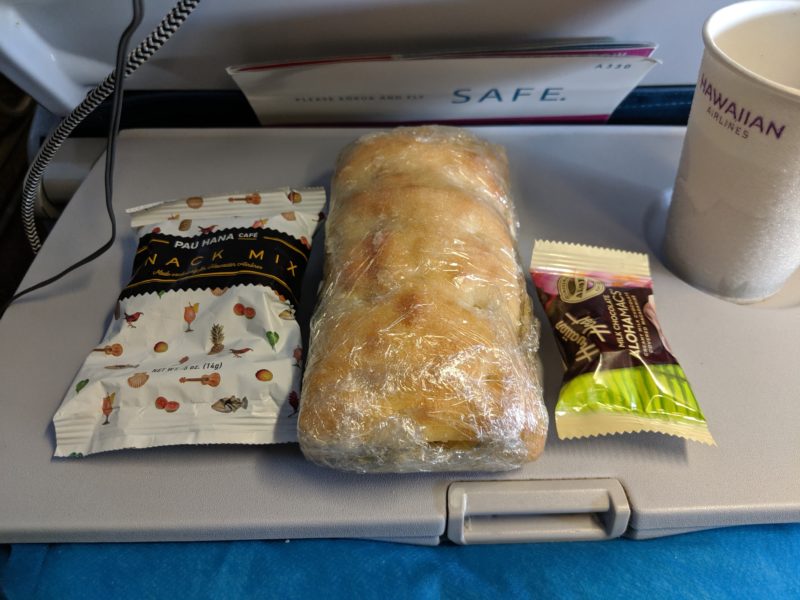 What I Thought About The Hawaiian Airlines Boston To Honolulu Flight
Over my years of travel, I've found that every flight is different even when flying with the same airlines. Sometimes there's a delay that creates havok with your whole schedule. Other times, everything went smoothly and you couldn't ask for more. Take my experience with a grain of salt and at the end of the day if you decide to go with a cheaper flight, or upgrade to first-class, more power to you because it's your vacation.
I enjoyed this flight from Boston to Honolulu. The first meal and unadjustable touchscreen were the biggest disappointments for me, but they weren't dealbreakers. The staff was excellent in service and made sure I had everything I needed. Plus, Scott Henton's tour of Oahu at the end really made booking with Hawaiian Airlines all worth it for me!