This post may contain affiliate links, which means I'll earn a small commission if you purchase something through these links. You won't pay any extra; instead, you'll be helping Aloha With Love to thrive. Thank you! Learn more.
--
If Hawaiian history is your thing, don't hesitate to tour Bishop Museum in Honolulu! Because of Hawaii's unique history, the collection of historical and cultural items they have on display is mind-blowing.
From feathered capes for royalty to ancient octopus-fishing tools, you'll see artifacts from Hawaii's history in superb condition. And there's just so much to see! I promise you won't know where to look first.
There are English and Japanese guides led by docents who really know their stuff. They spin their tales of Hawaiian folklore and mix in historical facts that will enchant you. I found myself following along more than once and I'm sure you will, too!
Aloha with love,
Amy
A BIG MAHALO goes out to the Bishop Museum crew for the wonderful day! I had a fantastic time learning about Hawaiian history and rediscovering this historically important museum that I last visited as a student!
Study Hawaiian History, Culture, Life, Lore, Music, Food And Religion
The Hawaiian Hall – Don't miss the exquisite feather capes
When you first step into the Hawaiian Hall, the first thing I think you'll see is that humongous whale they've got hanging from the ceiling. It spans almost the full length of the hall and really makes you feel teeny-tiny.
There are 3 floors full of displays lining the walls with ancient clothing, tools, game pieces, weapons, religious artifacts, statues, decorations…the list is endless. You'll learn a lot here about the Hawaiian gods and goddesses, which was (and still is) a huge part of Hawaiian culture.
Local Tip: On the 3rd floor hidden in the far corner is where you'll find the royal feather capes belonging to Kamehameha I, II, and III. It's amazing how pristine their condition is considering how old they are. Definitely make your way up here to study these beautiful capes made with thousands of brightly colored feathers.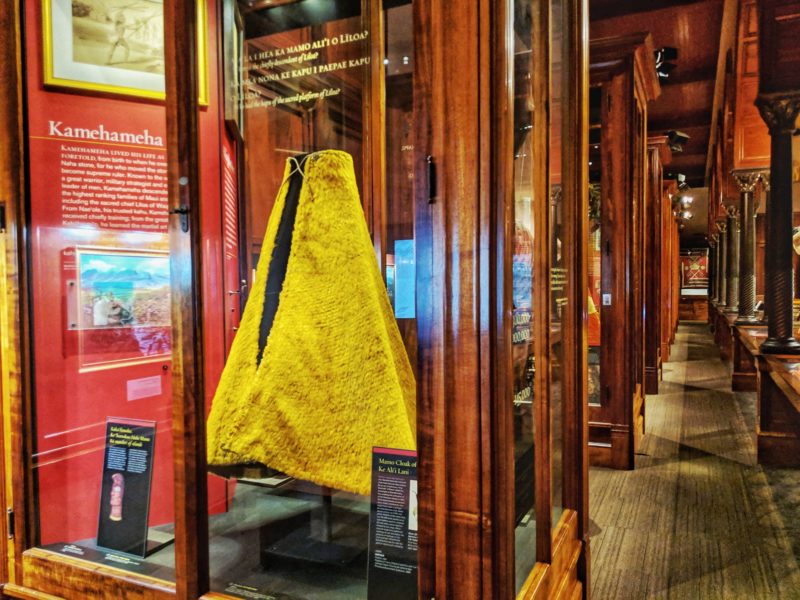 The Pacific Hall, Picture Gallery, and Kahili Room
The Hawaiian Hall may be the largest and the main attraction, but don't let that stop you from visiting the other rooms nearby.
The Pacific Hall will educate you on the wayfarer life and how the many islands of the Pacific came to be inhabited. Polynesians used the stars as their map and compass and the evolution of ships is showcased as islanders spread from island to island.
The Picture Gallery is a neat place to see real documentation on Hawaii and her people. Aside from unique paintings dictating real events, there are also books and items that track Hawaii through the years.
The Kahili Room was small but reveals a very special facet of Hawaii's culture. Feathered sticks were used to signify royalty and status and this is an incredible room to get a look at the Hawaiian royal line.
Local Tip: My favorite royal member has always been Princess Kaiulani. She always seemed like such a pure soul to me and they have a beautiful photo of her in this room.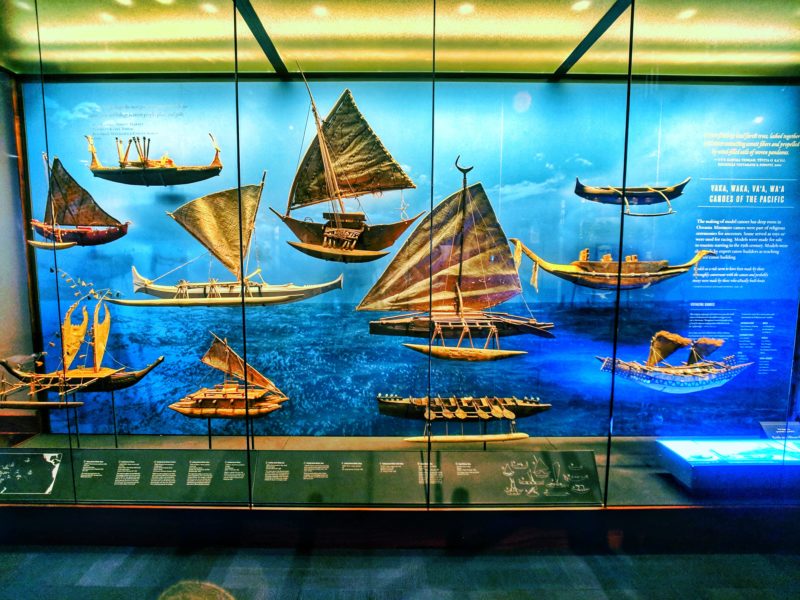 Guides Led By Docents And Audio Tours
Docent-Led Tours
I only saw a couple of English-speaking docents (3 Japanese-speaking docents), but that was more than enough compared to the number of visitors. I followed the guide and stuck with her about 3 times for a few minutes each. Each time I came across her, there was a new group of 2 or 3 people tagging along.
She knew so much about the Hawaiian culture and even shared incredible stories about her personal Hawaiian history. It was neat to hear about Hawaiian beliefs back then and how it affected their lifestyle.
Bring a fully-charged phone for the audio guide
The Hawaiian Hall has a neat audio guide that you can use on your smartphone so make sure it's fully charged. It works by scanning a QR code at the entrance of the Hawaiian Hall or scanning various QR codes scattered about the different displays.
Audio guides are available in 5 languages: English, Hawaiian, Chinese, Japanese and Korean. It's also a good idea to bring some earphones so you can listen without bothering other museum visitors.
Reserve Your Tickets: Check out Hawaii.Activities.com for occasional discounts or go straight to the Bishop Museum website to explore ticket prices.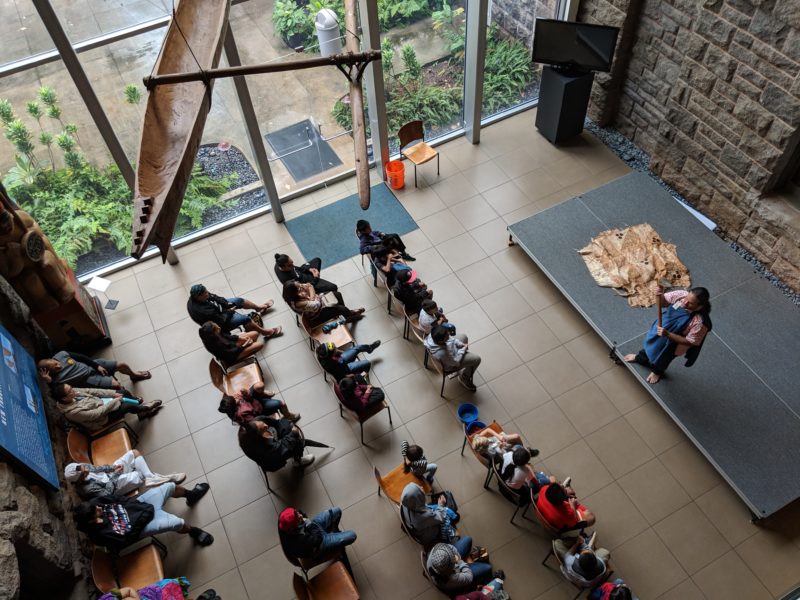 Which Planetarium Show Should You See?
The J. Watumull Planetarium has 4 different shows and I recommend planning your Bishop museum visit around the planetarium showtimes. Each show is 25 minutes long and only costs an additional $2.95.
Planetarium shows for children
In My Backyard is great for kids since the show uses fun music and cartoons to capture attention. It only plays on Wednesdays, Saturdays and Sundays at 10 AM.
Eyes On Island Earth is the other choice for young kids and shows everyday of the week at 11 AM. There's more of a science theme to this one as it's about NASA satellites.
Regular planetarium shows for all ages
Wayfinders is all about the rediscovery of how Hawaiians (and Polynesians) explored the seas with their knowledge of the night sky, ocean currents and even signs of seabirds. There are 2 shows: 11:30 AM and 1:30 PM.
The Hawaiian Sky Tonight is my absolute favorite! If you can schedule your day to see the 12:00 PM or 3:00 PM show, do it. Unlike the other shows which are all recordings, this one is a live show where the presenter will point out constellations and tell traditional Hawaiian stories of their gods and goddesses. You'll even get a free gift!
The Stars Tonight is the only show that's $10, an hour long, and held once a month at night on the first Saturday of each month from 8 – 9 PM.
Local Tip: If you can, line up first so you can grab a seat in the back. You'll have the best view of the dome from the back without straining your neck.
Learn More: Check the most current planetarium showtimes on the Bishop Museum website.
Visiting Exhibitions In The Castle Memorial Hall
The neat thing about the Bishop Museum is that it always has several additional exhibits to view. Some are large and travel overseas while others are private collections within Hawaii.
On this visit to the Bishop Museum, the other big feature was the Rapa Nui (Easter Island) exhibit in the Castle Memorial Building. I love these visiting museums because it gives you a taste of history from other places you may not necessarily ever have the chance to visit.
There was plenty to see and learn, old tools, carved statues, a large 3D replica of a Rapa Nui moai (those stone heads you always see), traditional hand games, weapons and even preserved fish!
There was also a separate room designated for art displays by Rapa Nui artists. One particular piece had quotes written in their native language and a Mom was walking past each one and reading and translating each sentence for her daughter!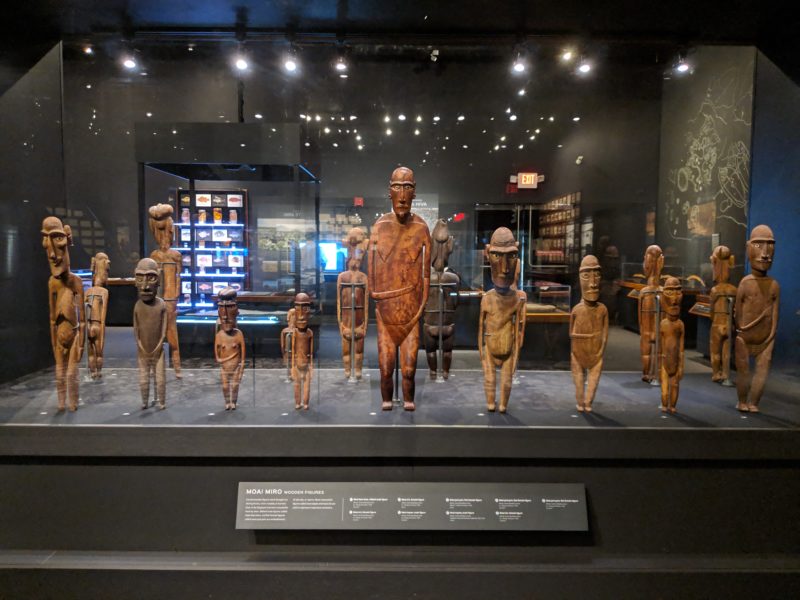 Watch The Lava Demonstration At The Mamiya Science Adventure Center
Surprisingly, the Science Center was one of my favorite buildings. I had put it off for last since it sounded like it was geared toward kids. Apparently I underestimated my childlike curiosity.
There were so many interactive activities in here. The center combines the studies of animals, our oceans, sustainable energy sources and even lava! Don't miss the Lava Melt Demo at 12:00 PM or 2:30 PM. It's even held in the basement inside of the indoor volcano (you can't miss it).
Other fun activities included measuring the effects of natural disasters such as tsunamis or earthquakes, rubbish-turned-art to bring awareness to our plastic pollution in oceans, and creating various wind strengths on a waterfall of shiny sequins.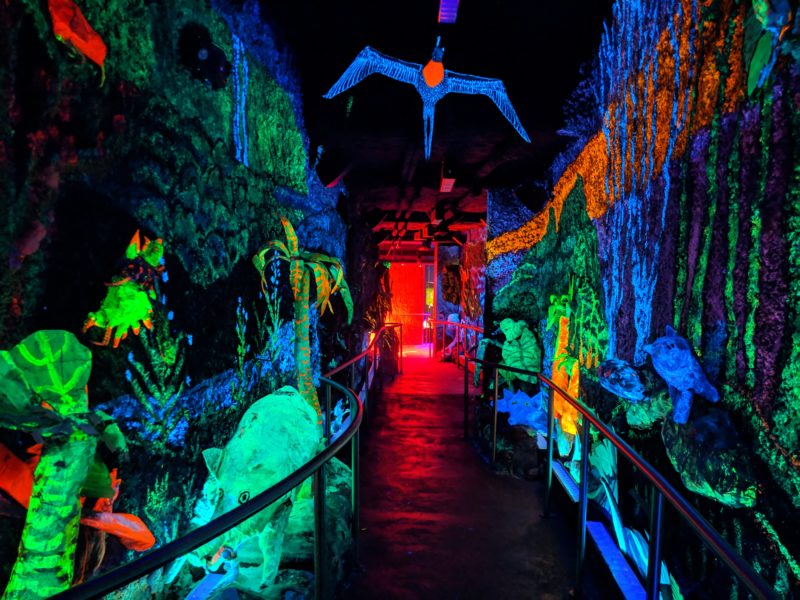 A Bishop Museum Checklist
There are many things to consider when planning a visit to Bishop Museum. Go through this checklist to make the most of your time, money and energy.
Bishop has plenty of parking but it's paid parking at $5 for the whole day. If you're coming with a large group, try to fit in one car to avoid an extra parking fee.
My favorite planetarium shows (at the time of this post) are at 12:00 PM and 3:00 PM while the lava demo is at 12:00 PM and 2:30 PM. I highly recommend both of these shows so plan your visit around them.
Lunch is important! If you're into local eats, there are 2 local shops tucked into a residential street. Matsumoto's Okazuya and Restaurant is a Japanese teishoku (set meal) shop that has plenty of local menu choices. You can also try Gulick Delicatessan for simple bentos or choose from a variety of side dishes and make the perfect plate. No seats at Gulick's though so you'll have to find outdoor seating some place else.
You'll purchase tickets at the souvenir shop so take a look around. Since Bishop Museum has a heavy relationship with the Hawaiian community, you can buy authentic Hawaiian souvenirs and artwork here.
Reserve your Bishop Museum Tickets at Hawaii Activities. Or, visit Aloha With Tours to shop my approved list of Hawaii tours and activities.