This post may contain affiliate links, which means I'll earn a small commission if you purchase something through these links. You won't pay any extra; instead, you'll be helping Aloha With Love to thrive. Thank you! Learn more.
--
If you're headed to Oahu, chances are you'll be making a stop at our North Shore beaches at some point during your vacation. There are turtles to see, skin to burn, waves to ride, and even awesome snorkeling spots to discover.
But not all of Oahu's North Shore beaches are made equal. Some are great for families, young children, beginner snorkelers and our grandparents, but other North Shore beaches can be rocky, dangerous and just not suitable for those planning on safety first.
Here's a list of Oahu's best beaches in the North Shore that I think are perfect for families that may be traveling with young children, teens or older adults.
Aloha with love,
Amy
North Shore dangers: Keep in mind that winter in Hawaii means big waves. This is when the professional surfers come out to play and most likely you'll be a spectator. Make sure you check the wave action in the North Shore before you start planning your beach day.
Where Is Oahu's North Shore?
Most visitors to Hawaii just know that going to Oahu's North Shore somehow involves reaching Haleiwa, a surf town with plenty of knick knack shops and food trucks. But the North Shore actually runs from Kaena Point in the west to just before Turtle Bay Resort. Haleiwa sits right in the middle.
Local Tip: According to Google Maps (see map below), these are Oahu's North Shore boundaries, so we'll use this map for this blog post. Keep in mind that many people refer to all the beaches you see from here on out as the North Shore since they're quite literally on the north shore.
To put it simply, from Haleiwa to Kaena Point in the west is what I refer to as the "empty" side. There are significantly less people, less sand, more rocks and rough waters. Fishermen love this part of the North Shore because tourists are scarce and fish love hiding in the rocks.
From Haleiwa heading north is where all the tourists, surfers and turtle lovers flock to. "North Shore" typically refers to this busy section of Oahu. Traffic can be a headache if you leave at the wrong time and you'll see plenty of cars parked along the side of the road (Kamehameha highway).
Despite the crowd, visitors continue to brave the crowds to stay at one of the gorgeous pockets of sandy beaches that are perfect for spending a day at the beach.
One Of The Best Beaches In Oahu's North Shore Is Aweoweo Beach Park
If I had to choose one beach on the North Shore to take my family, it would have to be Aweoweo beach park. Keep in mind that since I live on Oahu, I always make an effort to avoid traffic and crowds. So this might not be the best beach for a visiting family to Oahu.
Aweoweo beach park is on the empty half of the North Shore, about a 15-minute ride from Haleiwa Town. There's a small grassy park surrounded by small apartment buildings and homes. The bathrooms are clean, there's a basketball court, a few picnic tables and a decent jungle gym. It's a great spot for a family picnic at the beach.
Kids will enjoy this beach as there aren't any sharp rocks to stub their toes against and the water's edge is close to wherever you set up your base on the sand. There's not much to see in terms of snorkeling, but I have swum with turtles more than a few times at this beach.
Local Tip: Besides a friendly neighborhood, there's not much else in the area. If you plan to spend a beach day here, you'll need to bring your own food and drinks.
Book A Tour: Horseback Riding Tours On Oahu's North Shore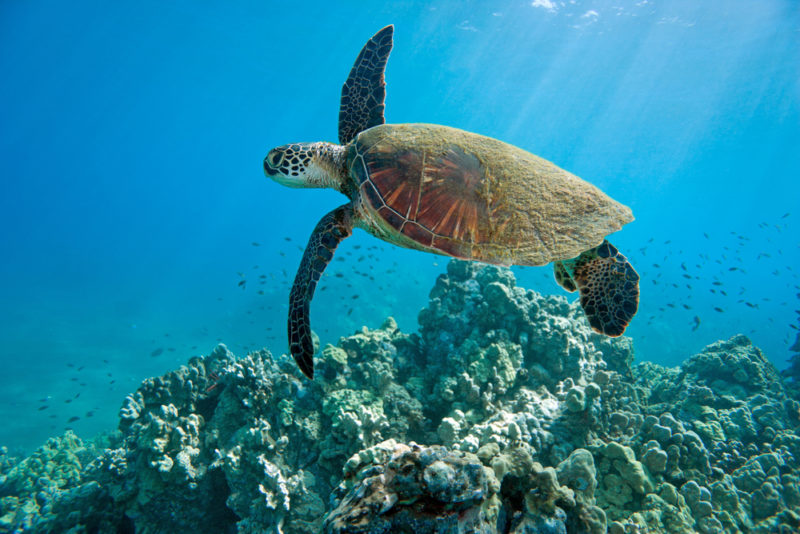 Waimea Bay Is Best For A Day At The Beach
Waimea bay is well known for being one of the best beaches in Oahu's North Shore. A smooth, sandy beach, a rock to jump off of, flat waters during the summer months and who can miss that gorgeous view! The bay is naturally protected with just enough wave action to keep it interesting for kids.
Local Tip: There's also a place on the far left (when facing Waimea bay) where you can practice your bouldering. My friend who's a bouldering and rock climbing enthusiast spent a couple hours going up, down and sideways and had himself a grand time practicing holds and maneuvering his way over each crevice.
"The Eddie" surfing competition is held here when waves reach a minimum of 20 feet in the winter. It's a spectacular spot to watch seasoned surfers have a go at huge waves during the winter swells, but expect a crowd any day of the year. There is a parking lot, but despite its recent renovation, there still aren't enough spaces for every visitor. A few people get lucky and park on the side of the road where there's space.
Nevertheless, I do recommend Waimea bay as it is one of the best beaches in Oahu's North Shore. There's a lifeguard to keep watch, the occasional food or ice cream truck visits, and since parking is limited, there's plenty of sand for everyone to share without feeling squished.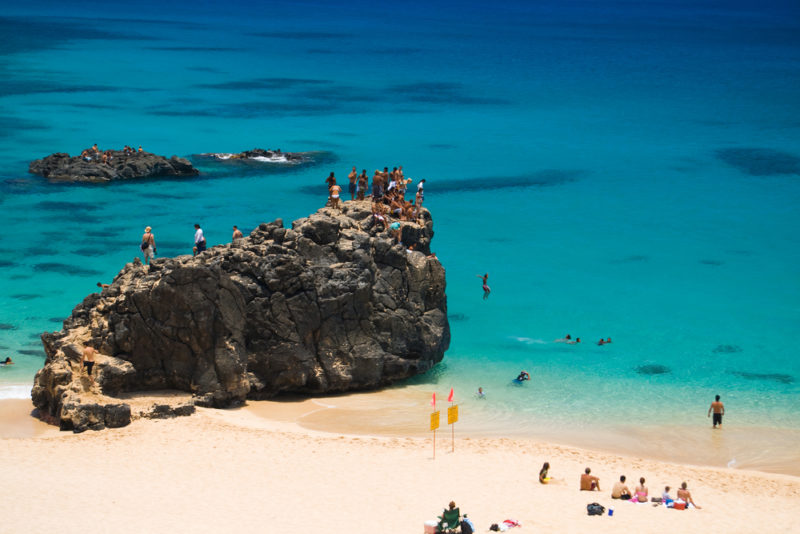 Turtle Bay Resort's Kuilima Cove Is Great For New Snorkelers
If you've got beginner snorkelers in your crew (including young kids), this is one of the best beaches in Oahu's North Shore for learning how to snorkel. Since the rocks block the wind and waves, this is a great place to check out when waters are rough. Snorkeling at Kuilima Cove is an easy, but fun underwater experience. You can snorkel the entire cove, but the best part is the resort-side in my opinion.
The Turtle Bay Resort is actually just outside the North Shore area when you look at the map, but it's just too good of a beach to not include in this list. Since Kuilima Cove is right next to Turtle Bay Resort, the crowd is usually on the lighter side as visitors tend to bypass this beach while most hotel guests are out exploring Oahu.
To access the beach, drive all the way in and park your car in the parking lot. Kuilima Cove is straight ahead before you get to the Turtle Bay Resort entrance. You can also consider having a meal here, too if you haven't decided on lunch or dinner yet.
Local Tip: Despite the name, I haven't seen a turtle here before although I've heard of the occasional snorkeler running into them.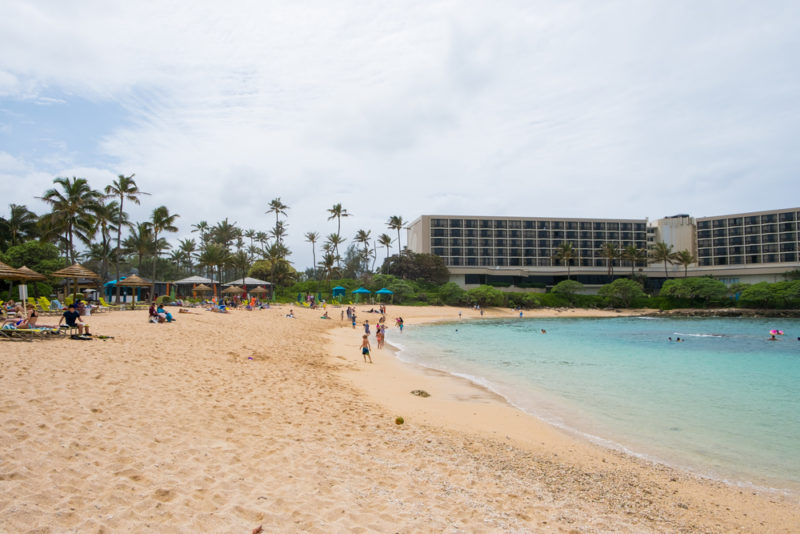 Laniakea Is One Of The Best Beaches in Oahu's North Shore For Sea Turtles
If you talk to visitors headed to the North Shore, a lot of them refer to Laniakea beach as "the turtle beach." Sea turtles love to pull up onto this beach and many come so frequently that they are instantly recognizable to volunteers monitoring the beach and resting turtles.
Laniakea beach has a small sandy area where most of the turtles congregate. The volunteers are usually here roping off the area around the turtles so that onlookers don't get too close. They'll be happy to explain each individual turtle to you and their unique markings so stick close and ask questions.
The rest of Laniakea beach is lined with flat rock with crashing waves. I'd recommend walking along this stretch of rocky beach because you'll probably see more turtles wading in the surf and even parking themselves on top of the rock to sun themselves.
Local Tip: Driving through Haleiwa and passing by Laniakea beach is where you'll run into the most traffic in the North Shore. Plan your drive early because parking can also be tricky.
Book A Tour: Small Group Jeep Tour With Local Guide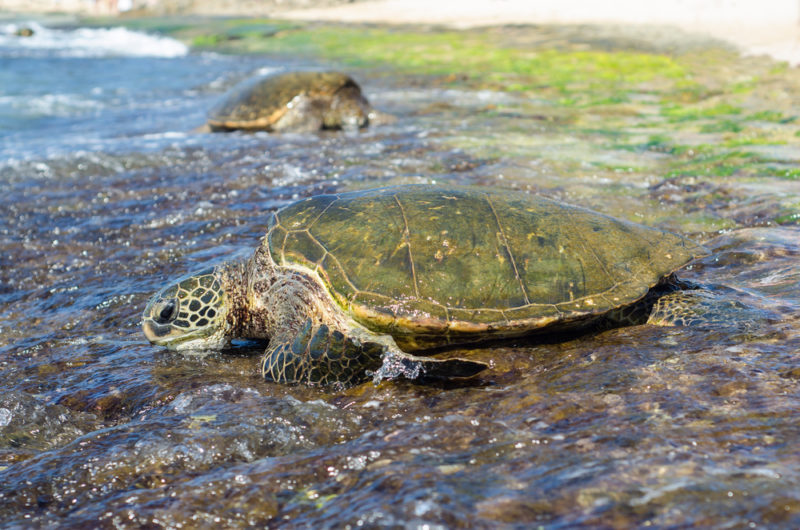 Shark's Cove Is A Gem For Snorkeling
This is an advanced snorkeling area so I recommend it for families with older children who are good swimmers (be safe and always buddy up). If you've got young children though, visit the huge tidepool area next door. Small rock skippers, fish, hermit crabs and pipipi (snails) will delight your children. Just make sure they have good beach shoes.
For those looking to get some snorkeling done, Shark's Cove is a winner. It's one of the best beaches in Oahu's North Shore to see colorful and vibrant fish dance and sway so close to shore. The fun begins as soon as you step into the water and sometimes the big fish will catch you by surprise at how close they come to shore.
Local Tip: If you're looking for turtles, they're often seen straight ahead swimming along the other side of the cove wall. Just hug that wall and keep your eyes open!
Shark's Cove has an open lot for parking and you can usually find a spot if you arrive before 10 AM. There are bathrooms and showers to rinse off at and right across the street is a snorkel rental shop with everything you need if you don't have snorkel gear. The staff (it's usually just 1 person) are always super helpful and will answer your questions and give you any tips about snorkeling in Shark's Cove.
It may be difficult for some to get down to Shark's Cove entrance. From the parking lot, there's a pretty steep trail/rocks to walk down but it won't take you more than a minute. The beach itself has more rocks than sand, so save your tanning for someplace else. Perhaps Sunset beach below?
Local Tip: No, it's not called Shark's Cove because there are sharks here. Instead, the cove (supposedly) looks like a shark's fin, hence the name.
Book A Tour: Hawaii Shark Swim Adventure Tour From Haleiwa, North Shore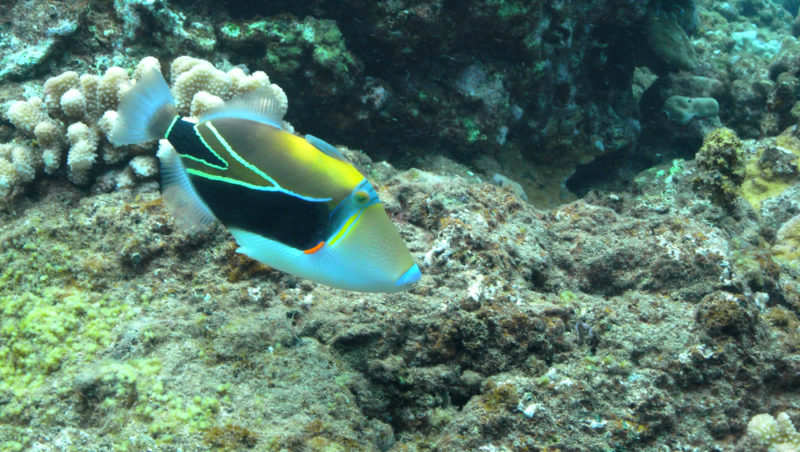 Sunset Beach Is A Good Beach To End Your North Shore Visit With
When you think of sandy beaches with rolling waves, Sunset beach is what probably comes to mind. It's one of the best beaches in Oahu's North Shore for walking and lying in the sand; there's a wide sandy shore and as its name implies, it's an amazing spot to view the sunset from.
During the summer the waves are calm and gentle, but in the winter, Sunset beach turns into a surf spot and signs posted along the sand warn visitors of high surf and caution against swimming.
Across the street are bathrooms, showers and extra parking, but be careful crossing the street as a lot of people like to speed up along Kamehameha highway. Most drivers are tourists unfamiliar with impatient people darting across the road when they see a chance.
Book A Tour: Circle Island Tour With Waimea Waterfalls And Fumi's Shrimp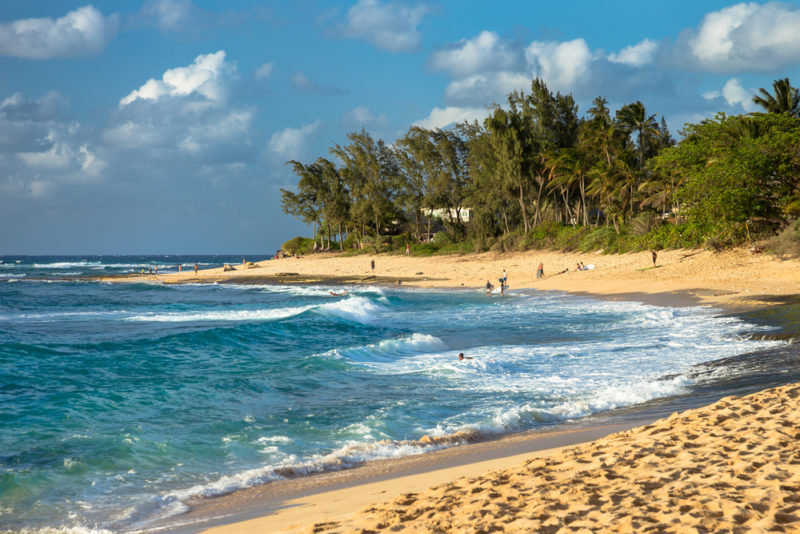 Haleiwa Alii Beach Park Is Where I Check For Turtles Before Heading To Laniakea
Here's a beach that many of you will go crazy for! Instead of heading right into the Kamehameha highway traffic from Haleiwa to Laniakea, I instead veer off from Haleiwa Town and head to Haleiwa Alii 21.592811beach park, right past the Haleiwa harbor. On the far side of the bathrooms (left of the bathrooms when facing the ocean) is a calm stretch of water and sand where turtles like to rest.
I've had the most luck before sunset. I'm usually with a friend and we'll pick up some dinner to go from Haleiwa Town and eat it on this beach as turtles push themselves up onto shore. It's a bit more fun to watch since they're actually moving around at this time and you can tell they're used to the people walking around.
Local Tip: I've done a lot of fishing as a kid – my Dad would take my brother and I to this protected cove and we'd go far out on a low tide whipping for fish. There are a TON of turtles sleeping in the shallows and it's easy to run into them because they look like huge rocks. Definitely one of the best beaches in Oahu's North Shore for seeing turtles!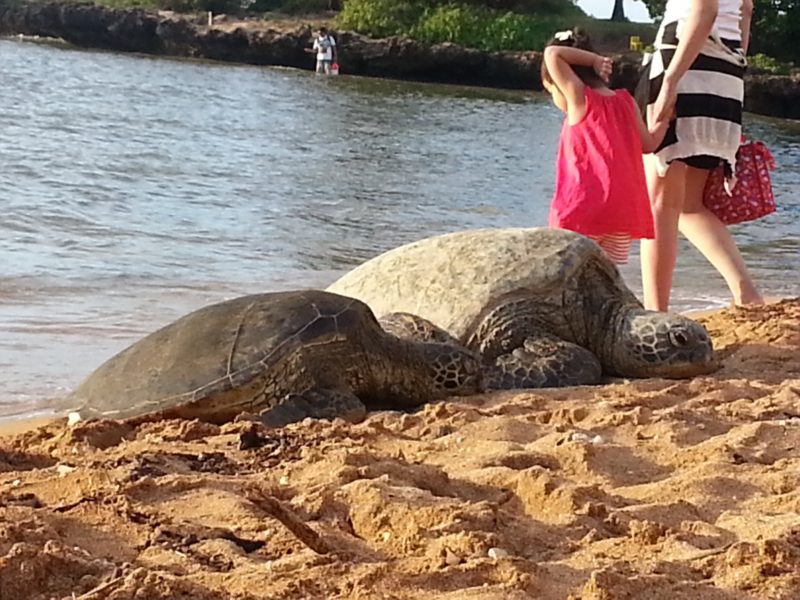 Find Turtles And A Sandy Quiet Beach At Papailoa Beach
I once ran into a visiting couple twice in a day first while hiking to Kaena Point and then at Kono's North Shore for lunch. They asked about "the turtle beach" and I directed them to Papailoa first since I knew traffic was going to be horrendous during this time.
What's neat about this particular beach is that it looks like a residential street so most visitors pass it by without a second thought. Turn left onto the street, drive for a few seconds and you'll come across a narrow beach access walkway between 2 large houses. Park in the empty lot and take out your valuables and lock the doors to deter theft.
As you come out to the beach, the left side will be rocky with small tidepools and nooks and crannies to explore. Walk this way to see if you can find any turtles as they like to sun themselves in this area. Head to the right for a huge sandy beach that goes on for ages!
Local Tip: When you first walk through the beach access, the house on the right is pro surfer Kelly Slater's house. All the houses here look crazy expensive, so it's neat to see the design and magnificence of each one.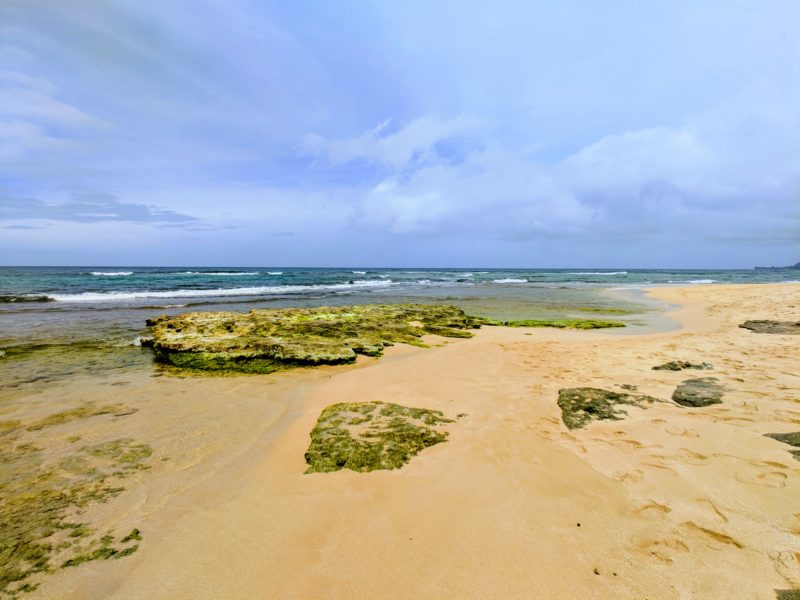 Which One Of The Best Beaches In Oahu's North Shore Will You Visit?
There are so many more beaches and stops you can make along Oahu's North Shore, but most visitors don't have the time (if only vacations weren't so short!). I do want you to squeeze in a beach or two though and I hope my personal selection of North Shore beaches have narrowed it down for you.
If you enjoyed this post about the best beaches in Oahu's North Shore and plan to visit Hawaii someday, sign up below to get my local Hawaii tips. It's free and I can't wait to help you plan the perfect Hawaii vacation.