This post may contain affiliate links, which means I'll earn a small commission if you purchase something through these links. You won't pay any extra; instead, you'll be helping Aloha With Love to thrive. Thank you! Learn more.
--
It's that time of year again when homemade treats fill bellies, ugly sweaters are taken out from closets, and families return home for reunions and get-togethers.
I may have spent many Christmases abroad, but a winter in Hawaii is most special to my heart. The morning air is crisp and you'll need a light sweater on most days, which is so much better than burning up under a hot sun, high humidity or even worse – vog.
Our lack of snow means getting creative in our decorations. Colorful lights and lanterns line downtown Honolulu and Iolani Palace, while museums, palaces and royal summer homes are lit up for special night events. I particular enjoy seeing neighborhood monkeypod, banyan and palm trees wrapped in Christmas lights from root to branch.
For those planning a winter in Hawaii vacation – this one's for you!
Aloha with love,
Amy
Just How Cold Is Winter In Hawaii?
The weather usually begins to noticeably cool down in October. Instead of just a t-shirt and shorts, I'll start wearing thin, long-sleeved shirts on the occasional cool night. By the time November arrives, I'm closing my bedroom window because nights will dip down to the mid and upper 60s (F) on Oahu.
December sees more rainy days, but don't scratch December in Hawaii off your list yet. Going to the beach in a skimpy bikini and not freezing to the bone is possible because the sun is still hot and burning during the day!
Our "cold" weather continues thru January and by March, we're beginning to warm back up and see signs of spring.
Local Tip: Typically, I use a 15-degree rule for most of Hawaii. If the high is 80 degrees during the day, you can usually expect the night to be around 15 degrees less than that. Of course, this doesn't work for those planning a trip to the top of Haleakala or the Mauna Kea observatory.
Island Temperatures In December
Oahu: Low 80s/High 60s (F). Expect about 5 – 10 days of heavy rain interspersed throughout the month. It's cool enough to wear jeans all day. A t-shirt is fine for the afternoon, but you may need a light jacket for those colder nights and rainy days.
Maui: Low 70s/Mid 50s (F). Maui tends to be a few degrees cooler than Oahu. There are no concrete jungles to collect heat or block tradewinds. If you're headed to Haleakala, be aware that these temperatures will not apply as you'll be high up.
Big Island, Kona: Low 80s/High 60s (F). The Kona side of the Big Island is where you'll find volcanic activity, geothermal energy sites and desert-like environments. It's hot and dry and will probably rain only once or twice during the month.
Big Island, Hilo: Low 80s/Mid 60s (F). If Kona is known for being hot, Hilo is known for being green, lush and wet. It rains more than half the month (as it does for most of the year), but it's easy to see why visitors continue to come: the evergreen jungles, gushing waterfalls, black sand beaches and Kona's volcanic activity are delightful.
Kauai: Low 70s/Mid 50s (F). Like Hilo, Kauai is another island that draws so much rain that it makes the list for the world's top ten wettest places on Earth. Dress for warmth and rain since most of Kauai's attractions are outdoor activities.
Lanai: Mid 70s/Low 60s (F). Lanai is pretty stable wherever you are as the island is relatively small and further exploration requires off-roading. The island is marketed to those interested in resort life though so you might find yourself enjoying the view from inside the Four Seasons.
Molokai: High 70s/Mid 60s (F). Most visitors exploring Molokai will stay on the main roads and beaches so there won't be too much fluctuation as you drive around.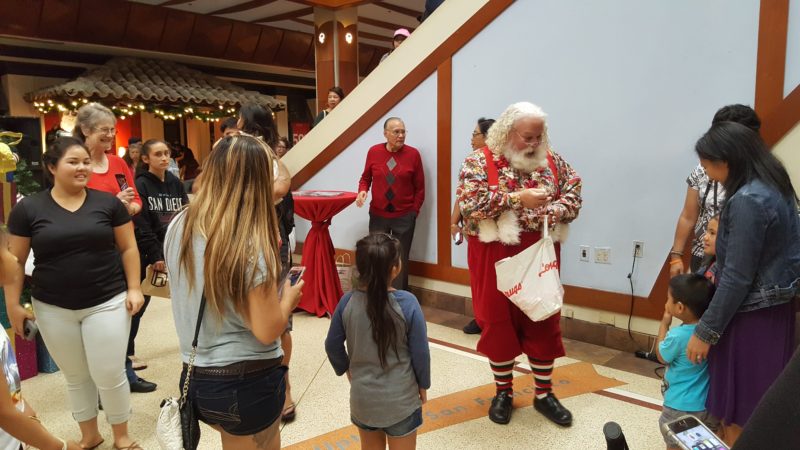 Things To Do When Winter Comes To Hawaii
With the weather demanding toasty toes and the holiday season quickly approaching, there is plenty to do and see on the islands. Some of my favorite events to look forward to are:
Big winter swells and surfing competitions hitting our shores. Oahu's North Shore and Maui's Peahi (AKA Jaws) are the most well-known areas for monster waves and attract professional surfers from around the globe. Find a cliff or viewpoint and see these gigantic waves as you drive past.
Humpback whales visit our warm waters from November thru April and you can see these magnificent creatures beaches, cruises, snorkel outings and even on hikes near the ocean.
The Sheraton Waikiki is worth a visit because of their annual Sandsational Sand Sculpting event. By mid-November, there's usually 1 or 2 sculptures that are finished and these amazing (and big!) creations will line the entrance to the hotel.
Christmas lights galore! From fully decked out neighborhoods to the Honolulu City Lights tours, you can visit and stroll among trees, santas, elves, colorful lights and fabulous decorations.
Book A Ride: Seasonal Honolulu City Lights From Waikiki
Watch Santa arrive in Hawaii by outrigger canoe. Check with your hotel (usually oceanside hotels on Oahu or Maui) to see if they've got something similar planned. Along with Santa and his paddlers, there is often a small celebration of hula and activities for kids as it is the children who scream with delight when they see Santa riding in on a wave.
Cross off snowboarding in Hawaii from your bucketlist if you plan on visiting the Big Island in December. Local snowboarders keep an eye out for snowfall on Mauna Kea and when conditions are right, they hit the slopes.
You'll be surprised to know that 4 islands have Christmas tree farms – Oahu, Maui, Big Island and Kauai (808-332-6300). Have a visit, smell that wonderful pine and enjoy the mountain and farm views. Go early!
Malls are a popular place to find month-long holiday events. Ala Moana Center is a short walk or bus ride away from Waikiki and popular among Oahu visitors. The decorations are lovely!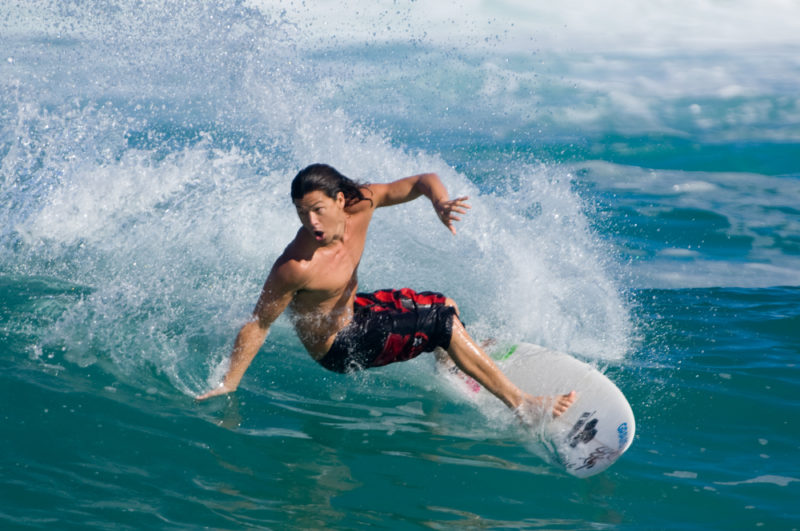 Popular Winter Hawaii Events
Fireworks oceanside of Ala Moana Center and the Waikiki area to celebrate the New Year's. Tune into the radio since the music syncs up with the explosions.
The Sony Open in Hawaii happens in January for all you golf fans!
Take a stroll and enjoy Kauai's Festival Lights. It's free, fun for the kids and plenty to see.
A lot of famous local Hawaiian singers put on winter concerts during this time. In addition to their regular lineup, they'll also sing their Christmas songs so it's a good time to see a show.
February is my favorite month to go whale watching and a lot of locals agree with me. You'll find plenty of whale events and festivals during January and February, particularly on Maui and the Big Island.
Chinese New Year festivals are always happening in Chinese communities. The dates change based on the lunar calendar.
A few of you will be interested to know about Molokai's week-long festival: Ka Molokai Makahiki. The festival brings traditional Hawaiian culture to the forefront with games, sports, dancing and music.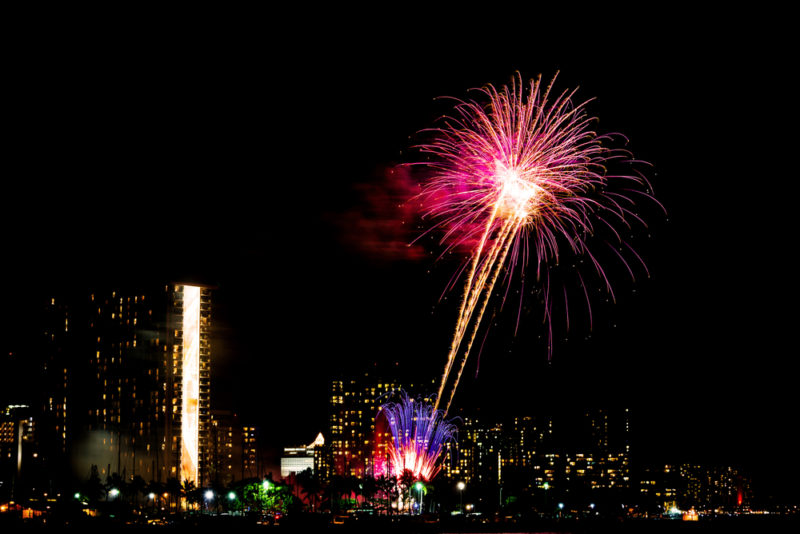 Traveling Tips During Winters In Hawaii
Officially, Hawaii's peak season is from December thru August. Kids have off for Christmas, spring and summer break so there are plenty of children around especially in hotels.
To avoid the mad rush of tourists headed to Hawaii for Christmas break, come in the beginning of December – just before the peak season begins. Hotel and flight prices will also be more affordable since they'll shoot up once demand starts to go up.
If you haven't heard by now, traffic in Oahu can be horrendous if you're not planning around it. But it's awesome when school is out. To find out if traffic will be a part of your plans, check the University of Hawaii at Manoa school schedule. If there's no school, no worries!
Have I Convinced You Into A Winter Wonderland In Hawaii?
There are so many good reasons to come to Hawaii (and so many awesome reasons to visit during the winter!). Personally, I always tell my friends to visit me during the holidays. There are a ton of events and festivals to enjoy and the best part are the cooler days. There's just no way to describe the relief I feel whenever our hot, humid summer starts cooling off.
If you enjoyed this post about traveling to Hawaii in the winter and plan to visit Hawaii someday, sign up below to get my local Hawaii tips. It's free and I can't wait to help you plan the perfect Hawaii vacation.