This post may contain affiliate links, which means I'll earn a small commission if you purchase something through these links. You won't pay any extra; instead, you'll be helping Aloha With Love to thrive. Thank you! Learn more.
--
Courtney Liu from Mana Up Hawaii reached out and invited me to tour their Waikiki store. I had a lot of fun learning about all the cool local entrepreneurs Mana Up Hawaii has helped over the past several years and it was neat to see the creative ideas and products these amazing people have come up with! If you happen to be walking around shopping Waikiki, I highly suggest visiting House of Mana Up because you'll be supporting local businesses in Hawaii and will take home extremely unique souvenirs home.
Aloha with love,
Amy
About House of Mana Up
House of Mana Up is the physical gift store for Mana Up Hawaii – a business accelerator that helps local entrepreneurs set up their businesses for success. If accepted into their program, these lucky entrepreneurs will receive networking opportunities, local resources, and tools that will help them scale, sell, market, and achieve great success.
After graduating from Mana Up Hawaii's "cohort", your products can be sold at the Waikiki House of Mana Up store where there's plenty of foot traffic and shoppers ready to buy. It's an opportunity that most local entrepreneurs can only dream about because real estate on the Waikiki drag is expensive.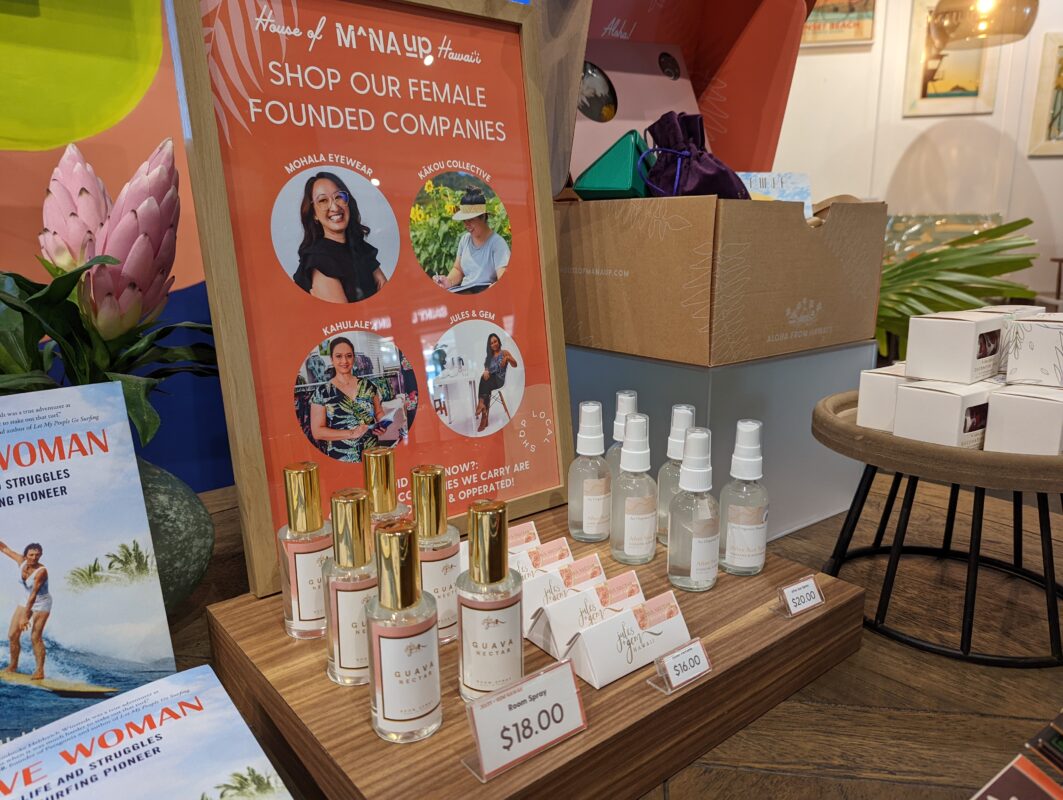 What I love about House of Mana Up is how unique all of these products are. When I travel, I'm always shopping for truly unique souvenirs and products from that specific area. But finding exceptional and locally made products is difficult. It's hard to tell the difference between what's good and what isn't and you don't want to fall into a tourist trap.
In this case Mana Up Hawaii has already done the vetting process for you. Their students have to apply to the cohort, survive a tough vetting process, and graduate. The creations being sold at House of Mana Up are truly at their best and you can feel confident that your money is supporting local for the right cause and reason.
Inside House of Mana Up
There's a wide range of items being sold at House of Mana Up. One of my favorites were these unique aloha shirts from Western Aloha in Kailua-Kona on the Big Island. The paniolo (Hawaiian cowboy) style is still strong there so it was refreshing to see this local and down-to-Earth kind of shirt design especially in Waikiki.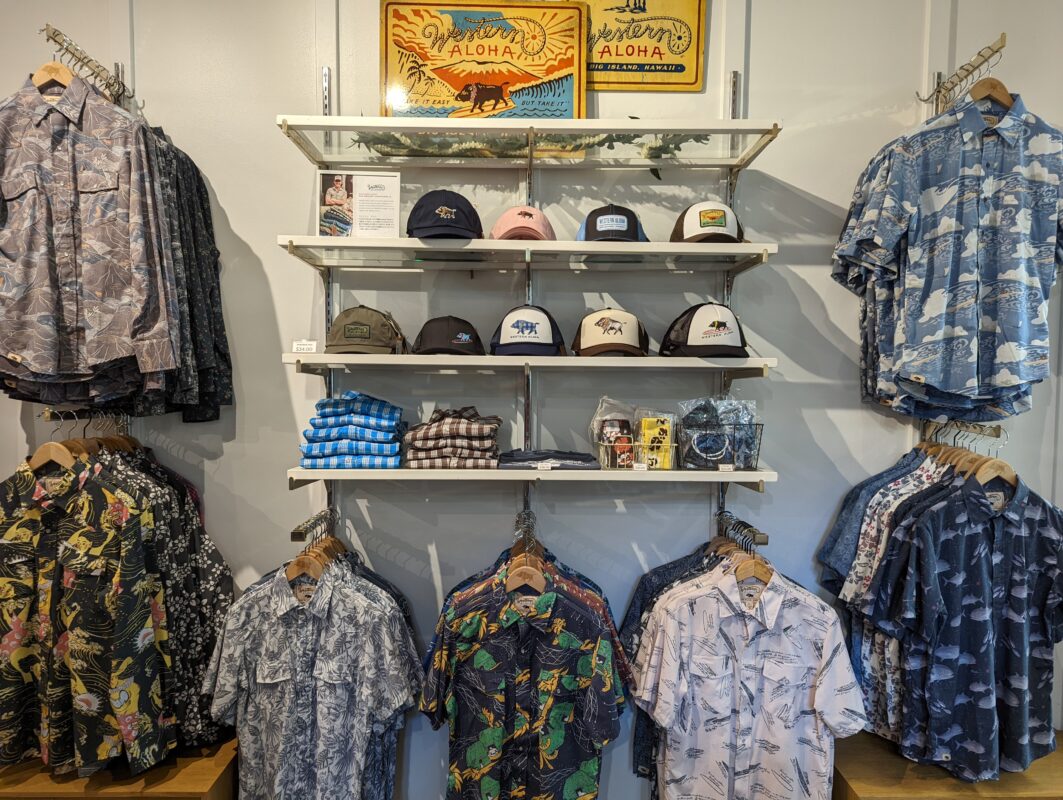 Near every display was a small sign with a picture of the local entrepreneur and some details on their life, inspiration, business and mission. Kristen Reyno caught my eye as a local photographer who forages for local plants and flowers to create her unique designs that resemble vintage Hawaiian quilts. Her photos are sold at House of Mana Up and they would make a great addition to any empty wall in your home.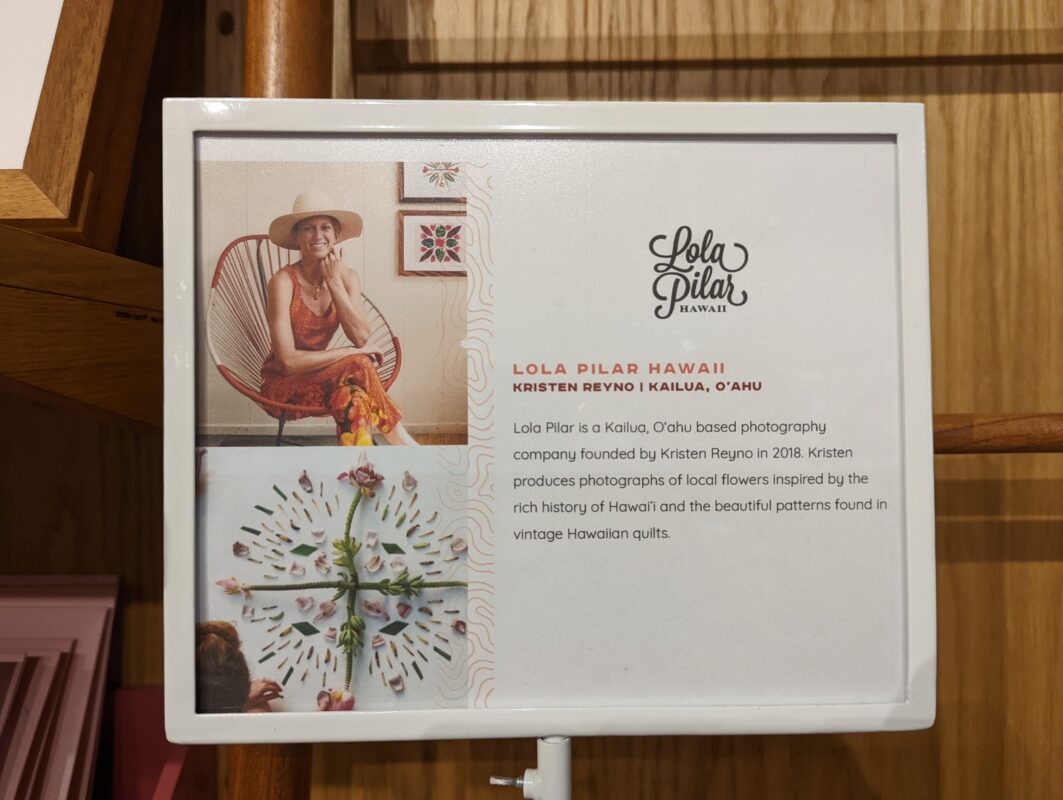 Don't miss out
I was told that the food area was one of the most popular places to shop and I could see why. Snacks and condiments from Hawaii are a great gift to bring home since you can share the local flavors with friends and family at home. There are a bunch of things to try and most of these aren't sold locally in grocery stores. Discovering these yourself would be difficult – you'd have had to find the farm or small store on your own, which is not so easy to do since Hawaii is made up of several islands. It's fantastic that you can shop for them right in Waikiki where most travelers eventually end up.
Another area I think many people would enjoy is their new display of children's toys, books and clothing. There's a big local design influence here and I think you wouldn't be able to find anything like these on Amazon. My favorite was this Keiki Kaukau set featuring local foods that I grew up with. I got a kick out of the Kikkoman-shaped shoyu bottle and manapua and I can actually envision more adults buying it for themselves rather than their children!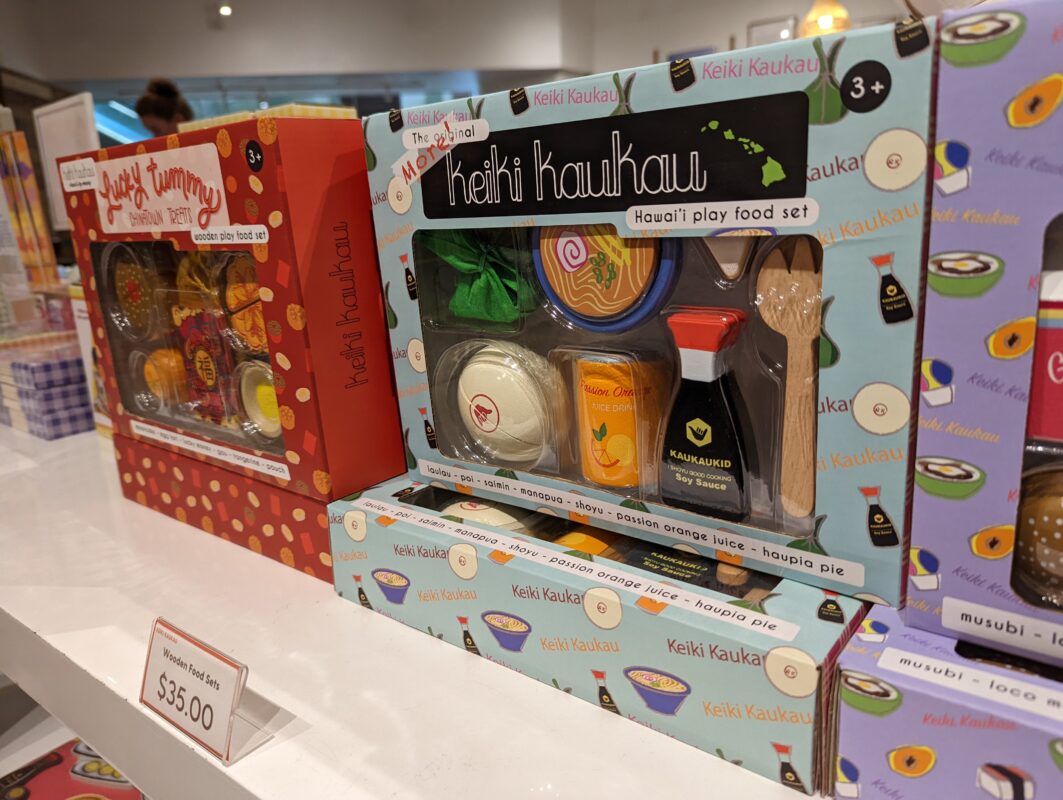 My thoughts on House of Mana Up
What Mana Up Hawaii is doing is fantastic. Local businesses need more support because frankly there aren't enough jobs here in Hawaii to sustain the local people and live comfortably. With a lack of job opportunities here, an easier barrier to entrance for local entrepreneurs is the next best thing to encourage creativity and confidence that going into business yourself can be done.
The store itself is also a great opportunity for visitors to Hawaii to shop with confidence and know that they're getting something truly unique and valuable for their money. A shop in Waikiki is any retail store owner's dream but rent is a killer so to have a beautiful store selling your unique and local product is a big deal.