This post may contain affiliate links, which means I'll earn a small commission if you purchase something through these links. You won't pay any extra; instead, you'll be helping Aloha With Love to thrive. Thank you! Learn more.
--
This year, I decided to celebrate my birthday by trying out an escape room. I've never done one before but they've always sounded interesting to me. I love puzzles and figuring out things so a life-sized puzzle sounded like a lot of fun! I grabbed my two friends (Sarah and Monica) for this adventure and the three of us attempted to escape from one of their rooms in 60 minutes.
TLDR: We didn't escape, but we had fun!
Aloha with love,
Amy
About Breakout Waikiki
Breakout Waikiki
227 Lewers Street, Suite 112
Honolulu, HI 96815
Located in Waikiki, the number one worry I had was parking. It's always such a hassle especially when you live here because you don't have access to convenient hotel parking. But I booked the reservation anyway and after I received the confirmation email, I learned that we could park at the Embassy Suites (about a block away) using their valet service. For four hours it would cost us $6 which is a steal in my opinion.
Parking was fast and it only took us about 5 minutes to walk to Breakout Waikiki. The entrance is small and not on the main road so keep a lookout for the sign. You'll sign a waiver online and they do have a bathroom available inside for you to use. You won't want to waste any time using the bathroom during your 60 minutes so be sure to go before you enter your escape room.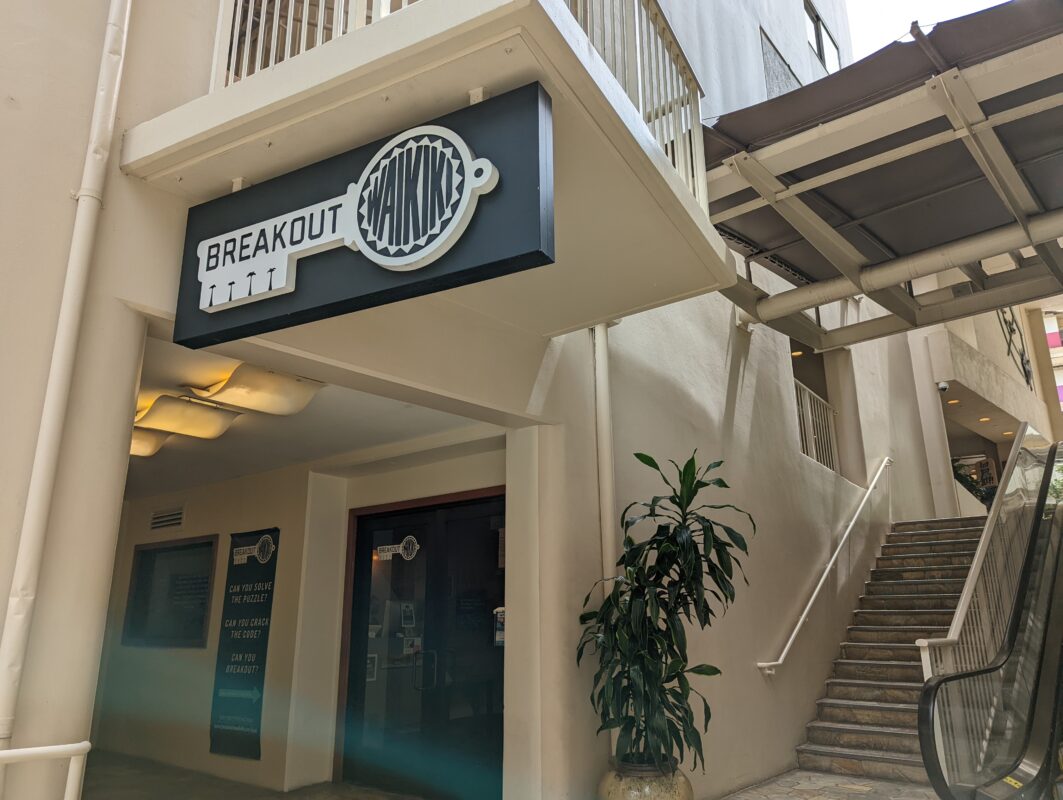 Escaping
Our gamemaster was fun and easy to talk to and he answered any questions we had. The rules were fairly simple:
The clock would begin after we watched the TV for a short storyline on what we were escaping from.
We had 60 minutes to escape.
Clues would appear on the TV signaled by a bell sound. (We had a lot of bell sounds.)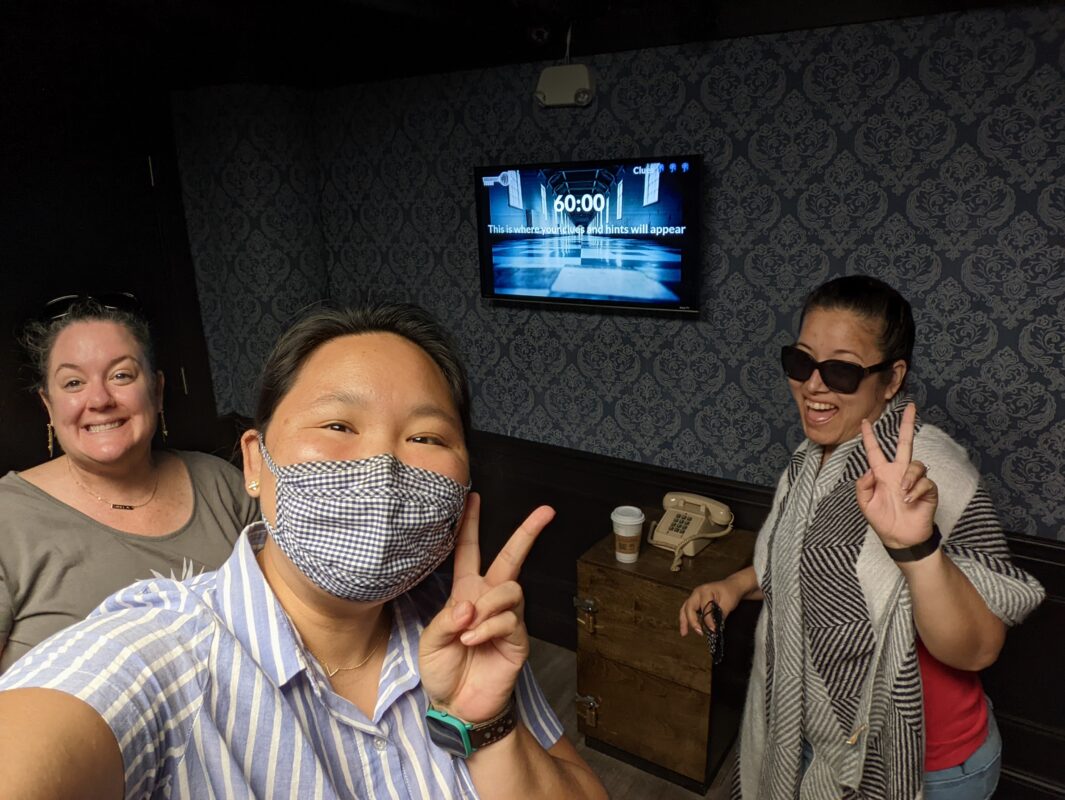 Our first escape room experience
I'd never tried an escape room before, but I've always been interested in role-playing games and escape rooms sound like a life-sized RPG to me. My friends had also never done an escape room before, but unlike me they hadn't had an interest in trying it out. In fact, one of my friends told me after the game that she initially believed it would not be fun at all (she couldn't see the point in paying money to be locked up on purpose). But after 60 minutes we all were laughing and our bond of friendship had survived the stress of the game.
The three of us are very different when it comes to escape rooms. My friend who was not looking forward to it was actually the best at escaping. Her brain moves at 100 mph and she catches on quick. My other friend zones out easily so we put her in charge of writing everything down so we could refer to it later. I'm between the two – I enjoy solving puzzles, but I'd rather take my time and I've been known to zone out when the puzzle gets too difficult for me.
After this experience, I think it's important to have at least 3 people in your group to do an escape room especially if it's your first time. One person will inevitably start leading, two people will inevitable bounce ideas back and forth, and the third person can look at everything from a wide perspective and explore other possible routes.
About Patient 57
I'm going to avoid writing any big spoilers because if you decide to try this game out, I want it to be fun and exciting for you. So this is my experience about this escape room as a newbie escapee. The blurb about Patient 57 on the Breakout Waikiki website says:
For years you've been subject to illegal tests designed for one purpose: to perfect the art of mind control. But now, amidst an emergency evacuation, you have the opportunity to break free.
This was my first escape room experience and I wondered if it would be just one room, locks, sit-down puzzles or if we'd have to physically move things around. I was pleasantly surprised when the one room we were in slowly became messier as we discovered clues and larger as we found hidden rooms! Yes, there were a lot of locks, but we had to be creative with solving each puzzle to advance to the next "level".
Although we did not escape, according to our gamemaster, Patient 57 was a mid-level difficulty escape room. I think it would have been better to start off with an easier escape room for our first attempt, but this wasn't bad at all – we still had plenty of laughs which is what you're really paying for at the end of the day. If Patient 57 is your first escape room, I suggest having at least 3 people, but 4 or more is what I'd recommend.
About our gamemaster
The enjoyment of the escape room greatly depends on the gamemaster and I think ours did a fantastic job. He caught on early that we didn't have a clue of what we were doing and needed more than several hints from him. We practically developed a dialogue with him via the TV monitor because more than once he'd clue us in and we'd thank him out loud and laugh. Our most memorable conversation with him was:
Us: That code is wrong. It doesn't work for this lock.
TV monitor: Bell rings. "Yes it does."
Us: LOL
Would I do it again?
I would definitely go to Breakout Waikiki again! It was a lot of fun and I think my friends and I really bonded doing this type of role-play game. Before going, I had done some research on other escape rooms (on Oahu and in the U.S.) and it sounds like the junk ones suffer from overuse, broken items and even gamemasters giving away spoilers or incorrect clues.
Not so at Breakout Waikiki. While the gamemasters are human and everyone can make mistakes, the natural deterioration of the room and props were solid. Everything worked and nothing was falling apart or felt subpar. It was all very well built and the different locks and doors were sturdy enough to withstand numerous tugs from curious hands.