This post may contain affiliate links, which means I'll earn a small commission if you purchase something through these links. You won't pay any extra; instead, you'll be helping Aloha With Love to thrive. Thank you! Learn more.
--
I've been wanting to eat at Liko's Tap and Table for a long time now because in addition to the good food, this restaurant is located right on the waterfront in Hawaii Kai. I love restaurants with a view so Liko's has been on my list for a while now. Since Hawaii Kai is quite a drive for me, I invited my Mom and cousin out for an early morning hike at Makapuu Lighthouse Trail followed by a morning stroll at Koko Crater Botanical Garden (both of which I recommend!).
Aloha with love,
Amy
About Liko's Tap And Table
Liko's Tap And Table
377 Keahole St Suite C2
Honolulu, HI 96825
What I didn't know about Liko's was that it's actually a great place to watch sports! They've got TVs everywhere so I can imagine this place really starts to hum when a big game is on. There's plenty of seating but enough space so you don't feel crowded or too close to the next table. In fact, I was surprised at some of there more creative seating areas using corners and insets into the drywall.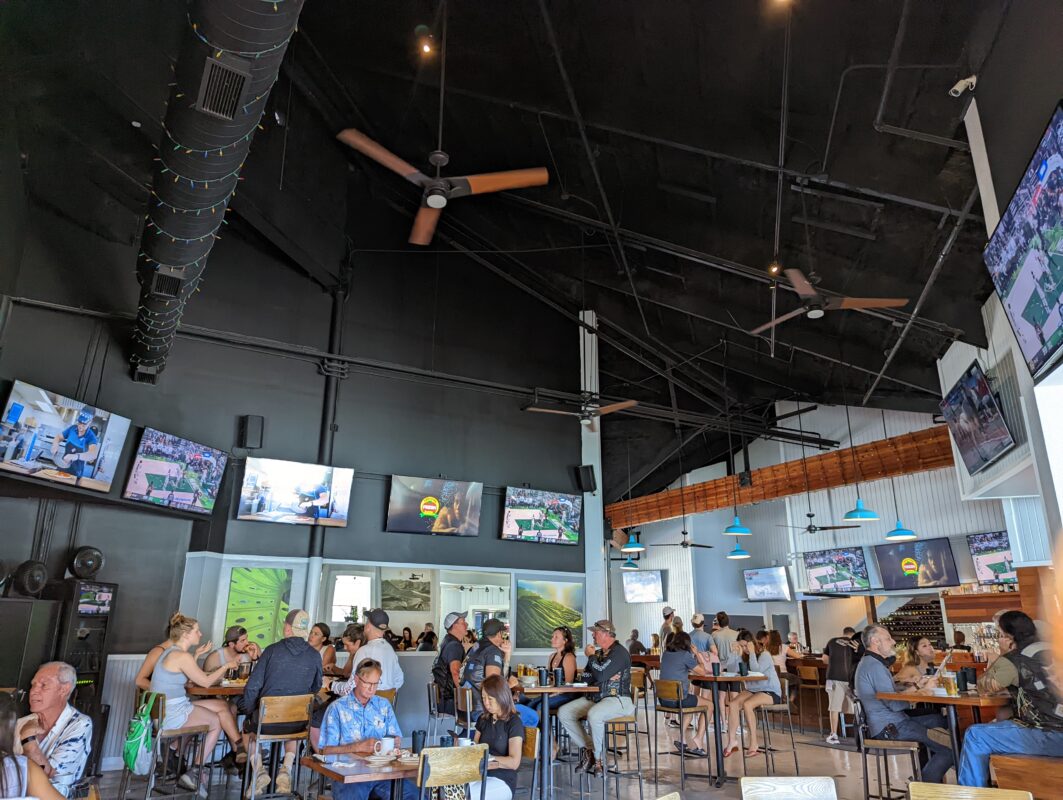 As you can see, the place was packed for lunch on a Sunday afternoon, but we came in at 11:30 and got seating for 3 without a reservation in just 5 minutes. I asked if we could get a good view and was told they would try but no guarantees since the waterfront seating is reserved for those who made a reservation – totally fine with me. Good to know for next time!
The decor was nice. The seating was wood and comfortable to sit on, the tables were large enough to fit our plates and drinks and the high ceilings just made me feel like the entire restaurant was big and spacious – a rarity here in Hawaii where space is a premium.
There were some fun artistic decorations placed on the walls, but for the most part Liko's indoor decor keeps it simple and clean. I appreciated the nice live music schedule they had posted. Most restaurants choose to do live announcements on a piece of paper, but these were printed special with a quality design in mind. So if anybody loves Jason Laeha or Tavana, you know where to go!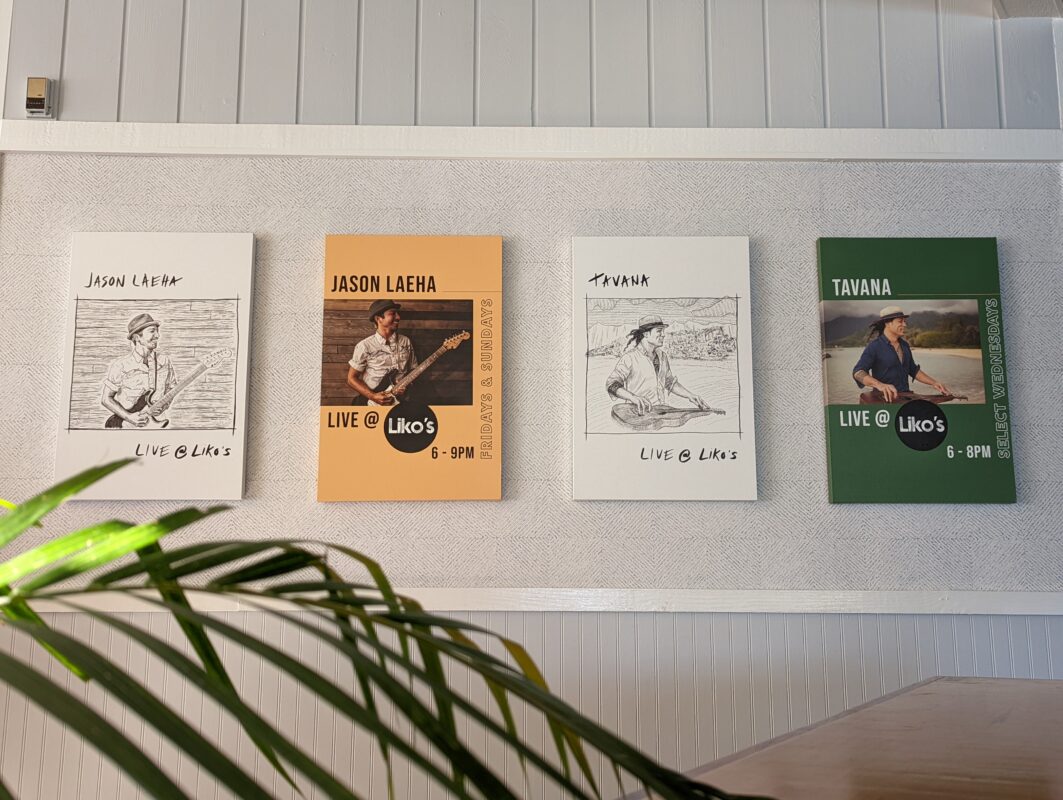 The view
We had a pretty good view of the waterfront despite walking in for lunch and it was a gorgeous day without a cloud in the sky. Initially I was considering to place a reservation the day before but since we were hiking at two places, I wasn't sure if we'd be able to arrive at Liko's at the correct time. But if you're meeting friends of family just for lunch – definitely reserve your seats in advance so you can get a prime viewpoint.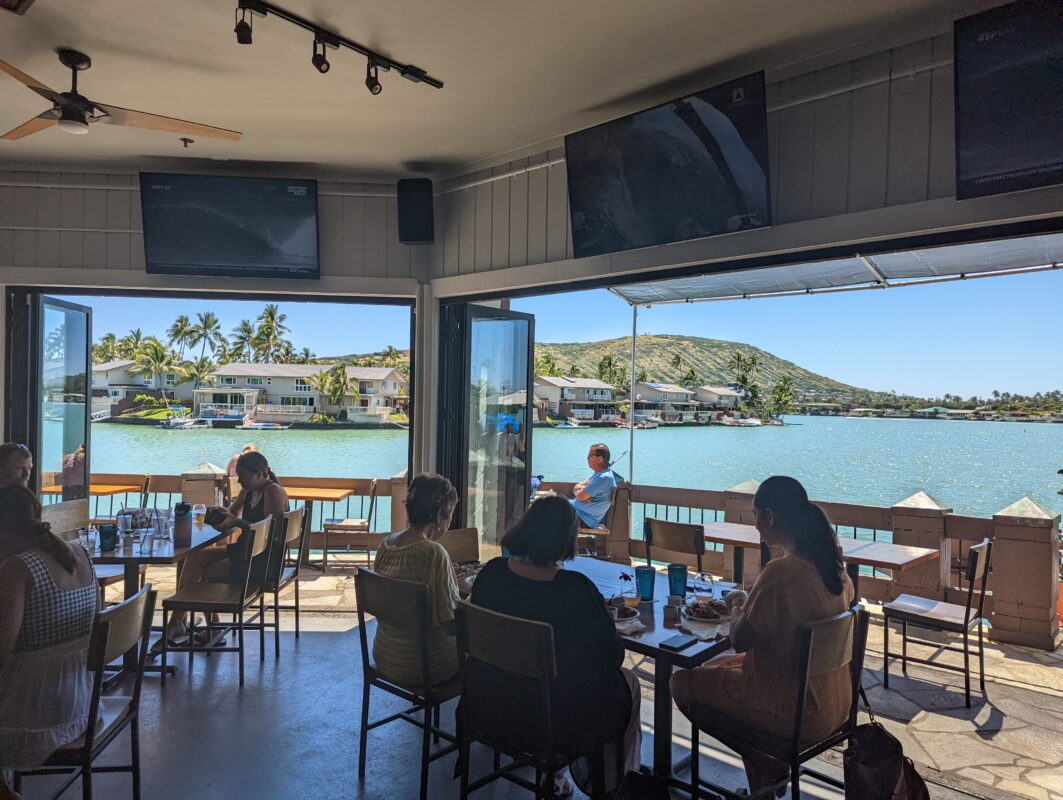 The food
The food is American and the menu is simple and easy to choose from. I got the chicken club on a ciabatta roll and it was delicious. The bacon pieces were fairly thick, too, and in my opinion you can never have too much bacon! I normally don't care for grilled chicken sandwiches (I'd rather have a crispy chicken sandwich) but this one was great and well-flavored. I'm also picky on my fries and these were nice and savory – just how I like them.
My Mom and cousin shared the fish and chips plate that came with 4 pieces of battered fish. Mom wished there was more fish and less batter, but the flavor was great and it even came with a nice side of coleslaw. (I asked Mom how this compared to to Nico's fish and chips and she replied that Ncko's is still her favorite).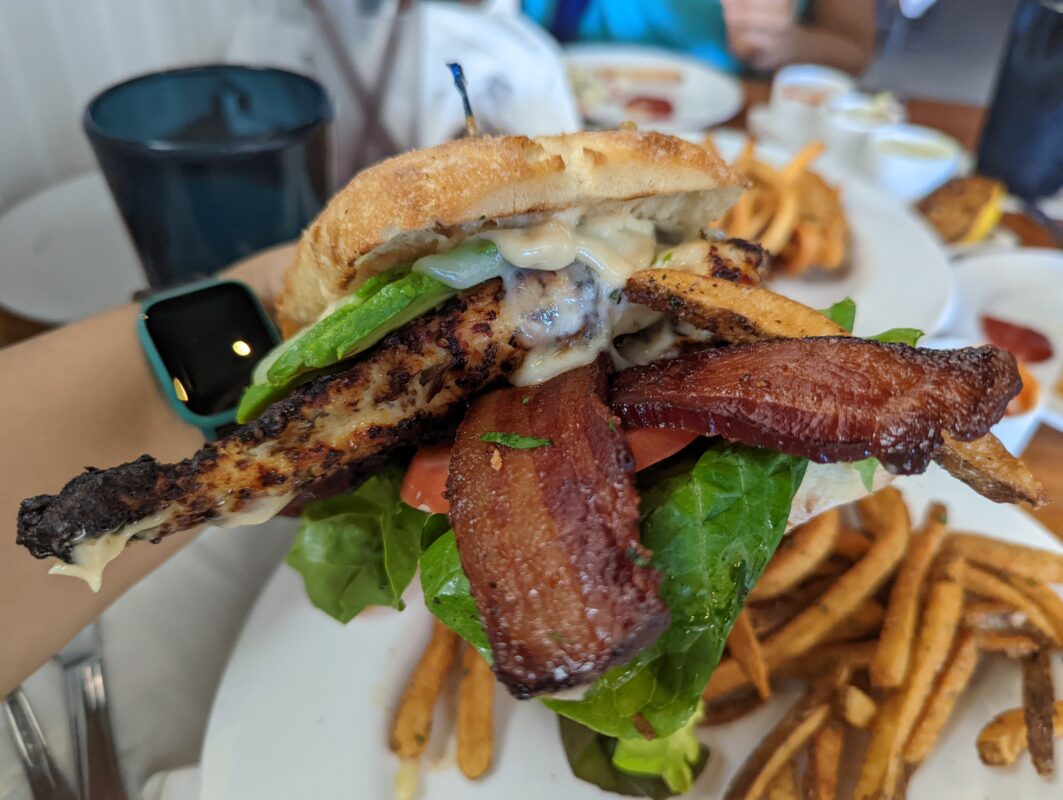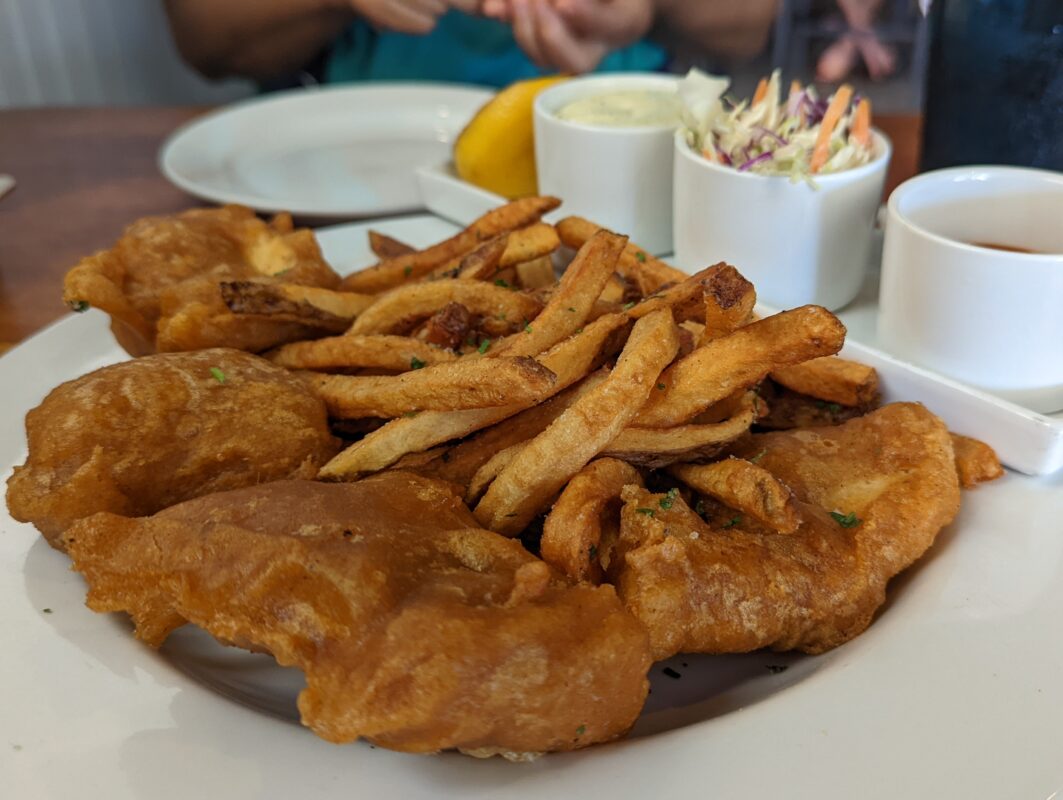 My thoughts
What Liko's is great at is an amazing atmosphere (I felt the servers were all very attentive) and a beautiful view. The food is tasty and I can tell this spot is popular on game night. If I come to Liko's again, it will be because of the atmosphere and view. They don't seem to have a signature dish – but Liko's doesn't need to do that. They already have the waterfront as their selling point and the "delicious-no-matter-what-you-choose" menu is just icing on the cake.
I'd definitely love to visit here again with friends on game night or if there were an event on the waterfront. This would be a great spot to celebrate or have a nice lunch outing with friends of family. Since Liko's is close to Hanauma Bay, Makapuu Lighthouse and the Halona Blowhole, it might be a good spot for lunch after visiting these attractions or during a self-driven circle-island tour.