This post may contain affiliate links, which means I'll earn a small commission if you purchase something through these links. You won't pay any extra; instead, you'll be helping Aloha With Love to thrive. Thank you! Learn more.
--
Let me start off by saying that walking through Koko Crater Botanical Garden wasn't as hot and dry as I thought it would be. In fact, most of the walk is shaded and there's a nice breeze sliding down the mountain that's constantly blowing so my walkthrough was actually very comfortable! Admission is free and it's a nice break from the crowded nearby hotspots like Makapuu Lighthouse Trail, Halona blowhole and Hanauma Bay.
Aloha with love,
Amy
About Koko Crater Botanical Garden
Koko Crater Botanical Garden
7491 Kokonani St., Honolulu, HI 96825
7 AM – 6 PM (Google), sunrise to sunset (website)
Visit their website to set up a guided tour.
Koko Crater Botanical Garden has been on my list for a long time now but because it's rather far away and this side of the island is on the hot and dry side, I haven't had a chance to visit until now. What surprised me the most was that most of the 2-mile loop trail was shaded and quite comfortable to walk. I was expecting it to be hot and sunny, but the trees provided plenty of shade and I didn't suffer from any sunburns the next day even though I had hiked Makapuu Lighthouse Trail earlier that morning.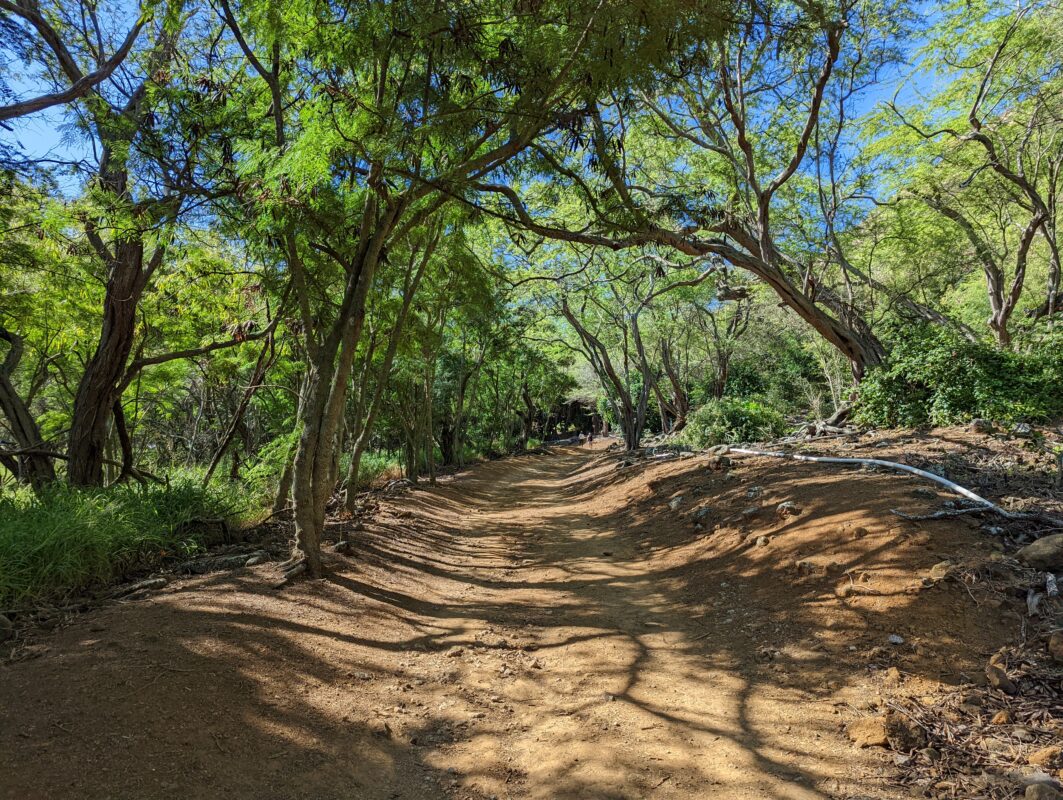 Although getting there was easy, we arrived promptly at 10 AM and the parking lot was full. Thankfully, I was able to squeeze my car at the very tip but felt sorry for whoever was coming in next. If you plan on coming here, I suggest arriving early to beat the crowd, or be willing to wait until someone pulls out. There isn't a lot of foot traffic though so I think at most you'll have to wait around a half hour for a space to open.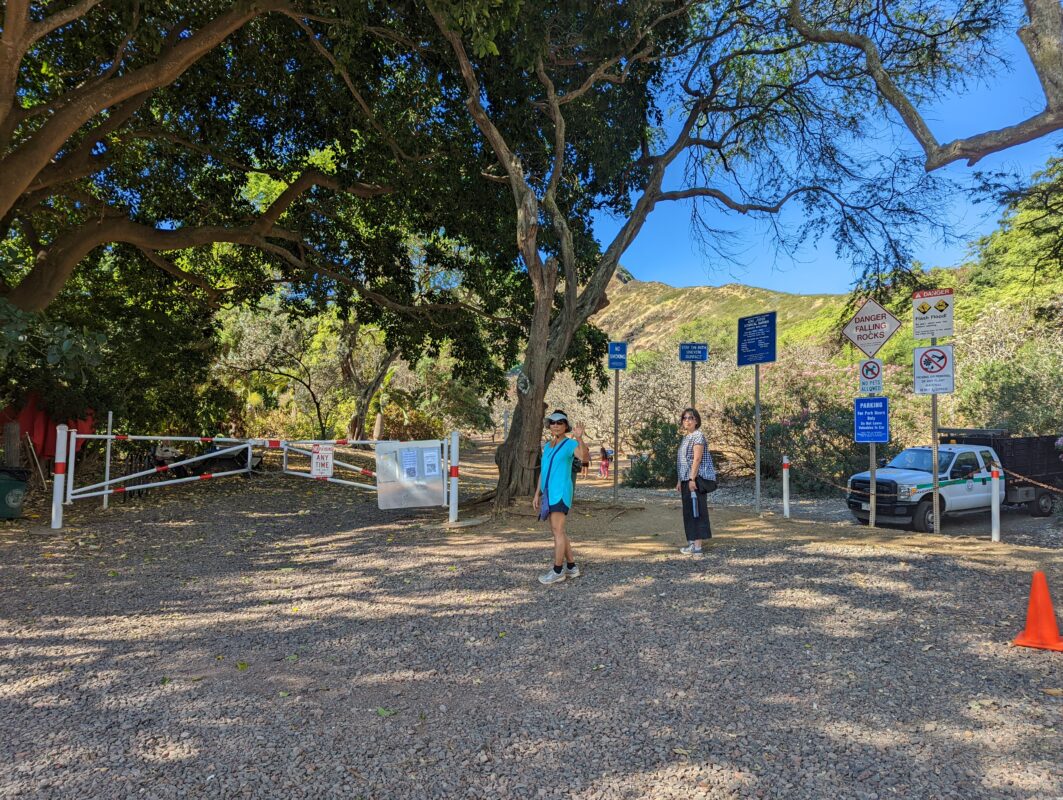 To the left of the entrance of the Koko Crater Botanical Garden is Koko Crater Stables. I'm not sure if they share the parking (my guess is no since it seems like their students can drive in), but there are plenty of signs to point you in the right direction.
Facilities
Unlike other botanical gardens where there's a main office in the front for visitors to walk through, there is no such office here. There was one security guard sitting on the side in the shade, but he wasn't forthcoming in greeting or conversation so we just walked on ahead. Don't miss the QR codes taped onto the gate. If you scan one of them, you'll get a link to the entire garden so you know where the pathways are and what kind of plants and trees are around you.
There's also only one porta-potty available so if you need a clean bathroom with a faucet, this is not the place for you. But I've been in several porta-potties here in Hawaii (they aren't uncommon) and although this one certainly had been used, there was only a strong, not unpleasant chemical smell. So that's something!
There are also noticeably fewer information boards here compared to other botanical gardens. I only noticed two and it would have been nice to read a few more as we explored the gardens.
My visit
Earlier we had hiked our way up to Makapuu Lighthouse Trail from 8 AM to 9:45 AM. We arrived at Koko Crater Botanical garden at 10 AM and we strolled the perimeter and got back to our car a little after 11:30 AM. Besides the outer trail, there's also a middle pathway and if you were to walk that path as well, you could easily spend more than two hours here strolling and studying the different plants.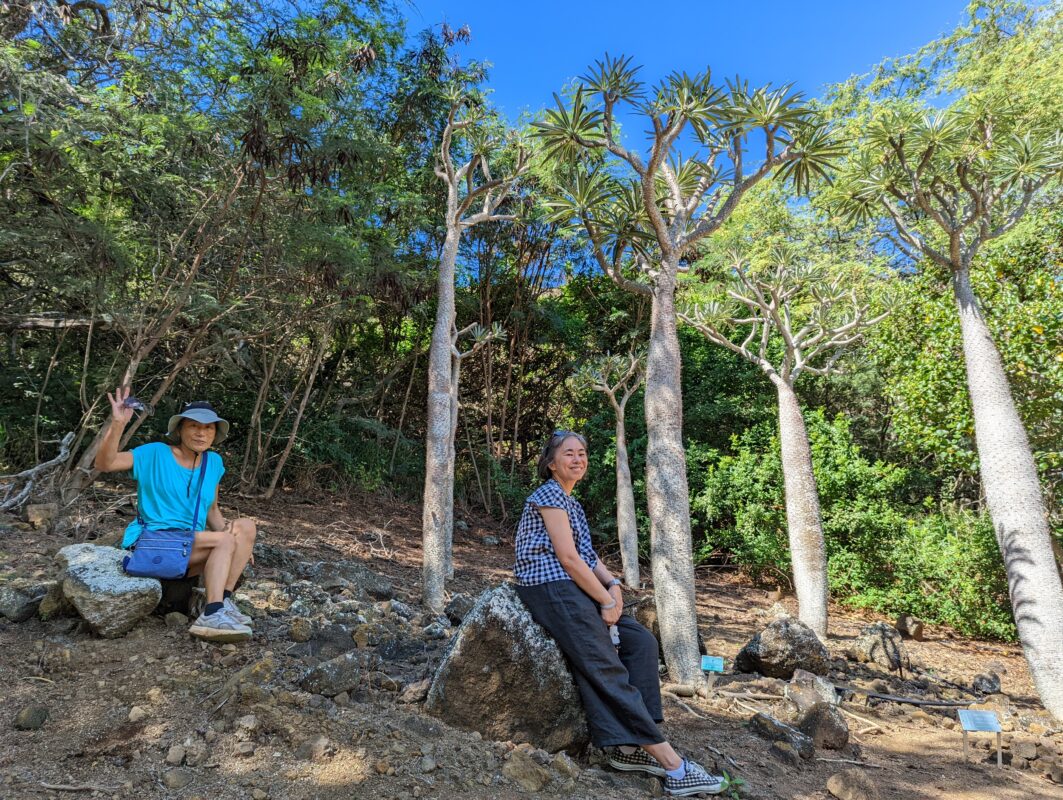 My cousin loved these skinny trees with chubby trunks. They were growing near the midpoint of the trail and it was a nice place to stop and rest since we weren't surrounded by trees overhead.
My favorite spot by far were the golden barrel cacti. How could you not love them? They're not a usual sight here in the islands and these guys were the size of big beach balls. There was a large variety of cacti growing in the garden and even when you looked up the walls of the crater, you could see several cacti growing wild which was neat and unexpected.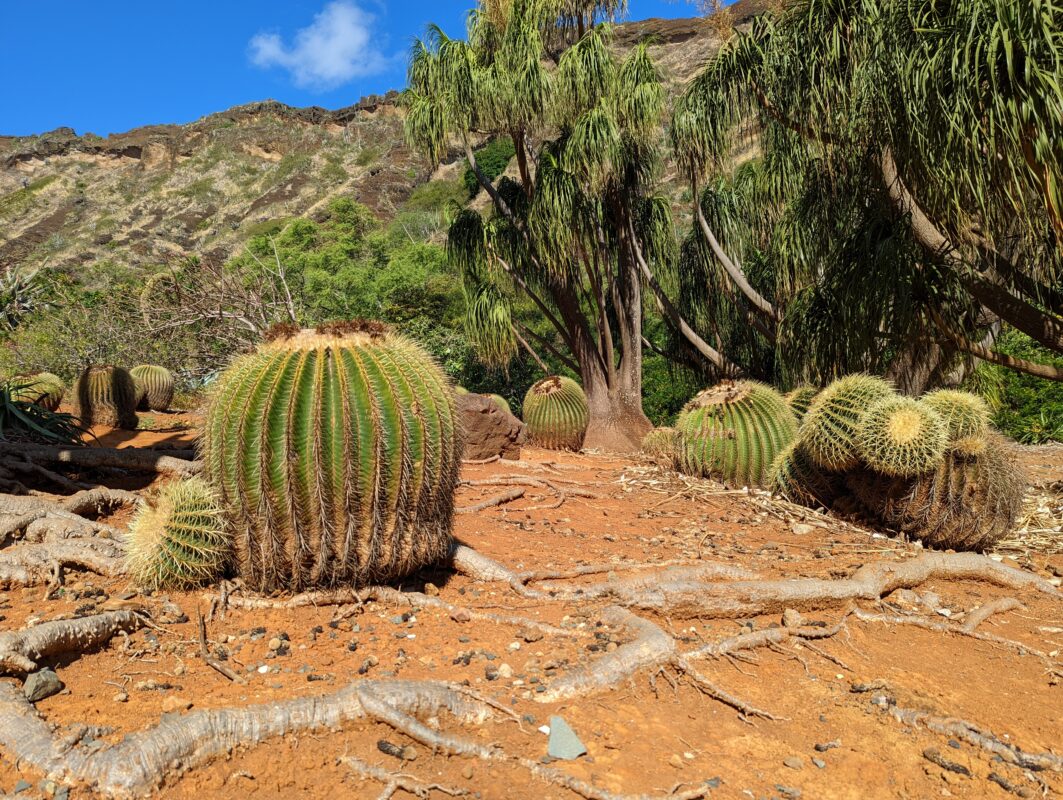 But the most popular spot in this botanical garden is probably the plumeria grove, which is right at the entrance. They start blooming early spring (I had heard they started blooming in February) and the fragrance is lovely when there's enough of them blossoming together. Have a sniff at the yellow and white plumerias as those are the most fragrant in my opinion.
Although there are no signs posted, I recommend just taking the plumerias on the ground if you want to put one in your hair. Freshly plucked plumeria leak a poisonous milk and it's generally frowned upon to pluck flowers from a botanical garden (or any flowers that don't belong to you).
Who would enjoy Koko Crater Botanical Garden?
Those who are into botany and botanical gardens will like how different this garden is compared to the other tropical gardens on Oahu. The unique plants due to the dry and hot climate make it stand out from others and is a nice stop that offers a different view than the usual tropical rainforests you see on hikes further inland on the mountains and valleys.
If you've got young kids who tire easily on a incline hike, Koko Crater Botanical Garden might be an option for you. Although somewhat rocky and unpaved, the trail is flat and short enough for most young kids to handle.