This post may contain affiliate links, which means I'll earn a small commission if you purchase something through these links. You won't pay any extra; instead, you'll be helping Aloha With Love to thrive. Thank you! Learn more.
--
A couple of weeks ago I heard that the Aloha Stadium would have their very first night market on March 4 so I called up a couple of friends and we met up for an awesome night of food, shopping and fun. This is a new event so I don't know if they'll decide to continue hosting it in the future, but I had a wonderful time and think it was very successful for all parties. In fact, I can't wait to go again!
Aloha with love,
Amy
About Aloha Stadium night market
Aloha Stadium
Every first Friday of the month
4 PM – 10 PM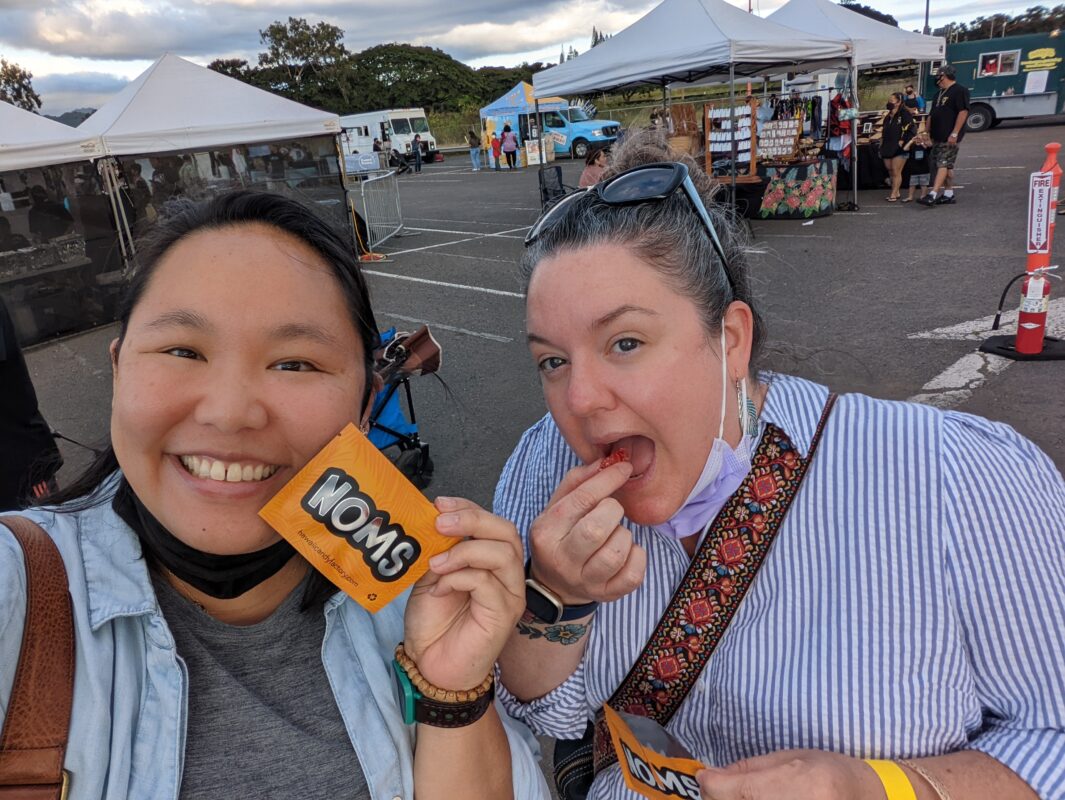 I was really excited to go to this night market because for years I've thought that having a huge night market on Oahu would be awesome! I studied and worked abroad for several years in Japan, Taiwan and China and the night markets and festivals there are out of this world. When I came back to the islands, I thought a night market would be perfect for Hawaii since it's got such a big melting pot of cultures.
The night market is actually called 'Taste of Oahu' but I think the vibe Millwood Productions (the same people who do the Experience Nutridge luau) is going for is a night market feel. For this first event, it did look small because everything was so spread out. But after walking around and visiting the different food stalls, trucks and shops, there was actually a lot to do.
How much does it cost?
While parking is free, admission into the night market is $10 ($5 for 6-11, free for 5 and under). I'm hoping the admission fee was put in place as a back up in case the event wasn't successful and can be removed later…but that's a big "if". It's a bummer that a family of 4 could potentially lose out on $40 before they even begin to eat. This would be the biggest barrier for me to attend again because eating here is going to sink you about $20 at least. If the admission were $5 or less, that would be more agreeable and make it easier to pencil in the night market into my calendar every first Friday of the month.
For dinner I had a serving of fries ($6), an ice cream cone ($4), a sparerib plate lunch (~$15), and a canned drink ($1). For someone who is constantly on a budget, this was a bit pricey for me so if I only had to worry about my food bill, I would have felt better about the cost.
The layout
About a quarter of the area was designated for seating in front of the main stage where singers, dance troupes, and talented individuals strut their stuff. I was surprised to see a young singer give it her all by herself on stage and I think this is a great way for young talents to hone their craft and get experience in front of a crowd. The audience increased as the skies grew dark and it was awesome to see how much everyone was enjoying themselves.
The featured entertainment was Kapena – a popular local band here in the islands that often performs at large venues like this. If you haven't experienced local Hawaiian music, this would be a good place to do so (along with a variety of local food).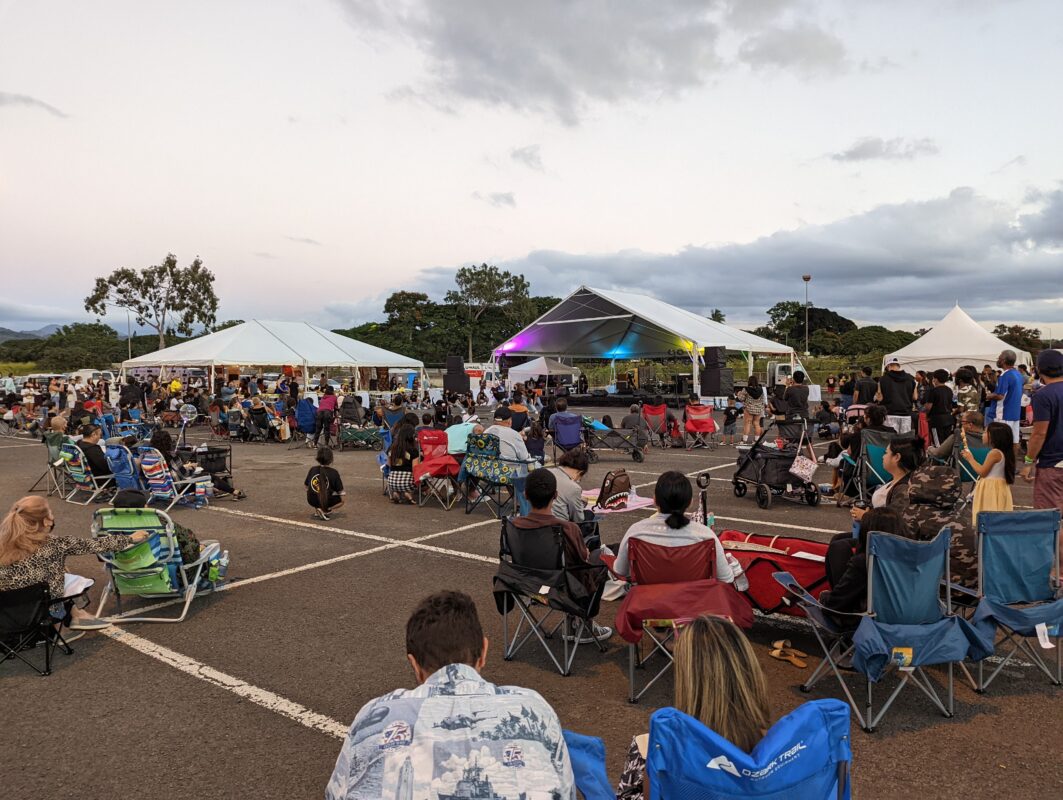 The opposite end of the area was used for giant bouncy houses and interactive entertainment for kids. I didn't walk on that side since I had no kids with me, but some of the activities looked really fun. Sarah and I did join in on a silent disco dance arena. We put on LED headphones and we could flip through the 3 stations (red, blue and green), each one corresponding to a different live DJ. I'm not much of a club dancer (I always feel awkward), but this was actually a lot of fun and it felt great to bounce around and burn some calories after eating so much.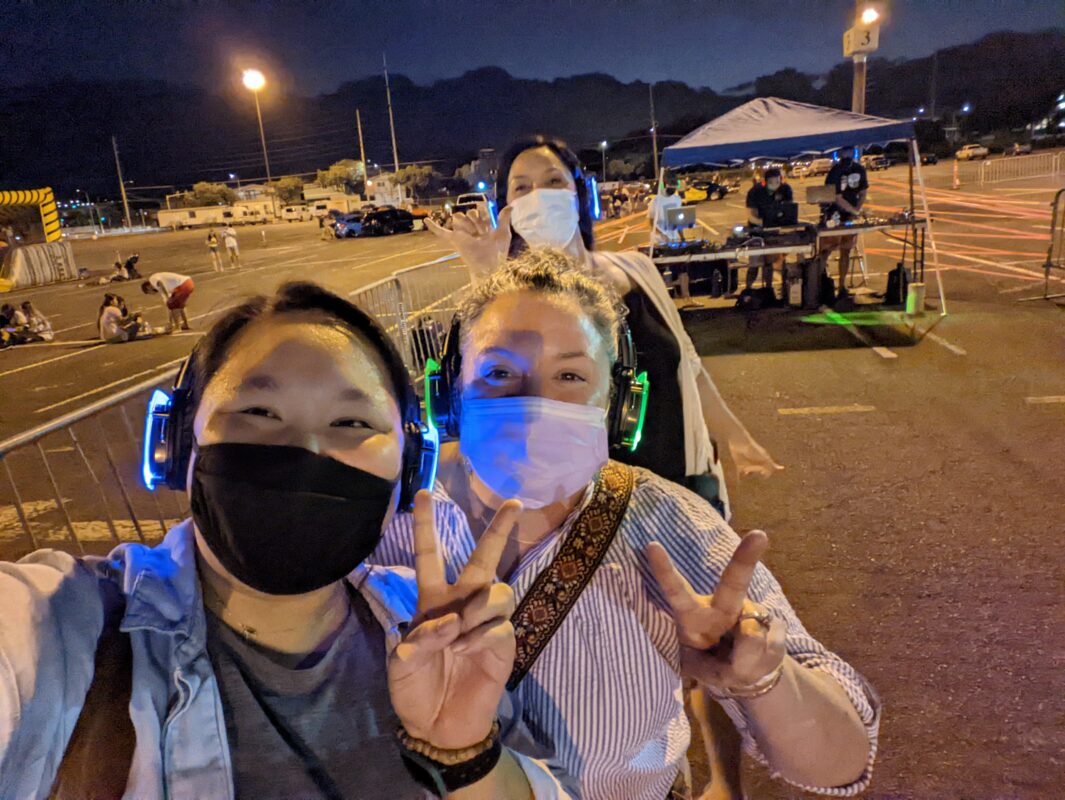 Shopping and eating
The other half of the area was devoted to food and local businesses. At first glance I thought there were only a few stalls, but after walking around there was plenty to eat and shop for! As word spreads about this event, I'm guessing more vendors will apply to participate and I'm hoping the choices will increase even more. I ended up spending $20 on a hat handmade with palm leaves (I've been looking for one I could use outside when I work on my aquaponics) and two of my friends were interested in some unique jewelry and clothes for their nieces.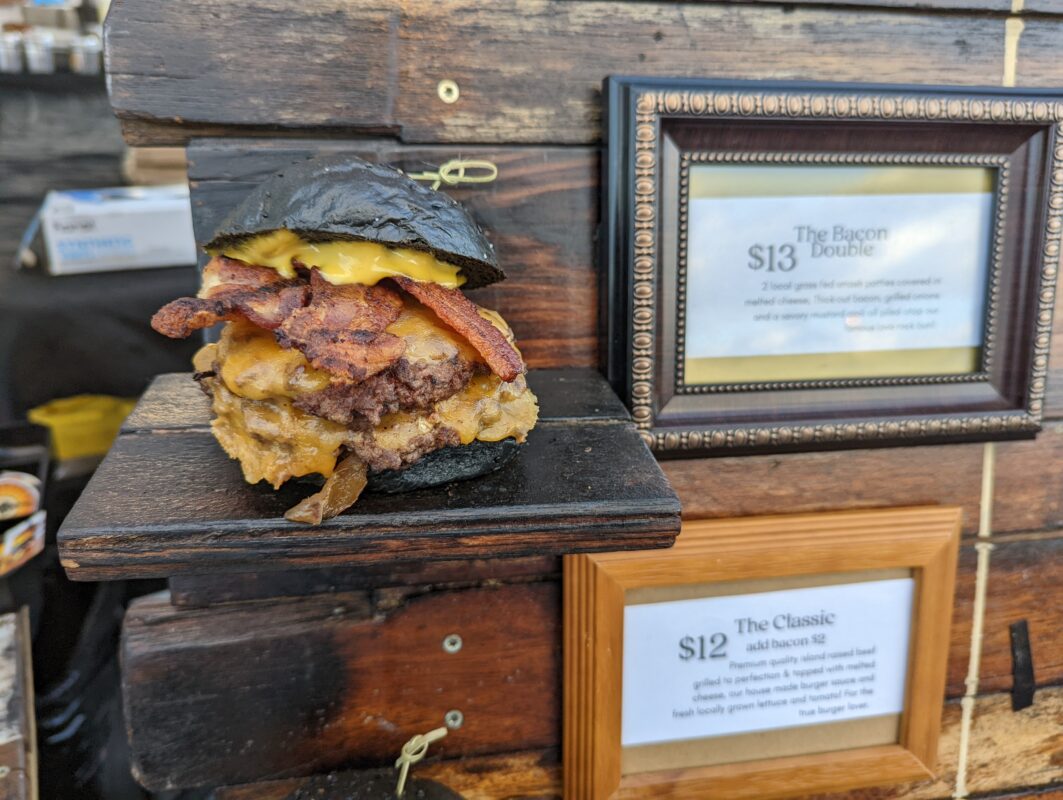 Once I realized how many food stalls and trucks there were, I had a difficult time choosing. I was seriously considering this burger before I decided on a sparerib plate lunch. My friends had pastele stew, gandule rice, a nutty buddy, chow mein and deep fried pork belly (I want to eat that next!). I also saw hot dogs, honeycones, cookies, malasadas, Mexican food, kebabs (which had an extra long line), and a bunch more that I've forgotten. There's something for everyone!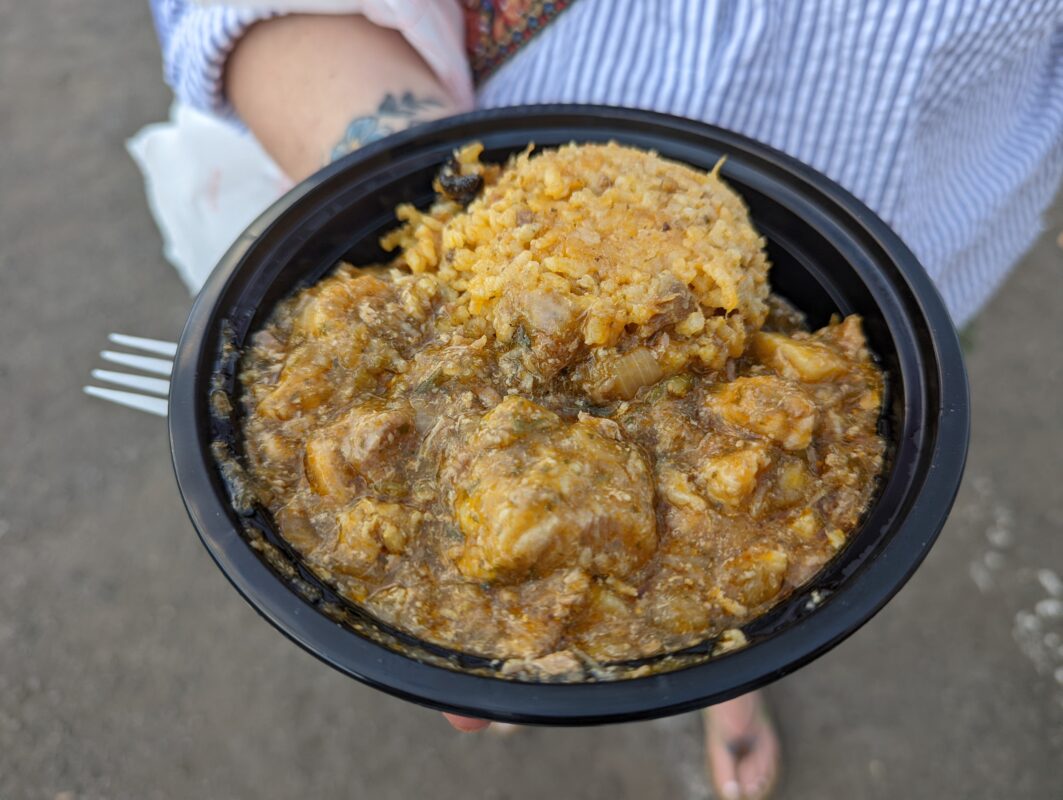 Who will enjoy the Taste of Oahu night market?
This works as a fun date night or outing with family or friends. Expect to spend at least $30 per person, more if you decide to do a little shopping or buy desserts or side dishes. The prices at each stall tend to add up and if you intend to stay for several hours for the entertainment, you'll be ordering food more than once.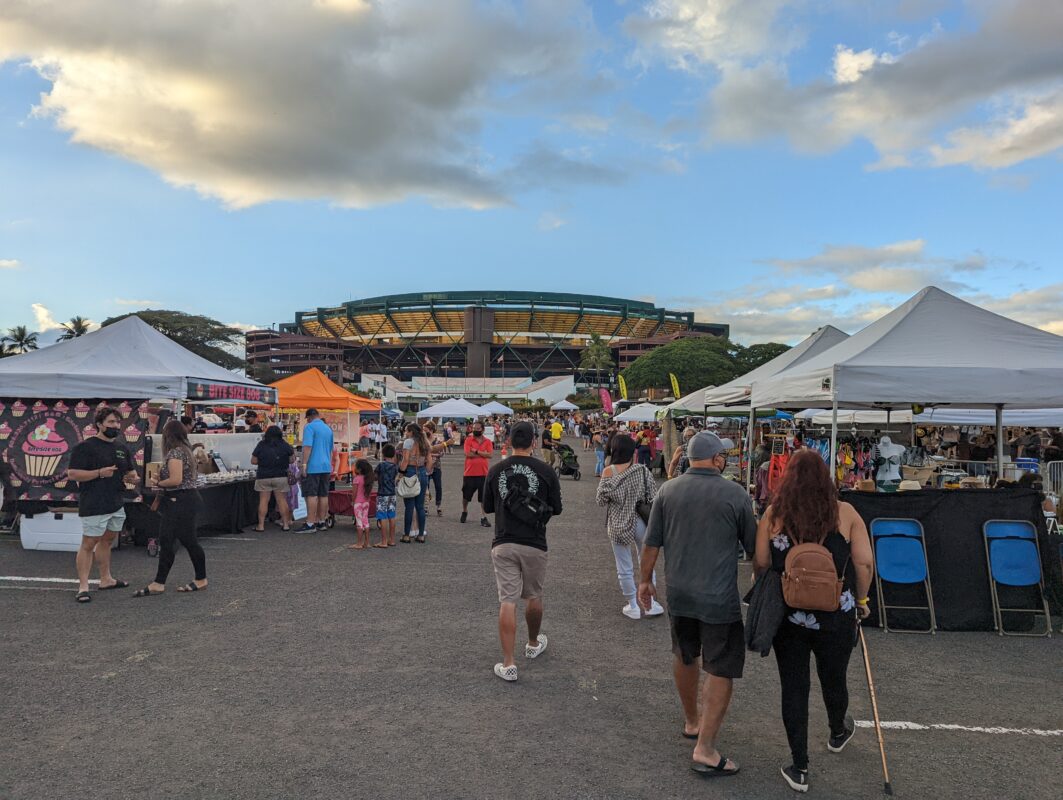 Because of the admission fee, I can see this getting too expensive to attend every month for the average local family. But for a once-in-a-while activity or something to do while vacationing on Oahu, this is a great way to spend the night if you have the time. Plus, I really do think this was a success for both Millwood Productions and the small businesses in terms of profit. Hopefully they keep it going and more vendors become interested in participating!