This post may contain affiliate links, which means I'll earn a small commission if you purchase something through these links. You won't pay any extra; instead, you'll be helping Aloha With Love to thrive. Thank you! Learn more.
--
I've driven past the bright red Farm To Barn Cafe and Juicery several times and finally had the chance to visit this past weekend with my friends for a brunch meetup. The cafe is hard to miss – drive into Haleiwa Town (north shore bound) and you'll see it on the left fronted by at least a dozen picnic tables and a large parking area. It's a great way to start the day!
Aloha with love,
Amy
About Farm To Barn Cafe And Juicery
Farm to Barn Cafe and Juicery
66-320 Kamehameha Hwy
Haleiwa, HI 96712
Open Daily: 9am to 3pm
Farm-to-table menus are the latest trend recently and Farm To Barn does an excellent and delicious job catering to those who want to be healthier about their food choices. It's a great way to try some local greens, fruits and meat and it feels great to sit outside and enjoy the warm sun on your skin as you eat fresh food homegrown in Hawaii.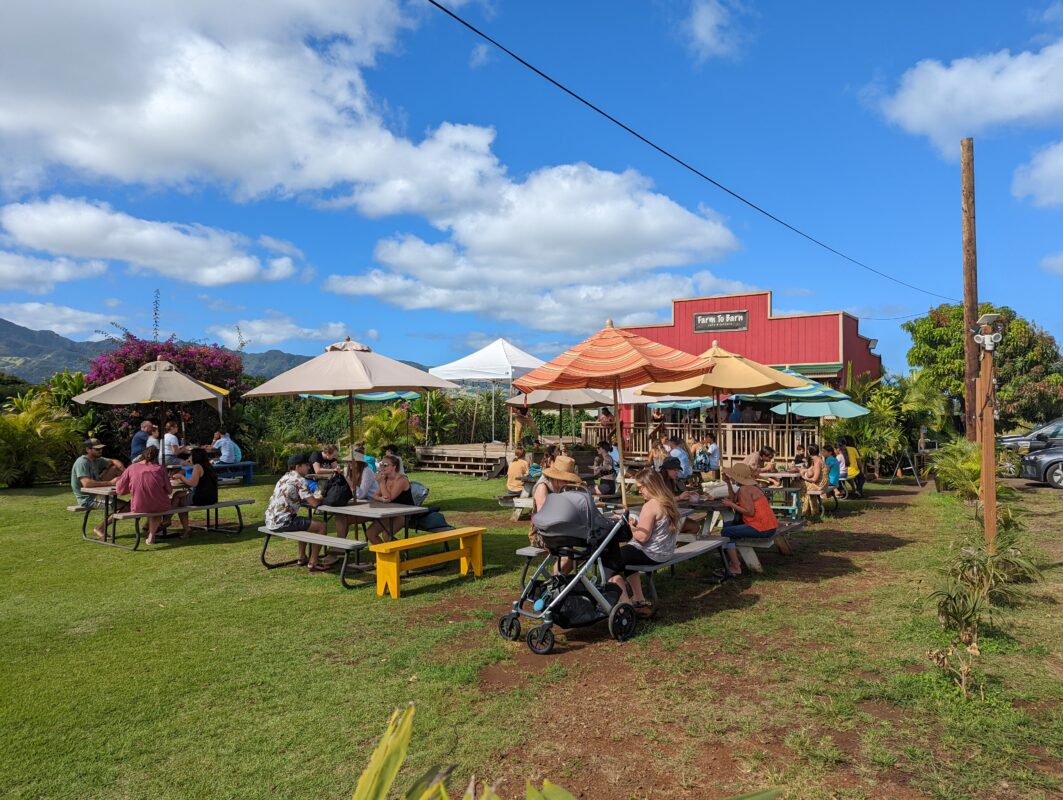 Ordering
Ordering at Farm To Barn is easy. The menu is simple and I love that they serve the same menu all day, which is how I ended up eating a beef burger at 9:30 in the morning! Ordering is fast and easy and you're given a buzzer to take with you to your table. Pick up is on the side of the ordering counter and there's plenty of space so you aren't banging into other patrons or staff members.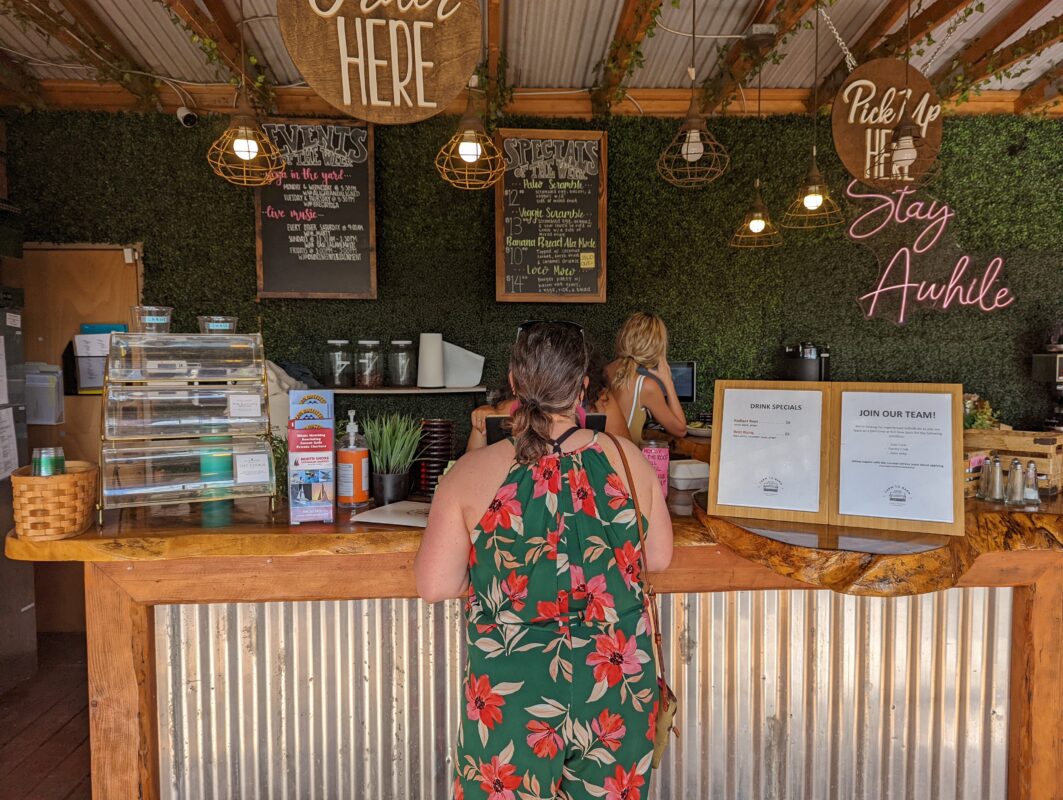 Their fresh juice looked delicious and I ordered myself a citrus sunrise since I love tart flavors. My friend had the beet rising with a shot of ginger. The bottles are glass and you can take them home if you want to reuse them (or you can give them back). Next time I'll try the watermelon basil as I've never considered those two together in the same drink. I'm salivating already!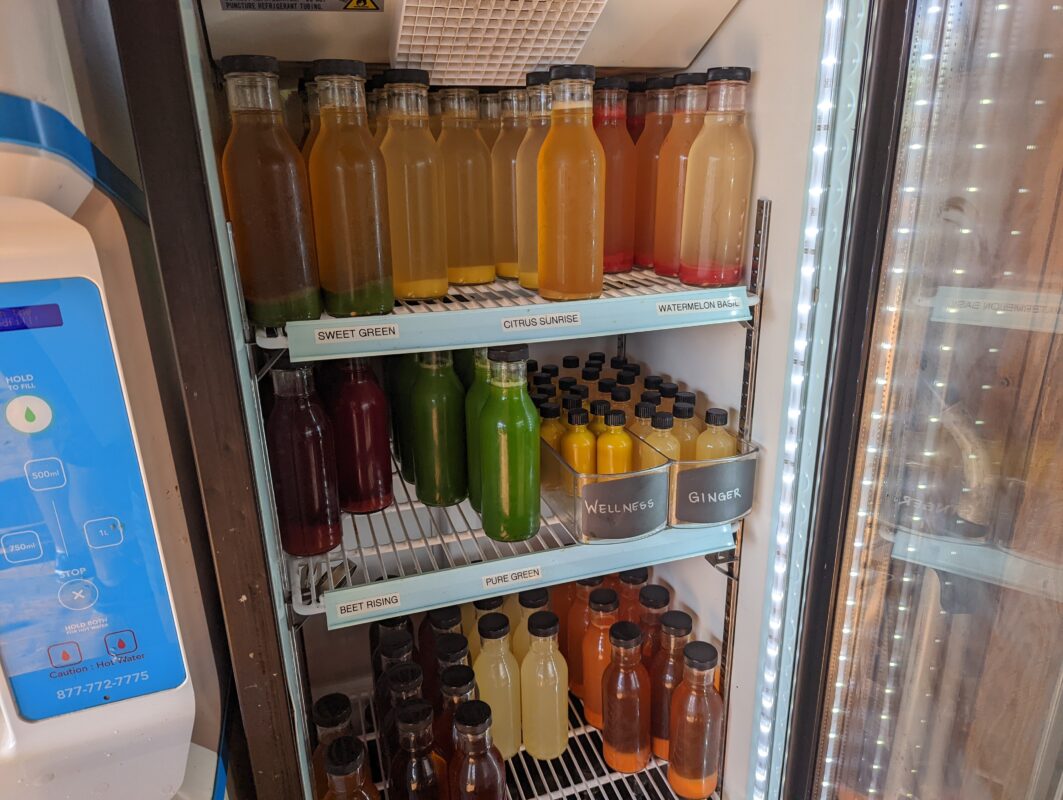 After ordering, head to one of the many picnic tables and enjoy the view. There's a lovely view of the mountains and the seating area is well removed from the road so you aren't hearing or smelling the cars passing you by. Dogs are welcome and I saw a few local residents come in with their own seating and set up their own little picnic area on the grass. This is definitely on my to-do list with Daisy next time!
There is a bit of mud near the entrance where all of the foot traffic happens so be careful and watch your footing because it can get slippery. I don't see this being a big problem during the hot afternoon, but be mindful in the morning since the morning dew has yet to evaporate away. Also the morning sun isn't blocked very well by the umbrellas so you might want to visit a little later if you don't want the sun to hit you.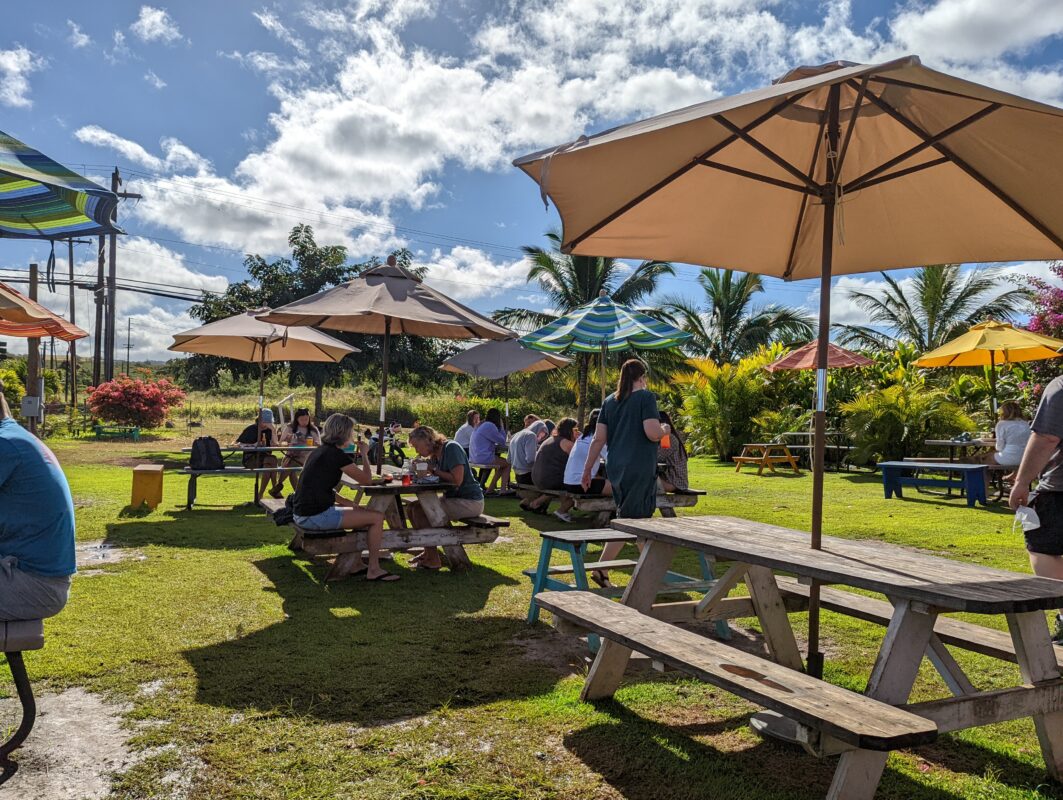 Eating burgers and bagels
I decided to go for the banzai burger ($14) – I'm usually eating Asian food at home so for me American fare is a treat. The banzai burger has a Big Island grass-fed beef patty on a lovely taro bun. If you have a chance to try a taro bun, go for it. It has a nice flavor and there's a lovely sear to it when the grill it. The banzai burger also came with a healthy helping of Maui onion chips!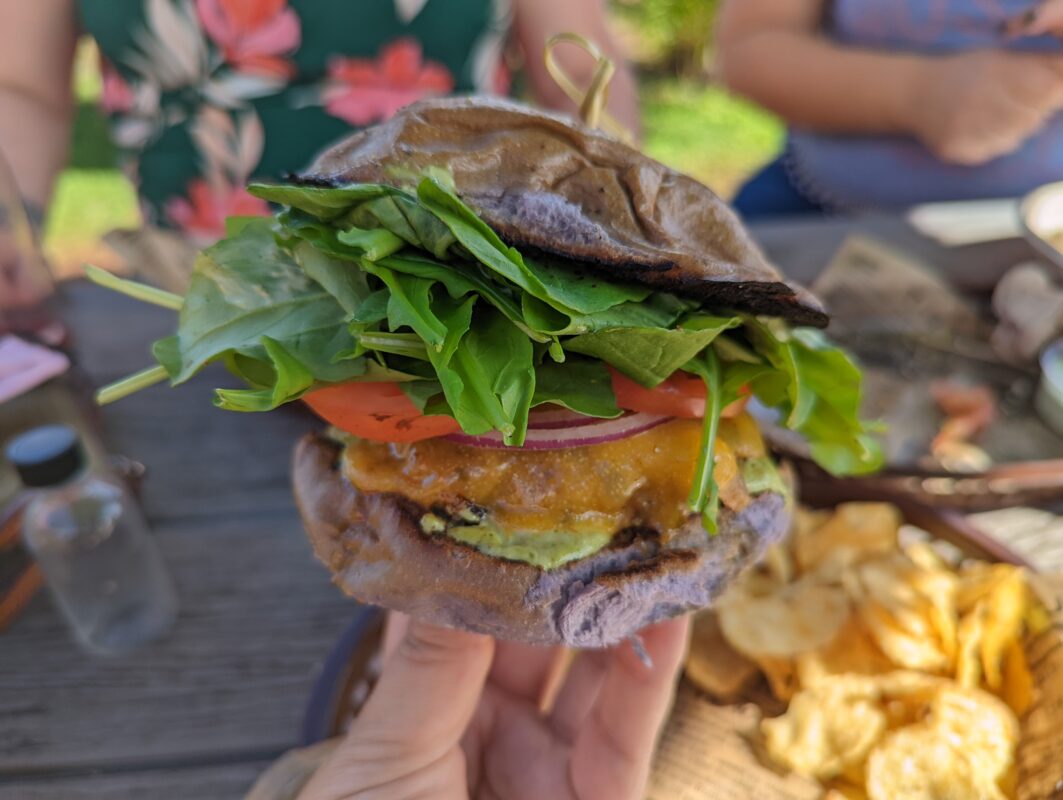 Both of my friends went for the bagel sandwiches ($11) and gave me a thumbs up. The bagels were covered with toasted sesame seeds and came with a flavorful aioli sauce that brought everything together.
I'm not a big salad eater when I eat out, but I saw a few salads while I was there and they look filling and delicious. I might try that next!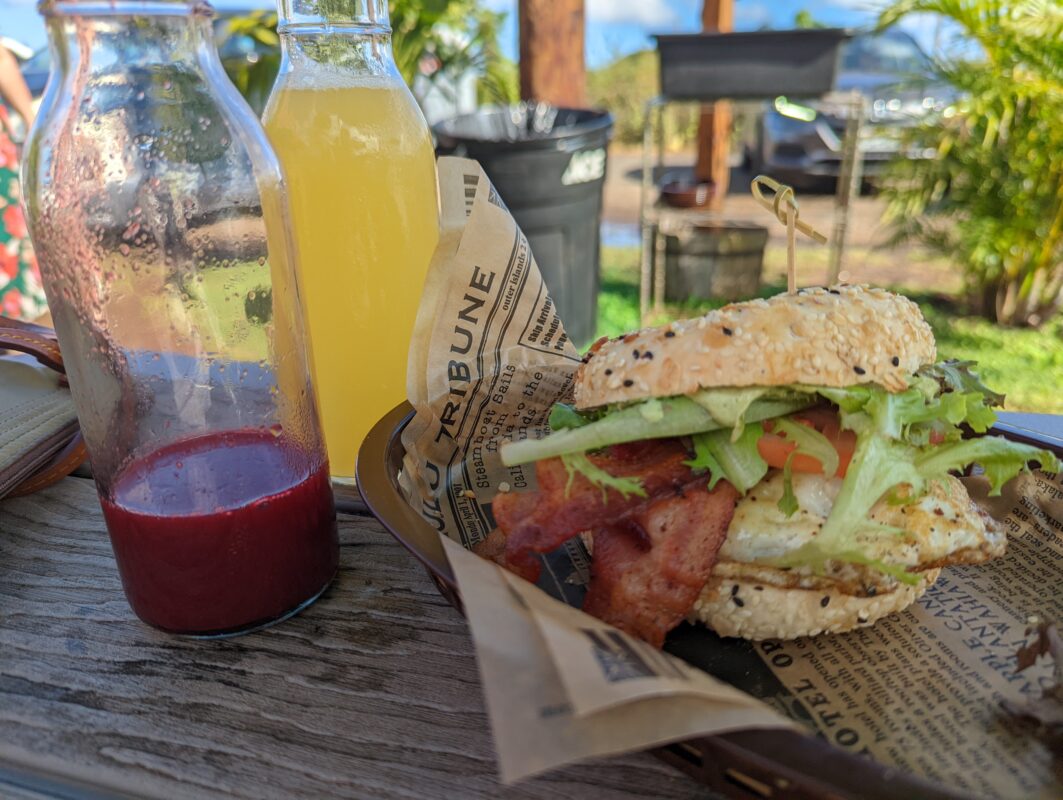 The only hiccup in the day was that my burger was ready after my friends had almost finished eating their bagel sandwiches (we ordered separately). When you think about it, this makes sense because it takes time to cook the patty. In order to eat together, we'll probably order everything together or I'll order my burger first so it can get a head start next time.
Should you eat at Farm To Barn?
If you love farm-to-table restaurants or eating simple foods outdoors, Farm To Barn is a great stop. Due to its location, you'll most likely pass it on your way to the heart of Haleiwa Town, so I'd recommend stopping by here in the morning since I'm sure it gets crowded fast in the afternoon and may be difficult to reach later in the day.
It's a nice place to set up a picnic with your kids or dogs, too. In addition to eating, you can also rent the venue and they host a donation-based yoga class, too! The class is welcome to everyone. All you need to bring is your own yoga mat and a donation (the monetary value is up to you).
Other suggestions
Kono's North Shore: Eat At Kono's For Their 12-Hour Slow-Roasted Kalua Pork
Matsumoto's Shave Ice: Why Everyone Stands In The Matsumoto Shave Ice Line In Haleiwa
Kua Aina Burger: There's a Good Reason why Kua Aina went Global