This post may contain affiliate links, which means I'll earn a small commission if you purchase something through these links. You won't pay any extra; instead, you'll be helping Aloha With Love to thrive. Thank you! Learn more.
--
Mom's sushi rice has gone through an evolution since I was a kid. One of her first jobs in Hawaii was as a waitress at a Japanese restaurant where the chef did not share his sushi rice recipe. So instead she tasted a little bit everyday and through trial and error, made sushi rice every so often for my Dad, the taste tester. One day several months later he told her "that's it!" and we ate that version of sushi rice until I was in high school.
Sushi rice in the U.S. tends to be on the sweeter side. But Mom was concerned about our sugar intake and so when I was in high school she branched out her recipe to include a sugar-free version using Splenda. This was great because the change wasn't really noticeable and we could eat guilt-free (in the early 2000s).
When I was in college, Mom and Dad visited me in Japan for the first time and I took them to all of my favorite sushi joints. They experienced sushi at Tsukiji Fish Market and more than once I took them to Kappa Zushi, my go-to conveyor belt sushi restaurant for affordable sushi. During this trip, Mom learned that sushi rice in Japan was less sweet and had more of that pucker-your-lips vinegar flavor, which we all agreed tasted a lot better than the "sweet rice" that the U.S. seemed to favor.
So Mom changed her recipe again, this time using less sugar even in her sugar-free versions. Recently, our family has learned about the dangers of sugar in general, Truvia/Stevia, and we've even been practicing IF/OMAD (intermittent fasting/one-meal-a-day). She's adapted her latest sushi rice recipe with Truvia/Stevia for our meals, but still keeps the sugar version on hand for parties and special occasions. So far, this recipe has treated us very well and Mom gets compliments on her sushi rice all the time.
Aloha with love,
Amy
P.S. If you're interested in the sugar version, check the additional notes at the bottom of this recipe for measurements.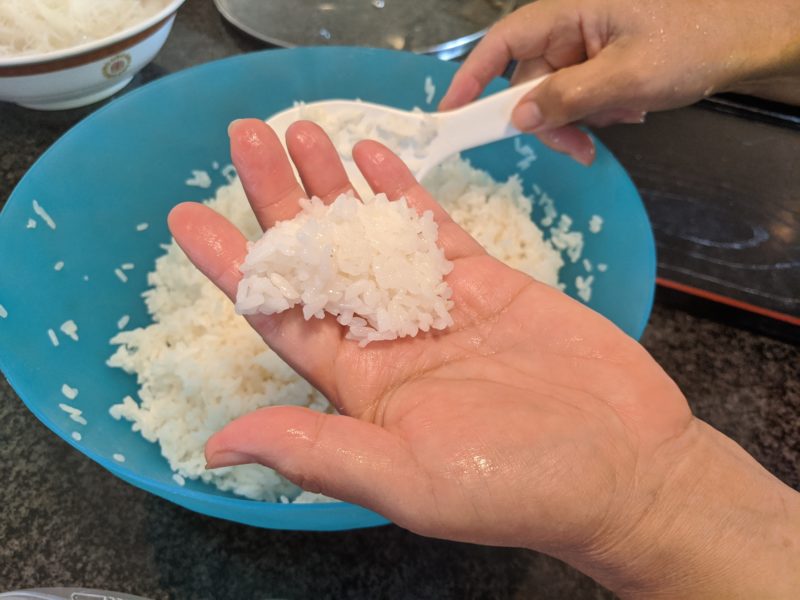 Ingredients
3⅓

c

rice

Japanese white rice. Standard rice in Hawaii.

3

c

water
Vinegar Mixture
½

c

apple cider vinegar

½ c + 1 tbsp (=9 tbsp)

2

tsp

salt

14

packets

Truvia

½ c stevia

1

tsp

hondashi

Optional.
Instructions
Wash and rinse 3⅓ c of white rice. Add this to the rice cooker pot and add water to the 3 c line. Because we'll be adding vinegar later, we want the rice to have a little less water than usual.

While the rice cooks, mix the apple cider vinegar, salt, Truvia/Stevia, and hondashi in a small bowl. Set aside for later.

Do the next steps quickly: When the rice is done transfer the rice to a large mixing bowl within 5 minutes. The rice is at its hottest at this point which will help the flavor to soak in.

As soon as all the rice has been transferred into the large mixing bowl, evenly pour the vinegar mixture all over the rice.

With a rice spatula, gently mix and fold the rice for 45 – 60 seconds. Let the rice rest in the bowl uncovered at room temperature to cool off for a couple of hours. The vinegar will evaporate and the rice will be fluffy, sticky, and ready to use.
Notes
In her regular sugar version, Mom uses a 1/2 c of sugar.