This post may contain affiliate links, which means I'll earn a small commission if you purchase something through these links. You won't pay any extra; instead, you'll be helping Aloha With Love to thrive. Thank you! Learn more.
--
There's something about Panda Express' beef broccoli that always convinces me to include it in my order. When my family has no time to cook, or we're just feeling tired, Panda Express is where we go. But it also feels good when we can prepare Panda Express-like beef broccoli at home ourselves. This recipe is simple and we'll usually make a batch of beef broccoli at least once for every enormous bag of broccoli we buy at Costco.
I don't think many people use broccoli in stir-fried dishes. Usually I'll only see broccoli in salads or next to a bowl of dip at parties. Broccoli is really good for you and it's a great dark green vegetable that has a hearty crunch to it. It's not often where you get the chance to eat so much broccoli in one serving, so learning this dish is a good way to include broccoli in your diet. It's also a great way to use up that huge bag of broccoli from Costco before it goes bad.
What I really like about this version is that it's pretty close to the Panda Express' beef broccoli. Mom uses just a bit of brown sugar and no MSG, which is great since we avoid both as much as possible. Compare this recipe to your local Panda Express' beef broccoli and let me know what you think!
Aloha with love,
Amy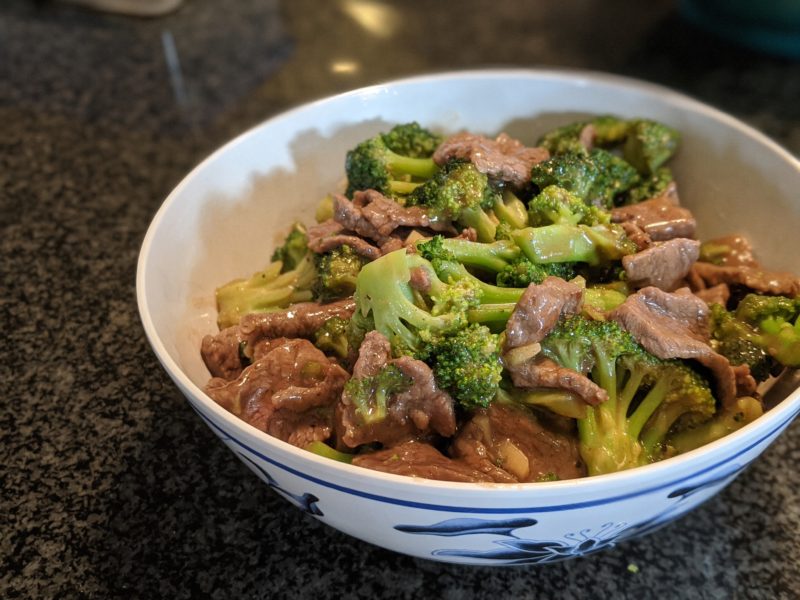 Ingredients
Meat Preparation
1

lb

beef

Sliced against the grain.

2

cloves

garlic

Minced.

2

tbsp

rice wine

1

tbsp

cornstarch

2

tbsp

shoyu
Other Ingredients
¼

c

cooking oil

4

c

broccoli

Cut into bite-sized pieces if necessary.

½

tsp

salt

½

tsp

pepper

½

tsp

brown sugar

2

tbsp

water

1

tbsp

shoyu

1

tbsp

sesame seed oil
Thickening Agent
1

tbsp

cornstarch

2

tbsp

water
Instructions
Slice the beef into thin slices against the grain.

Mix together the sliced beef, rice wine, cornstarch, shoyu, and garlic in a small bowl.

Add cooking oil to a large pan and adjust the stove to high heat. Add in the beef mixture when the pan is hot and stir.

As soon as the color begins to change, remove from pan and put the beef back into the small bowl. Leave on the side for later.

With the pan still on high heat, add in the broccoli. There should still be some oil left in the pan bubbling (which is why we started with more oil than usual). While the broccoli cooks, add salt, pepper, shoyu, water, and brown sugar. Cover and cook for 1 – 2 minutes. In the meantime, prepare the thickening agent.

Uncover and add the cooked beef back in. Mix.

Add in the thickening agent and mix. Turn off the stove and add sesame seed oil.