This post may contain affiliate links, which means I'll earn a small commission if you purchase something through these links. You won't pay any extra; instead, you'll be helping Aloha With Love to thrive. Thank you! Learn more.
--
Ah, takuan – those teeny, tiny, delightfully crunchy pieces of bright yellow radish that we can never get enough of in a Japanese bento. Usually restaurants only include one takuan per bento, but a few restaurants would put in two. Three pieces was just unheard of and unrealistic. I always want more as a kid because it was like eating candy. Unfortunately, takuan isn't made for gorging yourself. It's a side dish just for taste, which is a shame because it would be nice to have just a few more pieces to last the whole meal, or at least until your rice was gone.
Commercial takuan is sold by the bottle/package here in Hawaii and often uses too much sugar and MSG. My grandpa loves takuan, but because of his MSG allergy he's had to tone it down and avoid eating one of his favorite side dishes. Years ago, Mom created this takuan recipe through trial and error, and it's a winner according to Grandpa. He eats it up and gets to enjoy takuan with his meal, we don't have to worry about his allergy acting up, and we can slice the takuan thinner than normal to make it easier on my grandparent's teeth.
This recipe is easy to adjust as the ingredients are few and readily available. Feel free to change it according to your taste. Mom likes this combination and the flavor really soaks in a day or two in the fridge.
Aloha with love,
Amy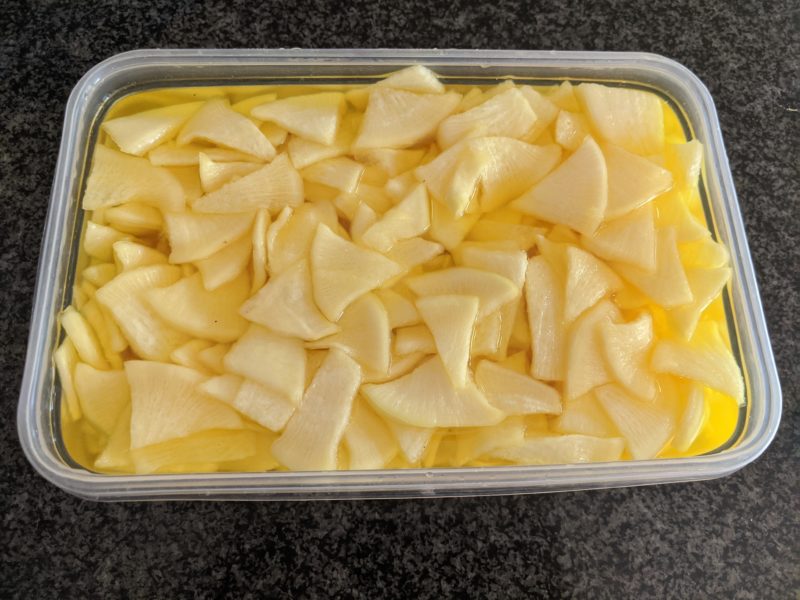 Ingredients
4

lbs

daikon

We used 2 Korean radishes, but Mom prefers Japanese white radish for takuan.

2½

tbsp

Hawaiian sea salt

15

drops

yellow food dye

½

c

apple cider vinegar

2½

c

white sugar
Instructions
Wash first, dry, then peel. Do not rinse the daikon after peeling or the takuan will spoil.

Note: Mom used 2 Korean radishes because that's what we happened to have (there was a sale at Palama Market). However, she prefers Japanese white radish (daikon) for this dish.

Cut into bite-sized pieces. Mom tries to keep it about ⅛-inch thick. Some recipes call for long skinny slices, but that's entirely up to you.

Add the Hawaiian sea salt, apple cider vinegar, white sugar, and yellow food dye. Mix until the sugar has completely dissolved (about 10 minutes).

When the sugar dissolves, taste and adjust as necessary. Use plastic gloves to avoid staining your hands with the dye. Let this rest in the mixing bowl at room temperature for 30 minutes and it will soften and become pliable. Move the takuan (juice included) to a container and store in the fridge.

Note: Commercial takuan is often a very bright yellow. This adds nothing to the taste so add more yellow food dye if you want a highlighter yellow.