This post may contain affiliate links, which means I'll earn a small commission if you purchase something through these links. You won't pay any extra; instead, you'll be helping Aloha With Love to thrive. Thank you! Learn more.
--
Fast and easy side dishes are wonderful. They use simple ingredients that are often left over and can be prepped in just a few minutes. Green cabbage is one of those vegetables that we always seem to have in the fridge. They're super cheap and can be used in anything: salads, stir fries, served under meat or sashimi, or by itself like in this dish. By chance, Mom didn't have any other vegetables in the fridge. We used the green beans, carrots, celery, and even lettuce earlier so she remembered this quick recipe from her childhood.
It was nice to eat something steaming hot, tangy and a little spicy in just a few minutes. Mom had cooked some of her salted pork belly that had been marinating in the fridge for the past 2 days so all we needed was some fresh rice and we had a balanced meal.
Not everyone has jalapeños lying around, so these are completely optional. Like the green cabbage, we happened to have these on hand since we made some fresh salsa for a taco night. Feel free to use your favorite hot sauce as a substitute or to go without.
Aloha with love,
Amy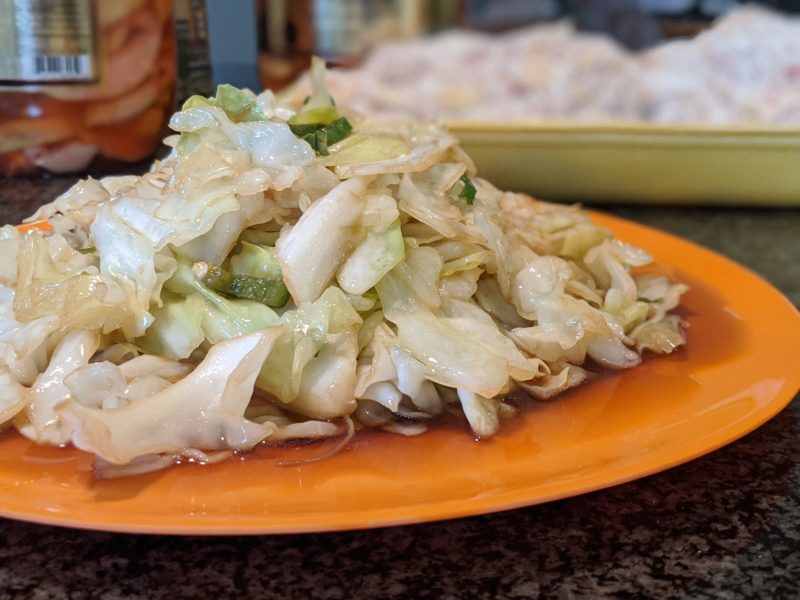 Ingredients
¼

green cabbage

Roughly chopped into bite-sized pieces.

½

jalapeño

Minced, or your favorite hot sauce.

1

garlic

Minced.

1

handful

green onions

Chopped. Optional.

3

tbsp

cooking oil

2

tbsp

vinegar

1

tsp

salt

1

tbsp

sugar

Or 1 package sweetener.

3

tbsp

shoyu

Soy sauce.
Instructions
Cut or tear the green cabbage into large pieces.

Note: Mom prefers to tear vegetables like lettuce or cabbage to give it a natural and appetizing look. She also says it tastes better.

Add the cooking oil to the pan and adjust the stove to high heat as you chop the jalapeño, garlic, and green onions.

When the pan is hot, add the jalapeño and garlic and stir for about 20 seconds. Add the green cabbage and stir for 1 minute.

Add vinegar and sugar and continue to stir until the cabbage looks about halfway cooked and has reduced in size. Add in the shoyu and stir for another minute to let the shoyu cook. Turn off the stove and add the green onions for some color.