This post may contain affiliate links, which means I'll earn a small commission if you purchase something through these links. You won't pay any extra; instead, you'll be helping Aloha With Love to thrive. Thank you! Learn more.
--
My family (and extended family) love to eat namasu. It's a pretty healthy side dish that's both pleasing to the eye and matches well with most main dishes. Namasu especially goes well with oily dishes as the vinegar cleanses your mouth so you can dive back into your meal.
Many namasu recipes call for cutting the vegetables into thin strips, but Mom prefers thicker slices so that crispy crunch is in every bite. When she prepares namasu for our grandparents (who have weaker jaws and teeth), she'll slice the vegetables very thin and they have no problem.
I've also included a namasu recipe using sugar at the bottom of this recipe in the notes section, so have a look if you don't care for that fake sugar flavor. Mom will sometimes use half sugar and half stevia to get the best of both worlds!
Aloha with love,
Amy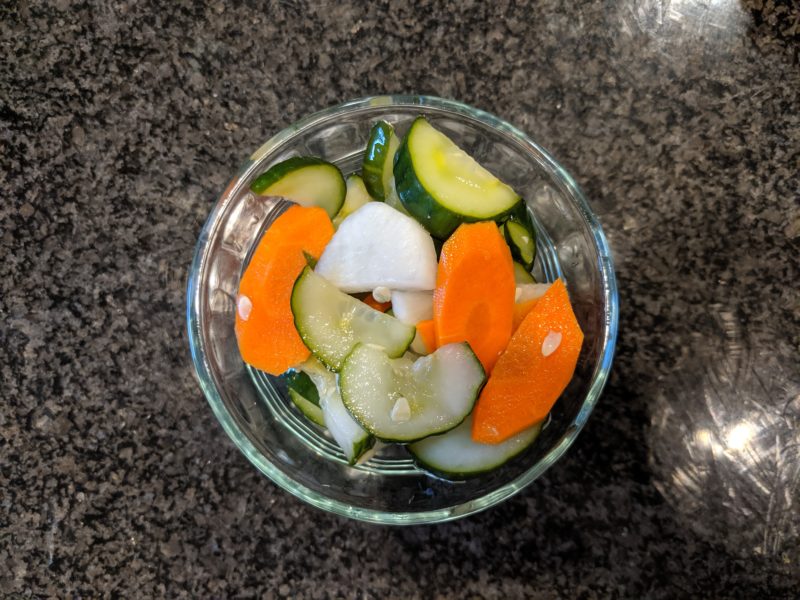 Ingredients
½

Daikon

Japanese or Korean white radish, medium.

1

Carrot

1

Cucumber

Medium.

2

tsp

salt

½

c

granulated stevia

¼

c

apple cider vinegar

¼ c + 1 tbsp.

1

tsp

hondashi
Instructions
For this namasu recipe, Mom used half of a Korean white radish, 1 cucumber, and 1 carrot. She used half for this stevia recipe (1.96 lbs) and the other half for a sugar recipe (1.23 lbs). If you'd like to use real sugar instead, see the notes below for the recipe.

Slice everything to bite-sized slices, about ¼-inch thick.

Note: Mom always makes namasu by taste and this recipe was no different. Use these measurements as a guide and taste as you go to fit your palate.

Add in the salt, granulated stevia, apple cider vinegar, and hondashi. Mix everything with your hand until the flavor spreads out evenly. Store in fridge and let the flavor soak in overnight before eating.
Notes
You can eat this right away, but it tastes better when you let the flavor soak in for at least one day. The thinner you slice the vegetables, the less you have to wait.
If you'd like to make this recipe with real sugar, for 1.23 lbs of sliced vegetables, Mom used 1 tsp salt, 1/4 c + 1 tbsp sugar, and 1/4 c apple cider vinegar.