This post may contain affiliate links, which means I'll earn a small commission if you purchase something through these links. You won't pay any extra; instead, you'll be helping Aloha With Love to thrive. Thank you! Learn more.
--
It's summer in Hawaii (yes, we have a summer) and it's getting hot and humid these days! The trade winds have skipped town and Mom suggested cold somen noodles for dinner. Of course, everyone was on board. This noodle dish is served with ice cubes and is perfect for slurping down in warm weather.
Usually referred to as "somen salad", "somen noodles", or just plain "somen", you'll usually only see this dish in Hawaii restaurants or at catered parties. This local dish is a bed of chilled Japanese noodles (we use udon, soba, or somen) commonly topped with thin slices of egg, lettuce, carrots, cucumber, meat, and nori. A sweet shoyu-based sauce brings everything together for a refreshing blend of veggies and noodles.
We didn't feel like adding meat in this time (we usually use shredded chicken or thin slices of ham), and instead sliced up a fuji apple, which added a crunchy sweetness to the dish. It was a first for us to include a Fuji apple, but I think I'll be adding it in again when it's my turn to prepare somen for the family.
Aloha with love,
Amy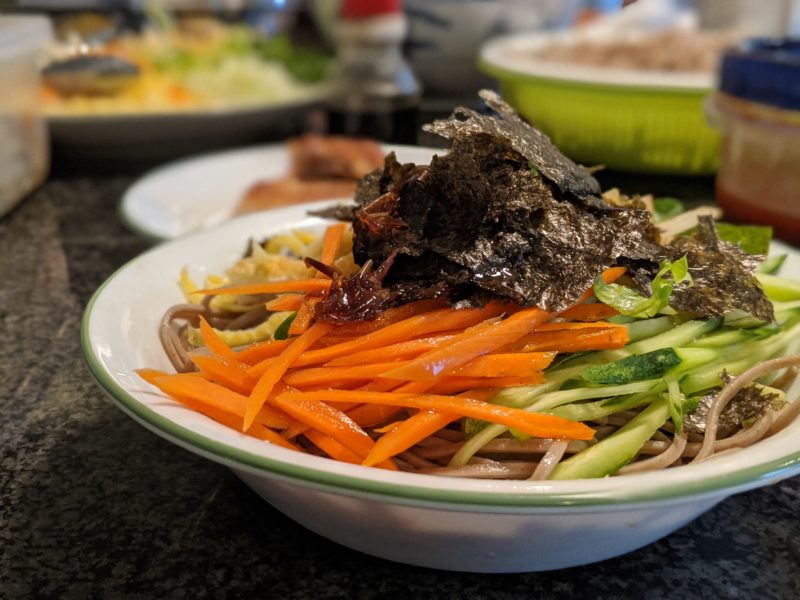 Ingredients
Somen sauce
½

c

shoyu

Soy sauce. Kikkoman.

1

c

water

¼

c

mirin

¼

c

sugar

Or 8 packets of Truvia.

1

packet

hondashi
Noodles and toppings
4

bunches

somen

Udon and soba (what we used) are also OK.

3

eggs

1

cucumber

2

medium carrots

4

leaves

romaine lettuce

1

sheet

nori

1

c

ham

Shredded chicken or cold cuts are a good substitute. We decided to not add meat this time.

1

Fuji apple

Optional. We decided to add this in and it matched well.
Instructions
Somen sauce
Add the shoyu, water, mirin, sugar (or Truvia/your favorite sweetener) in a small pot and set the stove to high heat. When the boiling bubbles just begin to form, add the package of bonito flakes. Turn the stove off and let it cool to room temperature.

Note: Make the sauce a little earlier in the day so it has time to cool off. The sauce will be on the salty side, but you'll be serving this dish with ice cubes which will water it down.
Eggs
Heat up a large pan on the stove to medium heat (or use a smaller pan several times). Add a tiny splash of oil to the pan and use a paper towel to spread the oil around the bottom of the pan. Any oil droplets should not be visible on the surface. You're just trying to make it oily so that the eggs don't stick to the pan.

Scramble 3 eggs in a bowl and slowly pour into the pan once it's hot. With your hands holding both sides of the pan, rotate and roll the pan on it's bottom perimeter so that the eggs spread out evenly. You can stop after about 30 seconds when the eggs stop running.

Set the heat to low and cover for 1 minute.

Uncover and slide the spatula under the perimeter of the egg to make sure it's not sticking to the pan. Flip the entire egg over to allow the other side to cook thoroughly. Turn off the stove and allow the remaining heat to cook the rest of the eggs. Remove and let it cool for at least 15 minutes.

Cut the egg into 3 to 4-inch strips.
Vegetables and meat
Slice all of your ingredients to thin strips to match the size of the eggs. In this case, Mom sliced eggs, cucumbers, carrots, lettuce, and a Fuji apple. For a meat version, we usually go with shredded chicken, cold cuts, or ham.

In the past, Mom has added or substituted Chinese cabbage, cilantro, and green onions.
Cooking the noodles
Fill a pot with enough water to cook the noodles and set the stove to high heat. When the water just begins to boil, add in the noodles. We used soba that came in bunches. For 4 adults, Mom cooked 3 bunches which left us happily full and a little extra as leftovers.

Let the noodles cook for about 5 minutes while mixing constantly. Lower the heat to medium to avoid a strong boil. Taste and cook a little longer if necessary.

Transfer the noodles into a colander and run cool water to stop the residual heat from overcooking the noodles.

When the noodles are cool to the touch, add a large handful of ice cubes and mix the noodles and ice cubes together. Let the noodles drain and get even colder.
Eating somen
Put the chilled noodles in a bowl, add the toppings, and spoon in some of the sauce. Add a couple of ice cubes to water down the sauce and keep everything cold as you eat. Mix everything together and slurp away!