This post may contain affiliate links, which means I'll earn a small commission if you purchase something through these links. You won't pay any extra; instead, you'll be helping Aloha With Love to thrive. Thank you! Learn more.
--
There are a lot of great mochiko chicken recipes out there, so this time Mom decided to cut out any added sugar and use Stevia and honey instead. The honey is definitely the key for this meal as it rounds out the taste and masks that fake sugar flavor. Of course, you can adjust this recipe to your liking (it tastes great when you use real sugar), but since our family is very careful with our sugar intake, it's a great way to enjoy mochiko chicken and feel good about cutting out the sugar for this meal.
Mochiko chicken is a common menu choice in Hawaii and it's often a bestseller. Unfortunately, it's also often very sweet. A lot of sugar and honey goes into mochiko chicken, which isn't the best for anyone on a diet or has health issues. I hope you enjoy this simple mochiko chicken recipe!
Aloha with love,
Amy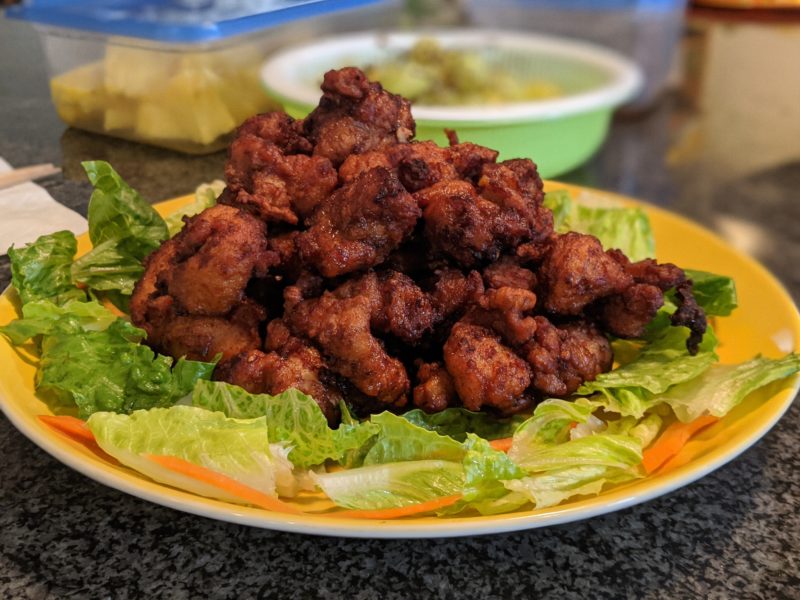 Ingredients
1½

lbs

chicken

Boneless, skinless, cut into bite-sized pieces.

2

cloves

garlic

Minced.

1½

tbsp

Stevia

2

tbsp

shoyu

2 tbsp + 1 tsp. Kikkoman shoyu.

1

tsp

rice wine

1

tsp

hot sauce

1½

tbsp

honey

½

c

mochiko flour
Instructions
Skin and debone chicken if necessary. Cut into bite-sized pieces. The larger they are, the longer they'll cook. Mince the garlic and combine the chicken, garlic, Stevia, shoyu, rice wine, hot sauce (optional) and honey into a bowl and mix thoroughly. Marinate in the fridge for at least 30 minutes.

Mix in the mochiko flour and deep fry in oil. The oil should cover about ¾ of the chicken. Turn chicken as needed until you get a nice brown all over.

Optional: For extra crispiness, fry for a second time for about 1 minute. This will really crisp up the chicken and provide some added crunch to each bite.
Notes
Use Kikkoman shoyu (or any strong shoyu) for this recipe. The commonly available Aloha shoyu in Hawaii is more suited for dipping sauces rather than for cooking.
Many mochiko chicken recipes use raw eggs to puff up the batter. Add a little more flour so that the mochiko chicken is not too wet when cooking.