This post may contain affiliate links, which means I'll earn a small commission if you purchase something through these links. You won't pay any extra; instead, you'll be helping Aloha With Love to thrive. Thank you! Learn more.
--
Mom loves to go all out when it's our birthday and everyone knows that my brother loves his kalbi. Commonly known as short ribs, here in Hawaii we call it the Korean word, kalbi. Most people in Hawaii get their kalbi fix at any of the Korean BBQ plate lunch restaurants. And while I'll agree that it's delicious with its teriyaki-like marinade, I rarely order it because it tends to be one of the pricier lunch options for a plate lunch.
Instead, on special occasions like my brother's birthday, my Mom will splurge on huge kalbi ribs so that we can eat to our heart's content. This particular recipe is very easy and you can even marinate the ribs in advance. It's guaranteed to be a big hit among meat lovers and is perfect for parties and BBQ cook outs.
Aloha with love,
Amy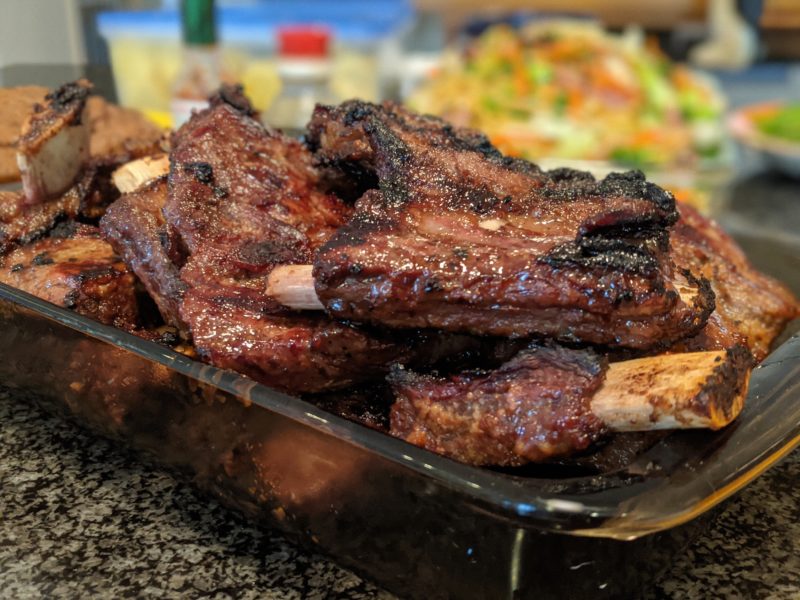 Ingredients
4¼

lbs

kalbi

Short ribs.

½

medium round onion

½

c

sugar

Brown or white sugar.

¾

c

shoyu

Soy sauce.

⅓

c

vegetable oil
Instructions
Mom began with a whole tray of thick kalbi ribs. Altogether, these weighed 4¼ lbs. There's a lot of wiggle room here because the marinade will still work with more/less kalbi meat.

The first step is to butterfly the kalbi meat so that it isn't so thick and easier to eat. Make the first cut along the bone until you almost reach the bottom. Don't cut through the meat.

Open the cut you just made and make a short cut into the meat (90°).

Turn another 90° and cut through the meat almost to the end.

The kalbi should be easy to open up flat and long. Make extra cuts as needed if the kalbi is especially thick.

Cut the round onion to large chunks and add it to the blender. Add sugar, shoyu, and vegetable oil, then blend for about 10 seconds.

Pour the marinade on the kalbi and mix so that the entire surface area of the meat is covered.

Let this marinate at least 2 hours. For best results, marinate overnight.

Barbecue until it turns a dark brown on both sides. Let it cool for at least 10 minutes before eating.