This post may contain affiliate links, which means I'll earn a small commission if you purchase something through these links. You won't pay any extra; instead, you'll be helping Aloha With Love to thrive. Thank you! Learn more.
--
Japchae is an interesting dish in Hawaii. You'll usually find it as a side dish at our local Korean BBQ plate lunch spots. A lot of people love to eat it here, but not many people know how to make it (except for maybe the Korean families out there). Each japchae recipe is a little different, and generally the "difficult" part of preparing japchae is preparing all of the different ingredients.
When Mom taught me how to make her japchae, I was surprised at how fast and easy it was. It's similar to her fried saimin recipe since she cooks the noodles separately and mixes everything together at the end. This time I learned that you have to use fresh vegetables for japchae. No frozen vegetables or vegetables that naturally have a lot of water like squash or pumpkin. Broccoli, green cabbage, onions, and carrots are great options.
It's important to note that this is not regular or traditional Korean japchae. It's also probably not local japchae that you would find at Korean BBQ restaurants here in Hawaii. Instead, it's a faster and I think easier way to cook japchae. You'll usually find that japchae recipes have egg or shiitake mushrooms. Mom has no time for that and decided long ago the japchae still tasted great without egg and mushrooms.
Aloha with love,
Amy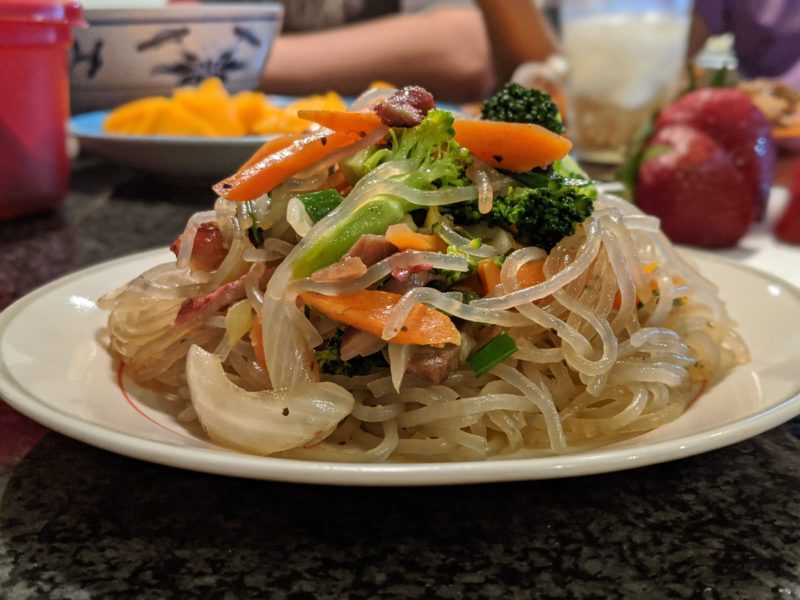 Ingredients
Noodles preparation
1

bunch

Korean glass noodles

1

tsp

salt

2

tbsp

shoyu

Kikkoman soy sauce.

1

tsp

pepper

1

tbsp

sesame seed oil

1

packet

hondashi
Cooking
2

tbsp

cooking oil

1

handful

meat

Sliced. Flavored or marinated preferred. Mom used char-siu.

1

small round onion

Sliced.

1

handful

broccoli

Sliced.

2

small carrots

Sliced.

¼

green cabbage

Sliced.

1

tsp

salt

1

tsp

pepper

½

packet

hondashi

1

tbsp

shoyu

1

handful

green onions

Chopped.

1

tsp

sesame seed oil
Instructions
Soak one bunch of Korean glass noodles in a bowl of water for about a half hour. Cut in half when it softens. Boil a pot of water and cook for about 7 minutes. Have a taste to check if it's ready. Drain the noodles by pouring everything into a colander, but do not rinse with water. Instead, transfer the noodles to a large mixing bowl and let it cool for 20 – 30 minutes.

Add salt, shoyu, pepper, sesame seed oil, and hondashi to the noodles. Mix thoroughly to spread the seasoning around.

Slice the char-siu, onion, broccoli, carrots, and green cabbage to thin pieces. You can use any combination of vegetables or meats.

Add 2 tbsp of oil to a pan and adjust the temperature to high. Cook the char-siu first to allow some good flavor to come out.

Add the onions and cook until translucent (about 1 minute). Add the carrots next and cook for another minute.

Add the broccoli and green cabbage at the same time. Mix. Add salt and pepper. Mix for about 1 minute. Add a ½ packet of hondashi and some shoyu. Reduce the heat to medium to avoid burning your dish.

Add the green onions and sesame seed oil. Give it a quick stir to mix everything about, then turn the stove off.

Pour the cooked vegetables on top of the noodles in the large mixing bowl. Mix and serve.
Notes
Hawaii people love their char-siu. You'll find it in manapua, fried rice, fried noodles, saimin, and ramen. If you're interested in making your own, Mom likes to use the local NOH brand.

Stick with vegetables that are dry. Vegetables with a lot of water like squash, Chinese cabbage, or cucumber will release too much water into the dish.

You don't have to use char-siu, but a savory meat is recommended. Marinated meats like teriyaki, char-siu, or even SPAM work well. Shiitake mushrooms are also a good vegetarian choice.