This post may contain affiliate links, which means I'll earn a small commission if you purchase something through these links. You won't pay any extra; instead, you'll be helping Aloha With Love to thrive. Thank you! Learn more.
--
According to Mom who grew up in Taiwan, it was common to hear that a mother-in-law would test the kitchen skills of her future daughter-in-law by requesting a fish to be cooked whole. All I have to say is, Dad certainly lucked out with one skillful wife! Today Mom taught me how to cook a fish whole with a frozen 3 lb mullet. Since this mullet was frozen, this recipe with ginger and a little rice wine is perfect to get rid of that fishy smell.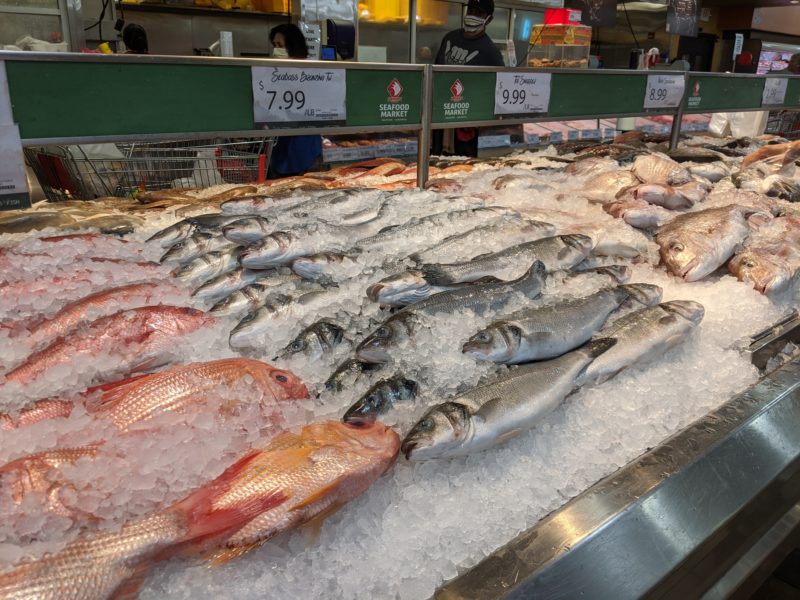 It's also good to note that I learned how to tell if a fish is fresh! When you go to the fish market and you see all the fish laid out on the ice, it's natural to think "wow, fresh fish". No way, says Mom. "Look at the eyes. If they're clear, then the fish is fresh. If they're blurry, they're not." What a great bit of knowledge to pass down from mother to daughter. Thanks, Mom!
Aloha with love,
Amy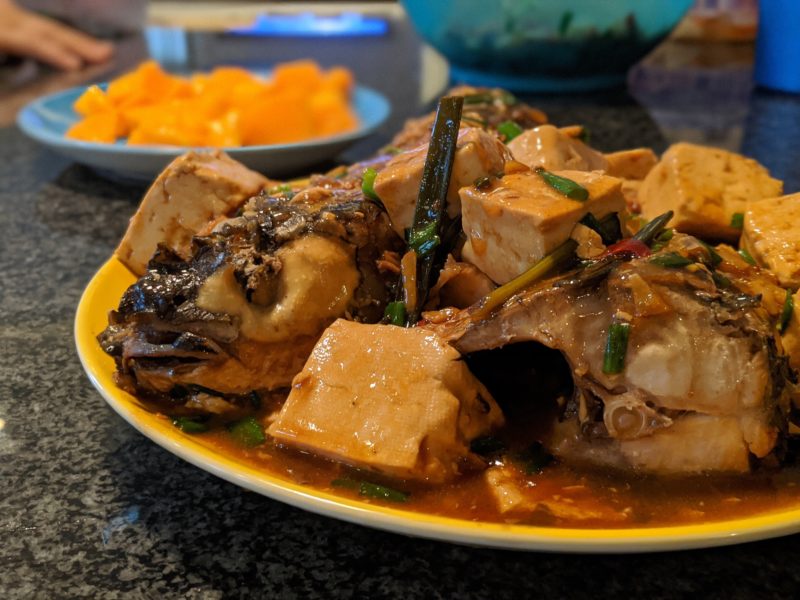 Ingredients
Fish preparation
1

whole fish

3 lb mullet

1

tbsp

rice wine

1

tsp

salt
Cooking
2

tbsp

ginger

Thinly sliced.

4

green onions

Slice into 2-inch lengths.

⅓

c

cooking oil

2

tbsp

rice wine

4

tbsp

shoyu

Soy sauce. Kikkoman.

1

tbsp

brown sugar

1

dried chili pepper

Optional.

1

c

water

1

pack of tofu

Firm tofu.

1

tbsp

sesame seed oil
Cornstarch mix
1½

tbsp

cornstarch

2

tbsp

water
Instructions
Scale and gut the fish if necessary. Cut off fins and tail. If the fish is larger than your pan, it's OK to cut the fish in half like we did. However, it's easier to cook if you can keep it whole.

Sliced into the meat on both sides. Transfer the fish into a large bowl and add the rice wine and salt. Spread the rice wine and salt inside the stomach and into the cuts you made on the sides.

In the meantime, prepare the other ingredients and cut the ginger and green onions.

When you're ready to cook, add the cooking oil to a very hot pan. Make sure the oil is hot before you put the fish in.

Note: Prevent the oil from splattering by patting the fish with a paper towel to get rid of any excess water. This is especially important for frozen fish as they'll continuously "leak" water as they defrost.

Put the fish into the hot oil. Be very careful as it will splatter and pop if there's any water on the fish. I recommend wearing an apron to protect your clothes.

Once the fish is in, add in about half of the ginger and green onions into the oil surrounding the fish. This will freshen up the fish so that it doesn't smell so fishy. Let it cook on one side for about 3 – 4 minutes, then flip. Don't touch it too much or the fish will easily break off.

Note: The cooking time is based on cooking this mullet. If you're using a smaller or skinnier fish, your cooking time will probably be less.

Cook the other side for another 3 – 4 minutes.

After a total of 6 – 8 minutes of cooking, add the rice wine, shoyu, brown sugar, and chili pepper (optional). Quickly mix everything together around the fish.

Note: There will be a lot of sizzle and steam when you add the rice wine.

Flip the fish once more so that the color can soak into the other side. Add the water and remaining ginger.

Add tofu around the fish. At this time, taste the sauce. If it's too salty (Mom thought it was a little too salty) add another ½ c of water. Cover the pan and cook for 6 minutes.

During these 6 minutes, flip the fish once more and flip the tofu 2 – 3 times so that the sauce and color can soak into the fish and tofu thoroughly. After 6 minutes, prepare the cornstarch and water mixture.

Remove the fish and transfer it to a large plate. Leave the sauce and tofu in the pot still cooking.

Slowly add the cornstarch and water mixture into the pot. Mix as you go. If possible, do not use all of it. You want to use just enough so that you can draw a line through the sauce with your spatula.

Add the remainder of the green onions and sesame seed oil into the sauce. Turn off the stove and stir.

Pour the sauce and tofu on top of the fish and serve.
Notes
Feel free to use whatever fish you like. For this particular meal, Mom bought the frozen mullet because it was cheap and she knew she could get rid of the fishiness with the ginger and rice wine.
If you look at this article's featured photo, you'll notice it's a different fish that fit into our pan nicely. This mullet was cut in half since it was longer than our largest pan.
The mullet is a really round fish so it was difficult to cook especially around the head area. Mom mentioned next time it would be a good idea to split the head in half so it wouldn't roll around so much.