This post may contain affiliate links, which means I'll earn a small commission if you purchase something through these links. You won't pay any extra; instead, you'll be helping Aloha With Love to thrive. Thank you! Learn more.
--
Daikon kimchee is a family favorite, but if you were to ask my Dad, he adores this recipe. He eats it at dinner every night and uses the spicy sauce soaking the kimchee to spice up his rice, soup, or even dips! This particular recipe makes 2 large containers and our family of 4 can finish it all up in about 1 – 2 weeks.
It's a great side dish that's easy and matches well with almost anything. Making it is easy, too. The Korean chili pepper flakes (aka gochugaru) and daikon were available at our local Korean grocery (Palama Market). While Mom often uses the daikon from Palama Market (it's a little sweeter), she's also used the more common Japanese daikon that you find at most grocery stores in Hawaii.
Make this for your friends or coworkers and let me know how it goes! They'll be impressed because kimchee is something we often love to eat, but rarely make at home.
Aloha with love,
Amy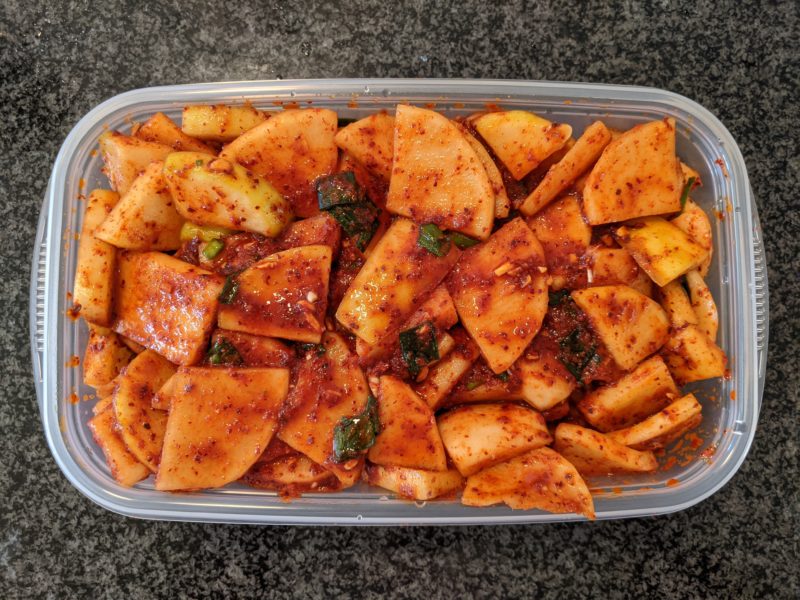 Ingredients
5

lbs

daikon

About 3 daikons.

2

tbsp

salt

2 tbsp + ½ tsp of salt

2

tbsp

sugar

2 tbsp + ½ tsp of sugar

4

medium garlic

Chopped.

1

tbsp

ginger

Chopped.

½

c

green onions

Chopped.

½

c

Korean chili pepper flakes

Gochugaru.

¼

c

fish sauce
Instructions
Peel, cut off the ends, and chop to your preferred size. Add the same amount of salt and sugar, then mix. Set aside for 30 – 45 minutes. Every 10 minutes or so, give it a quick mix to allow the salt and sugar to soak into all of the daikon.

Finely chop the garlic and ginger. Chop the green onions regularly. Combine the Korean chili pepper flakes, fish sauce, ginger, garlic, and green onions in a large mixing bowl. Mix with gloves so that you don't burn your hands.

Note: Mom couldn't find any gloves so she used a plastic bag tied off with a rubberband around her wrist.

Transfer the daikon (do not transfer the watery juice) to the mixing bowl and mix.

After mixing, add back in some of the water juice into the mixing bowl to bring back the sweet and salty flavor. This will also allow the spicy mix to coat the daikon more evenly.

Note: For this recipe, Mom first added in a ½ c of the watery juice, tasted the flavor, then decided to add in another ½ c, which was almost all of it.
Notes
5 lbs was how much our daikon weighed before peeling them. We used 3 Jeju daikon from our local Korean grocery (Palama Market). These are shorter and very round compared to the long and pointy ones you usually see in more mainstream markets in Hawaii. The amount of salt and sugar should be the same. Mom initially started with 2 tbsp each, then added more after tasting it.
Usually you'll see daikon kimchee cut into cubes here in Hawaii. However, Dad loves it in these wider, slightly thinner chunks as the flavor soaks in evenly to the middle and you can bite into them. But, here's a picture of some cubed daikon kimchee Mom made last year: