This post may contain affiliate links, which means I'll earn a small commission if you purchase something through these links. You won't pay any extra; instead, you'll be helping Aloha With Love to thrive. Thank you! Learn more.
--
Probably my #1 favorite fried chicken dish by my Mom is her Korean Chicken. Korean chicken in Hawaii refers to a very specific dish. Deep-fried chicken that has been dipped in a sweet shoyu and vinegar sauce with roasted sesame seeds and green onions. This is so easy to make and it's a huge hit for big meals or parties. I'll be surprised if you have any leftovers!
There are a couple of key points to remember while preparing Korean chicken. Make sure you let the flour sit on the chicken until it's fully absorbed. Otherwise it will just fall right off as it fries. Second, Aloha Shoyu is not required, but it is highly recommended. Aloha Shoyu is a good dipping shoyu because it isn't strong (which coincidentally doesn't make it a good cooking shoyu). Since you are essentially dipping the chicken into the shoyu sauce, a good dipping shoyu is recommended.
Aloha with love,
Amy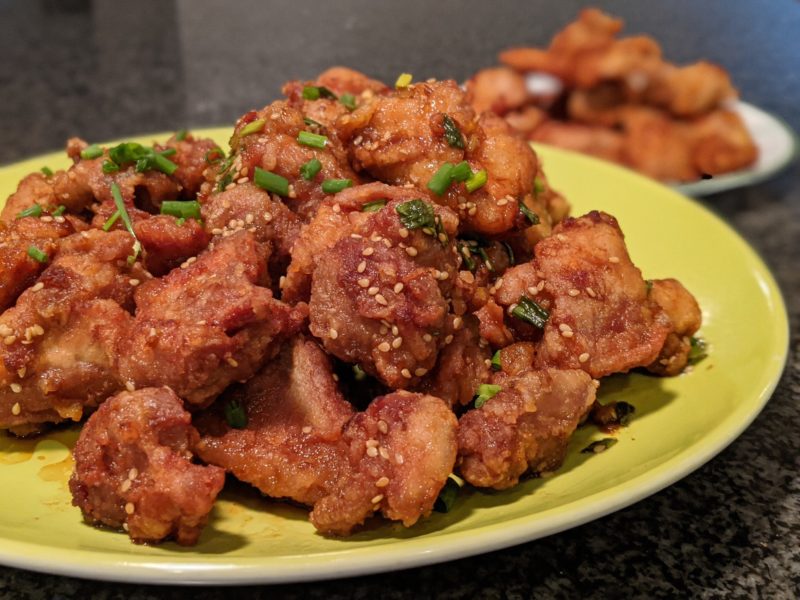 Ingredients
3½

lbs

chicken thighs

Boneless.

¾

c

all-purpose flour

2

tsp

roasted sesame seeds

Optional.

⅔

c

shoyu

Aloha Shoyu recommended.

¼

c

apple cider vinegar

¼

c

brown sugar

¼

c

Stevia

Use all sugar or your favorite sweetener.

3

tbsp

chili garlic sauce

Or your favorite hot sauce.

2

tbsp

honey

⅓

c

green onions

1

tbsp

sesame seed oil

Vegetable oil
Instructions
Cut chicken thighs to bite-sized pieces (about 4 pieces per thigh). You don't really need the skin here as this will be deep-fried and dipped in the shoyu sauce. We removed the skin and large fatty pieces.

Cover the chicken everywhere with flour. Cover with saran wrap and put the flour-covered chicken into the fridge for at least one hour. The chicken color will change from white to a pale pink after an hour because the flour will have bonded with the wetness around the chicken.

Note: if you do not give the flour enough time to bond to the chicken, the flour will fall right off when it cooks.

Combine the roasted sesame seeds (optional), shoyu, apple cider vinegar, brown sugar, Stevia, chili garlic sauce, honey, green onions, and sesame seed oil into a large bowl.

Fill up a pan with vegetable oil (about a ½-inch high) and adjust the temperature to high. Reduce to medium high as you begin cooking. Add in the chicken one by one and separate as you fry so that they don't stick together.

About 1 minute in, you'll see a slight crust begin to form. Flip and make room so that you can add more chicken into the pan.

Mom cooked each side about 5 – 6 minutes. Once the chicken looks like it's ready to take out, adjust the temperature to high so that the outside of the chicken has a nice brown crust.

Remove the chicken from the pan and dip it into the shoyu sauce. Plate with a couple of paper towel sheets underneath to collect the drippings so that the chicken stays crispy as the sauce soaks into the chicken.

Note: you can dip the chicken one by one in the shoyu sauce, but you can also be like my Mom and dipped a bunch of them together. Either way, it will come out great.